Joanna Gaines Made Me Do It – Wire Baskets
Have you guys seen HGTV's Fixer Upper show? It's my favorite.
I truly hope Chip and Joanna Gaines are as kind, funny and down-to-earth in real life as they appear to be on the show.
I was binge-watching Fixer Upper episodes on the HGTV site while painting my kitchen cabinets when I saw Joanna hang some wire baskets on a wall. I know that, in and of itself, is not revolutionary. However, it inspired an "aha" moment. Or maybe that was the paint fumes…
Anyway, I couldn't find a picture of the actual image that got me motivated, but Joanna uses wire baskets often, so this is another instance of how she attached wire baskets to a wall for storage. (Image Source)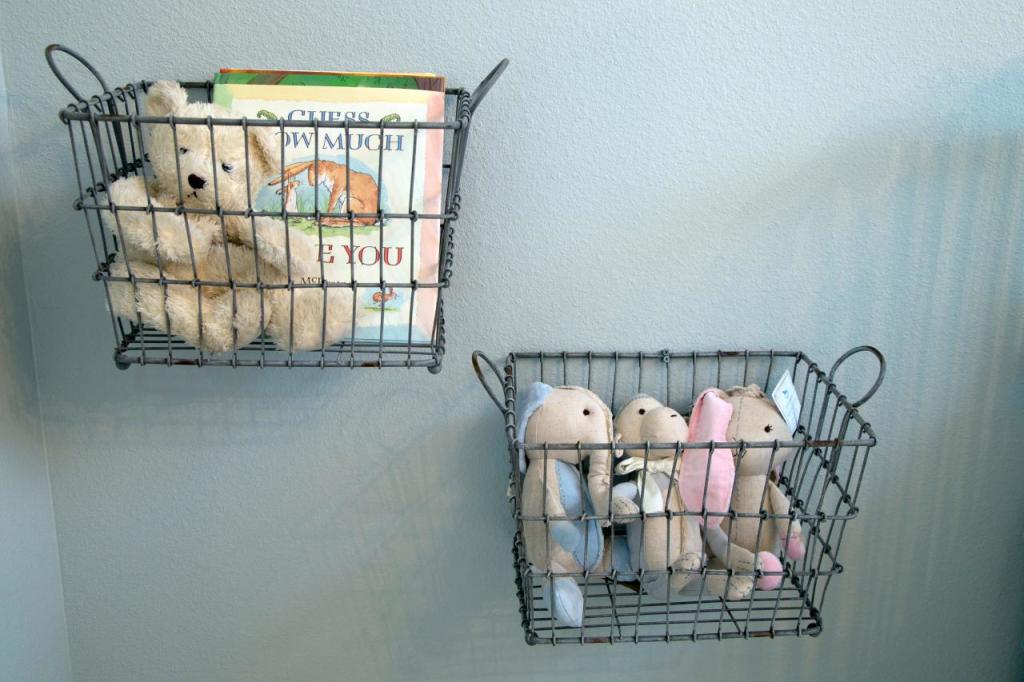 I had been looking for something narrow and tall to put on the wall between two windows in our living room. It also happens to be right where my piano is located.
See where I'm going?
Oh, yes! Wire baskets would be PERFECT for holding sheet music or my most often-used piano books.
Remember how most of my piano books are being stored in a makeshift closet in a never-used bathtub? Old houses have storage problems, folks.

Well, having to walk 20 steps into a bathroom to retrieve piano books is kind of, well, inconvenient. Hmm. Sounds ridiculous on so many levels when I type it that way.
This wall below is opposite the wall of windows that looks out on the lake. See? I got around to showing you another part of this big room!
To keep the focus on nature, I kept things simple this time with white drapes from IKEA. We never close the curtains or the blinds, so they are all there for show.

The baskets came from Hobby Lobby and were 50% off, so I picked up two of them for $20 total. The copper tags came from Target's Dollar Spot. They were in a package of 4 tags for a buck.
I still need to etch or stamp something onto the tags, but brute force and my letter opener alone weren't making a dent in those suckers. So, when I'm feeling inspired…IF I ever get inspired, I'll need to get out a hammer and something with a point to try and create a design.

I don't buy a lot of home decor stuff anymore, so this was a nice treat. Lately, I've been more open to the idea of decorating 'in plain sight' with things you use every day. I don't see why real life can't be functional and pretty too. Unless it is having small appliances out on the counter…I draw the line there!

I'm happy with how this space is coming together. If feels lived in and collected. Pretty, but not precious. Now I just need to show you pictures of the middle of the room!
---
If you like baskets, we have a lot in common! Try one of these posts next!
How to Reshape a Plastic Flexible Woven Basket