Tips for Visiting the Dominican Republic
We had the pleasure of visiting the Dominican Republic over Christmas.
It was a real hardship, but someone had to do it! Don't hate me right now. 😉
If you are from the United States and planning a trip to the Dominican Republic, here is some useful information we discovered during our visit.
Beach at Catalonia Gran Dominicus La Romana near Bayahibe
1. Currency
It was unclear before we left how much currency we needed to exchange into Dominican pesos. Most sites recommended having a mixture of US dollars and Dominican pesos – especially small bills for tipping. We ended up exchanging $100 before we left the U.S. and received 3900 pesos. The exchange rate was actually a little better in the Dominican Republic. Live and learn.
I had to work REALLY hard to spend my pesos. The locals seemed to want dollars over their own currency. Every tour was quoted in US dollars or euros. They would take pesos, of course, but they seemed to prefer dollars. The resort shops only took credit card. Even the guy who hauled our bags in at the airport flat out asked for a dollar, not a peso.
If you aren't sure what to do, you can probably wait until you get there. I found that there was a currency exchange place inside our resort, plus an ATM. Just don't travel with large bills and expect the locals to give you change…they conveniently won't have it. Can you blame them?
2. Catamaran Tours
There are two popular catamaran tours. One to Saona Island and the other to Catalina Island. We had a fun time visiting Saona, but I wish we would have picked Catalina Island. I heard after the fact the snorkeling was better on Catalina.
Also, a driver took us to the marina to start our catamaran tour, but we had NO idea how we were getting back to the hotel. Turns out, the speedboat dropped us off on the beach in front of our hotel. Crisis averted.
3. Airport Transport
Our hotel was far enough away from the airport that the hotel did not offer airport transportation. The hotel recommended a shuttle service. Since we had NO clue how to select a transportation company and did not know who to trust, we thought using the hotel's recommendation would be safe. Turns out, it was uber expensive.
We decided to Google other shuttle options and found one for a third of the price. By some stroke of coincidence, the one we found happened to be the parent company of the service our hotel recommended – we just cut out the middle man. Do your research on this one!
We had a great experience with Dominican Airport Transfers.
4. Customs and Immigration at Santo Domingo Airport
Arriving at the Santo Domingo airport is kind of cool at first. A band was playing a welcome tune. Greeters in authentic-looking garb were handing out Dominican Republic flags. We were excited to get to our destination. Then we realized the only thing standing between us and paradise was the longest line known to man.
First you'll wait in a line to pay your $10 per person entry tax. Then you'll wait in another immigration line to get entry into the country. This line moves a lot more slowly. The band still might be playing at this point and they have no volume control.  Next, you'll need your baggage claim tickets in order to retrieve your bags and leave baggage claim. After that, you'll hand part of your paperwork over to customs.
Finally, you're done! You'll exit through a huge throng of people and hopefully at the end there will be a representative from the shuttle company holding your name on a placard.
If you are flying into Punta Cana or another airport, I can't help you!
5. Flying out of Santo Domingo
We got some mixed messages when flying out of the Santo Domingo airport. We weren't allowed to have ANY liquids in our carry on bags unless it was milk for a baby or medication. I was also not allowed to take any snacks (crackers and fruit snacks) through security. My stepmom, on the other hand, was told she could keep her granola bars. Just be prepared to be flexible!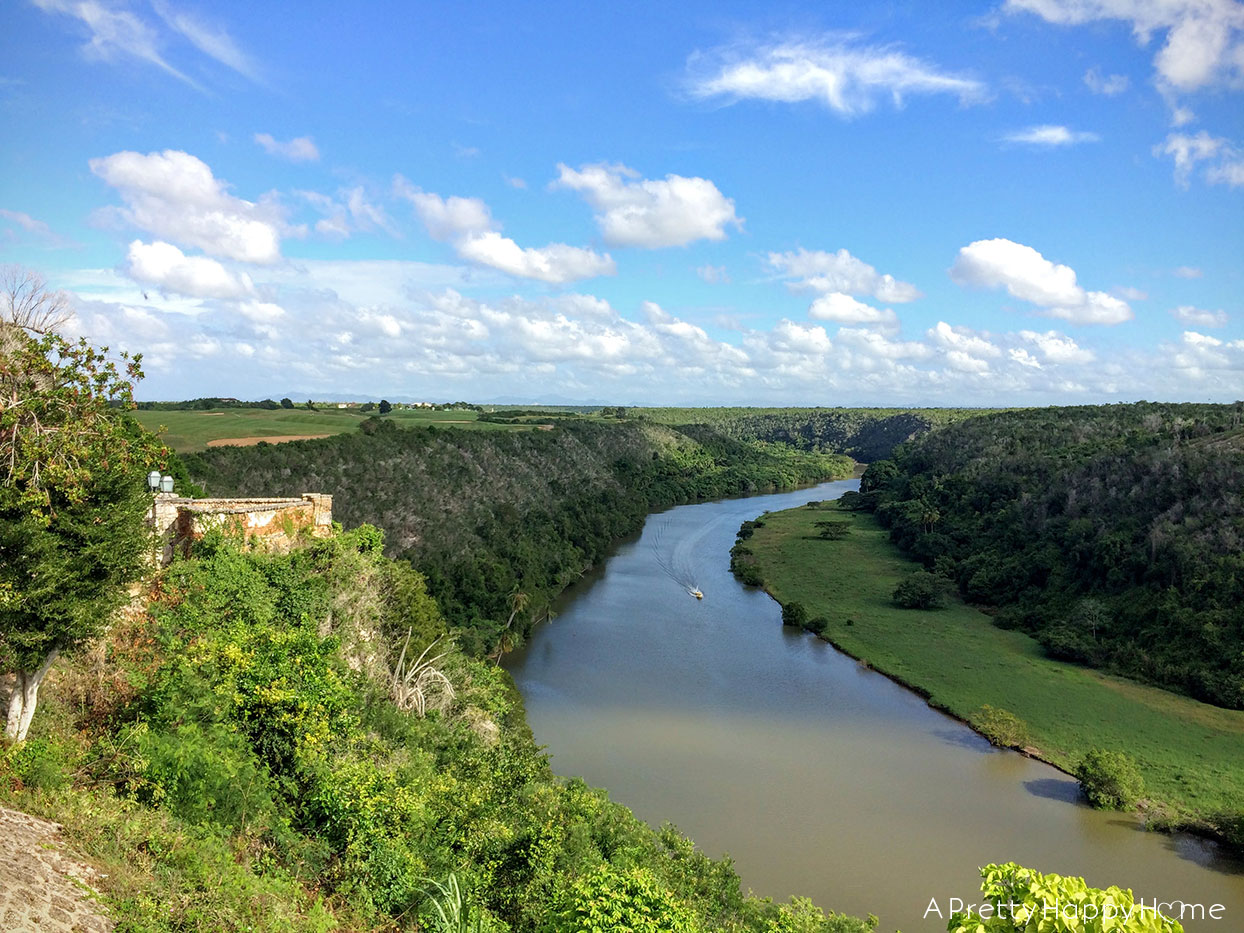 Rio Chavon – Apocalypse Now, Jurassic Park and other movies were filmed here
6. The One Thing I Didn't Like
There is only one thing I didn't like about our trip to the Dominican Republic. For a variety of reasons (safety, language barriers, driving in a foreign country, traveling with young kids, etc.), I didn't feel like we could leave and explore the country on our own. Things are a little bit different in a developing country. From what I've read though, plenty of people do explore on their own with no problems. We just weren't ready for that.
7. What to Wear
I'm a girl…I think about what to wear. I also tend to over-pack. If your resort is like ours was, they will require you to be covered up at meals. For instance, most men could wear their swim trunks to breakfast and lunch and just throw on a t-shirt. The women needed a swimsuit cover-up on to eat in the restaurant. For dinner, everyone seemed to put on nicer clothes. A few of our resort's nicer restaurants required long pants and shirts with sleeves for the men.
If you are traveling with kids, I would recommend having them change swimsuits throughout the day or use a product like Bodyglide
to help avoid chafing from constantly being in the sand and water.
Beach at Saona Island. Yes, the water really looked like that. 
8. Who Visits the Dominican Republic
It surprised me to learn the Dominican Republic is a popular vacation destination for Europeans. During our weeklong stay, we only met a few other families from the States. Most people thought we were from Canada. Go figure. My point is, be ready to be exposed to a whole bunch of different cultures. It's pretty awesome. If you are conservative, you might be shocked to see women sunbathing topless. It's pretty normal in many European countries. A lot of little girls, I'd say under 10, also swim topless.
9. Medications
Our resort had a store where you could buy basic items like sunscreen and aspirin. I wouldn't trust them to have anything more than that though. If there's even a remote possibility that you might need a particular medication or toiletry item, I'd take it with you. If your stomach is sensitive to trying new foods, I'd definitely pack some Imodium
. I'd also take something to treat a sunburn should you not apply it properly that first day in paradise – we went through A LOT of sunscreen in a week.
Would I go back to the Dominican Republic? YES! In a heartbeat! We had a fantastic time relaxing, unplugging and exploring a new part of our amazing world. If you ask me to picture my happy place, I think I'll be back on this beautiful beach!
---
If you liked this travel post, here are some others:
Travel: Copenhagen, Denmark With Kids
Visiting Ireland: The Cliffs of Moher and Aran Island With Kids
A Day in Malmo, Sweden With Kids
Visiting Ireland: Galway With Kids
Visiting Ireland: Kissing the Blarney Stone at Blarney Castle
---
*affiliate links in this post*