Valentine's Day is a month away.
In truth, it's not my most favorite holiday. I like the sentiment, I just think we should let people know we love them a little more regularly than when Hallmark tells us to.
That said, if my husband wants to shower me with gifts, I won't turn them down! Also, my kids love Valentine's Day, so I'm getting into the spirit of things – on my terms.
First up, flowers. I treated myself to some happy yellow roses from Trader Joe's. $5 in that cute little tin! Don't mind if I do! Yellow roses remind me of sunshine and definitely brighten up a dreary winter day.
Now, let's see how long I can keep them alive!

Next up, the roses needed a little something to remind me of Valentine's Day.
I ruled out the ubiquitous mylar balloon and decided to go more understated with a decorative plant stake.
Since the mylar balloon was out, pink and red were out as well. Too predictable. I do enjoy turquoise though!

To make these plant stakes, all you need are wooden skewers
, card stock, scissors and a glue gun.
I cut out a variety of paper hearts, glued them to the skewer, stuck the finished product in the plant and called it good!
Easy and cheap. The craft. Not me!  😉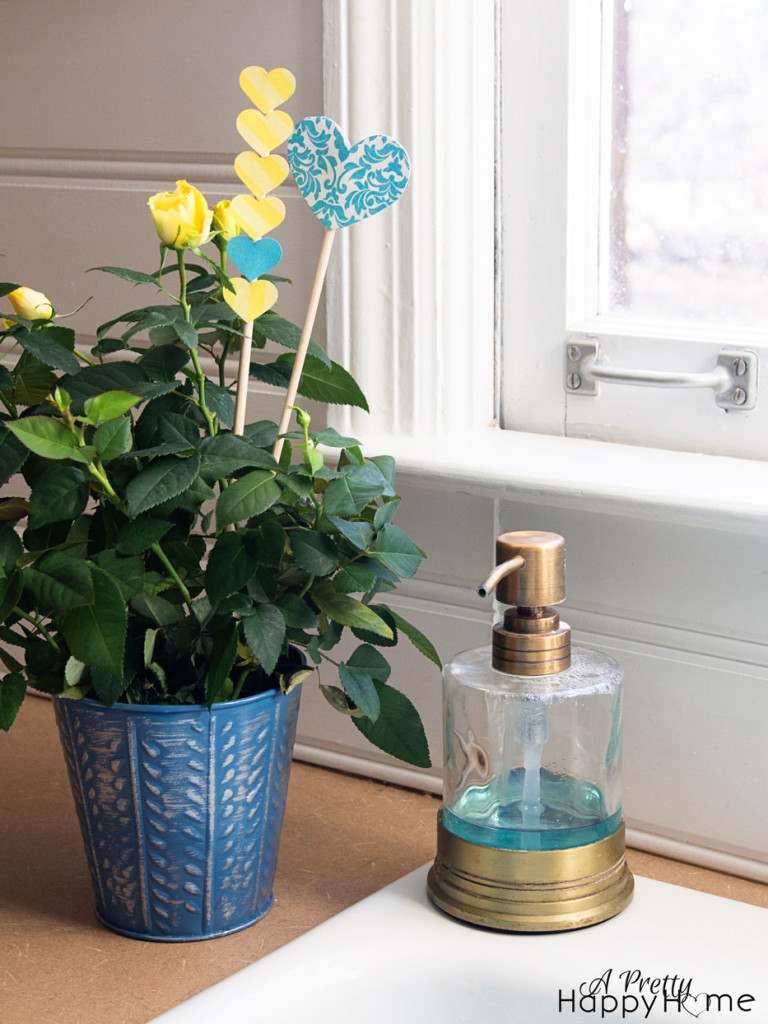 This plant with the heart plant stakes is a happy spot in my kitchen! Heaven knows I need one to distract me from the endless supply of dirty dishes that you thankfully cannot see in these pictures.
---
If you liked this post, you may enjoy these:
Gold and Turquoise Wood Arrows
---
*affiliate link in this post*