The $9.60 Table That Almost Broke Me
To clarify, I did not break a table.
A table almost broke me. Emotionally speaking, of course.
Our current house (I need a name for it because I've had a lot of 'current' houses) has a good-sized kitchen with a bump-out for a dining table. That bump-out is directly next to what I'm assuming was intended to be a proper dining room.
Since our family functions best with an open concept floor plan, I'm making the 'dining room' into a living room. However, my table that I love (not as much as my children, but close) is the wrong shape for the dining area IN the kitchen. It's rectangular and I need a round table for this space.
My rectangular dining table is going to serve a stint as a desk and our current 'desk' which is actually an outdoor table will now be able to return to its original intended purpose.
Are you still with me?
Why are you still with me? I love you guys.
Someone is screaming, "Get to the juicy stuff, already!"
Okay, okay. 
I wanted Handy Husband to build me a round table like this one from Pottery Barn, but then he said something about needing more tools and I said, "NEVER MIND."
I'll just buy a table and give it a makeover that will cause me emotional anguish.
I think that's a happy compromise.
As luck would have it, I found a round 48-inch table at the Habitat Restore for $10 that sort of reminded me if I squinted at it in a dark room of the Pottery Barn one. It was wobbly and I couldn't tell if that was because it was broken or just not screwed together well.
As a side note, don't wear a skirt to the Habitat Restore. It makes crawling under a table to check its sturdiness ill-advised.
I took Handy Husband back that night to the Restore to assess the table situation. I was actually worried that someone might have bought the table. MY table. Hahahaha! That was an unnecessary worry. It was still there and still wobbly, but not broken!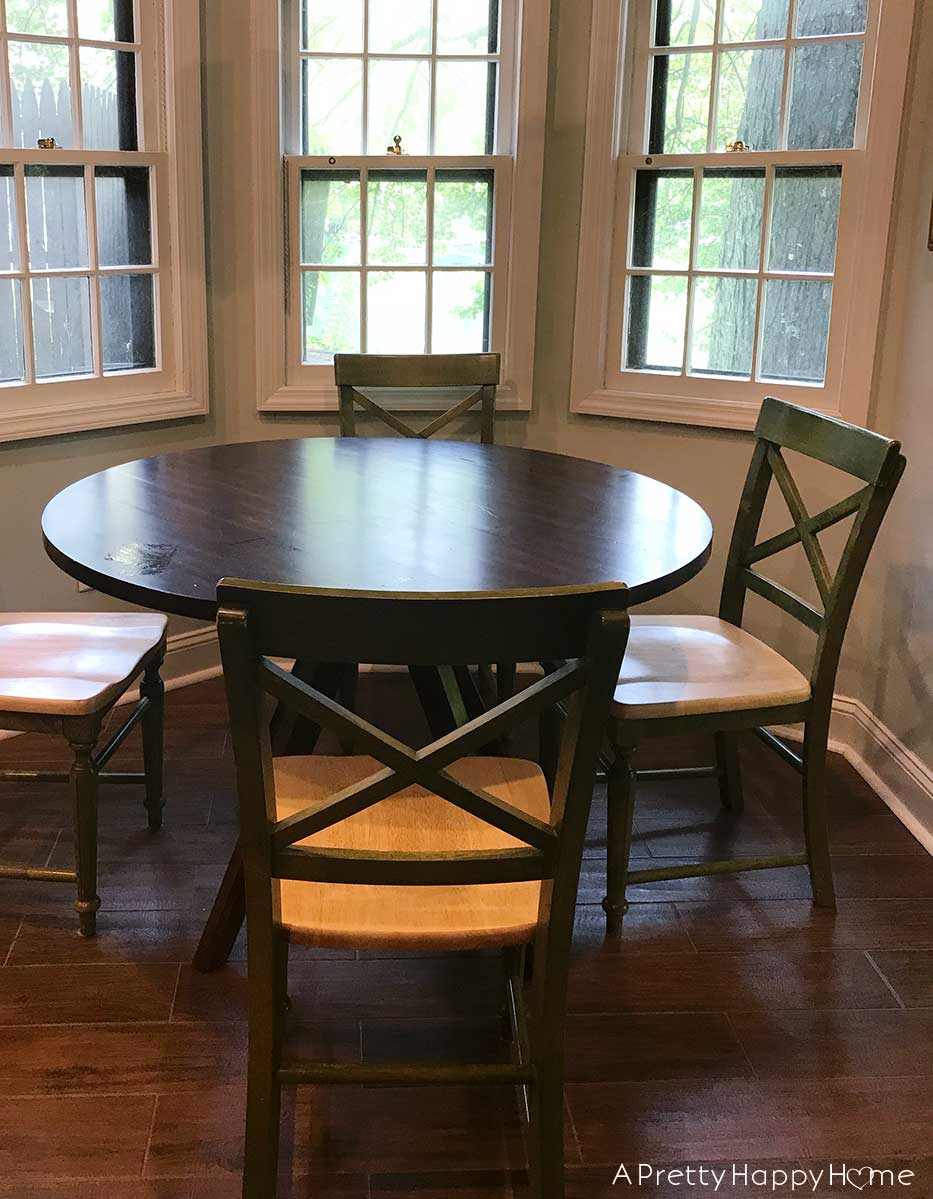 I went to purchase the table and discovered it was Discount Tuesday, so I received 10% off my purchase. With sales tax my total came to $9.60.
Um…How bad is it to get a discount from a charity for a $10 table? I like a discount as much as the next person, but…sheesh.
This table was already messing with my mind.
Guess what else I brought to the store with me besides Handy Husband? A screwdriver! Yep. Call me prepared!
We took that table apart right in the store so we could more easily load it in the car. One of my kids complained that the table was in his/her space and breathing his/her air, but someone is always complaining about that.
The table appears to be solid wood, but not oak or cherry. I'm guessing Rubberwood, so not the greatest. It had a lacquered stain finish with some faux distressing that I wanted to deal with before attempting to paint it.
Handy Husband filled in that distressing and a few scratches with wood putty. Then he sanded the table down smooth. He did a much better job than I ever would!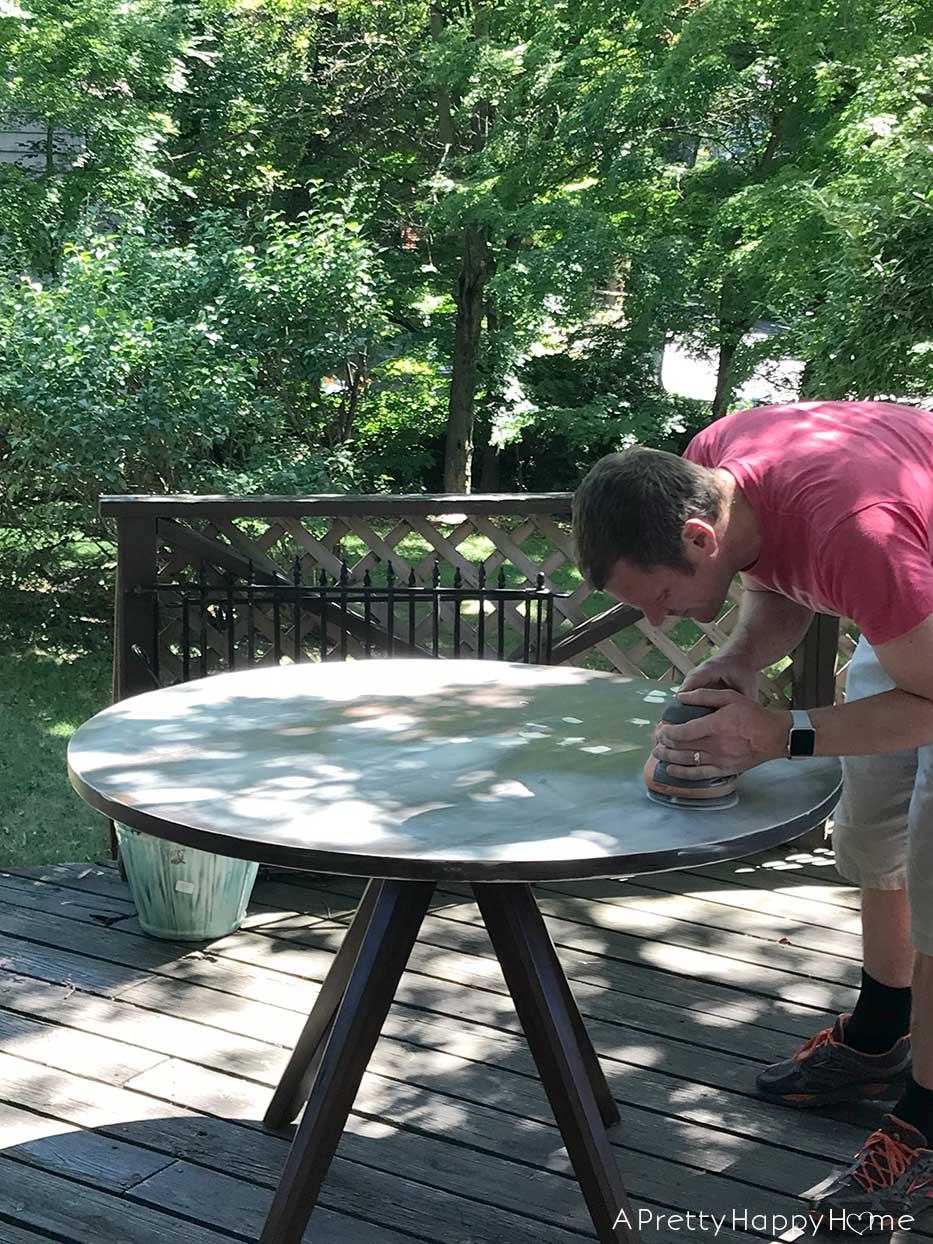 I used the better, but not the best version of Behr's latex paint with primer included. I rolled the paint on with a foam roller because I thought that would give me the smoothest finish.
Then the universe laughed.
4 rounds of paint, 4 rounds of sanding and 3 coats of poly later, I quit.
I QUIT.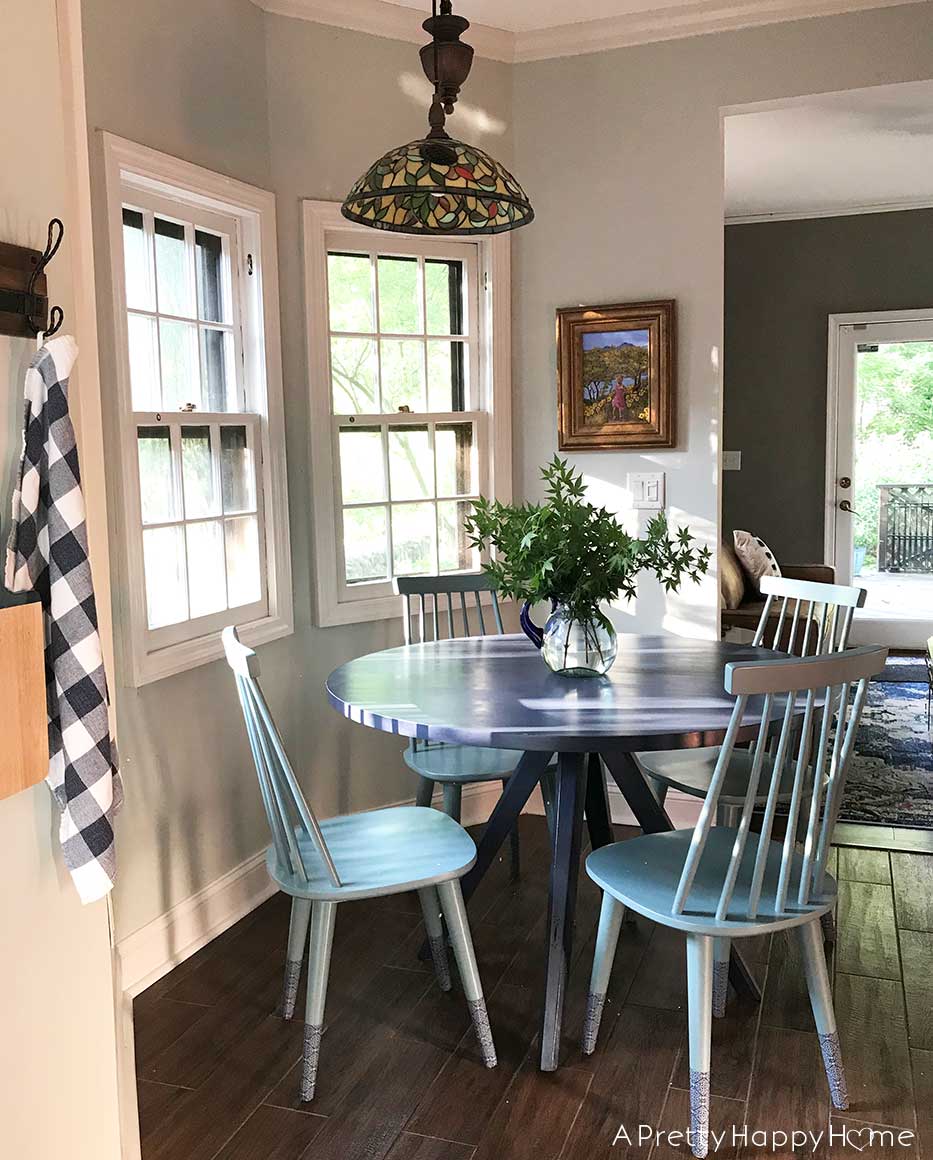 The vision I had for this perfectly painted blue table was not coming to fruition. Oh, the blue color was PERFECT for what I had envisioned. Gorgeous, really. The perfectly painted part was where it all went not so perfectly.
I've narrowed it down to what might have gone wrong with this project.
It could have been the paint. It could have been my technique or lack thereof. It could have been the foam roller or the paintbrush I switched to later because the foam roller wasn't working. I should probably get a paint sprayer. It could also have been the table itself that I should not have accepted a discount on in the first place.
So, yeah. I don't have a clue what actually went wrong. I've figured it out. Clearly. Learned from my mistakes. Hindsight is 20-20. All that jazz.
The kicker is I actually read and followed the instructions about drying times on both the paint and the polyurethane.
The ONE TIME I follow directions and this is what I get! A table with a bit more 'texture' than I was expecting and some uneven shiny parts.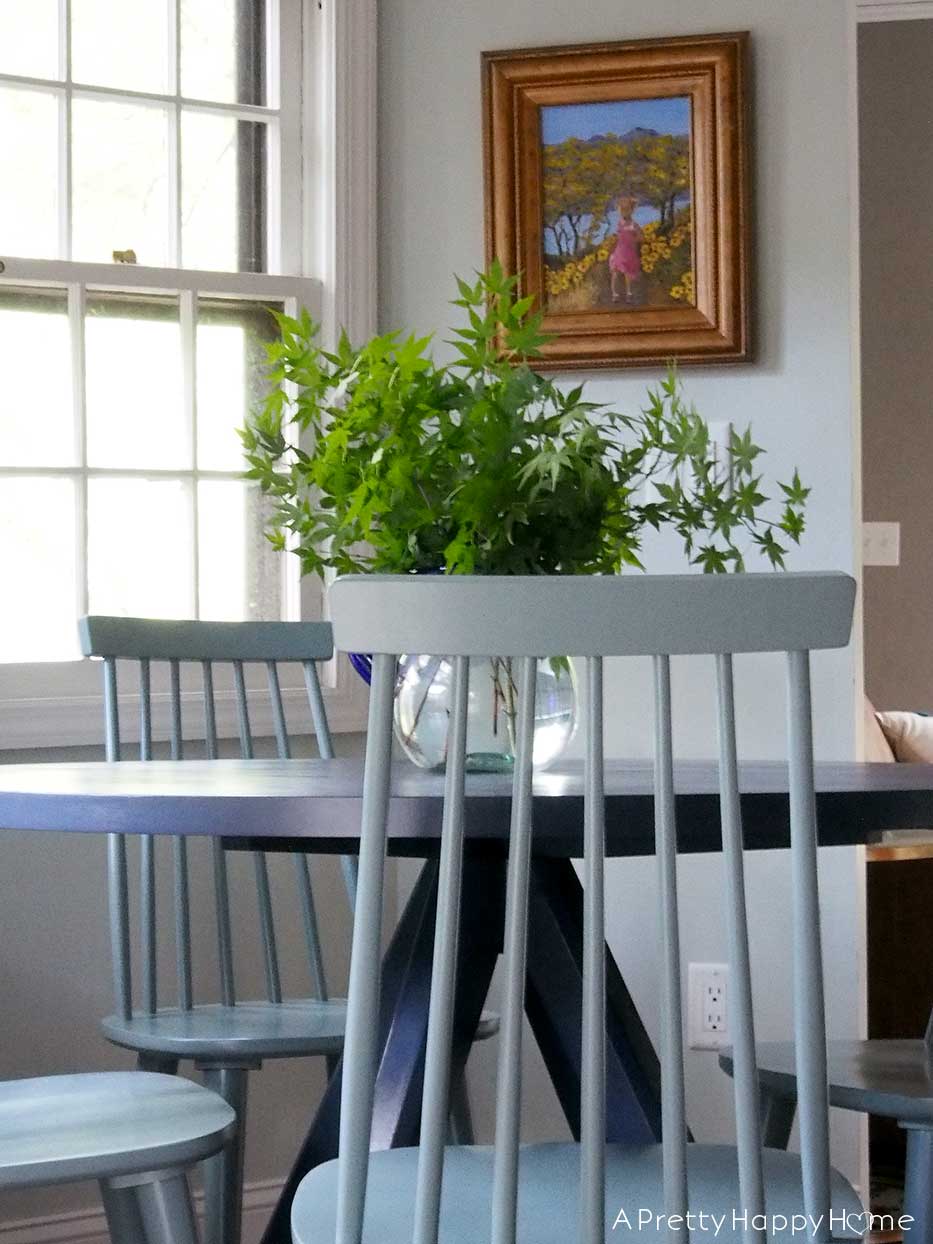 The really ironic part is that even though I'm unhappy with the table's finish, I do love the color and how the table looks…from far away.
And I want the table to still look good from far away until I can forget this traumatic experience.
That's why I found myself admonishing my kids. "Placemats! Use the placemats! I worked hard to make this table look terrible!"
They were like, "Huh. This is what it looks like when Mom has finally lost it."
Never have I been so happy to have given up on be done with a project.
That discount I took on the table? Oh, it cost me.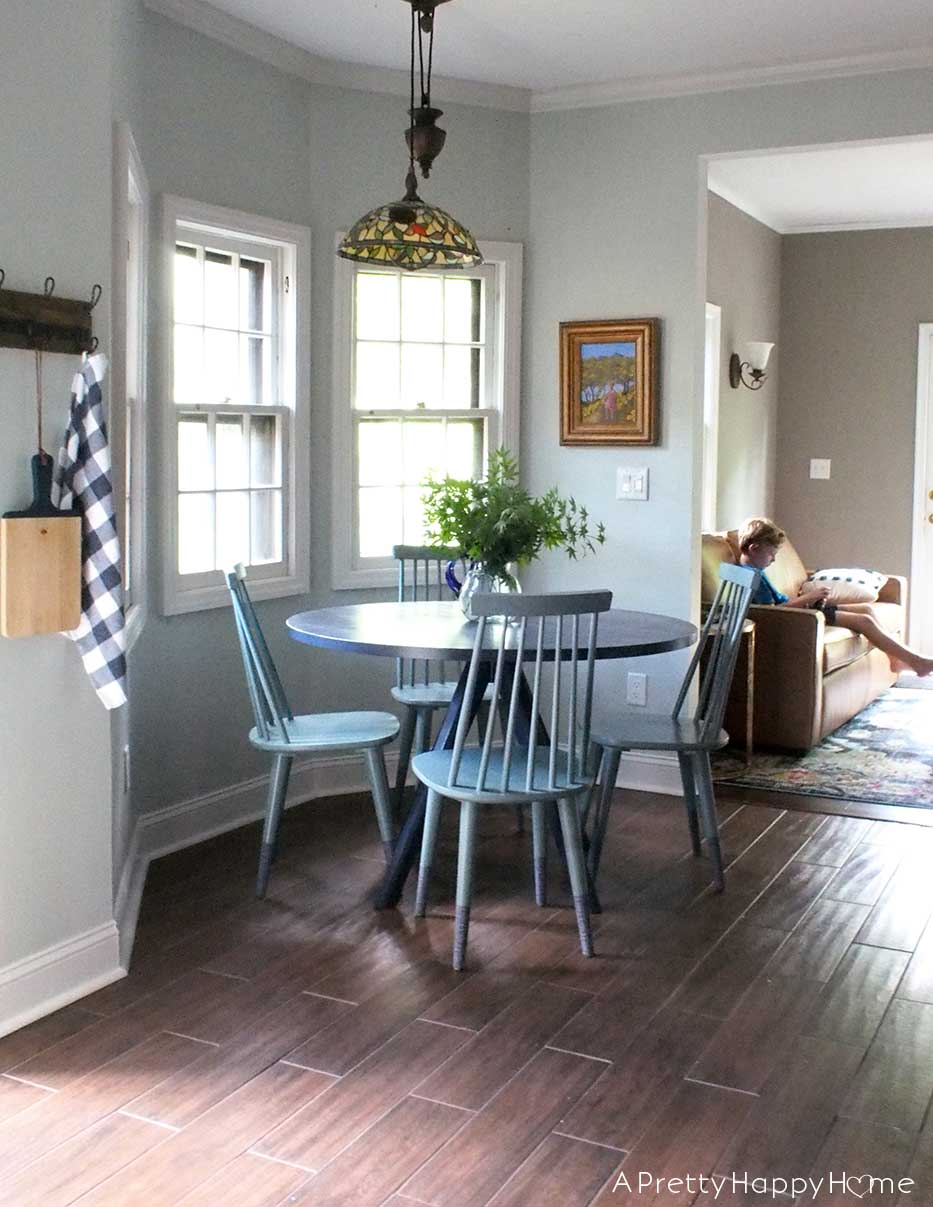 I think the Kenny Rogers' song says it best, "You got to know when to hold 'em, know when to fold 'em. Know when to walk away and know when to run."
I'm walking away from this one. I will happily use the table even if I wish I'd done a better job with the paint job. I will also happily donate this table back to the Habitat Restore when I'm done with it.
And in no way does this discourage me from painting another piece of furniture.
Eventually, I'm bound to get it right.
Right?!? 
---
Project Source List:
Table Paint: Behr, Secret Society #MQ5-10
Wall Paint: Sherwin Williams, Sea Salt #6204
Polyurethane: Varathane 
Sander: Ridgid
Chairs: Wayfair
Table Pitcher: Pier 1
Painting of my daughter: Custom by my aunt. I KNOW! I'm lucky!
Checked Dish Towel: HomeGoods
Cutting Board: Purchased in Ireland
---
P.S. My painting technique is on par with my photographing a dark room technique. Sorry about that. I swear I will work on one of these skills. But which one?
---
Here are some other projects that went better than this one. 
Refinish Wood Chairs Without Tools 
Zero Gravity Chair Repair on the Cheap
DIY Wood Bench from Wood Bed Rail
*affiliate links in this post*