Would I Make It Again: Balsamic Glaze VS. Regular Balsamic Vinegar
A new friend who has been absolutely so kind in welcoming us to the neighborhood  texted on a Saturday morning to see if we could come over for an impromptu BBQ that night.
My thoughts, all in the course of about 3.2 seconds, were as follows.
Uhhh, I was planning on curling up in my bed with a book tonight.
We have friends! Woohoo! And they invited us to dinner! That's so nice!
But my bed…
The kids would have a lot of fun swimming with her kids!
But my bed…
Handy Husband would have a lot of fun hanging out with the neighbors!
But my bed…
I wouldn't have to cook dinner…
I wonder what time they are eating?
I brought an easy appetizer to the BBQ: Caprese Salad Skewers.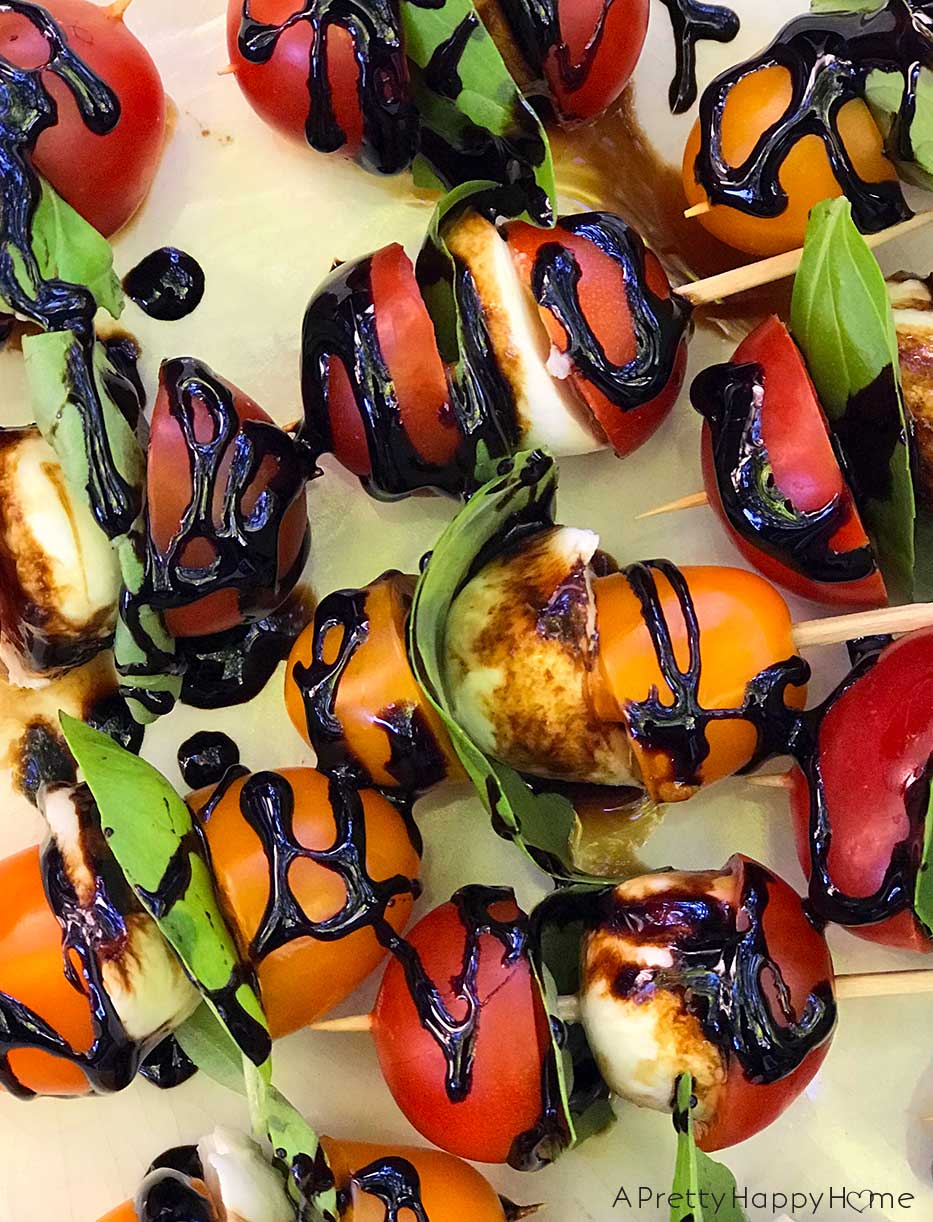 A Caprese Salad is a classic we've all probably eaten. Putting the ingredients on a toothpick makes it an easy, delicious and impressive-looking appetizer.
Presentation is important. Am I right?
I'd made Caprese Salads before, but I've only ever drizzled the ingredients with balsamic vinegar and/or olive oil. I've never made a balsamic glaze or reduction.
In true 'me' fashion, I decide to try a new recipe before hanging out with new people. Honestly, it's not the smartest approach.
All the recipes I looked at online for making a balsamic glaze were virtually identical. It's just a cup of balsamic vinegar reduced in a saucepan on medium heat until the vinegar is the consistency of syrup.
It's easy. You have to keep an eye on it so that it doesn't go beyond the point of no return, but it only takes 10 or so minutes. Not long.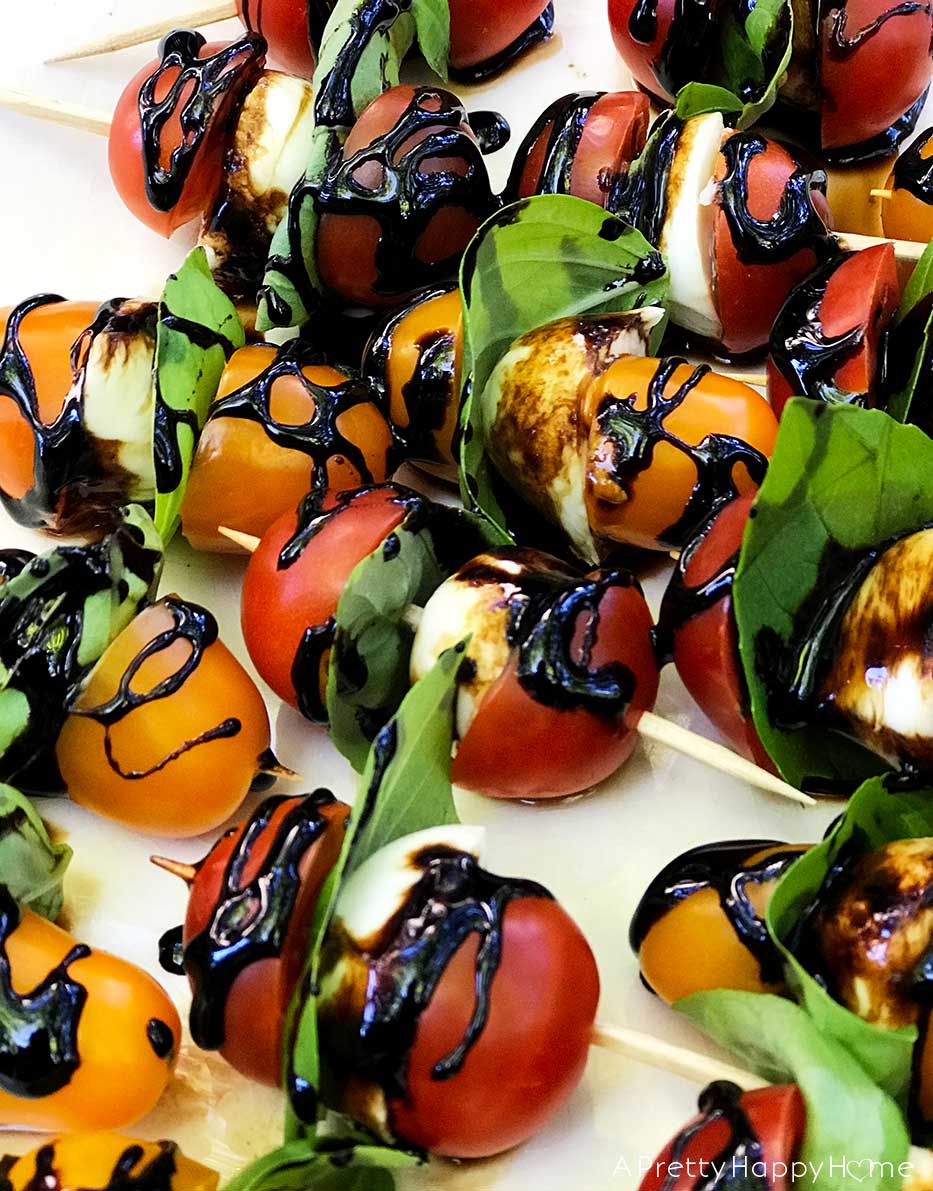 Here are some things I learned about balsamic glaze that I didn't read in any of the online recipes.
First, I didn't want to pour a piping hot balsamic glaze over my cold salad ingredients. I let the glaze cool in a bowl, but I let it cool too long and the glaze hardened up. My gorgeous balsamic glaze had turned into balsamic brittle.
I zapped the glaze in the microwave for a few seconds to loosen it back up, which defeated the purpose of letting the glaze cool before pouring it over cold ingredients. The next time I would let the glaze cool slightly, but not for quite so long that it turned into fossilized rock.
Second, I kept the glazed skewers in the refrigerator for about 30 minutes before we left. It was a 5-minute drive to the BBQ on a hot day. By the time we arrived, there was definitely balsamic vinegar rolling around on the serving tray. The glaze hadn't slid completely off the skewers, but it was starting to break down where the glaze had already been touching the serving tray.
For that reason this isn't the best traveling dish. It's probably why most balsamic glaze recipes say to glaze the salad skewers right before serving.
I will say, this runny glaze situation didn't affect the taste! The skewers were probably all eaten within an hour of arriving at the BBQ. They were a big hit!
Would I make this balsamic glaze again?
Honestly, I thought the glaze took the salad skewers up several notches on the taste scale. Enough so that I SHOULD probably make the glaze every time I make a Caprese Salad and not just when I'm making this appetizer.
However, we had Caprese Salad two nights ago. I was in a hurry and just drizzled balsamic vinegar and a little olive oil over the top. My tastebuds and my belly were happy!
So, yes. I would make the balsamic glaze again if I'm making appetizers or having company over.
Otherwise, I'm apparently too lazy to make it for a regular weeknight dinner for me and Handy Husband.
Hey, at least I made dinner. Right?!
---
Other recipes in the Would I Make It Again Series:
Would I Make It Again: Pasta from Chickpeas
Would I Make It Again: Lemony Cucumber Pasta Salad
Would I Make It Again: Cilantro Vinaigrette 
Would I Make It Again: Blueberry Buckle Coffee Cake
Would I Make It Again: Chile Lime Almonds
Would I Make It Again: Cheese Tea
Would I Make It Again: Rhubarb Scones
Would I Make It Again: Korean Beef Bowl
Would I Make It Again: Chicken Rigatoni With Vodka Sauce