Welcome! I'm glad you're here. I'm glad it's Friday.
I'm just a bundle of cheer today.
It could be because this week I wrote about a super fun trip to Hershey, Pennsylvania. Or it could be because I shared all the card stock bats and mice taking up residence in my home.
Who knows? Let's roll with it and see what's on the Happy List!
---
ZUPPA TOSCANA SOUP
It's soup season! HURRAY!!!
This Zuppa Toscana Soup by This Mess Is Ours looks so warm and filling. It has Italian sausage, potatoes, bacon, cream… Did I mention bacon already?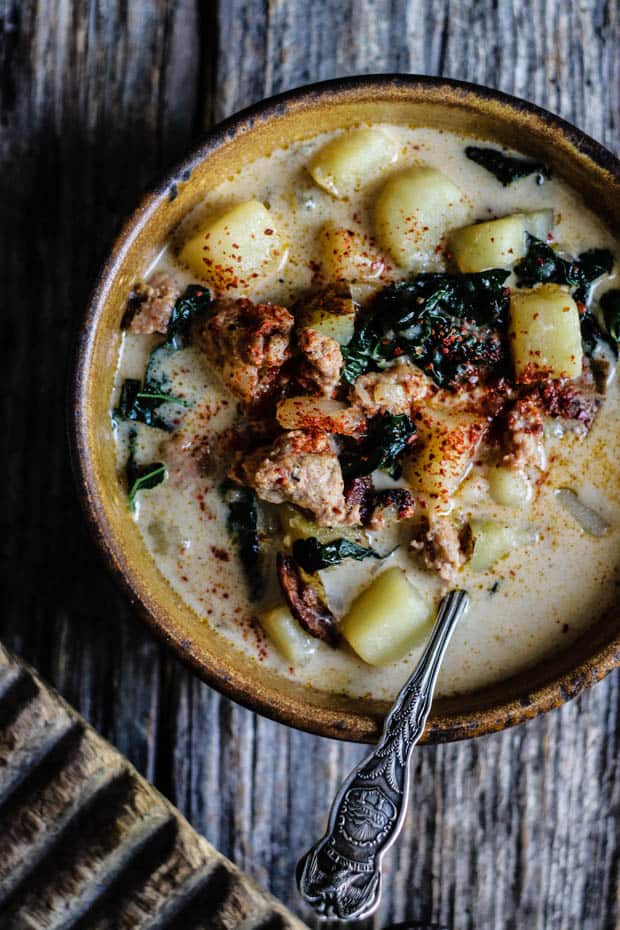 (image: This Mess Is Ours)
---
YOU BELONG BY RACHEL PLATTEN
If you watch this video while pregnant there's a 1000% chance that you will cry.
If you watch this video and you've had kids, but aren't pregnant there's a 1000% chance that it will at least make you teary-eyed.
If you watch this video and feel no moisture in your eye area, your tear ducts must be blocked. Call you doctor, STAT!
Anyone cry over weird stuff while pregnant? When I was pregnant with  my daughter I would cry every time the Christmas commercial with the Coca-Cola bears would come on TV.
Did I miss caffeine that bad? Or were they just cute bears? Who knows!?
---
A DIFFERENT KIND OF VANITY
I was perusing beautiful pictures on the Atlanta Homes and Lifestyles website and I saw a bathroom vanity situation that I've never seen before.
Look at it…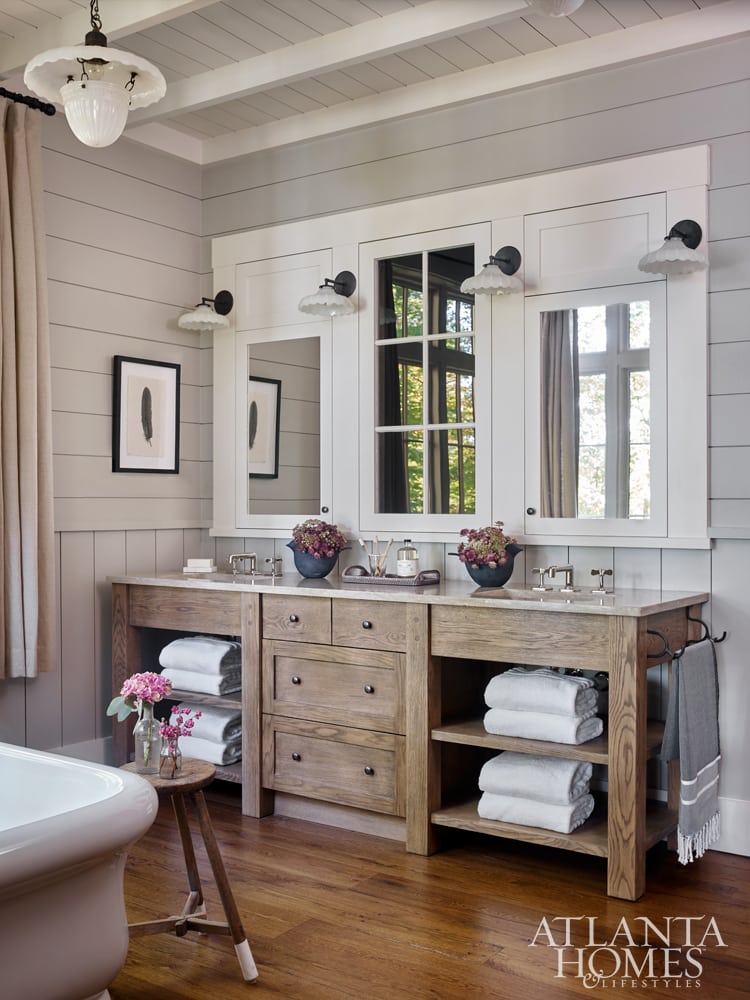 (image: Atlanta Homes and Lifestyles)
That's an interior window between the two mirrors. I can't believe Atlanta Homes left that tidbit dangling and didn't explain why there is an interior window IN THE POTTY and if it literally has a view into another room or what?!?!
Maybe it's just a mirror?
I need to know.
I love how it is trimmed out though.
Also, that light above the tub is so pretty.
---
STILL LAUGHING
This made me laugh…
---
BREADED TILAPIA
Two food pictures in one post. Honestly, if I thought you'd read it, the Happy List would just be all food, all the time.
I made this Breaded Tilapia recipe the other night, but I didn't have bread crumbs. What I did have was Stacy's Pita Chips in multigrain

and jalapeno flavors.
I crushed up the pita chips with a rolling pin and used those for bread crumbs in this recipe.
Pita Chips make the best bread crumbs, folks.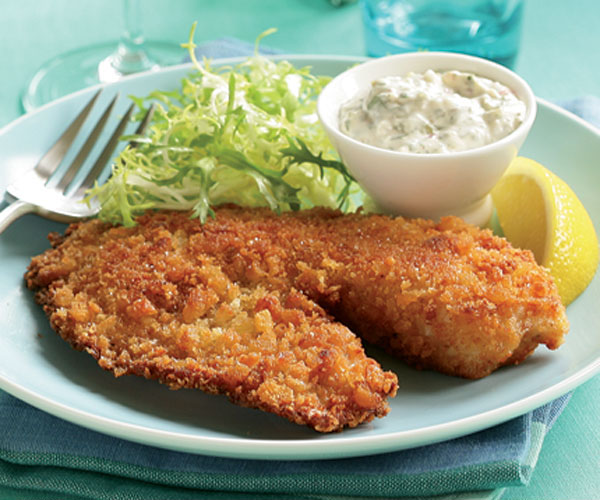 (image: Fine Cooking)
---
SUPER INTERESTING
By far, THE MOST INTERESTING thing I've listened to all week is this podcast episode "The Worst Way to Start a City" by 99% Invisible.
99% Invisible is a podcast about "the thought that goes into the things we don't think about."
In this episode you'll learn why "boomer, sooner" is chanted at University of Oklahoma football games. You'll learn why the Seattle Supersonics were named the Supersonics and the odd connection that has to Oklahoma City (besides the fact that the Sonics moved to Oklahoma). You'll learn why Oklahoma City has a really weird jog in its downtown streets. I don't to spoil it, but it has to do with cheating!
It's so interesting!
If you don't "do" podcasts on your phone, you can listen online here. Podcasts are always free, by the way.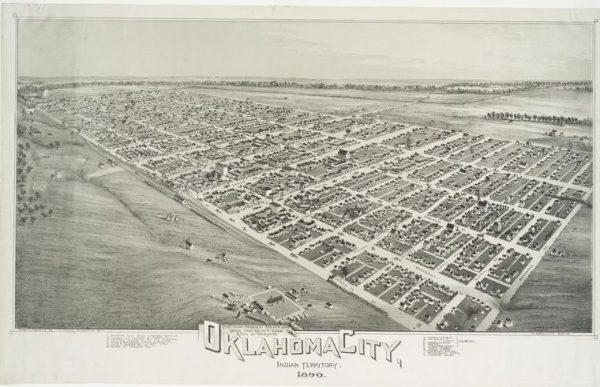 (image: via 99% Invisible)
---
NO SEW FLANNEL SCARF
You had me at 'no sew,' Better Homes and Gardens!
Now, assuming it is cheaper to buy a couple of yards of flannel than to buy a finished scarf, I'll be all over this DIY No Sew Blanket Scarf.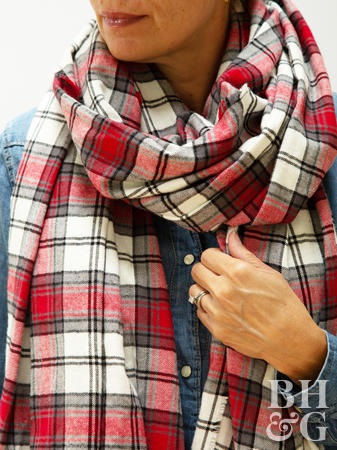 (image: Better Homes and Gardens)
I shouldn't say things like that last sentence because I had to go look. For under $15 on Amazon you can get this plaid
 blanket scarf in a bunch of different colors.
It's hand wash though and a regular piece of flannel could be thrown in the washing machine. So…it's a toss up!
Now I need to go search up how much flannel costs at a fabric store…
---
QUOTE FOR THE DAY
"Any man worth his salt will stick up for what he believes right, but it takes a slightly better man to acknowledge instantly and without reservation that he is in error."
– Andrew Jackson, 7th President of the United States
---
If you made it this far in the post – thank you!
You may also like the super funny and super flattering (not!) photo I posted on Facebook of me at Hershey's Chocolate World.
Oh, and on Instagram I shared a picture of the current view from my deck. Fall leaves are looking gorgeous!
Happy Friday, folks! Hope it is a good one.
*affiliate links in this post*