Herringbone Rolling Plant Caddy
We might have leveled up our reuse and repurpose game with our latest DIY project – a Herringbone Rolling Plant Caddy. We created it from items we had in our house, which made it a zero cost project.
And I love it so much.
Three main items were repurposed to make this rolling plant caddy. The first item was an old board that we cut into a square. What would I do without old boards in my life? The second item was a set of wheels that we removed from this thrift store dresser. The third thing we repurposed to make this plant caddy was a set of wood blocks that we DIY'd for our son a long time ago. He's outgrown them, so I've been repurposing the blocks first as Christmas ornaments (here and here) and now as part of this plant caddy project.
If you want to make a project similar to ours, you can use strips of wood lath cut to size instead of raiding your kid's toy box. A 6-ft. strip of lath is less than a buck at Home Depot.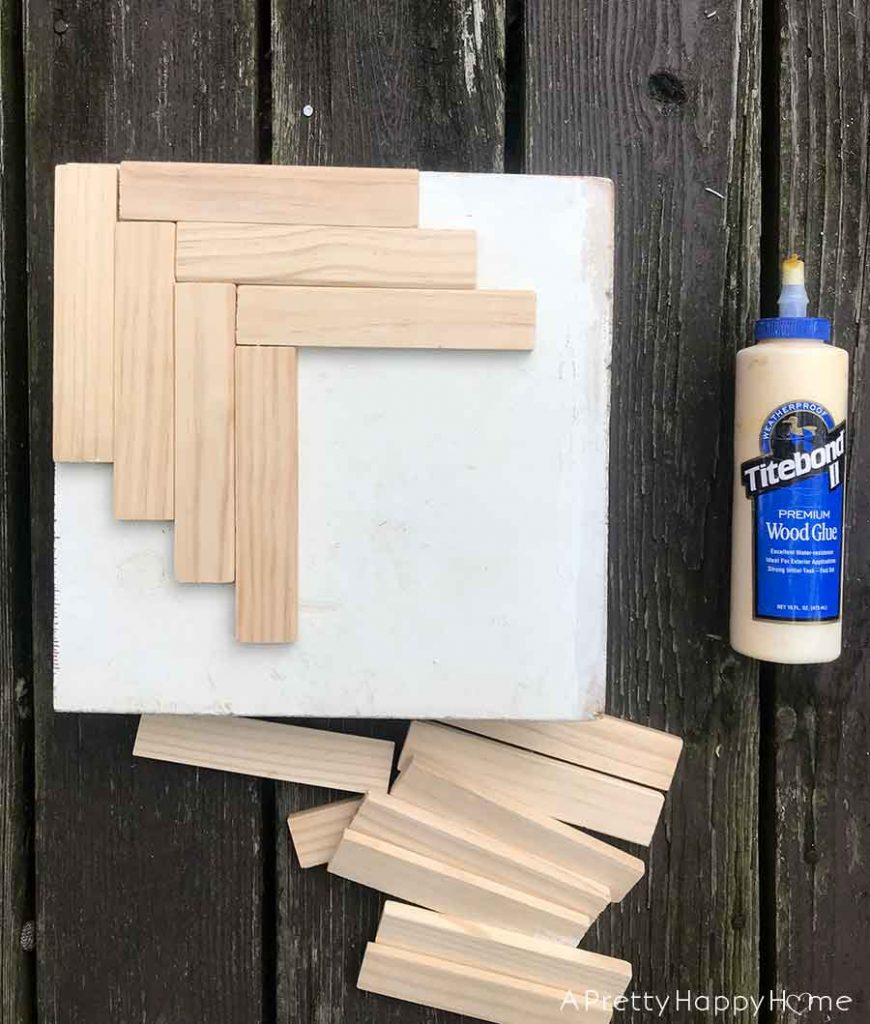 Do I have a need for a rolling plant caddy because I've suddenly turned into a Plant Lady?
No. Definitely not.
I'm an aspirational Plant Lady. I have one toe in the soil, but I haven't fully committed.
It doesn't mean I don't want the tools though!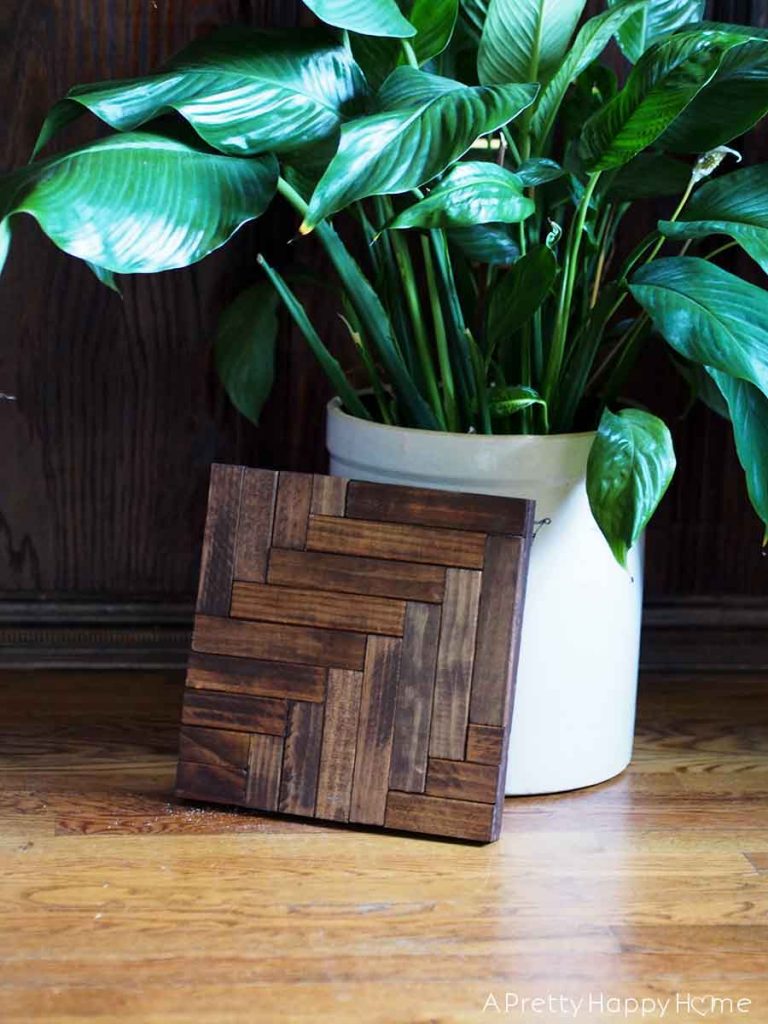 Truth be told, this project started out as an idea to make a gym scooter for our son using the leftover board and old dresser wheels. I thought I was so clever! However, the old wheels didn't move fast or smooth enough for scooter purposes. What a disappointment. Instead, my son spent his own money and bought an actual gym scooter
.
I had a project fail on my hands and it wasn't a good feeling.
So I did what I do with all my uncomfortable feelings. I shoved them into a box in the deepest part of my subconscious.
Kidding. I shoved the scooter into a closet and then laid awake at night trying to think of what else I could make with this failed project.
Because that's definitely a healthier approach to failure.
Ha!
However, one day all that ruminating on the problem turned into an idea!
It usually does if I give it enough time.
Handy Husband loves it when I have these ideas because I like to involve him in the process. We have this rule that you shouldn't use tools that could chop off a finger when you're home alone. If we are both home it feels selfish if I get to have all the power tool fun. So, he usually runs the saw.
Plus, I like my fingers just the way they are.
The wheels were already screwed into the wood base of my plant caddy, so the next step was to glue down the wood blocks that didn't need to be cut to size. Then I marked where all the rest of the blocks needed to be trimmed. Handy Husband cut those wood pieces and I glued them down. Finally, we sanded the edges and I applied a coat of Dark Walnut stain to the board to finish it off.
This was another one of those projects where the longest part of the entire process was waiting for the glue and stain to dry!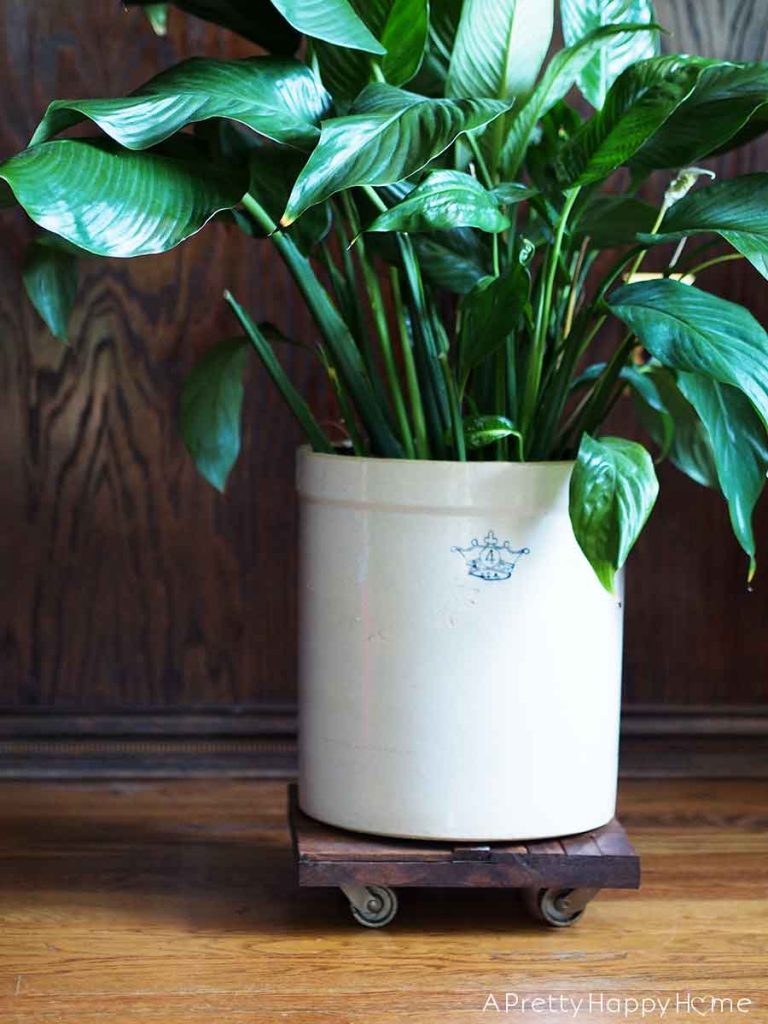 Now that I'm all done with this herringbone rolling plant caddy, I realize I made something that looks really cool that no one can appreciate because the big ol' plant is hiding it.
Hmm…
Clearly, I did not think this project all the way through to the final outcome.
I guess this will be a zero cost project plus the cost of a new, smaller-sized plant.
Hmm…
I'm happy with that.
---
Here are some other projects you might enjoy! 
Over-sized Wood Arrow Made with Wood Scraps
Frame Art with a Piece of Leather
*affiliate links in this blog post*