The Best Flea Market Score
Not only did I recently find the best flea market score EVER, it happened twice at the same flea market.
I know, I know.
I don't think you can technically have two "best ever" declarations in the same sentence. Alas, it won't be the first or last grammar violation on this blog.
Now, while I'm still riding the high of the moment, I am well aware that the best flea market score to me is not the best flea market score to someone else. And thank goodness, right?
Otherwise, they'd be walking home with my finds and I'd be walking home sad and empty-handed.
Actually, I'd be driving. New Jersey is not pedestrian-friendly.
When I went to Elephant's Trunk Flea Market in Connecticut, I didn't know what to expect. That's why I set my expectations really, really low.
In fact, it took me at least two hours of walking around the flea market and a break for a breakfast burrito before I found something I'd been searching for for at least two years.
TWO YEARS!
What was it?
A brass ash bucket.
And not just a regular ash bucket. The ash bucket to end all ash buckets. This is the bucket you would have owned if you were exceedingly terrible about taking your ashes wherever people take ashes because it is gigantic and could hold a lot of…ashes.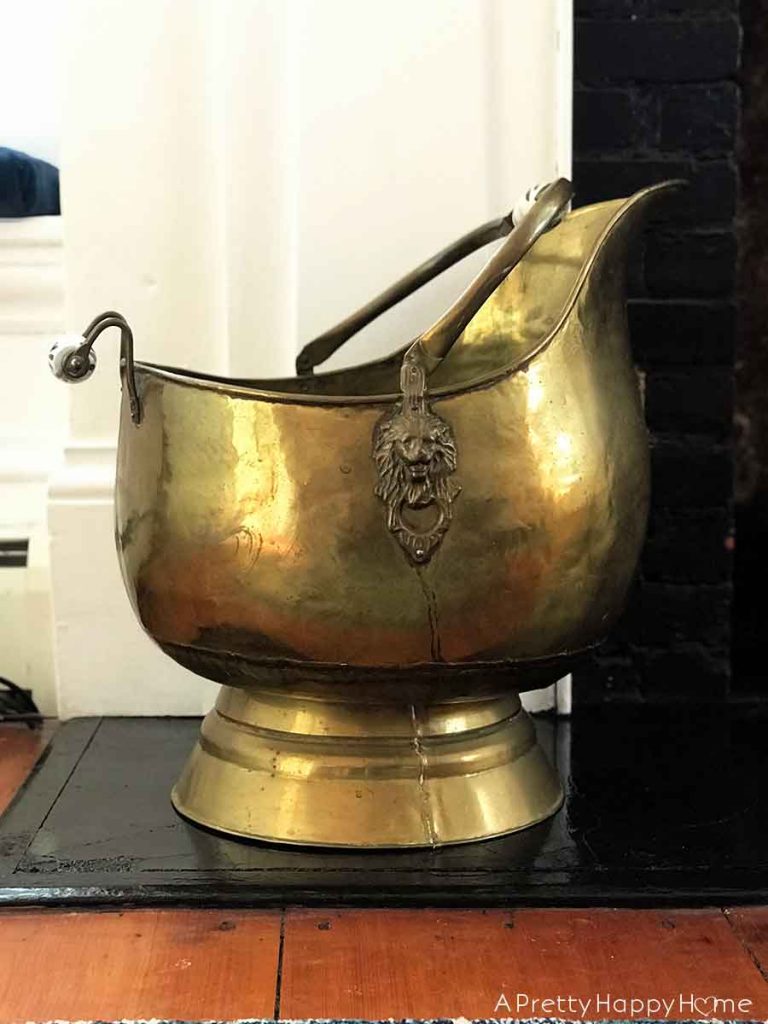 This brass ash bucket is around 20 inches tall.
Why did I want one?
Because I thought it would be the perfect vessel to store my playing card collection.
Tada!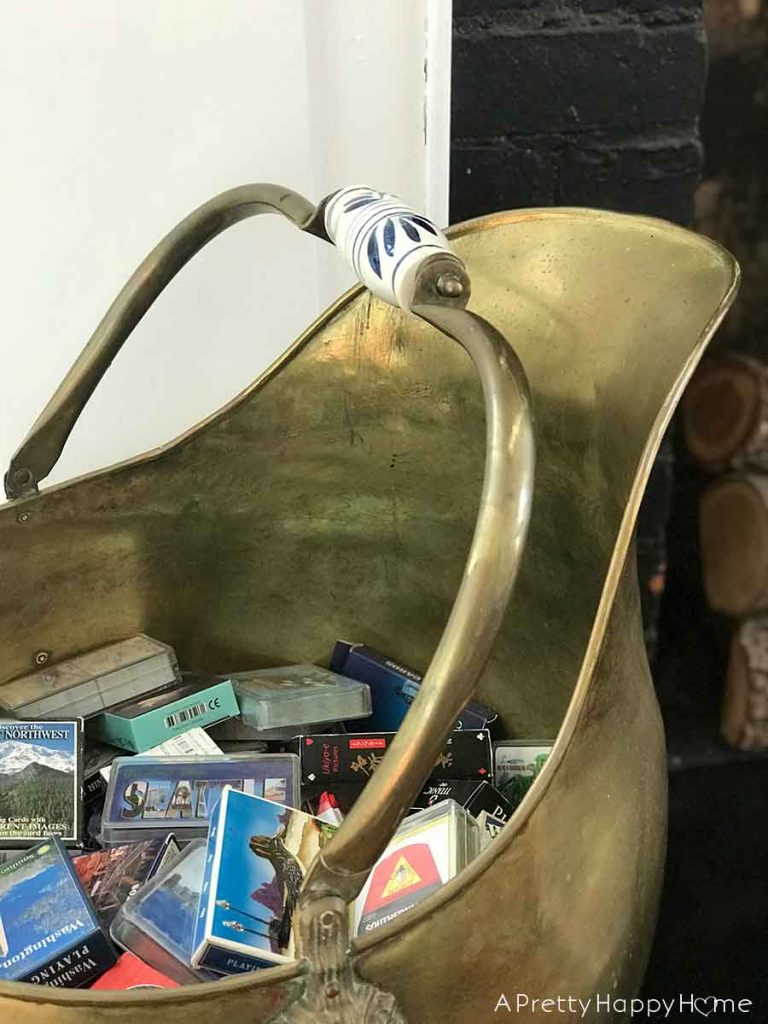 That's pretty great, right?
I collect playing cards when we travel and I've stored my card collection in a variety of baskets over the years, but it never felt right.
I used to walk by an antique store in Ireland almost daily and they had two ash buckets in the window. One day it dawned on me that an ash bucket would be a really unique storage container for my cards. However, I never went in to check the price because I didn't want to carry an ash bucket home on the train (we didn't have a car).
This ash bucket was priced at $25. I asked if that was the vendor's best price and he told me he'd take $22. Since I could easily spend $22 on a regular basket, I was sold!
My second flea market score was a carved wooden horse head. It is about 4 hands tall (get it?) and 3 inches deep.
In these pictures it is sitting on the mantel in my bedroom, but that won't be its longterm home.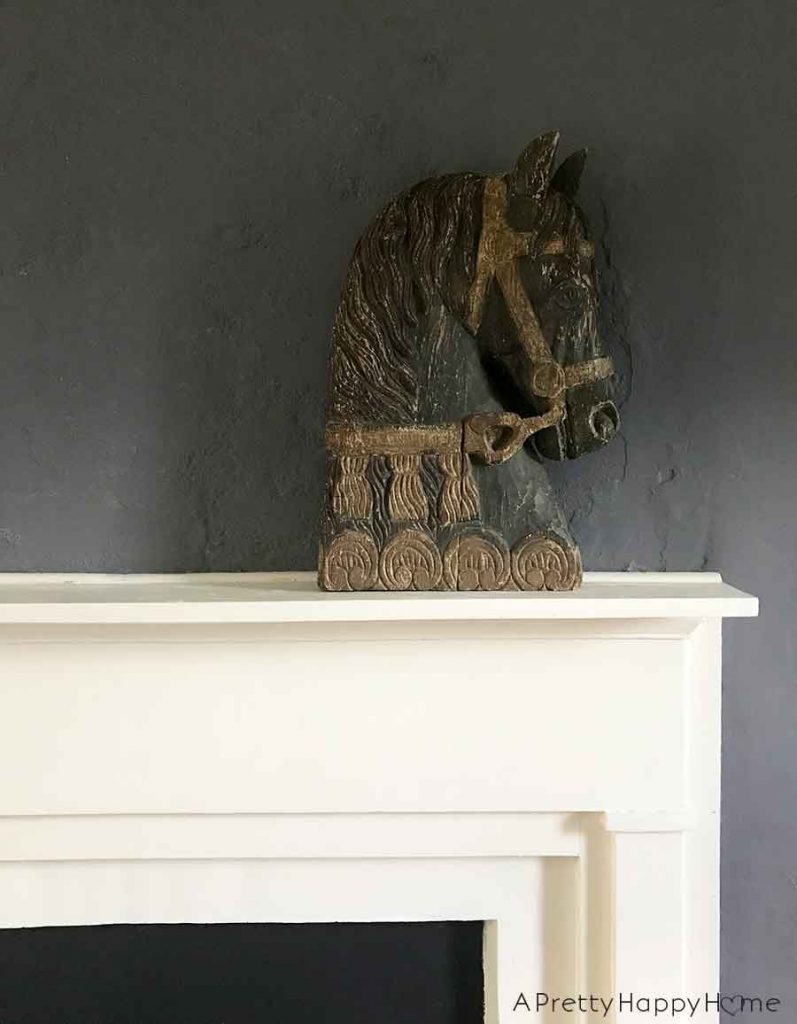 Did I go to the flea market that day looking for a carved wooden horse head? Definitely not.
But it was the one item at the flea market that I couldn't stop thinking about.
It was unlike anything I'd seen before and it had a neat back story (who knows if it was true) about being hung in a horse barn for years.
However, at $200 it was more than I wanted to spend for an art piece at this time. I don't think that is actually a lot of money for art that you love, but I'm the girl that rescues "art" out of dumpsters, so $200 is hard to swallow. Plus, I sort of need other things more right now…like chairs and lamps and ceiling fans.
But, man oh man, was I swooning HARD for this horse head.
I went back to the booth (this was after I had found the ash bucket) and asked the vendor if he would take $100. He said he could meet me at $150. I hemmed and hawed with indecision strategically waited him out and he came down to $140. At this point in the process, I think my dad, who had tagged along with me to the market, just wanted to go home. Maybe this whole situation had become too painful for him to observe. Maybe he just really loves me.
Yeah. Let's go with that.
Either way, he kicked in most of the money for the carved horse head and I paid the rest.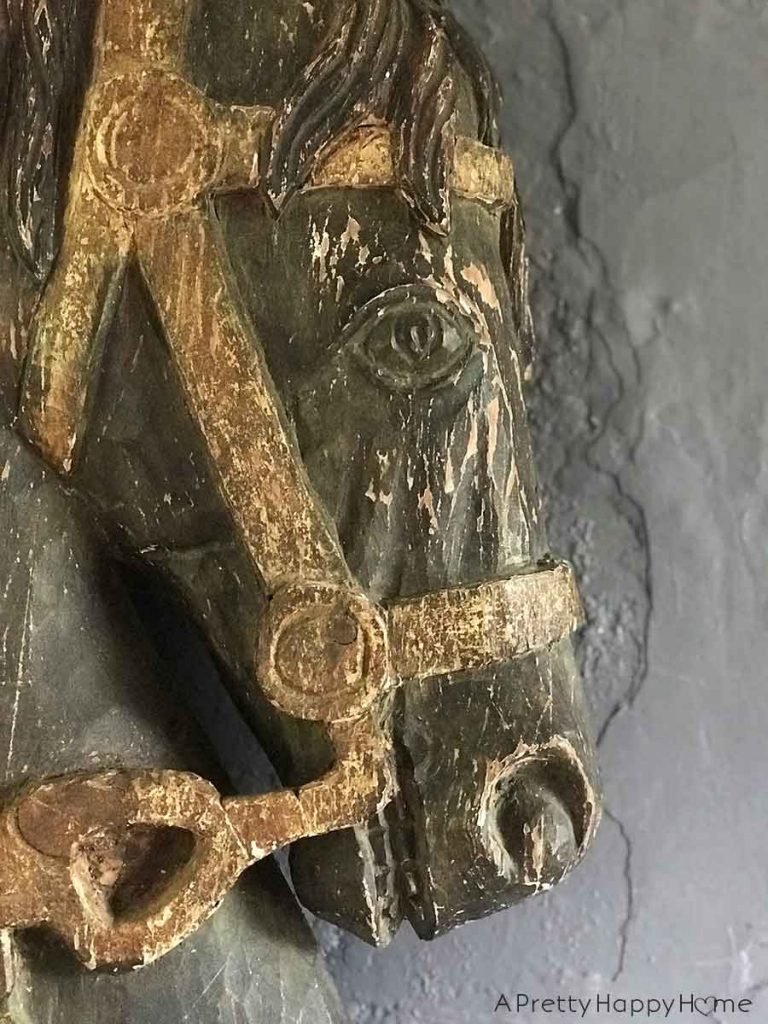 Yes, I'm a grown woman and I'm not above letting my dad buy me a horse. I've only been asking for a pony since I was five years old! True story. Finally wore him down!
I also joked, but not really, that I'm going to be so unhappy if I see this horse head at Hobby Lobby! Seriously, no one burst my bubble if you see this gorgeous specimen on the shelf of a big box store. My heart won't be able to take it.
So that's the story of the best flea market score EVER times two! I doubt I'll ever have that much luck at a flea market again. However, just to be safe, the next time I go, maybe I should take my dad.
---
P.S. On my desk is a photo of my parents riding horses. My mom is very clearly pregnant with me in the photo. So…that might explain a thing or two about how I turned out.
P.P.S. If you want to plan a visit to Elephant's Trunk Flea Market, click here.
---
I'm as passionate about the following post suggestions as I am about horse heads and ash buckets. Maybe you will enjoy them just as much. 
How NOT to Make a Pumpkin Out of a Book
Sweet Potato Cranberry Doughnuts (my most popular food pin on Pinterest right now)