LED Candles for the Master Bedroom Fireplace
Our Colonial Farmhouse has three fireplaces and a wood stove.
You've already seen the fireplace in our dining room and the one in the living room made an appearance in this post. We aren't going to talk about the wood stove today because it is the bane of my decorating existence.
Today I'm going to show you the fireplace in our master bedroom, which is located directly above the living room.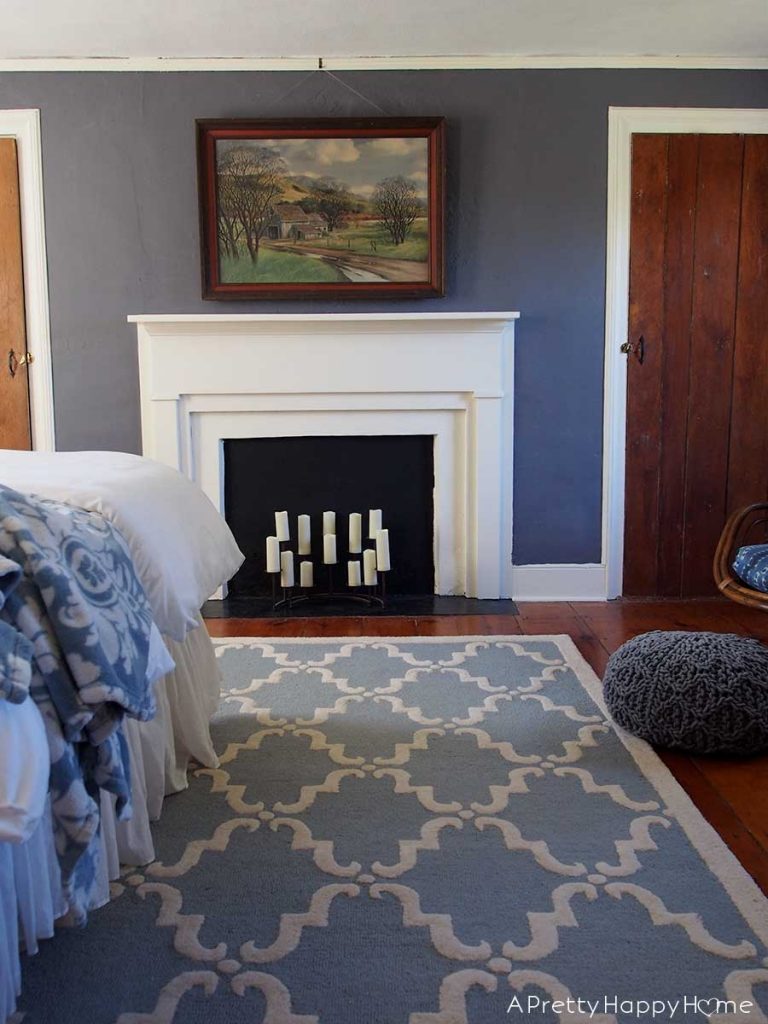 The master bedroom fireplace is not working because our boiler is venting through that chimney. Honestly, we wouldn't use it even if we could.
Can you imagine carrying firewood all the way through the house, up the stairs, down a hall and into a bedroom at least once a day?
That chore would get old fast, but families did that for more than a century in this old Colonial Farmhouse!
I shudder to think of all the dirt that would track in.
I don't even like to carry laundry up and down the stairs, so it is probably for the best that I wasn't born in the 1800s.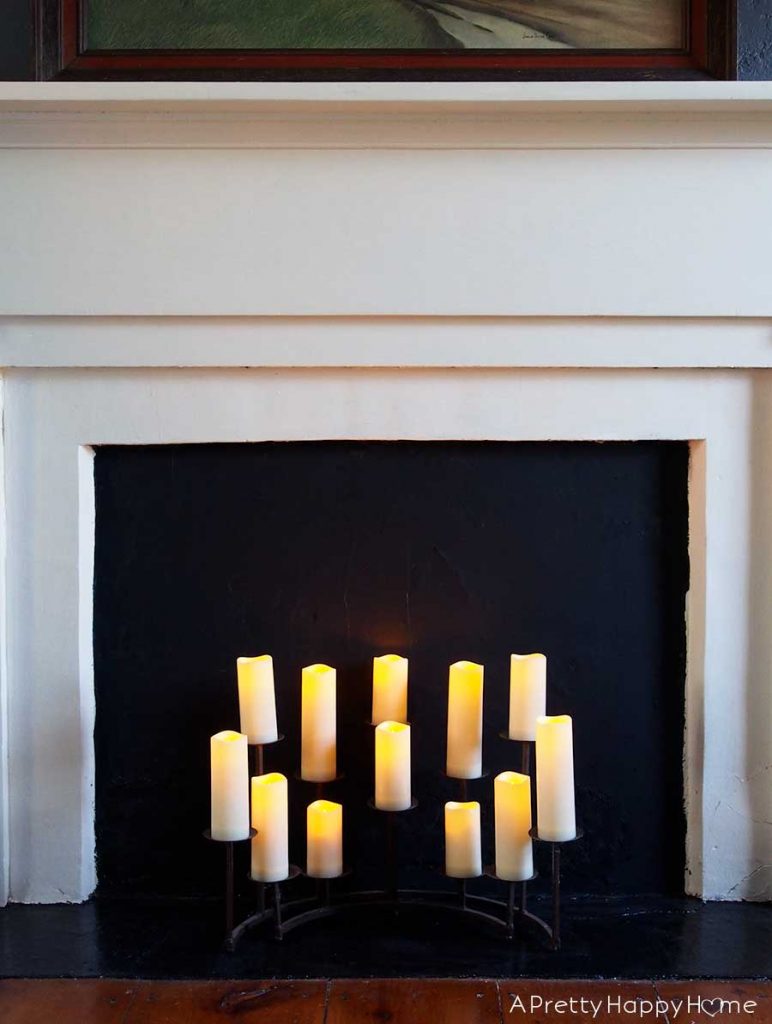 The only thing I've done to spruce up the master bedroom since we moved in, besides clean, is repaint the hearth. The mantel needs a fresh coat of paint, as do the walls, but that's not stopping me from enjoying this fireplace.
After all, I've never had a fireplace in my bedroom before. It feels so decadent!
If I can't have an actual fire, I'm going to have the next best thing. Candles.
Real candles didn't seem like a safe option, so I ordered LED Candles
.
These LED Candles
flicker to imitate the look of a real candle, but that's not the best part.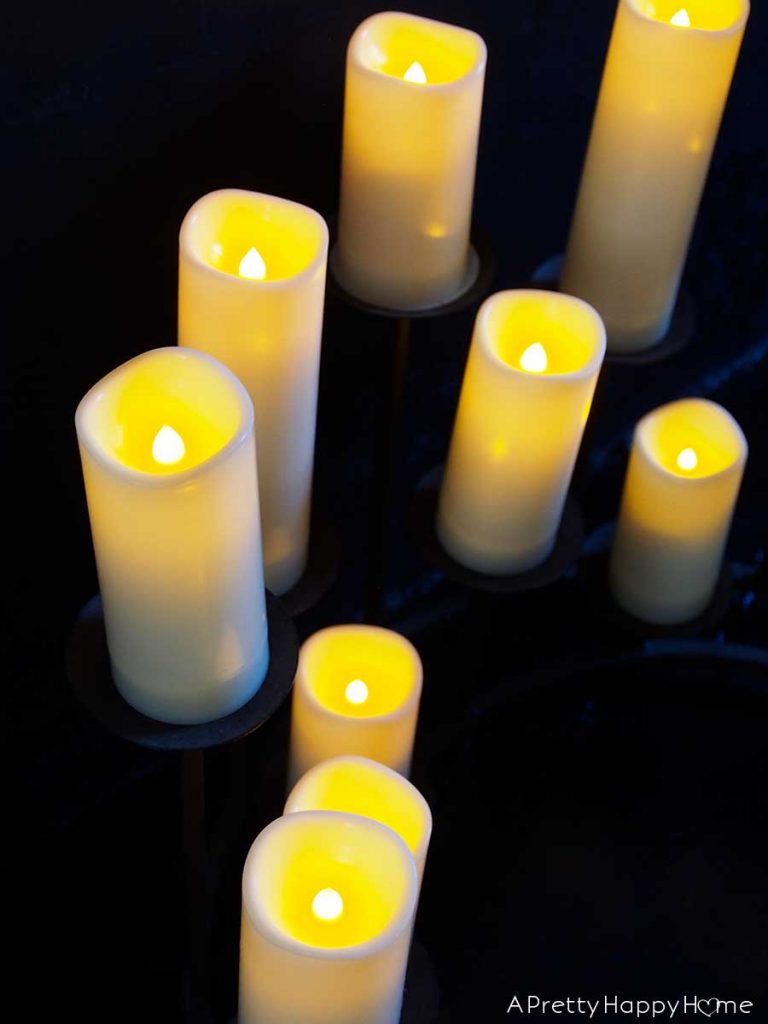 The best part is I can turn them off and on with a remote. A remote!
Let me spell out how fancy I feel with this remote.
We don't have a light switch in our master bedroom.
Do I need to repeat that? No. light. switch.
I'm not pulling your leg right now.
I'm too busy pulling the cord to turn the light on and off in our ceiling fan.
The only room upstairs that has a light switch is the bathroom.
And to think we gave up a perfectly nice home with modern conveniences to live in one without light switches. Do I even want to know what that says about us? No, I do not.
So the fact that I can lay in my bed and use a remote to turn my LED Candles
off and on is a pure luxury for me.
I highly recommend it no matter how many light switches you have.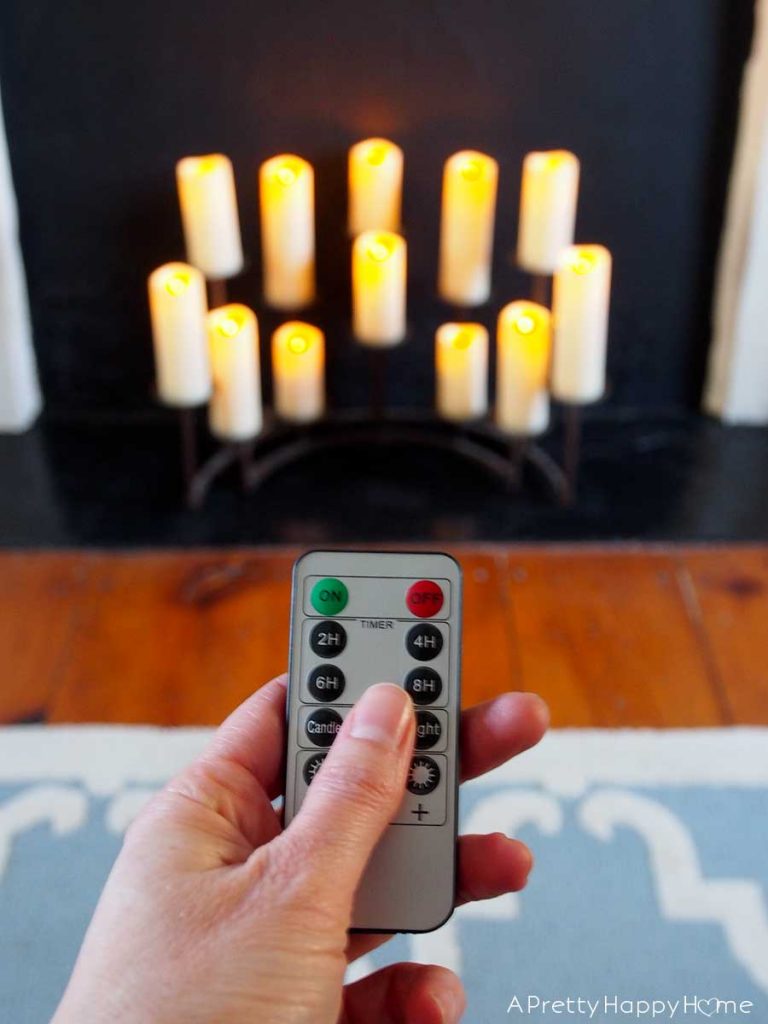 The warm glow and ambiance this fireplace now gives our master bedroom when the LED Candles
are on makes me so happy.
My only regret is that Handy Husband has a much better view of the fireplace from his side of the bed!
---
These are the LED candles I ordered: Aignis Flameless Candles set of 12
You can also order them in smaller quantities. The 12-pack was $26 when I ordered them, but they don't come with batteries. We use rechargeable batteries
 and I'm so glad we switched to those several years ago. Also, these LED candles can be used outside!
The fireplace candle holder was left in our house and I decided to use it. I don't know if these things are stylish anymore, but it works for me. I see them at thrift stores all the time.
---
Well, that was fun! Although, I do find it a little awkward to talk about the place where we sleep. Here are some other posts that may or may not keep that awkwardness alive and well. 
Create hanging loops for kitchen towels with denim belt loops. 
Closing waistband gap on jeans with elastic – no sewing machine needed
*affiliate links in this blog post*