Happy November! Welcome to this week's Happy List!
How was your Halloween? Did you eat hand out lots of candy to trick-or-treaters?
We experienced epic rain all day yesterday, but thankfully, there was a break in the storm around 5 p.m. and we dashed out the door to trick-or-treat. We live in a rural area, so we drove a few miles to a historic town. The residents there were SO into the Halloween spirit. Most of them sat out on their gorgeous covered front porches and handed out candy to the kids. It was small town America at its finest.
At the beginning of the week, I shared a picture of the fireplace in our master bedroom. A few people asked about the painting above the fireplace and on Monday I'll share the story behind that painting.
Then on Wednesday it was all about my love for grapes and how I store them in a ceramic colander. No topic is too small for me to opine on, apparently.
I'm making an effort to do more stories on Instagram and yesterday I shared a tour of our kitchen staircase. It has the worst wallpaper in the house. Cows, sheep and chickens, OH MY! In case you missed it, I saved the story to my Instagram highlights under "kitchen."
Now, let's get to the Happy List!
---
U-SHAPED HOUSE
I love a home that is U-shaped with a central courtyard type of space.
This home is by New Old Custom Homes. They are one of my favorite builders to follow on Instagram.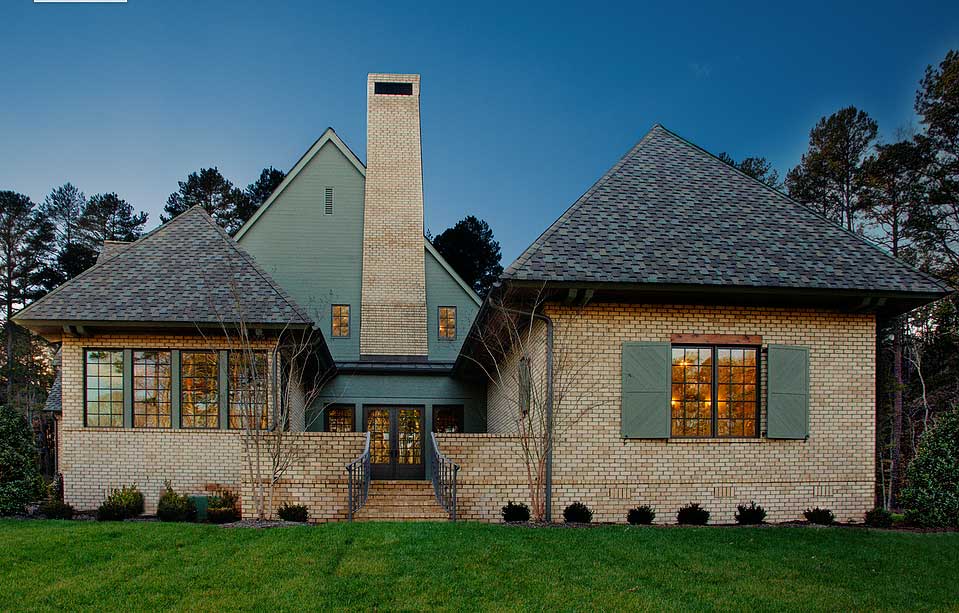 (image: New Old Custom Homes)
---
MANTELCLIP
Since I just painted my living room mantel, I'm hesitant to put holes in it to hang our Christmas stockings. Also, our old stocking holders are broken.
I'm telling myself this is the year I need to remedy that situation, but I want the holders to be a little more nondescript. These MantleClips
are sold in a variety of finishes by Balsam Hill, Home Depot, Amazon
and others. The reviews on every site are excellent and people swear they don't leave marks or scratches on your mantel. Home Depot has the best price right now (under $20). Balsam Hill has the worst price (almost $30).
Or I could spend zero dollars and just screw four hooks into my mantel. Choices, choices.
---
DAN DAN NOODLES
This might be the unicorn of recipes for my family.
My daughter and Handy Husband eat most anything. My son is a picky eater. When I try a new recipe, there's a good chance only 3/4 of us will be enamored with it. Everyone had seconds of this Dan Dan Noodle recipe. Except me because…self-control. My son asked me if we could have this recipe more often. Well, now that we've had it once, sure!
They didn't even guess the recipe had mushrooms in it, but I did dice them up super small. No one tell them! I did leave out the spinach because we had green beans to go with it.
Try this Better Than Takeout Dan Dan Noodles recipe by Half Baked Harvest. It's pretty easy and quick to make. I had it ready in about 30 minutes.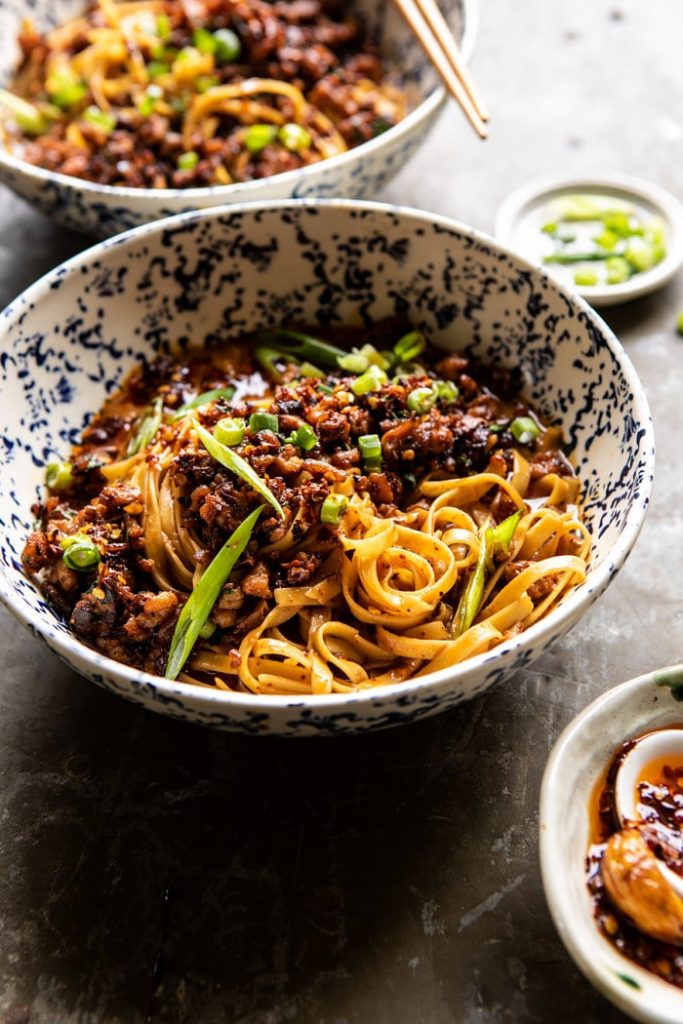 (image: Half Baked Harvest)
---
E-GAMING UNDERGRADUATE DEGREE
You may or may not consider this happy news, but my kids sure do! Ohio State University now offers a bachelor of science degree in game design and e-sports.
I'll now consider all that video game time career prep. Perhaps that will lessen the parental guilt.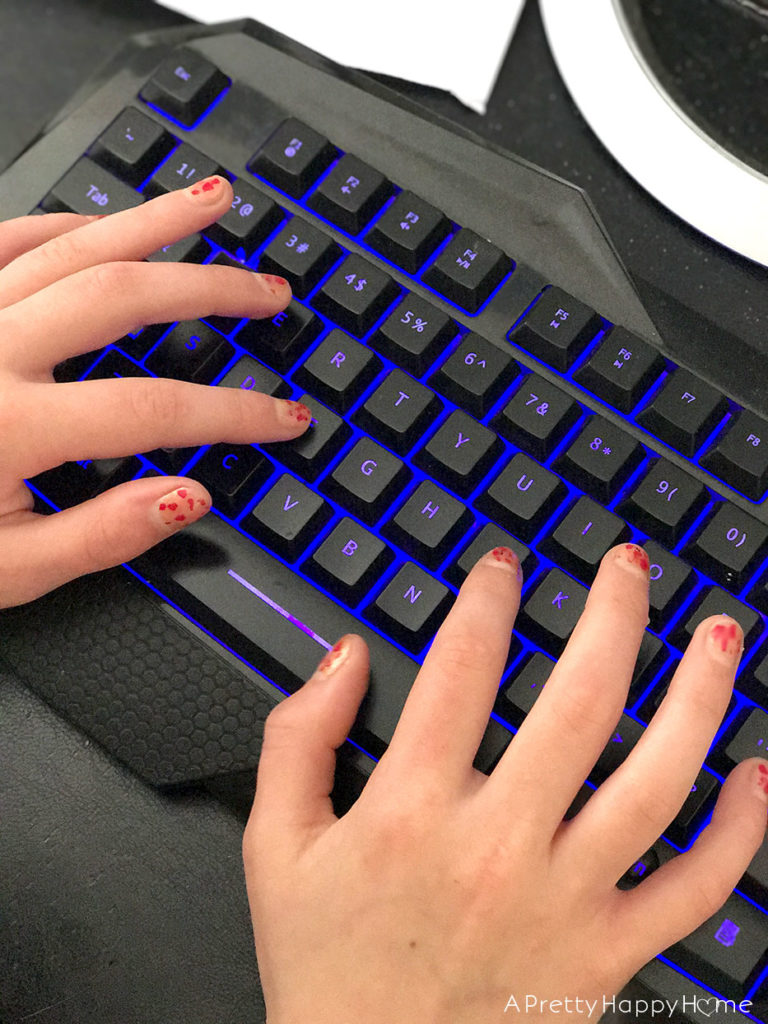 ---
COLORFUL ART
The green and white art in Matilda Goad's home makes me want to DIY some color-blocked art of my own. More pictures and ideas on how to decorate like a Brit can be found in Domino.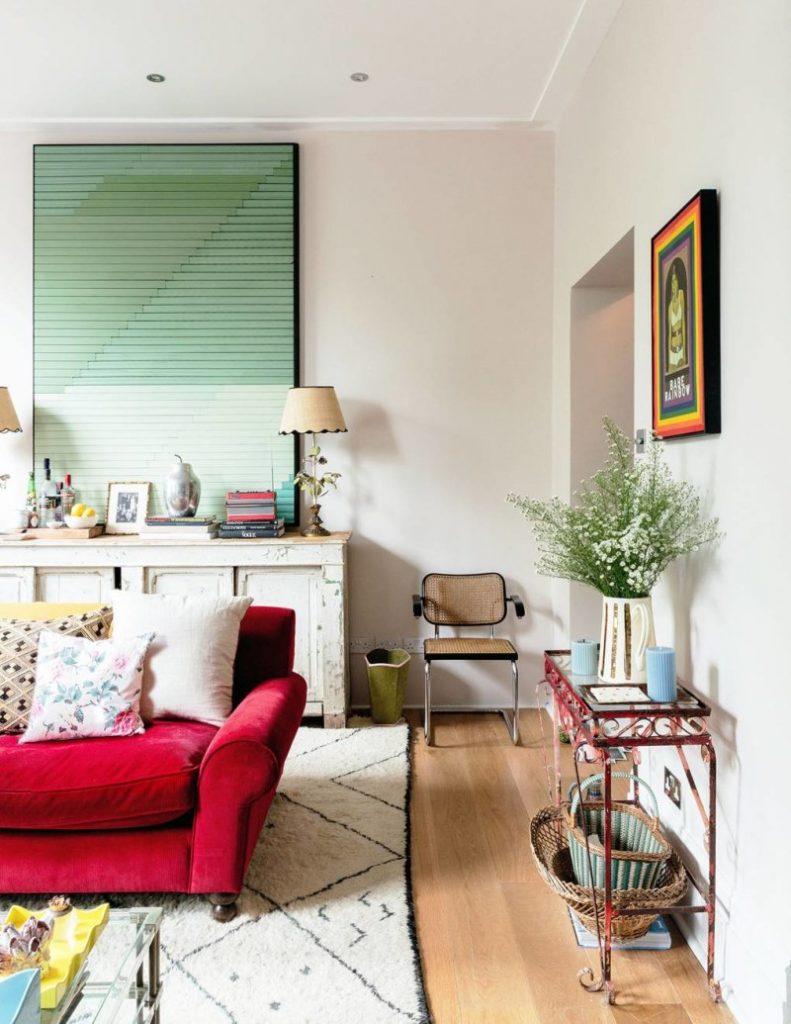 (image: Matilda Goad via Domino)
---
WHY WE CAN'T REGROW OUR LIMBS
I've always thought it was a shame that if we lose a limb we can't regrow it like some animals can.
Now scientists think they have more understanding why and it has to do with cold-blooded genes vs. warm-blooded genes.
Read about it in this Popular Science article.
P.S. I didn't have any tadpole pictures, so enjoy this old one of us at the Oregon Coast Aquarium. Starfish can regrow limbs and if you squint there are a few in this tank.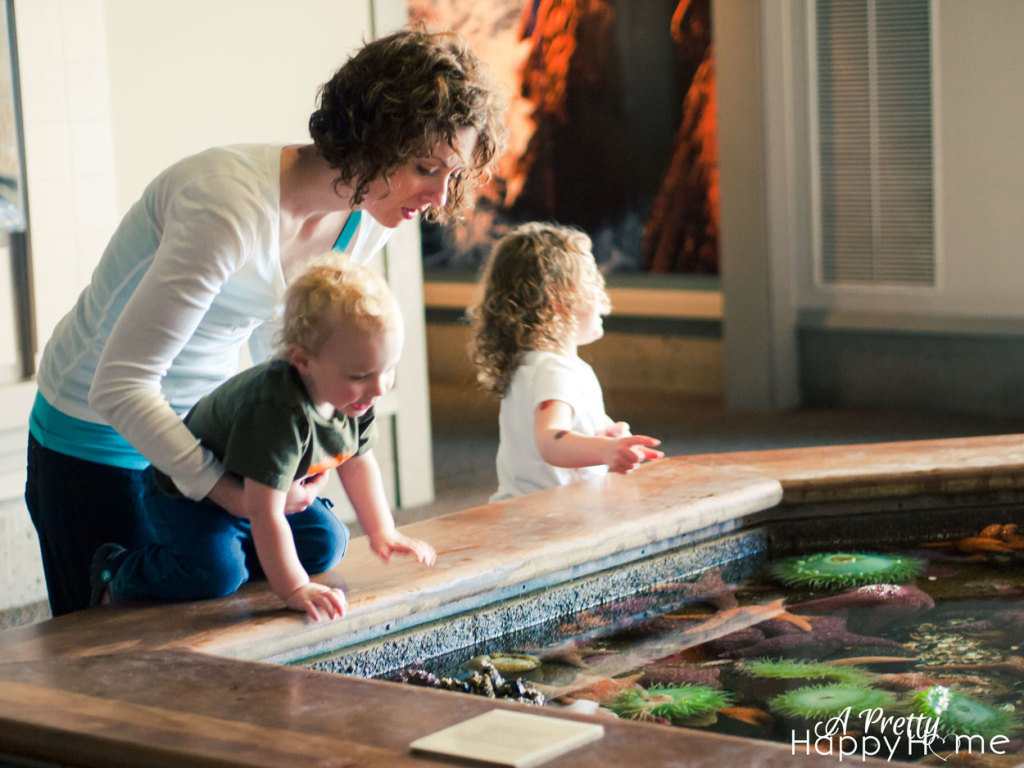 Soon after this picture was taken, I put my hand in one of the touch tanks at the Oregon Coast Aquarium. I was looking down at my hand, but out of the corner of my eye I saw a fish make a beeline for me. Before I knew it, the fish had clamped onto the end of my pointer finger. I jerked my hand out of the water and there were two small puncture wounds on the tip of my finger and blood was dripping down my hand.
The volunteers at the touch tank were SHOCKED. They kept saying, "Nothing like this has ever happened before." Needless to say, I'm a little wary of touch tanks.
---
STAIRCASE
I don't think I've ever seen a staircase railing like this before. Have you?
I found this photo on
Houzz
.
---
Thank you for reading this week's Happy List!
Go forth and conquer your weekend!
*affiliate links in this post*