Five Board Games Handy Husband Recommends
There are five board games Handy Husband recommends you all try this holiday season while you're home hanging out with your loved ones.
He says these five board games are guaranteed to help you pass the time more enjoyably.
Guaranteed, huh? That's a pretty strong word coming from someone who is not going to give you your money back.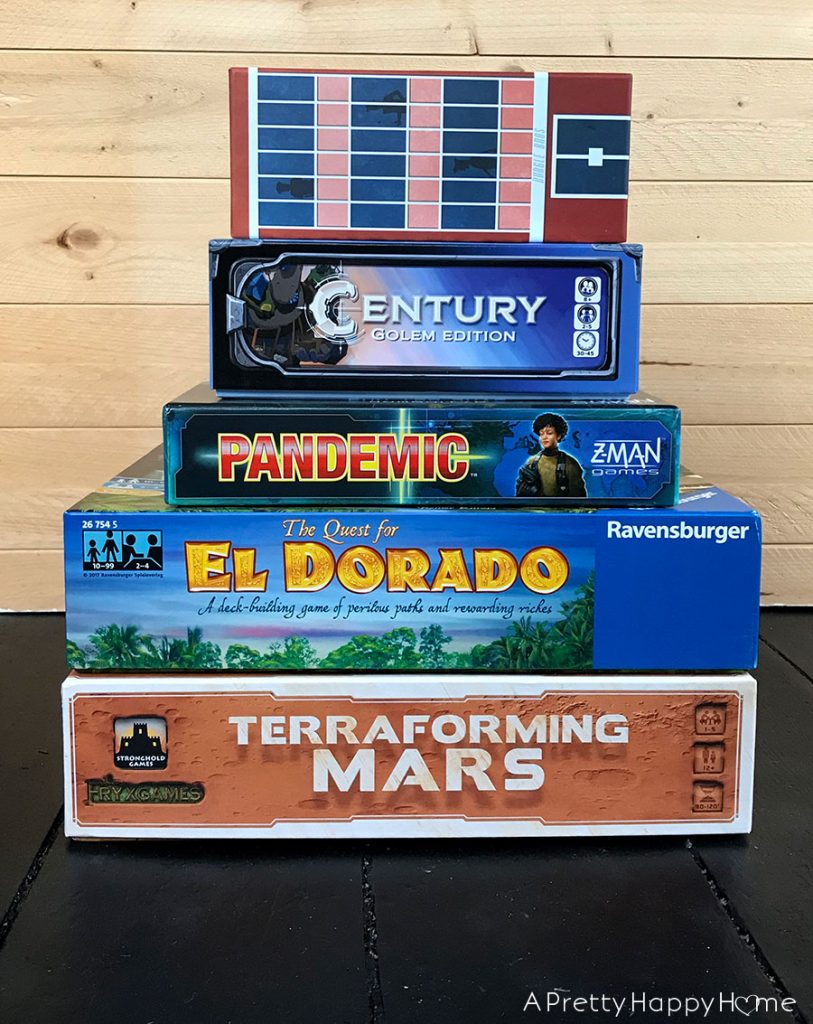 I asked Handy Husband if he would write this blog post himself, so you'd get a first person account of why he recommends these particular board games. After all, he's the person who appreciates how well a game is designed, how often it can be played without getting predictable, the quality of the playing pieces, and the beauty (yes, I said beauty) of the game's artwork. In other words, he's not a casual board game player. He's INTO it. He's vetted these games and if you were at our house right now he'd drop everything to play one of them with you.
He said he "didn't want to steal the limelight" away from me.
Um…thanks?
Plus, he noted writing a blog post would take precious time away from all the honey-do chores I have lined up for him playing board games.
Fair point.
So, without further ado, here are the five board games Handy Husband recommends this year.
---
Terraforming Mars
Terraforming Mars
 is a game set in the future. It is now the 2400s and mankind begins to terraform Mars. You play a corporation with huge project goals to raise Mars' temperature, oxygen level, and other metrics until the environment is habitable.
While you work with the other players to terraform Mars, you are also competing for victory points. These points are awarded for your contribution to the terraforming, but also for advancing human infrastructure throughout the solar system.
In full disclosure, it should be noted that Handy Husband contributed to the Kickstarter for this game. I asked him what we get out of this Kickstarter contribution and he said we get every expansion they ever make sent to us for free. And then I swear he giggled.
Have I convinced you that Handy Husband loves a well-designed, fun-to-play board game yet?
---
Pandemic
This game has a 5-star rating with almost 3,000 reviews. The people have spoken. It is a good one.
Handy Husband thinks it is arguably one of the most polished games he's played in awhile.
Pandemic
 is a cooperative board game for 2 – 4 players, ages 8 and up. You and your team must work together to keep the world safe from four deadly diseases. You'll travel between world cities setting up research stations and treating disease outbreaks. Can you save the world together?
As a bonus, this is a really fun way to teach geography to kids. Our 9-year-old was into it!
---
The Quest for El Dorado
In the game, The Quest for El Dorado
, you are a group of adventurers who must assemble a team and search for the lost city of gold, El Dorado. Whoever crosses the border first into the golden city wins the game.
The Quest for El Dorado
 is designed for 2 – 4 players ages 10 and up.
This is a deck-building board game which means each player starts with the same combination of cards – his or her deck. The player uses the cards to move his/her expedition and to purchase new and better cards.
---
Burgle Bros.
Burgle Bros.. is a cooperative board game for 1 – 4 players. Yes, you can play this game by yourself if the rest of your crew is gamed-out!
Much like the name sounds, you'll need to work together to pull off a heist. Your team must make it past alarms and guards to find the stash and escape. If one of you gets caught, the game is over.
The game is adaptable, so you can make it easier or harder depending on the skill level of your players. This is a great feature, especially if you are playing with kids.
---
Century: Golem Edition
In Century: Golem Edition
, players serve as crystal traders who establish a trading network to collect the right combination of crystals to activate powerful ancient golems.
The game is designed for ages 10 and up and takes about 45 minutes to play.
The Golem Edition of this board game is quite expensive, but the original, Century Spice Road
, is much more reasonably priced at under $30.
---
Like all new board games, some of these might take a bit of time initially to set up and learn the rules. Handy Husband assures you it will be worth it. While he does play these games with our kids (ages 9 and 12), our 9-year-old can get antsy if any of the games last too long.
If you play one of these five board games Handy Husband recommends over the holidays, let us know!
If you need more board game ideas, read this post on the Board Games Even I (a non-gamer) Like to Play.
Happy board gaming!
---
Thanks for hanging out with me today. Here are some other posts you might enjoy. 
Bird Nest in a Shoe (this one should make you laugh)
DIY Wooden Heart Magnets (fun gift idea)
Presents My Kids Played with Longer Than Five Minutes
*affiliate links in this blog post*