Built-In Computer Desk Reveal
I love typing the word "reveal" into a blog post title.
It makes it sound like I've really got things dialed in on the home front, doesn't it?
So, let's run with that utter nonsense sentiment and talk about our built-in computer desk.
---
THE DESIGN DILEMMA
We live in a colonial era farmhouse that has plenty of weird spaces character. Case in point? There is a narrow, awkward space on our second floor that is a real head scratcher.
It's bigger than a hallway, but not big enough for a bedroom. It is more like a landing.
I've come to realize 'landing' is just a nice word for "you have to walk through this awkward space to get to somewhere you really want to go."
We decided to turn this awkward space into an office because we needed a better solution for where to put the kids' computers. We are a big computer family because of Handy Husband's background in computer science. These computers are what the kids use to do super important, highly critical things like play Minecraft.
As you can see from the below "before" picture, we did not have a pretty or functional solution for all of this super important Minecraft business. We were using two desks butted together. The desk in the foreground was left here when we moved in and the blue one behind it was in my son's room in our last house. There was a flowery stencil on the wall. Someone left pop cans, a plate, and a shirt just lying around.
Things were out-of-control!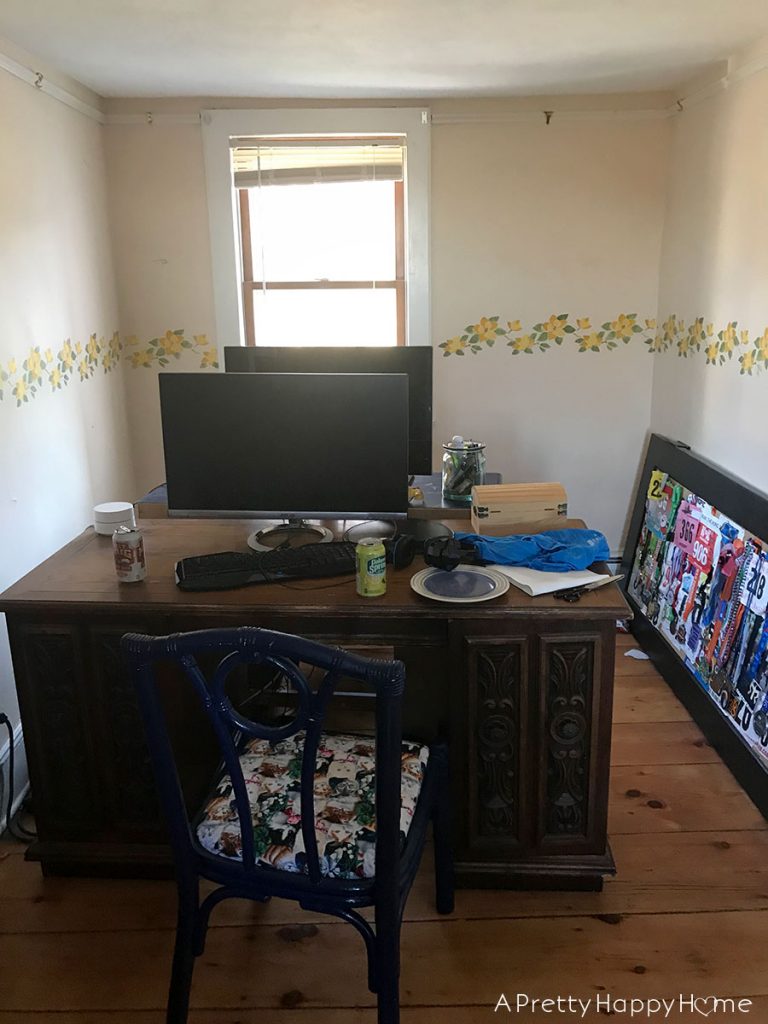 ---
OUR PLAN OF ATTACK
Kidding. We didn't have a plan of attack. We had a vague outline. Some general talking points. There were definitely a lot of "what if we did this" conversations.
All we knew for sure is that we were going to build the built-in computer desk on the right side of the above picture where that door with Handy Husband's running medals is resting.
The rest we would figure out as we went.
The first step was to clear the space. Unfortunately, that meant we had to haul that heavy wood desk down the stairs. I distinctly remember it being a lot easier to get up the stairs. I probably broke my back in the process, but I did sell the desk for fifty bucks, so my back pain felt a lot better after that.
---
GET TO BUILDING ALREADY 
While I was busy wrangling Facebook Marketplace buyers, Handy Husband was doing the real work on this project.
His first task was to build the top of the desk using wood we repurposed from a trundle bed Handy Husband had DIYed several years ago. The only direction I gave him is that I wanted to stain the top of the desk and paint the base. He ran with it and came up with the best design possible using the materials we had to repurpose.
Thankfully, I loved it.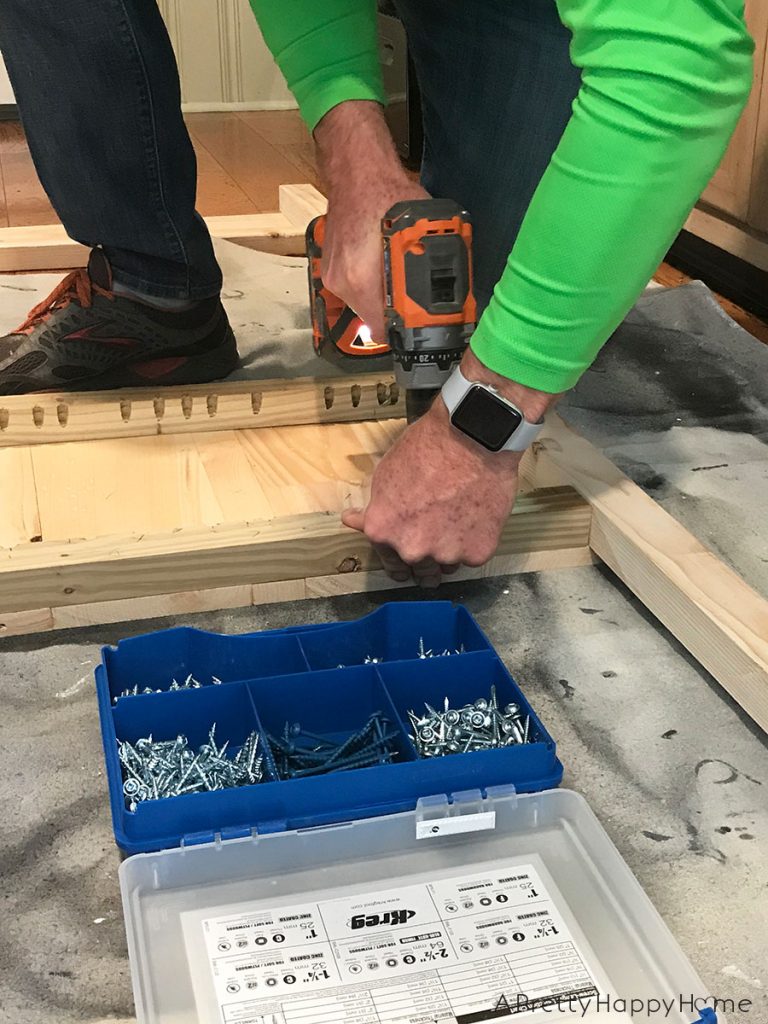 He built the desk top first because when I say we live in a colonial era home, I mean funhouse. I'm kidding. I just mean that nothing is level or square. Handy Husband decided that the most critical part of the desk was the top and that needed to be level and smooth. Everything supporting the top could then be adjusted as needed.
I don't know that there's a right or wrong approach here. It's more of a pick your poison type of thing.
---
TAKE A SHORTCUT WHEN NECESSARY
We're all for building things from scratch. However, if there's an opportunity to make a project easier, then we are going to carpe diem the heck out of that situation.
To that end, we determined the top would be supported by two drawer stacks that we repurposed from my son's old desk. That desk was constructed of solid wood, so it was sturdy, but we would no longer need it when this project was complete. Repurposing the drawer stacks made our lives so much easier since we didn't have to waste time building those.
Handy Husband did build a custom shelving unit to go in the center of the desk to hold the computers. The computer shelf is fully enclosed on the right side, but is only halfway covered on the left and least visible side. This gave us access to the cords that plugged into the back of the computers and will allow airflow so the computers do not overheat.
We don't want a lapse in critical Minecraft business because of a computer meltdown.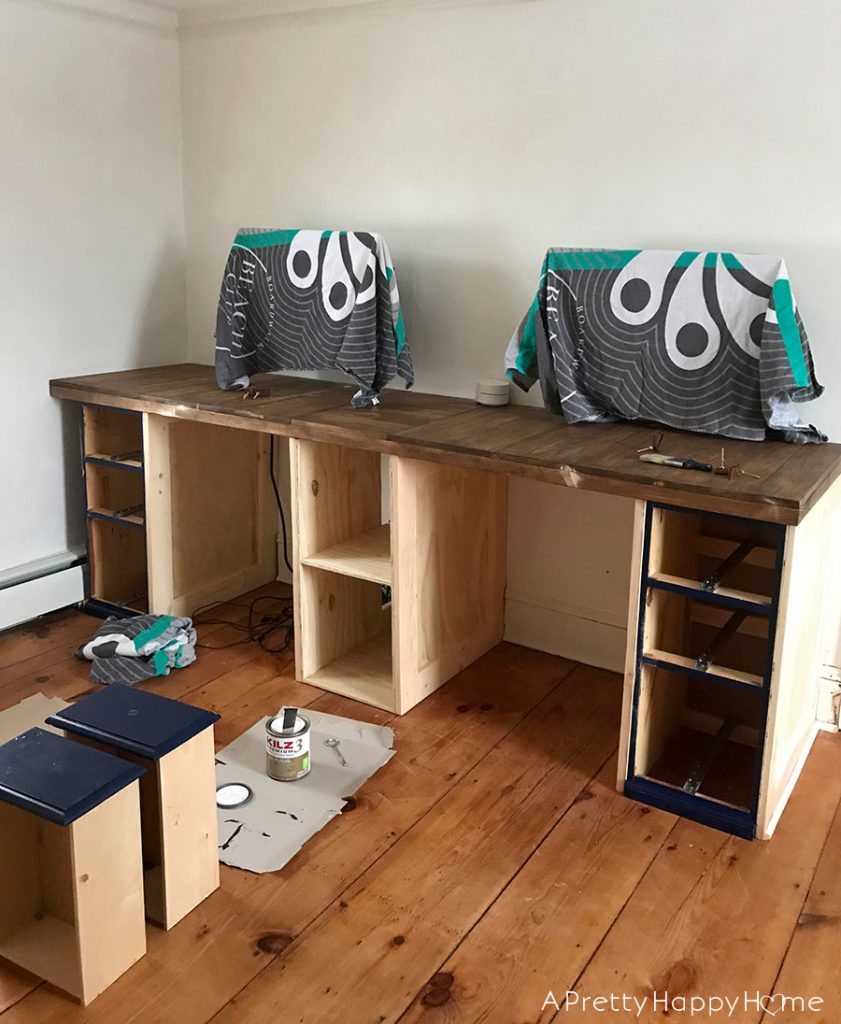 Our desk top was going to be deeper than the drawer stacks, so Handy Husband had to create end panels for each drawer stack that served two purposes.
First, it had to hide the gap between the drawers and the wall. That meant we had to cut out the baseboard trim to slide the panel flush against the wall. We found some lovely stone and lumps of plaster hiding back there.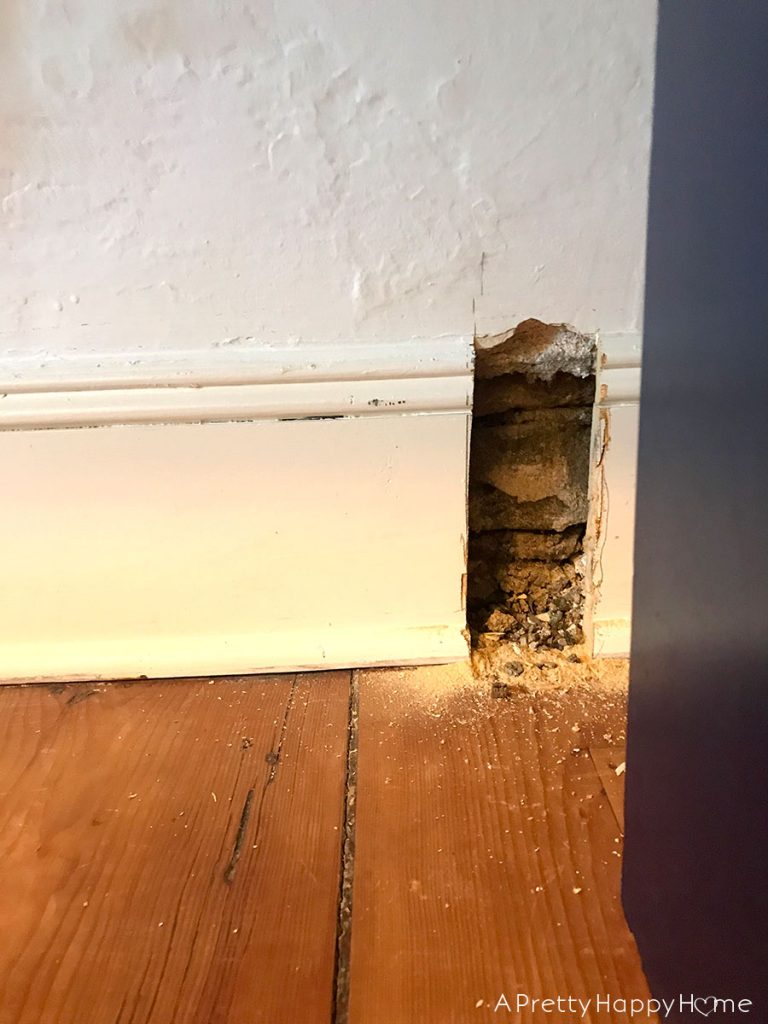 Second, the panels needed to bring some style to the space.
While this is a new build, we wanted the built-in desk to complement or blend in with the rest of the house and its gorgeous trim work. We aren't taking this desk with us when we go! Our goal was to mimic the trim profile that is used in other places of our house for the sake of continuity.
Once I filled in all of the Kreg Jig holes, caulked all the gaps, crossed my fingers and toes, and painted the base, I was reasonably confident this built-in computer desk was going to look better than what we started with amazing.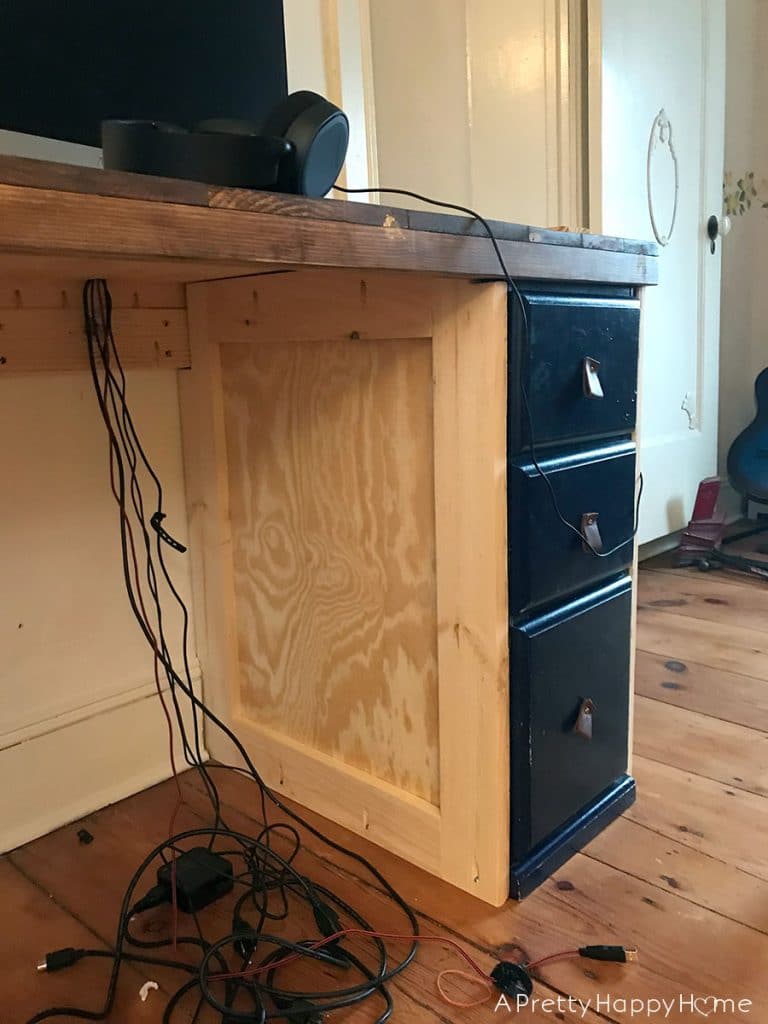 ---
HIDE ALL THE FLAWS
I wasn't joking about things not being level, straight or square in our home.
Have you ever seen a wavy wall?
Well, feast your eyes on this!
The desk is straight. The wall is THAT wavy. Half of the wall is plaster over stone. The other half is plaster over lath. We didn't even realize how wavy it was until we were securing the desk to the wall. But this illustrates how much measuring and custom cutting Handy Husband had to do to build the desk base.
The good news is the gap behind the desk can be fixed.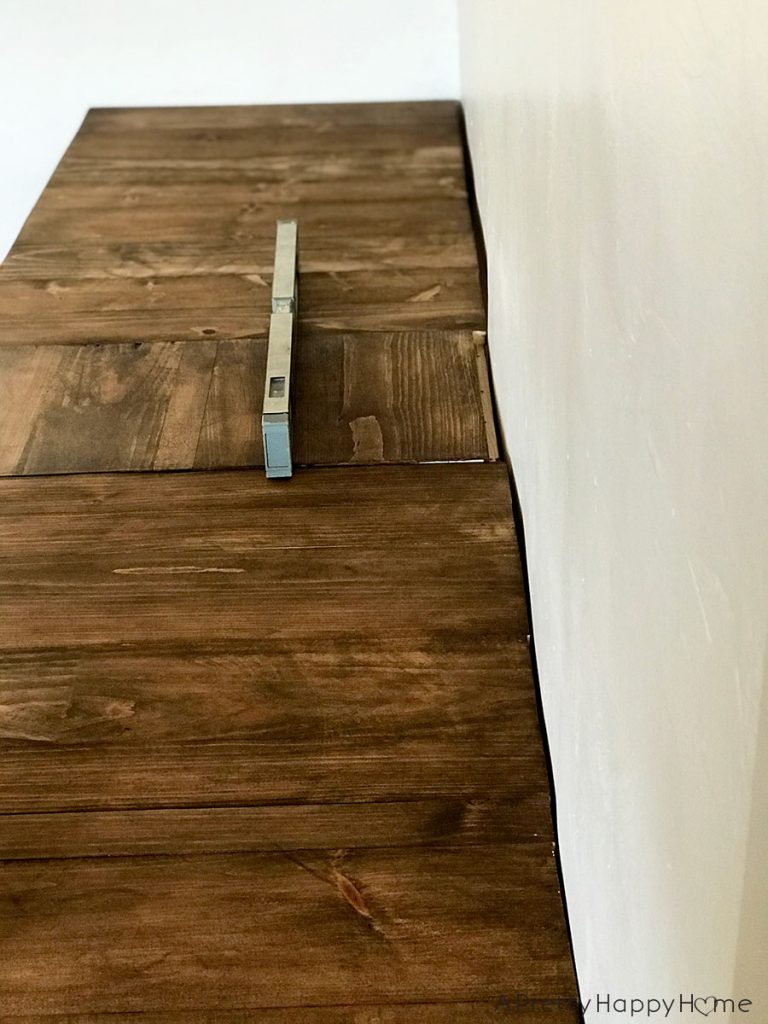 It just takes a whole lot of trim and caulk.
Since we are on the subject of this desk top, I'll mention now that we dropped our plans to put finished trim or banding around the exposed edges of the desk. Because we were dealing with a planked top, even the slightest deviation in height on just one of the planks would have been noticeable when we applied the edge banding. It just wasn't worth the trouble in that moment.
And as you can see from the above picture, I had bigger gaps to deal with.
---
COME ON! GET TO THE GOOD STUFF!
Alright, alright. I'm going to push fast forward on this blog post because you've been patient enough. Plus, you don't want to hear the part of the story where I spilled an entire can of stain. In fact, the details are fuzzy…maybe it didn't even happen.
So without further ado, here is the finished built-in computer desk in all her Minecraft-playing glory.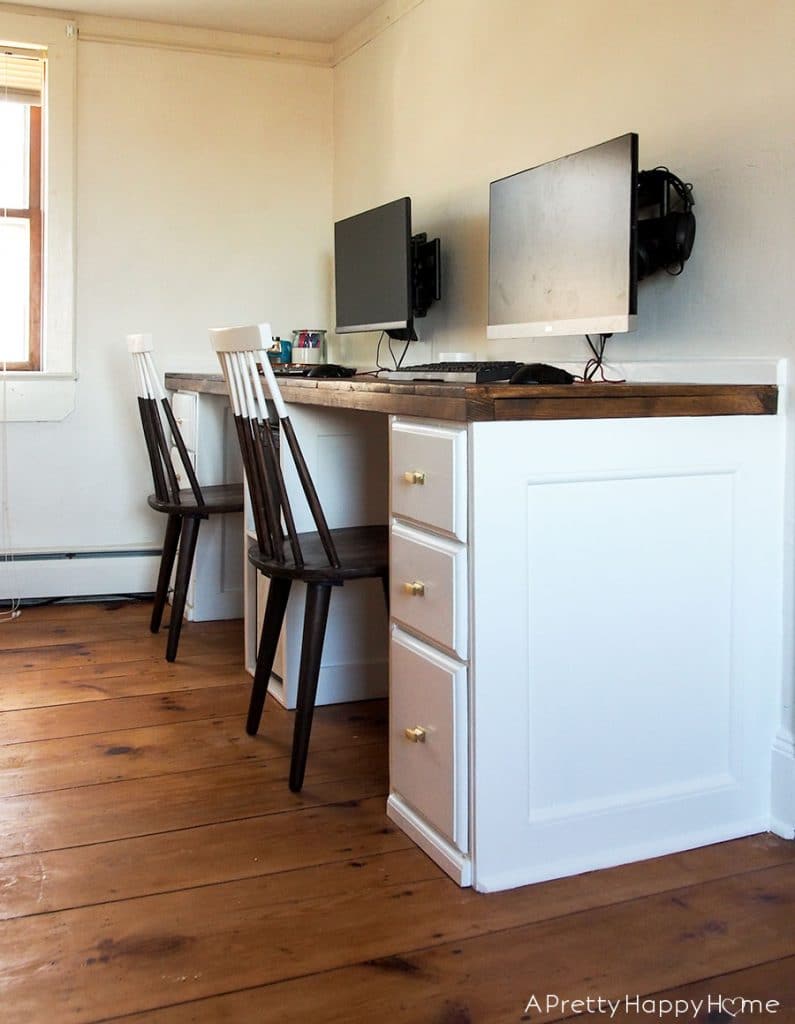 ---
CORDS ARE MAINLY OUT-OF-SIGHT
My biggest goal with this built-in computer desk was to hide ALL OF THE CORDS. We sort of accomplished that. The monitors are hung from the wall on a swinging arm. Because the arm swings, I didn't tightly secure together the cords coming down from the monitor. I could have done that for the pictures, but it doesn't bother me and it is how we really use the space.
The real problem is that we don't have electricity on that wall yet. Right now we have a power strip running from the closest outlet, so there is a cord visible underneath on the left-hand side of the desk. I took a shot of that so you could see it. This is not a big deal to me either.
I can handle one cord.
It's the five million other cords that are hiding back there that I couldn't handle on a normal basis.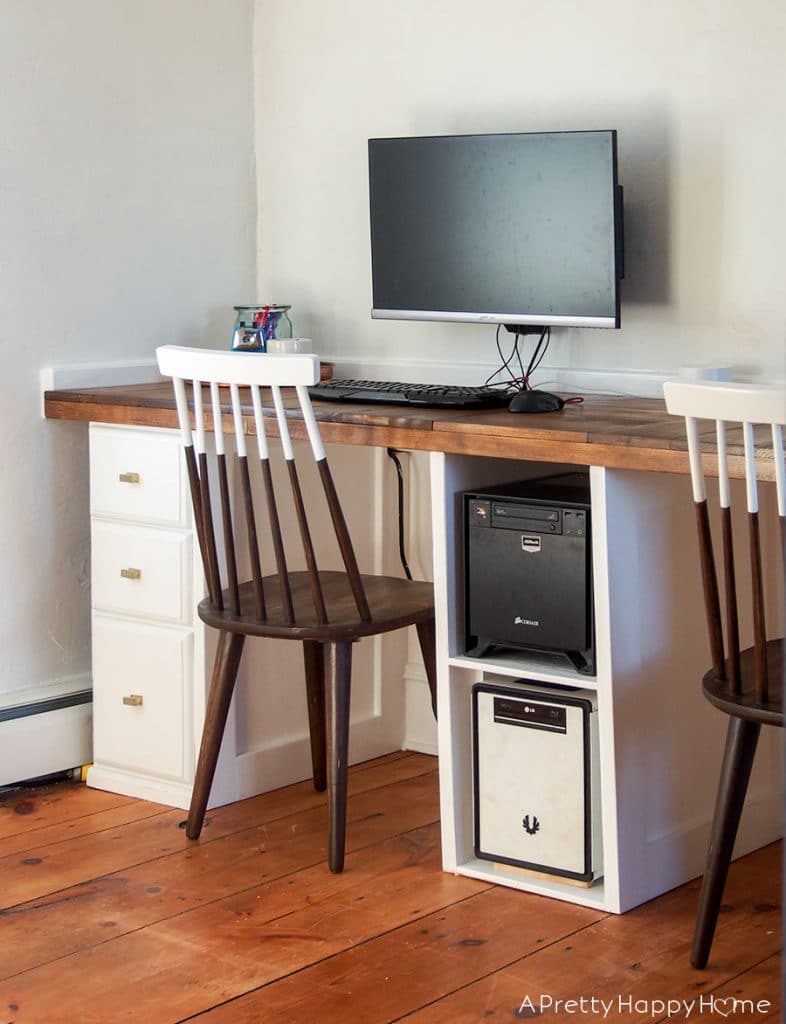 In my ideal world, this built-in computer desk would feature matching monitors and computer cases to support all of the important Minecraft business that goes on here.
My ideal world is also free of fine lines and wrinkles and is a very nice place to daydream, but it is not reality. And, frankly, my reality is not too shabby.
Handy Husband built these computers for the kids at different times and this is what we ended up with. That's why we have one black case and one white case. It is also why the monitors look like they weren't hung at the same height. They are, but the monitors themselves are different sizes.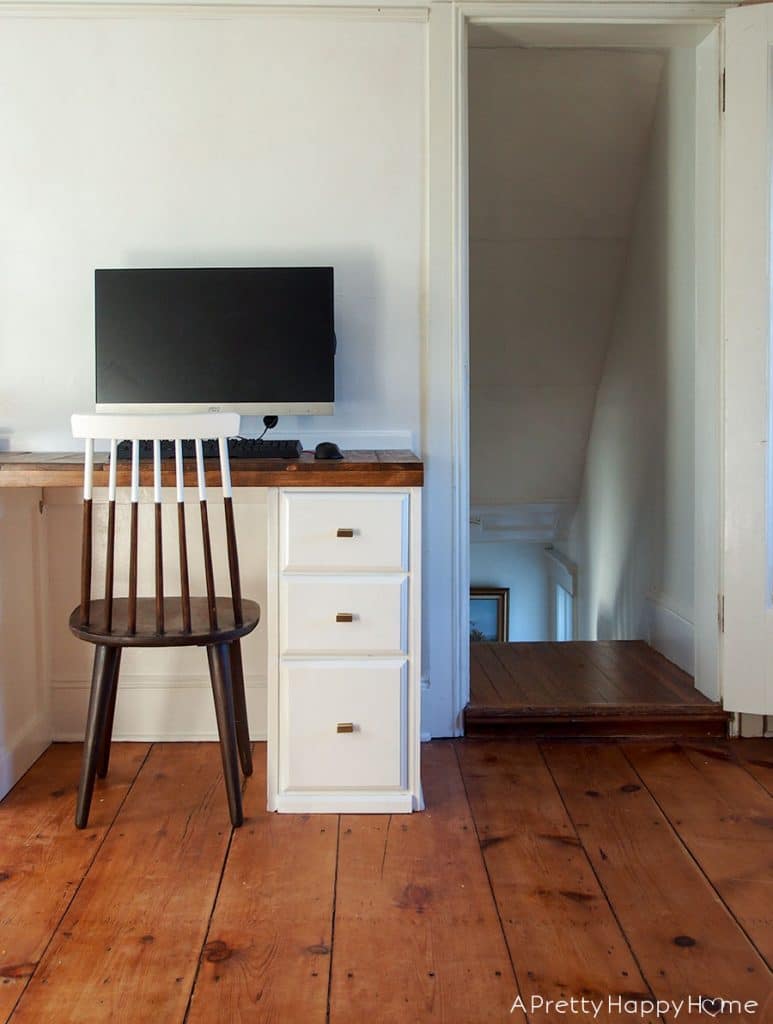 I also needed to find two chairs for the desk! I went round and round with this. There were a few rolling chair options online that I loved. I also tried to thrift some office chairs. That didn't go well.
In a shocking plot twist, I ended up using two dining chairs that I already owned. They were originally from Wayfair and came in a light blue color. For grins and giggles, I sanded them down, stained them and then did a dipped paint treatment on the top.
My reason for using dining chairs and not rolling office chairs was a matter of self-preservation practicality. My kids are the ones who sit at this desk, not me and Handy Husband. They sit here to play games. I'm not too concerned about cushion for their tushes.
Also, we live in a colonial era farmhouse. Our original wood floors are sitting right on top of the ceiling beams. There is no insulation between the ceiling and the floor. Can you imagine the noise of two kids sitting in and constantly moving rolling desk chairs?
It would have driven me crazier than I am crazy.
I am ridiculously happy with how this built-in computer desk turned out. It was well worth all the effort Handy Husband put into this project. We divide and conquer on these projects, but there's no denying he's the real star of this show.
This built-in computer desk has exponentially increased the functionality of this part of our home. There's so much to be said for being able to customize a space to fit your particular needs.
When you are here and walking through this part of our home now, it feels like the desk belongs. That's a tall order considering that our home was built at least a couple of hundred years before computers were invented.
Our home is an interesting blend of rustic and refined. My goal is to make design decisions that reflect how our modern family lives, but to do it in a way that honors our home's history and character. I think we nailed it with this built-in computer desk because that awkward space makes sense now.
Considering how "solid" our plan was for this project, I feel pretty darn happy about how things turned out.
---
P.S. I'm not in a hurry to hang art in here. I'm a slow decorator. The ceilings in this part of the house are short at approximately 6.5-feet, so anything I do hang needs to be scaled appropriately.
Here are the projects details:
Paint Color for Desk Base: Behr Bit of Sugar in semi-gloss
Stain Color for Desk Top: Varathane "honey" stain 
Drawer Knobs: Cosmas Brushed Brass
from Amazon
Desk Grommet: 2-pack golden color by Jetland
 from Amazon
Chairs: Lavalle Side Chair from Wayfair
Google WiFi system
: mesh network so that our internet doesn't stink in a house with stone walls. It replaces a regular router.
Monitor Wall Mount Kit
 from Amazon. You will probably need a mounting bracket that is specific to your type of monitor too.
Headphones with microphone: SteelSeries Arctis 5 Gaming Headset
 These get rave reviews from my kids. Ours are from Amazon.
*affiliate links in this blog post*
---
You made it to the end of this post! Thank you for sticking it out! If you want to read about some of the other things Handy Husband has built, here you go…
Pottery Barn Knock-Off Farmhouse Bed
Pottery Barn Trundle Bed Knock-Off