Have you ever felt like a fish out of water?
It's an uncomfortable feeling.
Now imagine how our colonial era house must feel to have all this fancy stuff like modern plumbing, electricity, and now *gasp* wifi invading its space.
Our home has wires where wires were never intended to go! Talk about uncomfortable.
The one issue that transcends the age of any house is where to put all the modern office hardware that we need, but for which we don't always have a place.
What do we do with the printers and the computers and the jumbo box of paperclips?
Why are there so many cords? Do the cords have cords?
Why are printers so ugly?
But, seriously. Why ARE printers so unattractive?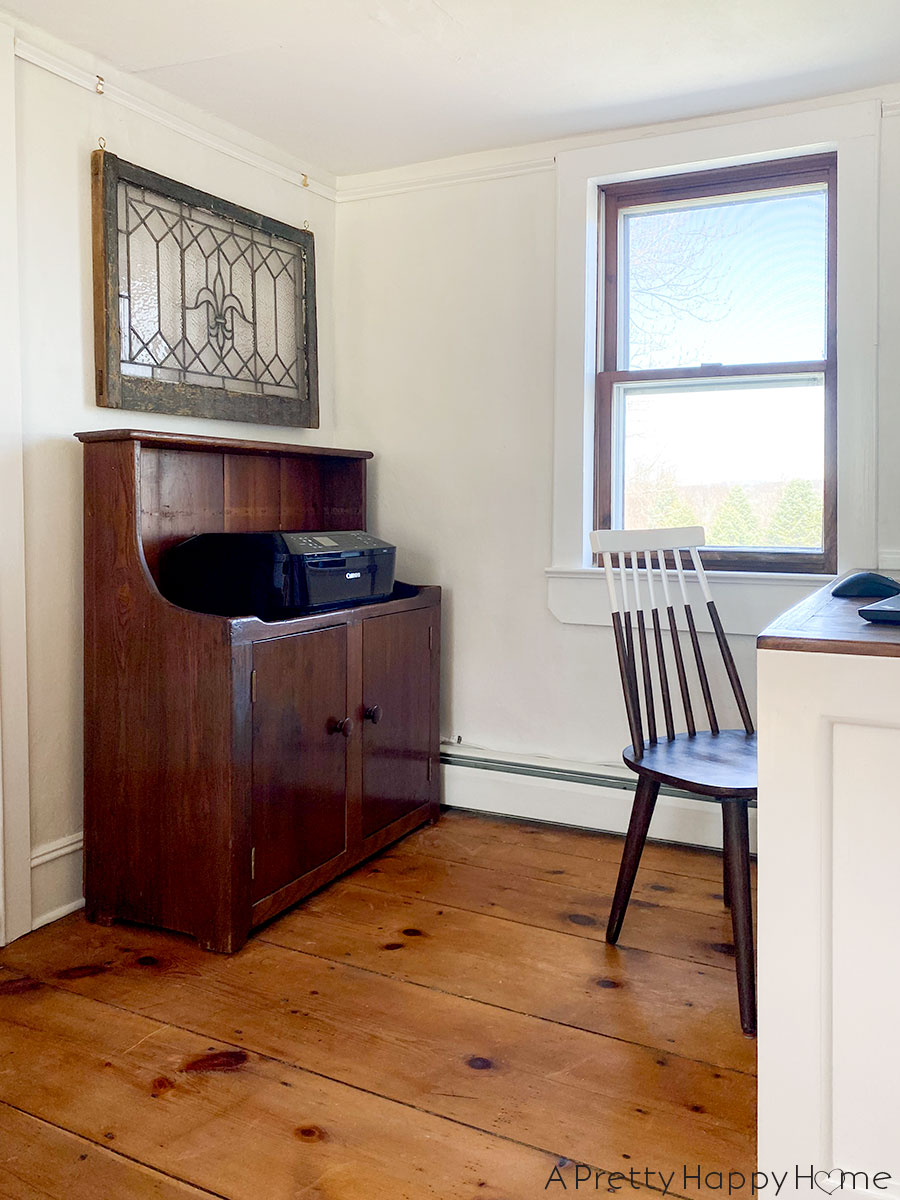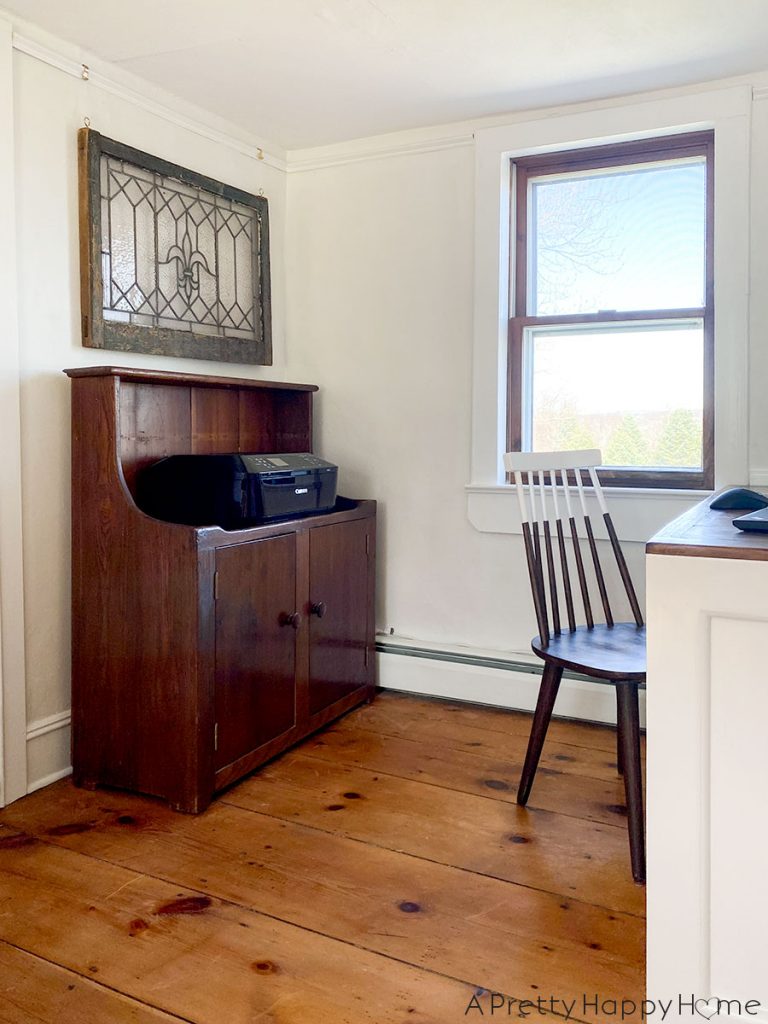 When we were planning the built-in desks for our office, we discussed what to do with the printer.
Our plan was to build a cabinet for the printer and all the other miscellaneous office supplies and files that we need to keep on hand.
Then something predictable happened.
We grew tired of this office project.
Burned out.
OVER. IT.
The desks are done, but the printer? Well, it was still sitting on the floor. We're a classy bunch, what can I say?
However, no one wants to trip over a printer sitting on the floor in the middle of the night.
If we are going to go to the emergency room, it's not going to be because we broke an ankle tripping over a printer.
We'd make up a much more believable story than that.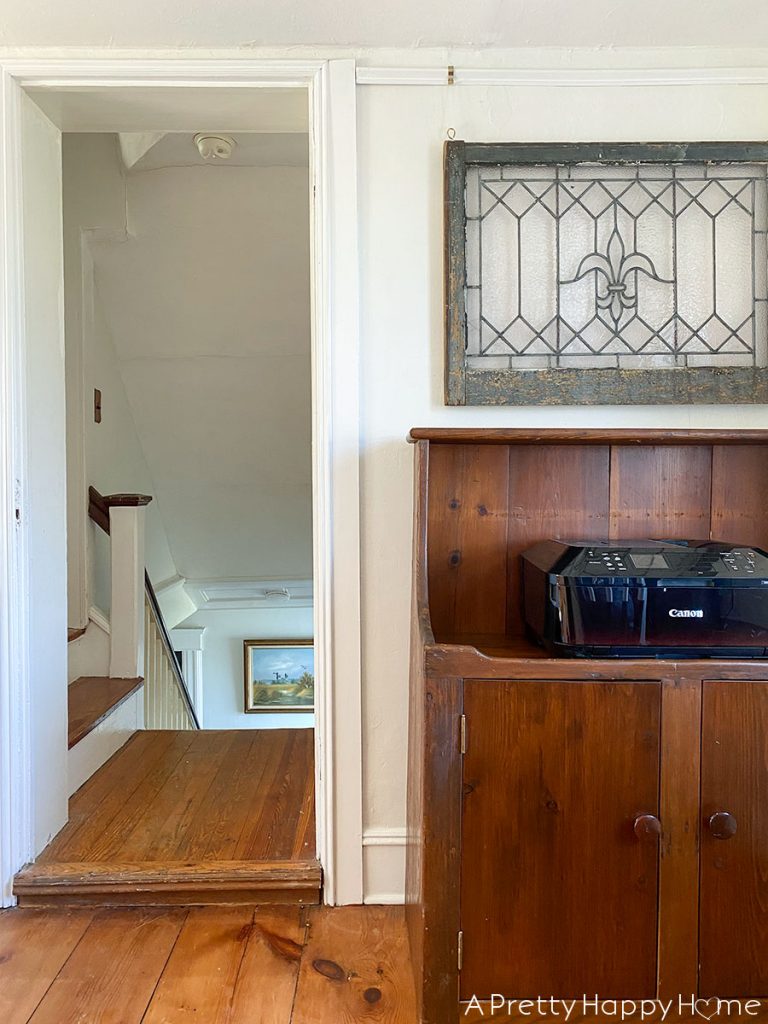 I ended up putting our printer on a vintage dry sink.
A dry sink is what was used in homes before the invention of indoor plumbing. It likely would have held a water pitcher and a basin.
Given the age of our home, it is no wonder a dry sink was left on the premises. It makes me wonder how long it has actually been in our home though?
The knobs of the dry sink are the best part of this piece of furniture. It took us MONTHS to realize that the knobs twist on purpose to release a latch that holds the cabinet doors shut.
Not only are we a classy bunch, but we are observant too.
When I learned about this cool feature of the dry sink, I emphatically proclaimed to Handy Husband that we'd have to keep this piece of furniture FOREVER.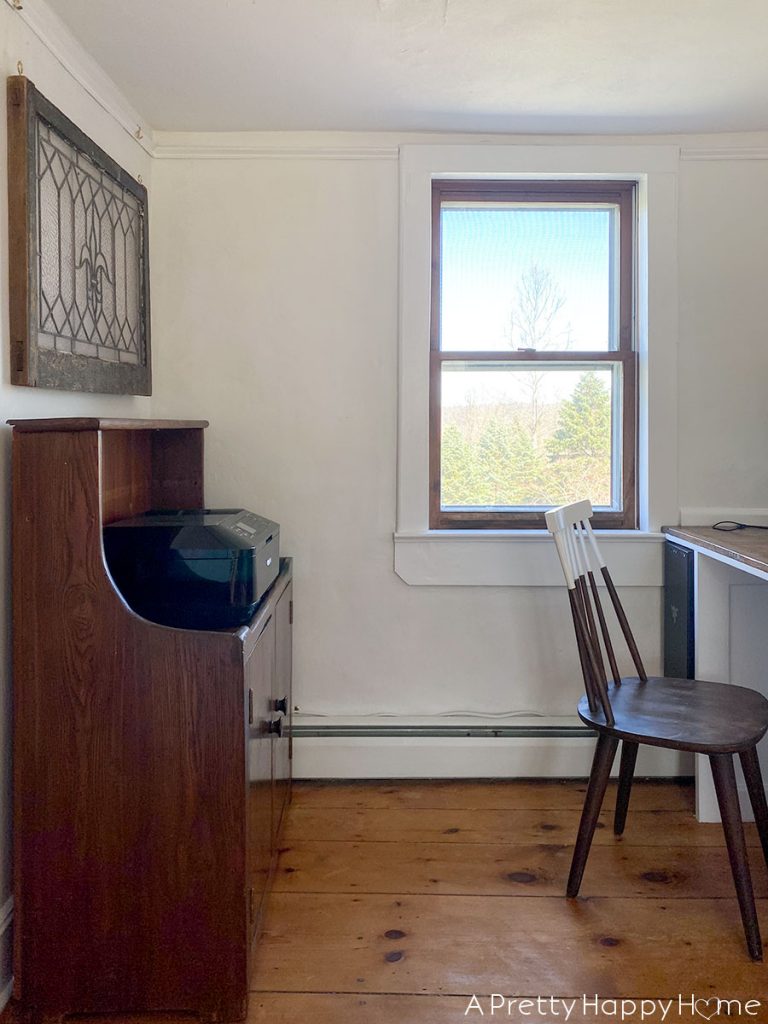 Given that declaration, none of you furniture purists freak out when I tell you the next part.
Pinkie swear?
If I'm going to keep something forever, it needs to work for us. To that end, we made one teeny, tiny, itty bitty modification to the dry sink.
We removed the top shelf of the dry sink to give the printer some breathing room. We needed to be able to lift the top on the printer for scanning purposes and that shelf was in the way.
Not only was it in the way, we hadn't stored anything on that shelf since we'd moved in.
Unless this was an antique that was worth enough to pay off my mortgage (I exaggerate, but you get my point), I'd rather make this piece of furniture work for us than to not use it at all.
I did draw the line at drilling a hole through the back of the dry sink to thread the power cord through. Right now the cord just hangs off to the right side, but since the dry sink is placed against a wall, it isn't noticeable.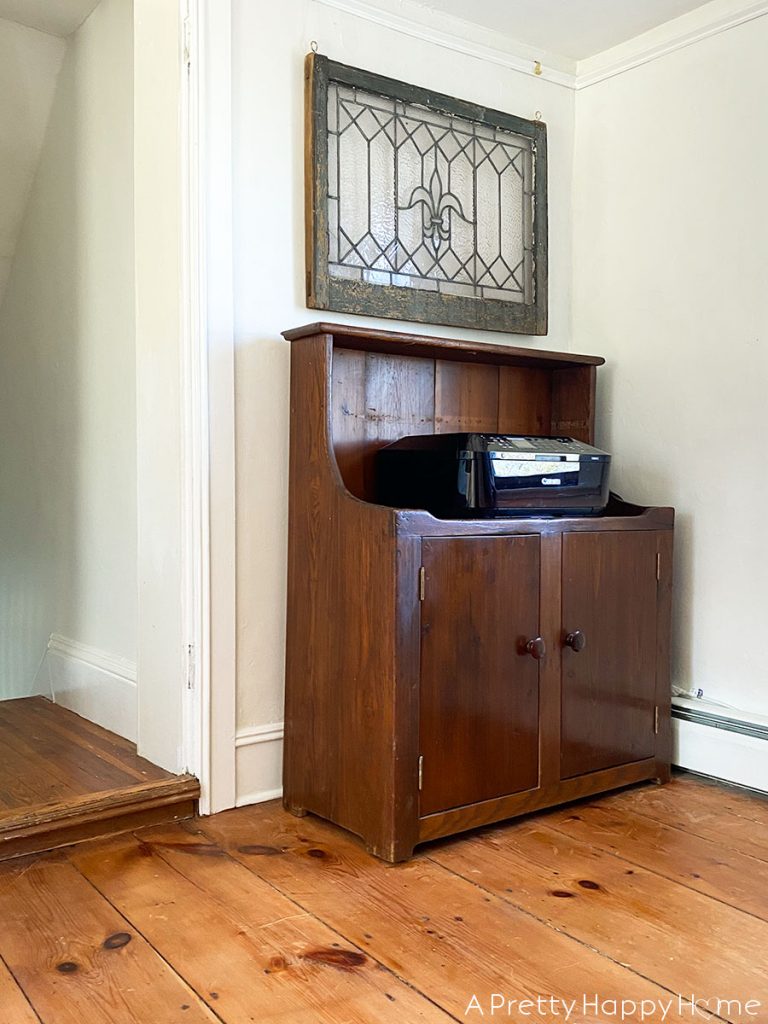 The leaded glass window above the dry sink was sitting in a window well in our basement. Other than the fact that I found the window in our basement and it could have fit in three or four different windows in our house, I have no evidence that the window is original to our house.
I am smitten with how the window looks above the dry sink printer stand. It's unique and the perfect counterbalance to all the other modern elements (printers and monitors) happening in the rest of this space.
I'm also  – smitten is too strong of a word – content with how the dry sink printer stand is working out for us.
It complements the rest of the office, but isn't too matchy-matchy with the desks.
Let's call it a happy accident.
---
Behind-the-Scenes Details:
We have a Canon MX922 Inkjet All In One Printer
. We are as happy with it as any printer we've ever owned.
If you need ink for this Canon (or any other printer), we just tried the
Arthur Imaging Compatible Ink Cartridge Replacement
 from Amazon. It was a fraction of the cost of buying the Canon brand of ink and it seems to work well.
Vintage dry sinks vary in price, but are usually in the several hundred dollar range. There is a large selection available on Etsy. If you want one, I'd try Facebook Marketplace first. I'm sure you can find someone willing to part with one for much less.
You can still see the line on the dry sink where we removed the shelf. It doesn't bother me and I have no desire to refinish this piece. I did rub on some Howard Restor-A-Finish
to better blend in the shelf line and to fix some other scratches on the dry sink. It's the easiest furniture finish repair hack. I finished up with some Howard Wood Polish & Conditioner
to moisturize the wood.
If you're interested in a leaded glass window, Etsy is, again, a great place to start your search to familiarize yourself with how they are priced. I've seen them for sale in almost every antique store I've ever visited.
The difference between leaded glass and stained glass is typically just color. Leaded glass is clear. Stained glass is colored. True antique leaded glass windows can run several hundreds of dollars in price depending on size and condition.
---
Has anyone else modified an antique? While you're thinking about that, here are some other posts you might enjoy.
Use a curtain to hide computer cords behind a desk
Solving Wifi Issues in a House with Stone Walls
*affiliate links in this post*