Let's talk hallway shelves today because they can be a game changer!
We have a weird space between our kitchen and main bathroom that is bigger than a hallway, but not quite a room.
For the purpose of this post I'm going to call it a hallway because calling it "that weird space" just seems, well, weird. And, honestly, it doesn't really narrow it down because there are plenty of weird spaces in our home.
Here's how that hallway looked on the day we took possession of the Colonial Farmhouse in June 2019. In case you are wondering, that is not our stuff in the bathroom. The seller left it fully stocked with products, rugs, towels, etc. We could have lived in this house without moving anything in but our beds.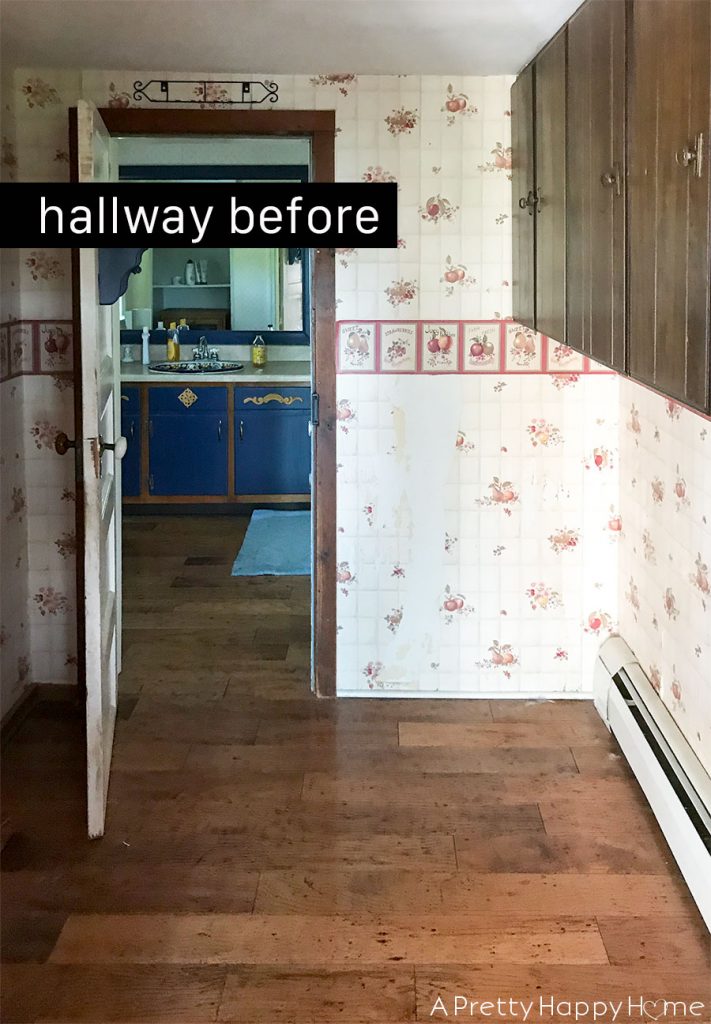 A friend helped me rip down the fruit-themed wallpaper in this hallway.
If that's not friendship, I don't know what is!
Word to the wise, if I invite you over, there's a decent chance you'll find yourself doing some sort of home improvement project. I really know how to show guests a good time!
Months (seriously, MONTHS) later I repainted the walls and bathroom door.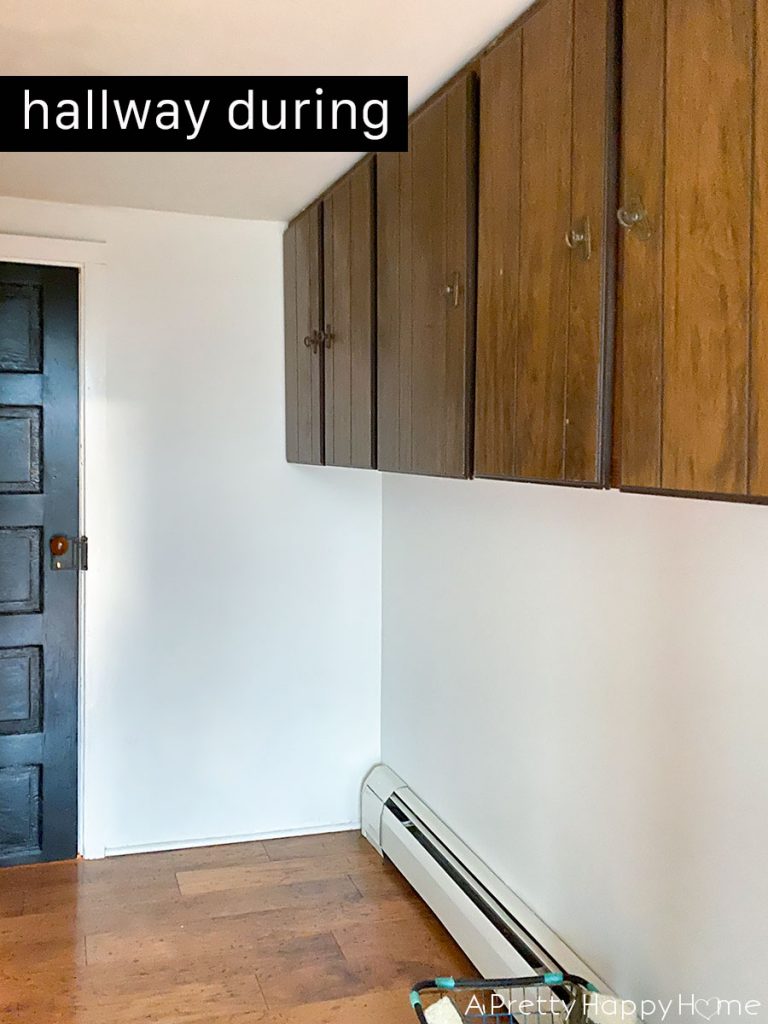 We contemplated taking down the ugly brown cabinets that just seemed to be free floating on the hallway wall.
However, what's the first rule of home improvement?
Never, and I do mean never, take something down from a wall or open up a wall unless you are mentally, emotionally, and financially prepared to meet your worst nightmare.
The second rule of home improvement is know thyself.
I know without a doubt that I was not ready to see or deal with what was behind that wall.
Plus, I didn't really want to take those ugly cabinets down because they are useful since we don't have a lot of storage in our kitchen.
I just wanted them to look prettier.
Is that too much to ask? I think not.
I had a hunch if the cabinets were a different color and I was able to anchor them visually to the space that they could look prettier.
Also, that dark cabinet color was not doing this already dark space any favors. What you can't tell from the photos is that there is no overhead light in this hallway.
Since this hallway connects to our kitchen, I painted the cabinets the same color as the kitchen wainscoting. Painting them was the only viable choice unless we wanted to buy or build new doors. The cabinet frames appear to be real wood, but the doors are made from a laminate.
The next part is where the real magic of this makeover happened. I asked Handy Husband to build some shelves underneath the cabinets to anchor them visually on the wall. Plus, we could use the extra storage.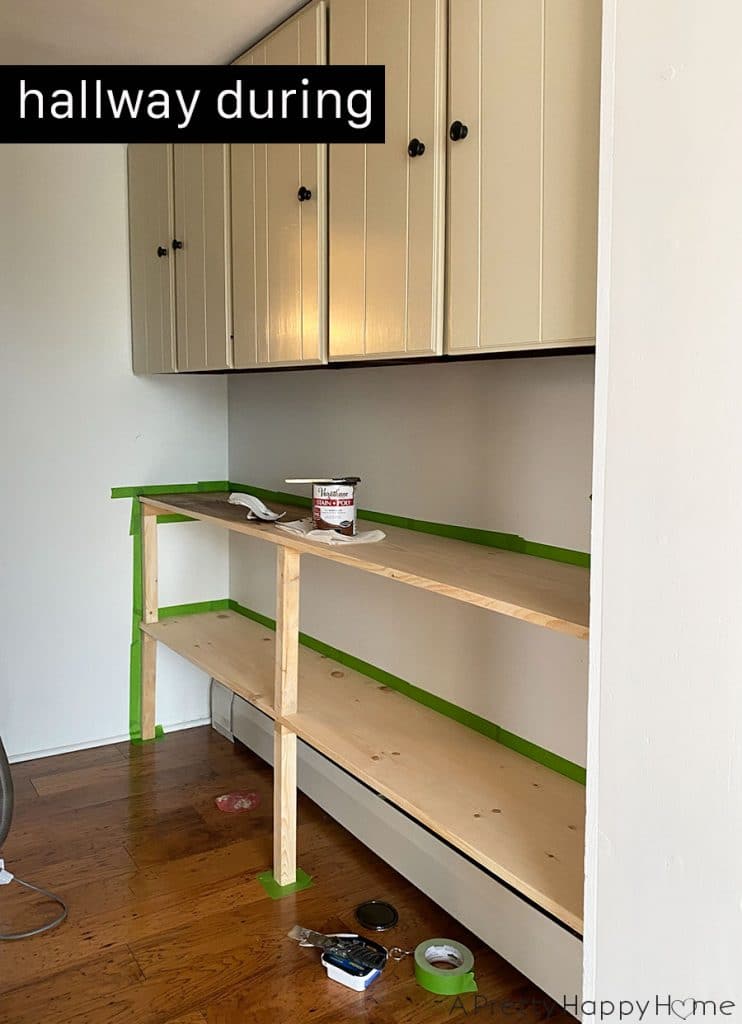 The shelf design is not what I had originally envisioned.
I wanted floating shelves, but then Handy Husband informed me that due to the length of the span, the shelves needed a center support.
Anything he builds needs to be able to withstand an elephant sitting on it. He doesn't say that out loud, but he seems to think I'm going to stack every heavy thing we own on those shelves at the same time. First, that would be crazy. Second, I've only done that once.
Fine. I could handle a center shelf support.
Then Handy Husband informed me there were no studs in the wall where we needed a stud to be in order to anchor the shelves on the sides. Now the shelves needed vertical supports on each end too.
This old house was killing me.
We also needed to make sure there was enough clearance above the baseboard heater for air to circulate. We have hydronic baseboard heaters. Water runs through a pipe behind the metal baseboard cover, but it relies on a type of convection effect for the warm air to circulate and heat the house.
Our baseboard heaters do not get hot to the touch, so there was no danger in that regard. We just had to fiddle with the shelf spacing to make sure it worked for my needs and the needs of our heating system.
Now that the practicalities were out of the way, it was time for me to get to the good part of this makeover – making those hallway shelves look pretty.
I set out to stain the hallway shelves and the support posts. I decided on stain because I knew these shelves were going to take a beating and stain was going to be more durable than paint. However, I didn't like how it looked AT ALL.
Whomp, whomp. 
The support posts were not taking the stain well. Handy Husband had ripped old 2x4s to size to make the support posts and they were not cooperating with my plan.
Honestly, that ended up being a good thing because the shelves and cabinets did not feel tied together at this point in the process. Something was off.
I switched course halfway through and decided to paint the support posts the same color as the cabinets and finally things clicked. This little paint trick with the support posts made it appear like the cabinets and the shelves were designed to be one cohesive unit.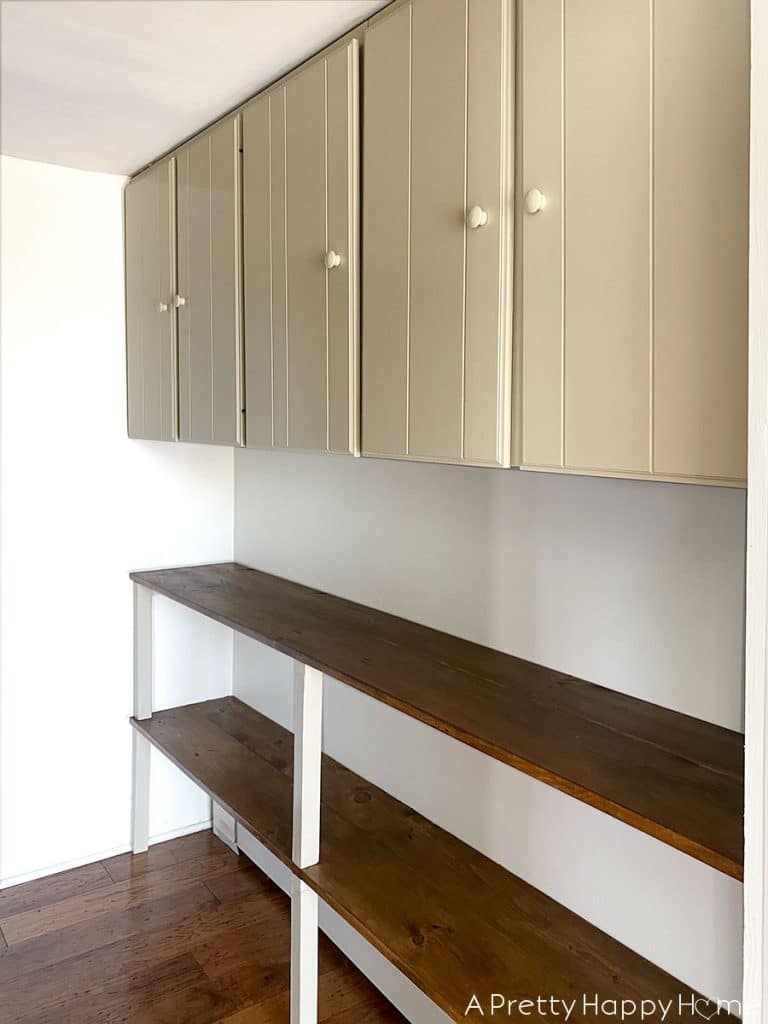 Here's how the built in hallway shelves interact with our kitchen stairs and coordinate with the kitchen wainscoting.
I'm standing right in front of our sliding glass door to the deck and backyard to get this photo.
It looks like it all goes together now, doesn't it?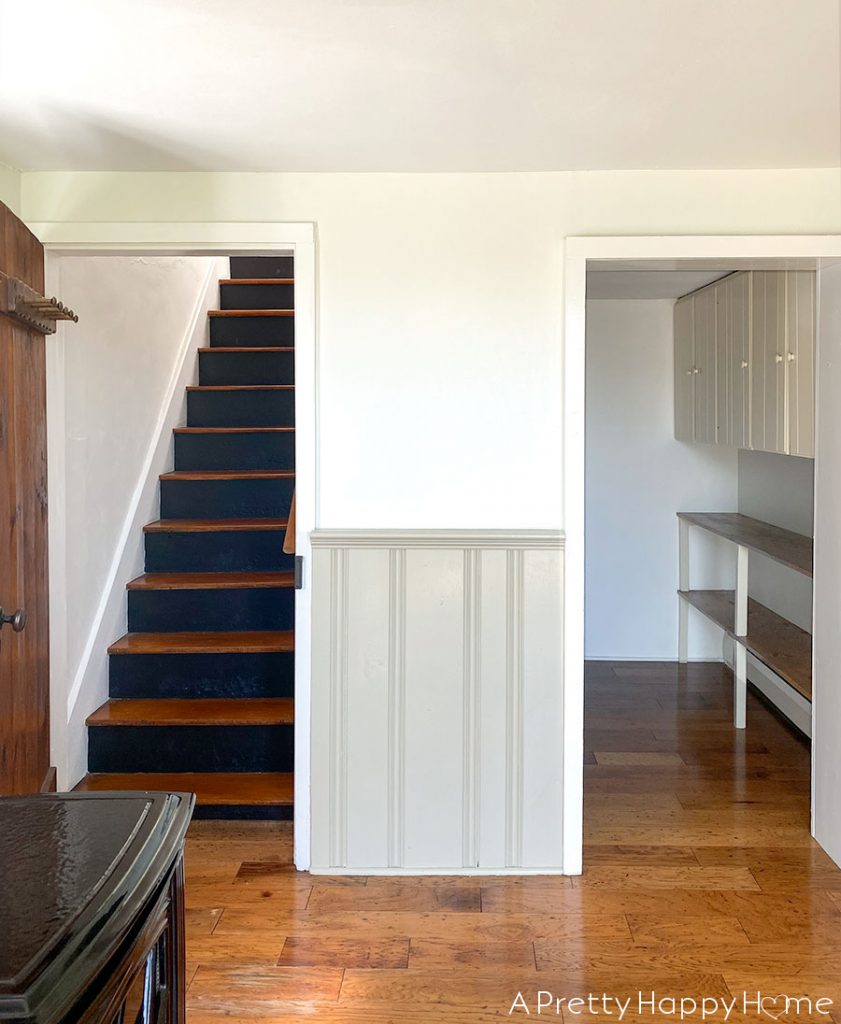 Now, let me turn around and give you the perspective if you are standing in that hallway looking out toward our kitchen and that sliding glass door to the deck.
Last year, I stacked all the pool towels on a bench in this hallway since it is smack dab in the middle between the bathroom and the sliding glass door we use to get out to the pool.
It was a convenient location for the towels to be easy to access, but also out of the way.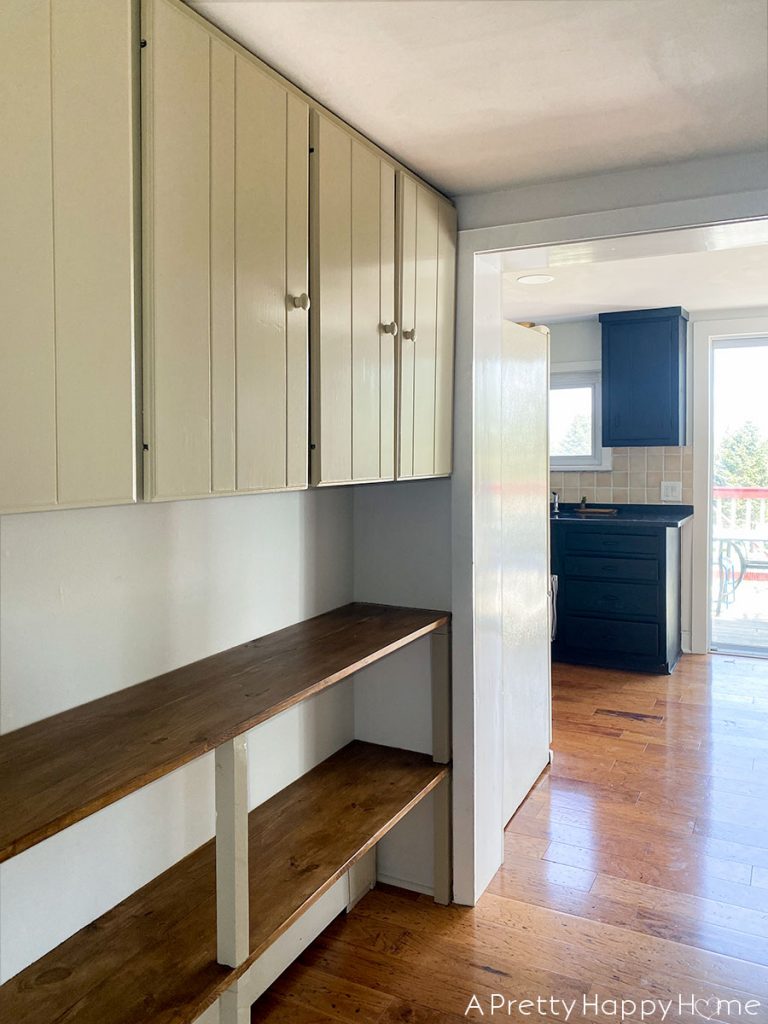 The top shelf of our hallway shelves will be used to store pool towels and sunscreen during the summer.
I was definitely not going to buy matching towels and knickknacks to style these shelves just for this post. However, I was excited enough to pull out four of our nicest pool towels for this picture. You can bet there will be about a dozen more mismatched towels haphazardly stacked here during the summer months. Probably some goggles and sunglasses too.
Consider it a sign of a house well-lived.
The bottom shelf will be for shoes we wear going out the back door to the pool. Now can you see why I said these shelves were going to take a beating? I fully anticipate wet and dirty shoes will be thrown on those shelves. Probably wet towels too.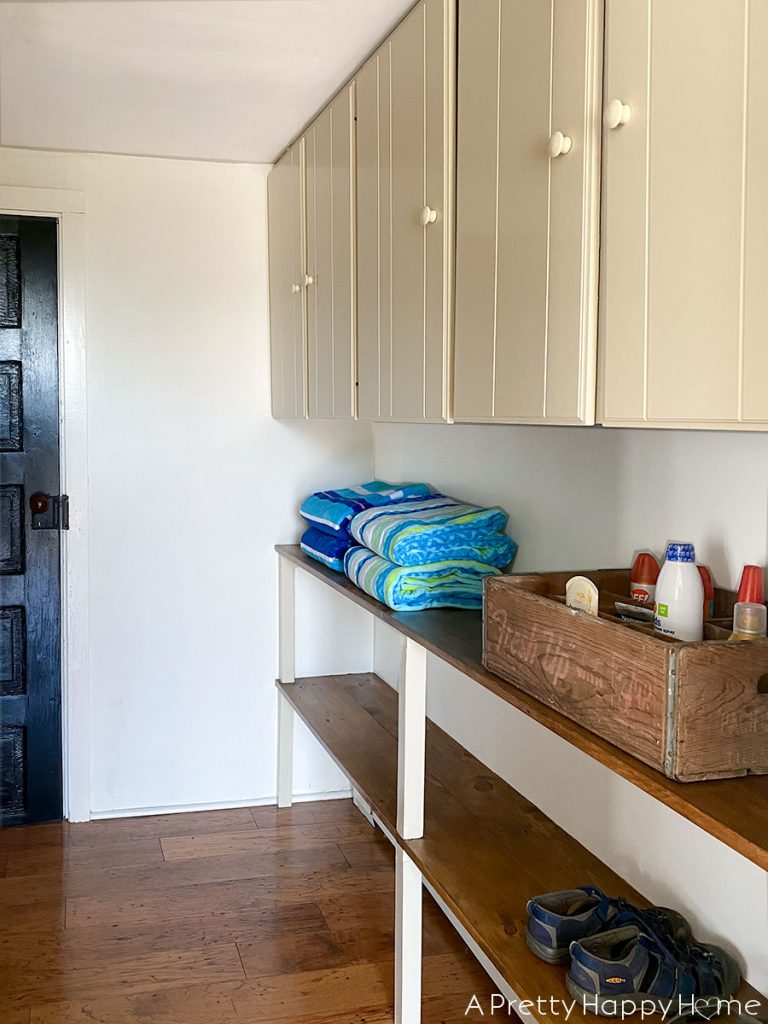 We finished these shelves in the nick of time as we just took our pool cover off for the season.
It will be a few more days before the water is ready for swimming, but my kids are so happy to have something else to look forward to doing around here. Staying at home during a global pandemic can get a little monotonous!
I have longterm dreams about gutting this entire section of the house that includes this weird hallway. However, I'm so tickled that we're making our home work for us in the here and now. I can't begin to tell you how much contentment there is in living life that way.
---
Products and paint colors used in this makeover:
Walls: Behr Arcade White
Trim: Behr Bit of Sugar
Wainscoting, Cabinets, Shelf Support: Behr Khaki Shade
Stain: Varathane Honey Gloss with Poly
Towels: HomeGoods
7Up Soda Crate: So old, but similar ones can be found on Etsy
*affiliate links in this blog post*
---
Are you making your home work for you in the here and now while you dream big for the future? I'd love to hear about it. In the meantime, here are some other times we've made our spaces work for us. 
Turn a Tub/Shower into a Closet Without Damaging the Walls
Navy Blue Sunporch – Definitely a lipstick on the pig situation
Office Makeover with Built In Desks