Vintage Game Gallery Wall
While I'd like you to think I have a grand design plan, some of my favorite spaces in our home happen by accident.
The cat's out of the bag now!
Take the vintage game gallery wall in my son's room.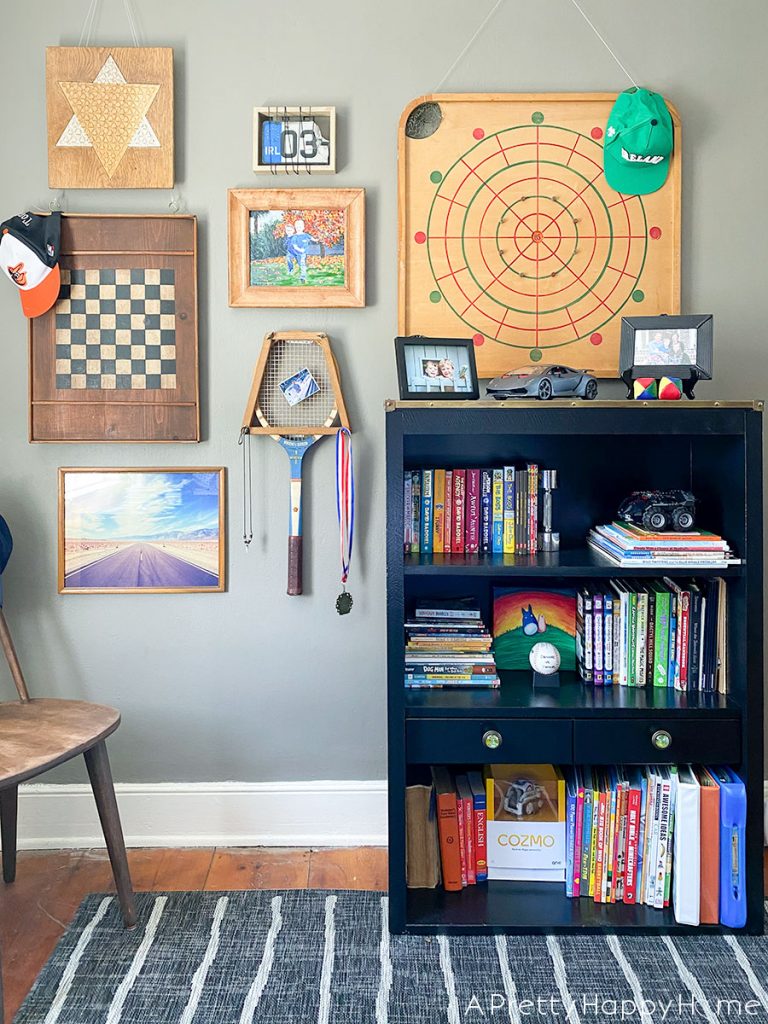 I didn't set out to create a vintage game gallery wall (say that five times fast) when we moved into the Colonial Farmhouse. In fact, I thought we'd continue with the automotive theme he's had for quite awhile. Why fix something that isn't broken?
Then one day in a fit of "we must use this or lose this," I decided to hang a vintage Carrom board on his wall. Carrom boards look so cool and are double-sided, so you can pick which graphic element you want to showcase.
We did play games on the Carrom board from time to time, but not often enough to justify storing it out of sight in our game cupboard. Plus, I've hung the Carrom board from a picture rail, so if we want to use it, it's easy to take down and put back up.
The Carrom board started a domino effect.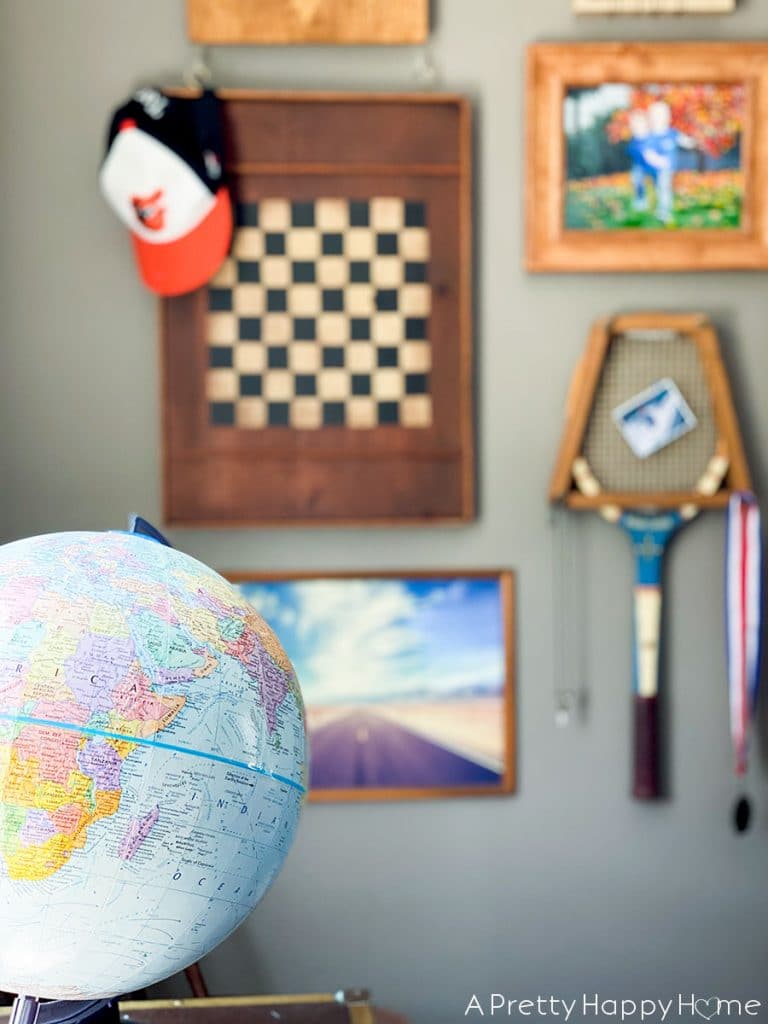 We also had a wood checkerboard that we weren't using. With the addition of a couple of hooks it was hung on the wall from the picture rail too.
Now we were playing with a full deck!
I found a vintage tennis racket in our garage. It was left here by the previous owners. I cleaned it up with the express purpose of adding it to my son's gallery wall. After all, tennis is a game too!
Yes, I'm playing fast and loose with the term 'game' for this gallery wall, but my house, my rules!
The tennis racket is pulling double duty as a picture and medal holder. While I did this on purpose, layering in these personal mementos makes it look like something that would be done casually and over time.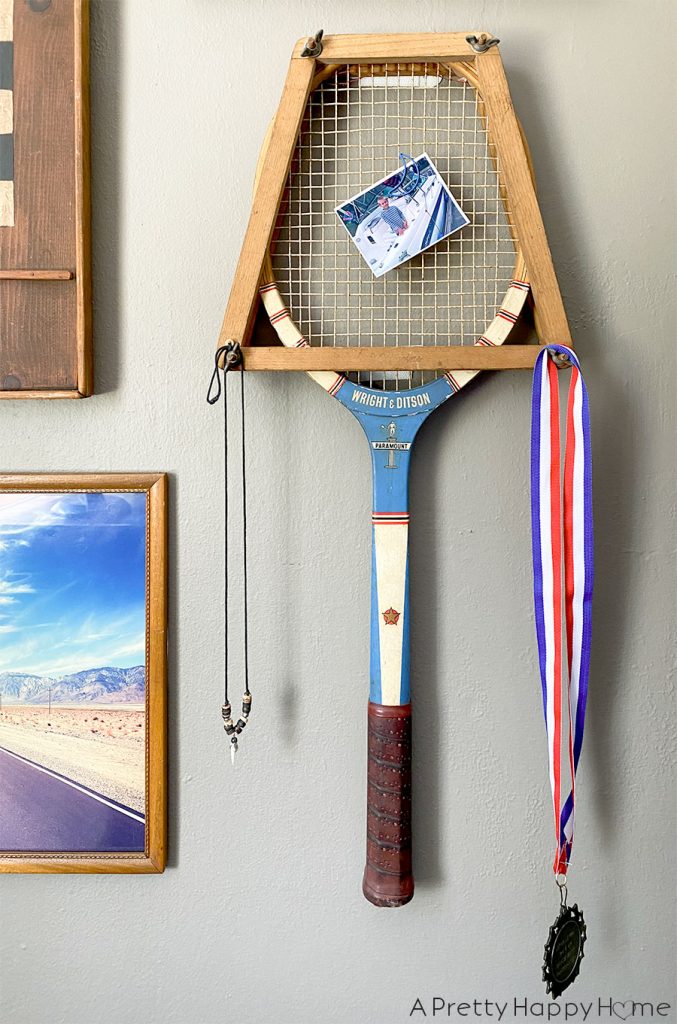 The last game I hung on the wall has sentimental value. It is a Chinese Checkerboard that was made by Handy Husband's dad close to twenty years ago. Again, this is not a game that was in heavy play at our house, so I'd rather use it on the wall than have it tucked away in our game cabinet. Plus, you know I love anything handmade and it fits in with the wood tones of the other games.
There are a few odd bits on this wall. A part of a license plate we found while scootering  home from school when we lived in Ireland. There's also a vintage open road photograph I picked up at a thrift store. There are a couple of baseball hats that my son wore when he was younger.
The painting is of my son and his friend playing in our backyard when we lived in Ireland. It was painted by my aunt from a picture I sent her. I will cherish this painting forever. Partly because she painted it. Partly because it captures a precious moment in time with friends.
I especially like how the gallery wall is anchored by my son's bookcase. This bookcase was first used in my daughter's room. It received a new coat of paint and now holds my son's favorite books, pictures, binders of Pokemon cards, and knick-knacks.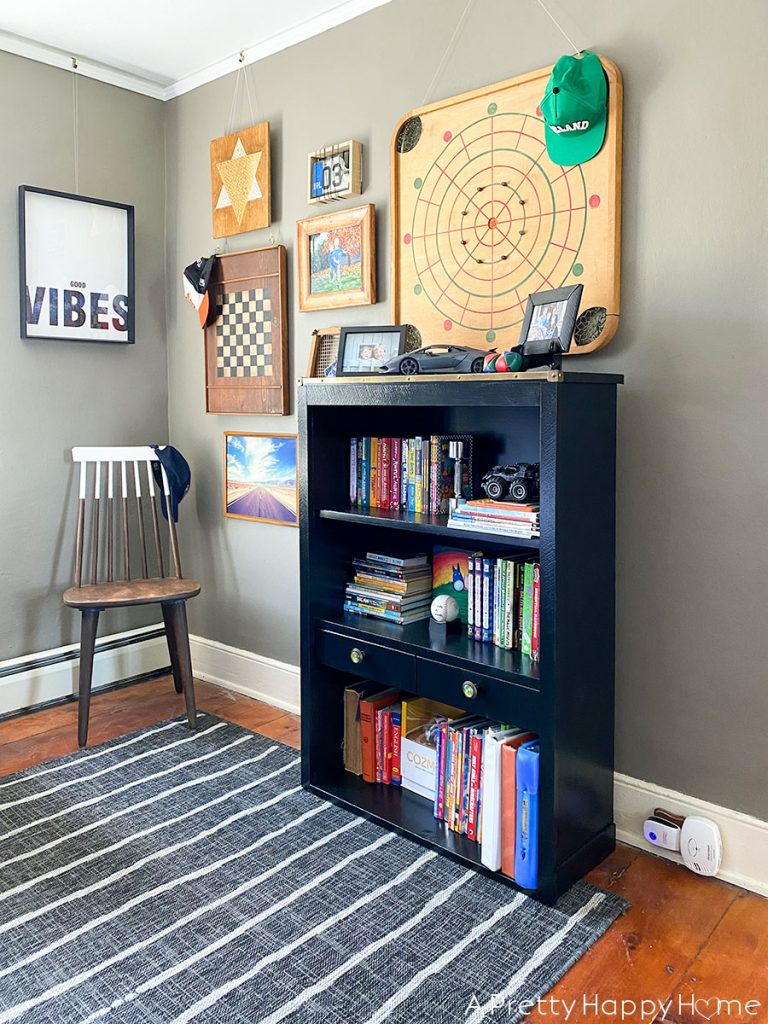 The last thing to do on this wall – the entire bedroom, really – is paint. I know I should have probably painted first, but when every room in your house needs fresh paint you start with the most offensive rooms first.
My son's room is the same grey color as the day we moved in. I don't really mind the color, but it does feel dark at times since he only has one window in his room. However, that's a problem for another day.
The combination of game boards, pictures, and mementos on this vintage game gallery wall makes me happy. I smile every time I walk by it. These items have been collected over time and all of them have a back story.
However, the most important story is the one where my son likes his room. I kid you not, for the first time in his life, he goes to sleep without a fuss and sleeps through the night. I'm sure it has less to do with the decorations in his room and more to do with the location of his room, but I will not question a good thing!
---
Room Sources:
Rug – (Amazon) Novogratz Villa Collection Sicily Indoor/Outdoor Area Rug, Charcoal
Bookcase – thrifted
Good Vibes Art – HomeGoods (so many similar options on Etsy)
Remote Control Car – a kid favorite! – Lamborghini Sesto Elemento Radio Remote Control Model Car via Amazon
Cozmo Educational Robot
– I don't understand it, but my kid likes it! 
Carrom board – I found mine at a thrift shop, but Etsy has a bunch available.
Vintage Tennis Racket – mine is found, but there are so many options on Etsy
Wood Chinese Checkboard – mine was a gift, but again, so many Etsy options
*affiliate links in this blog post*
---
Do you have a gallery wall in your house? Do you love playing board games? Tell me all about it!
Or, do you love reading more blog posts? I can help with that!
Turning a hutch into a bookcase
How to display a souvenir pin collection