Until our last power outage I had lived my whole life without knowing the joy of an oil lamp.
Don't get me wrong, I love my battery-powered lights too.
My cell phone flashlight? Couldn't live without it.
A little candle ambiance? I'm here for it.
But the oil lamp? That's something different.
An oil lamp and a bunch of lamp oil was left in our Colonial Farmhouse when we purchased it. I don't know why we hadn't bothered to use it until two weeks ago when the power went out due to a bad storm. Again.
Trees, overhead power lines, and high winds are a predictably bad combination.
*sigh*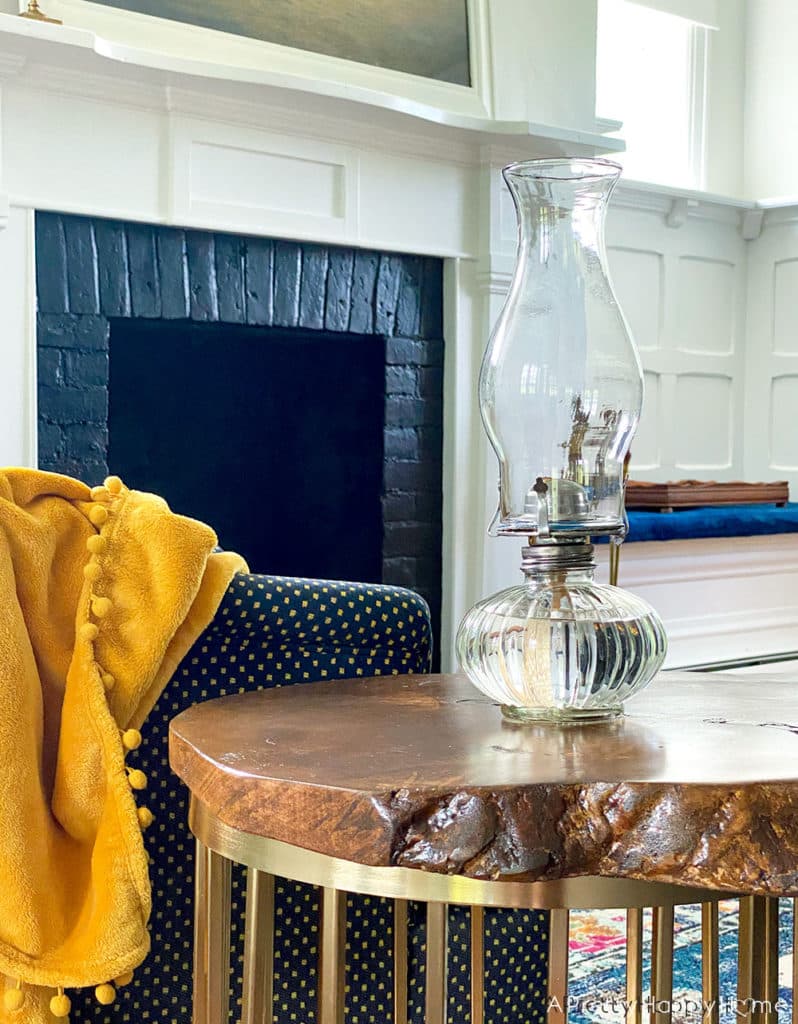 During the last power outage it didn't take us long to figure out that the light an oil lamp cast off was much better than our candles.
Plus, the oil lamp burned forever! Or seemingly so.
Not to mention, having light from an oil lamp meant we avoided that annoying 'accidentally on purpose' situation where the kids shine flashlights or headlamps in someone's eye.
If you've had kids, you know what I'm talking about.
Right then and there I decided the oil lamp was my new power outage BFF.
On Instagram I asked how many followers were also using oil lamps during power outage and it turns out that I'm late to the oil lamp game.
It's not the first nor will it be the last time I'm late to figuring out that the old school way of doing things has its advantages.
Just like burning candles, there are safety issues to take into consideration when burning oil lamps. I pinkie swear I used modern Google to research the safe way of using not-so-modern oil lamps in my home. Ah, the irony.
You should also do your safety research if, like me, you are new to using oil lamps!
If your safety research spirals into a "what types of cool-looking oil lamps exist now" research, don't worry. It happened to me too!
What I found were not your grandma's oil lamps. They almost tempted me to wonder when our next power outage might me. ALMOST. I've not completely flipped all my light switches.
Here's what I found:
---
There's this brass nautical oil lamp from Garrett Wade. It's out of my thrifty-loving budget at $155, but it is gorgeous. They have other brass oil lamps that are more affordable.
(image: Garrett Wade)
---
Garrett Wade also sells this "Green Lantern" Naval Oil Lamp for $39. It has a rounded, weighted base that lets it tip without tipping over. How cool is that?
I imagine that was an important design feature for lamps used on ships.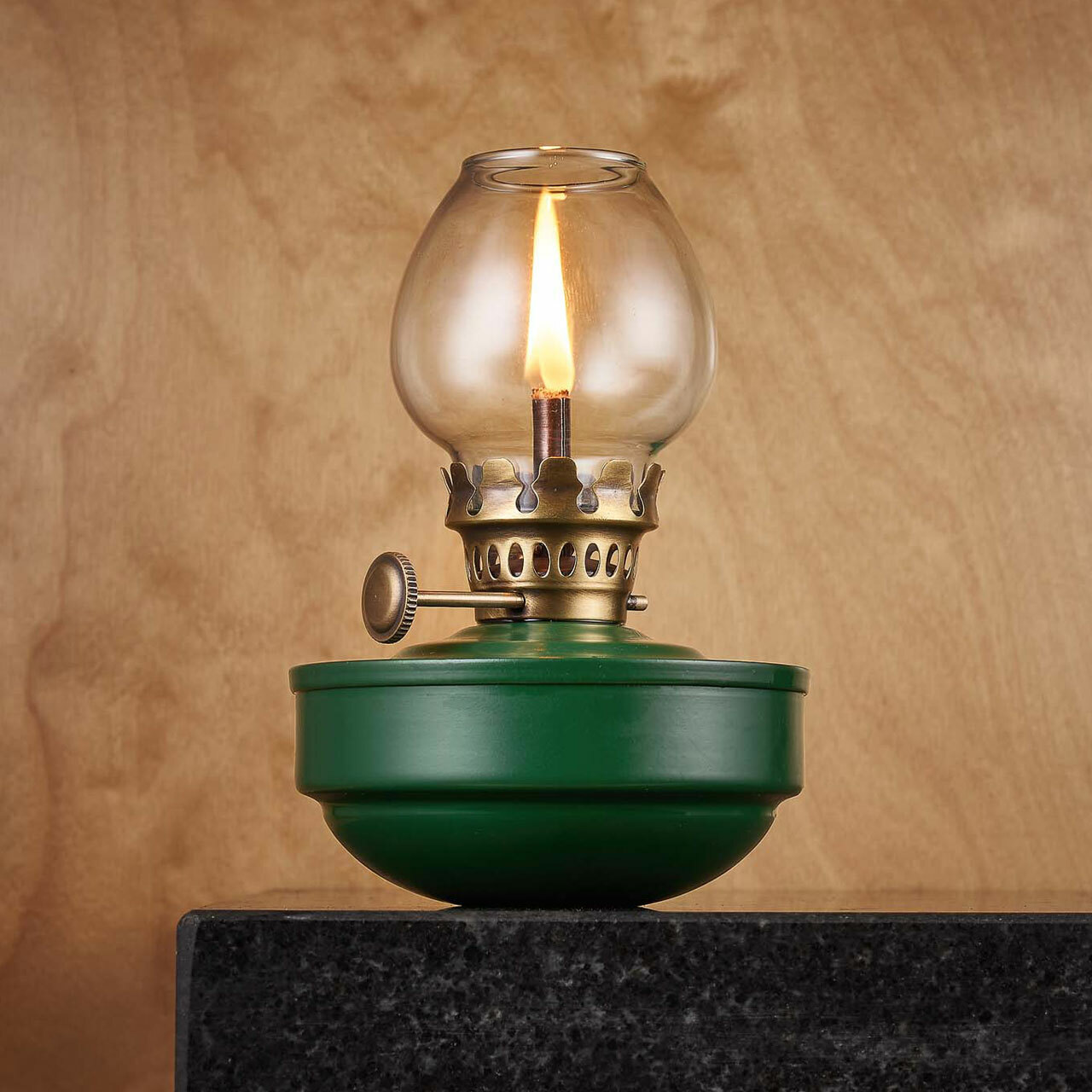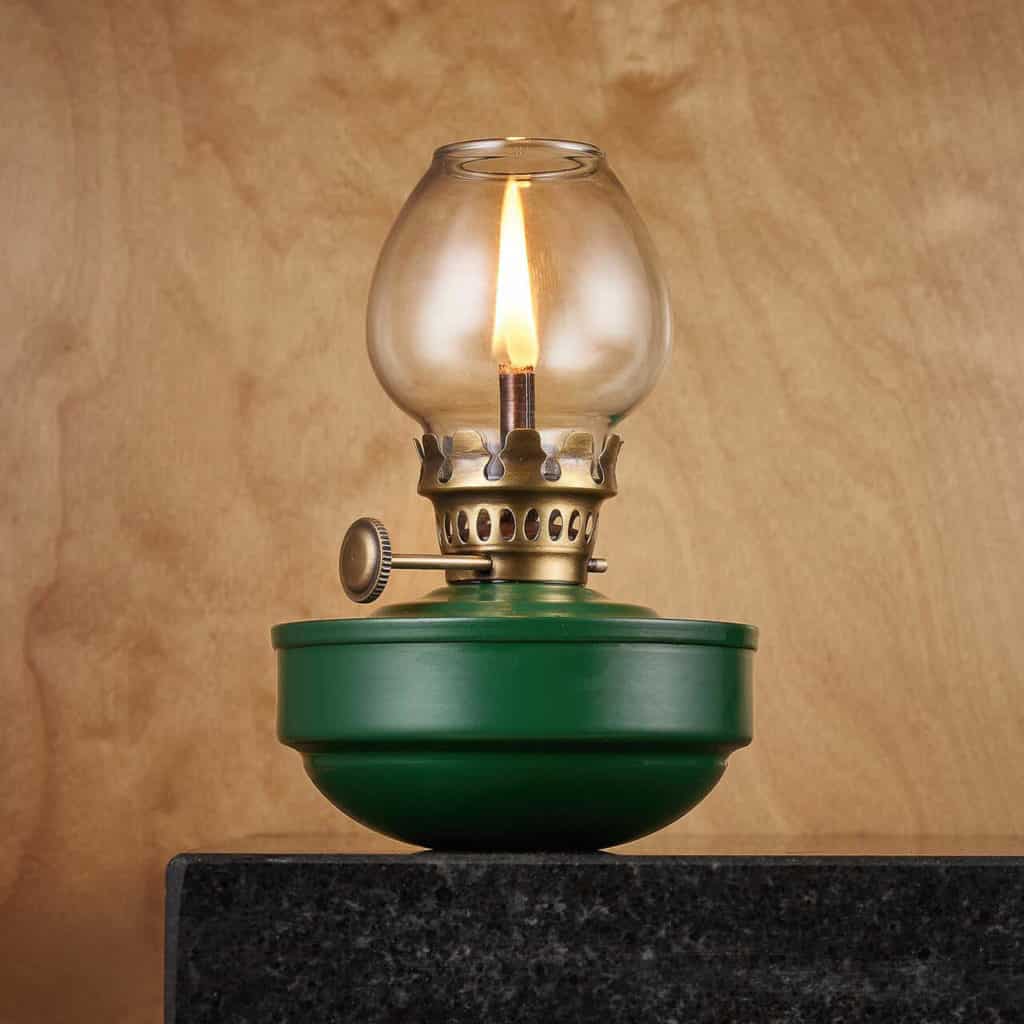 (image: Garrett Wade)
---
Did you know there are handmade oil lamps made out of clay on Etsy?
Hertz Pottery on Etsy seems to be one of the shops with a bunch of color selections and excellent reviews.
I liked this one for $38. I also appreciated that the listing mentions they use a fiberglass wick that is guaranteed for life and they will replace it should anything go wrong with it. I like it when shops stand behind their products.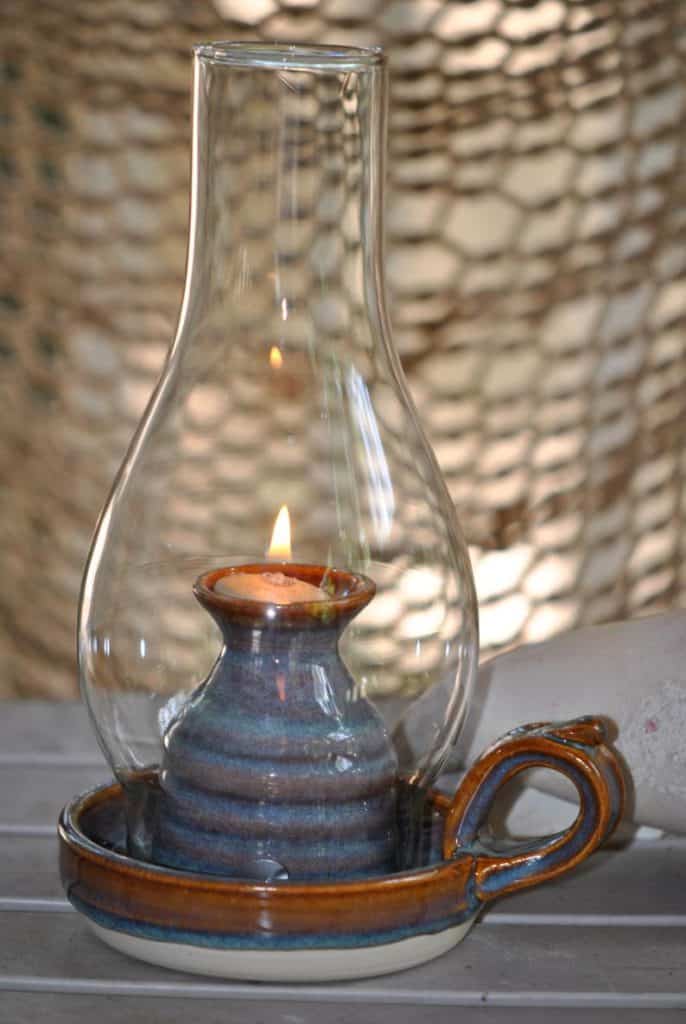 (image: Hertz Pottery)
---
Vermont Lanterns sells brass oil lamps with an option of clear or amber-colored glass via their Amazon store. The amber-colored glass would definitely cast a different glow over your room.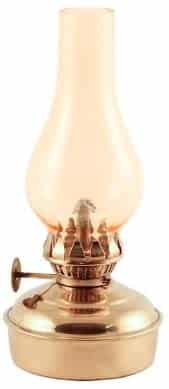 ---
Oil lamps might be my new favorite tool in our natural disaster preparedness kit, but the important thing is to be prepared!
Ready.gov and the FDA have some helpful tips about power outage preparedness. I don't always pay attention to the weather report, so it makes me so happy when our power company calls to notify us of impending severe weather since our property is on well water.
Speaking of living on a property with a well, we always have a few extra gallons of tap water bottled up. We could drink it if we had to, but it's really for flushing the toilets! Ha! Now you know our priorities.
On that note, stay safe and be prepared!
---
Thanks for being here today! Here are some other posts you might enjoy.
In Praise of Ceramic Colanders
In Praise of Church Pews for Home Decor
Easy DIY – Personalized Wood Hangers
*affiliate notes in this blog post*