Do We Regret Removing a Wood Stove From Our Home?
Do we regret removing a wood stove from our home?
Nope!
Not yet, at least.
Will we regret it someday?
This decision seems a little less permanent than getting a tattoo, but I do not have a crystal ball to predict whether or not we will regret this decision someday.
Our house does have three fireplaces that we could put back into use should we have the strong desire to use wood heat, so the odds seem in our favor that we will not regret removing a wood stove.
Plus, this isn't our first time removing a wood stove from a home, so we're well versed in the ins and outs of this particular activity.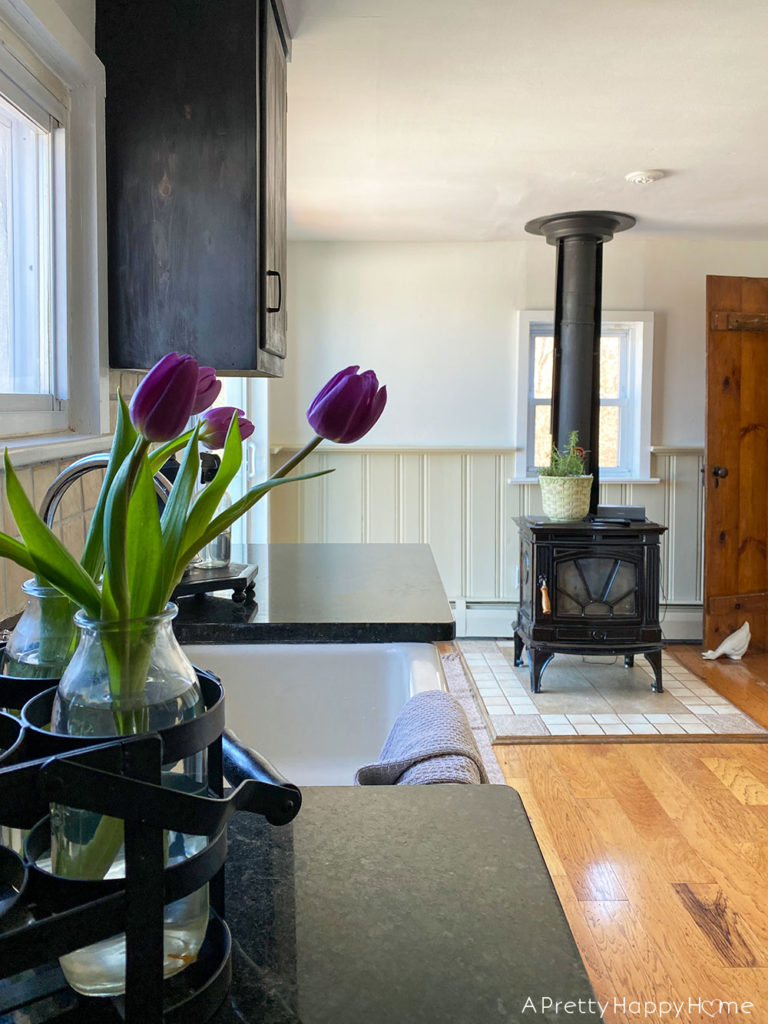 ---
Why did we even consider removing a wood stove from our home?
Have we lost our minds?
Do we not like wood heat?
Ah, I'm thrilled you asked those questions! I've learned people are very opinionated on the subject of wood stoves. In fact, many of the folks assisting us in the removal of this wood stove questioned our choice.
We don't mind the cozy feel of wood heat in a home. In fact, we both grew up in homes with wood stoves, so we are quite familiar with all aspects of heating a home with a wood stove.
For us, there were two primary reasons for removing this particular wood stove. The first is that we simply did not use the wood stove to heat our house because our house has a primary heating system. If you notice in the above picture, the wood stove was being used as a plant holder. That's how little the wood stove was being used for its intended purpose.
It's a lot easier to turn the dial on the thermostat than it is to prep firewood for winter and keep a wood stove going when it is cold. If the power does go out, we have a whole house generator we can use to power our heating system.
The second reason is the wood stove was located in our kitchen in the only spot available for a dining table and chairs. If we ever remodel the kitchen, not having to work around a wood stove will give us much more flexibility in our kitchen layout.
If I want to make us sound nobler than we really are I could tell you that environmental and health impacts factored into our decision, but really, those factors were secondary to convenience and practicality.
---
Removing a wood stove isn't something you should do on a whim because it affects your roof, ceiling, and floor. That's right, all of those things have to be repaired, so it does take some planning.
Why can't home projects ever be simple?
That, indeed, is the million-dollar question.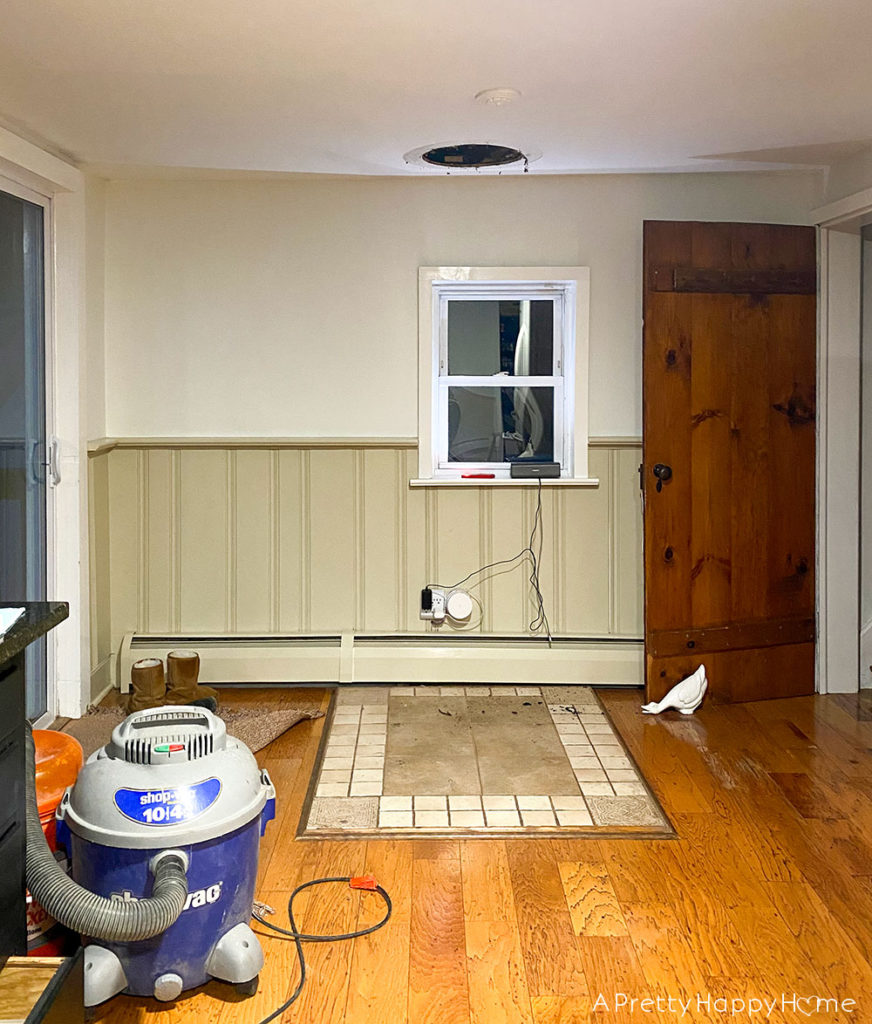 Also, let me be the master of the understatement and say wood stoves are heavy!
You're going to need help getting that thing safely out of your house.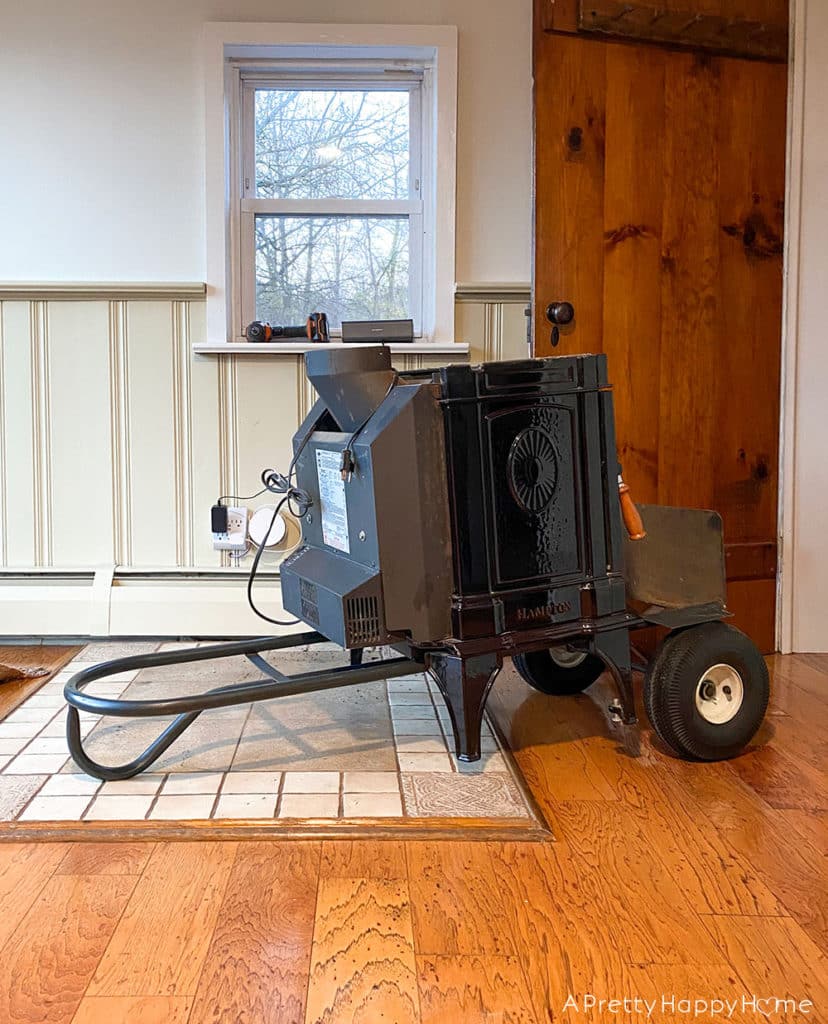 ---
What are we going to do with this end of our kitchen now?
Besides having a dance party in what feels like a gloriously large space?
Good question.
The short answer is I'm figuring it out.
As you can see from the below picture we also removed the door at the bottom of the stairs because we never closed it. This wall feels so much bigger now.
It's not a small space, but it's not huge either. For context, the rug is 5×8-ft. The fireplace hearth we removed was approximately 4×4-ft.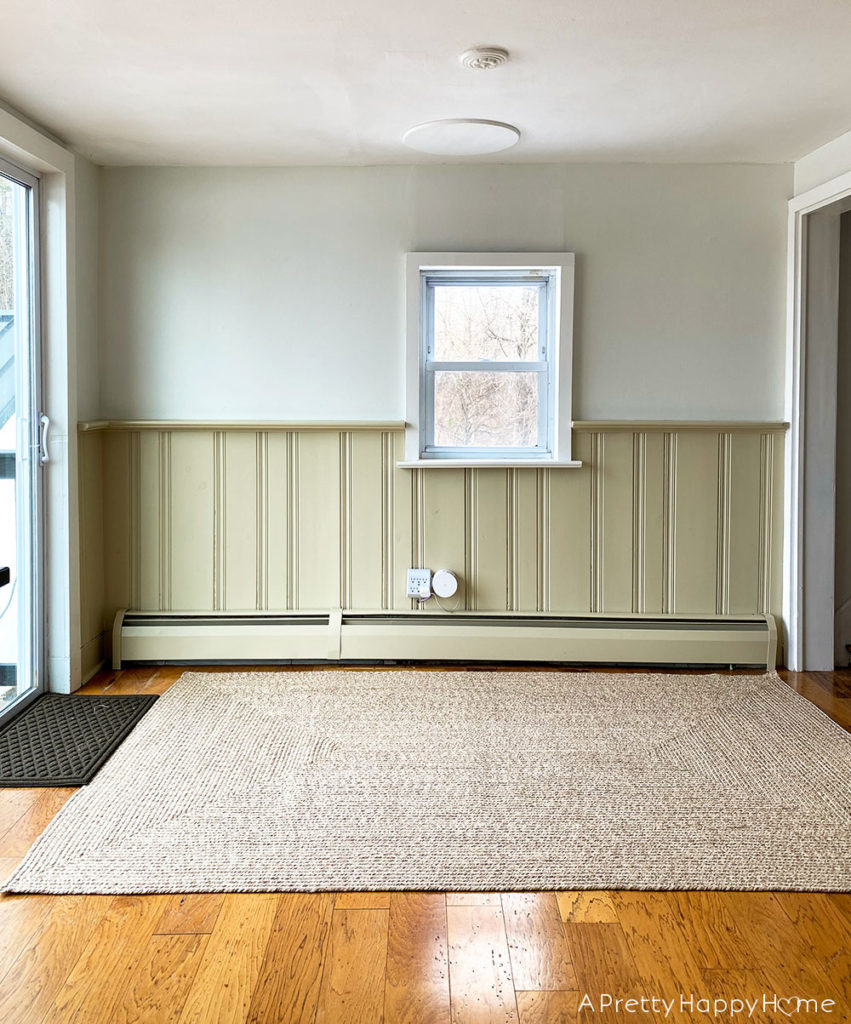 The long answer is it depends on what we end up doing with a kitchen remodel, but I'd love to move the access to the deck over so that we could build a built-in banquette on this wall.
The direction the sliding glass door slides now means there's not much useable space to the right of the door for built-in seating.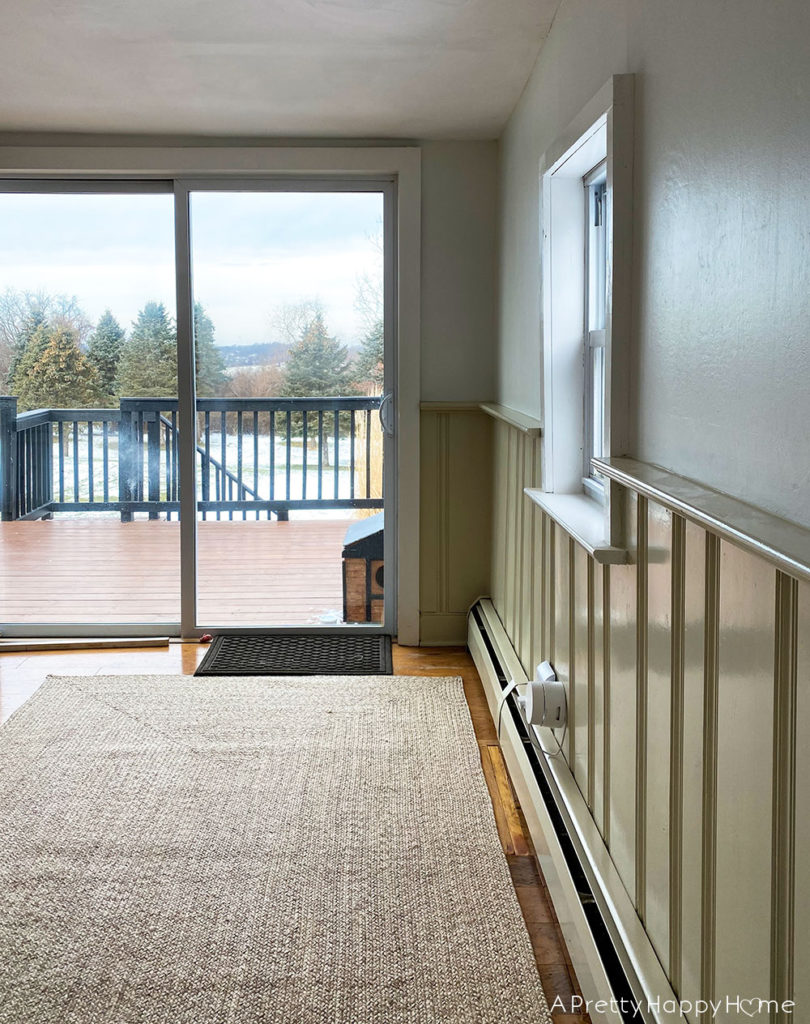 Since a potential kitchen remodel is still years off, I need a short-term solution.
As you can see, I did not rush to move a dining table and chairs into this area. In fact, there's nothing there now except a rug.
I'm leaning toward creating a seating area with a bench. Perhaps, invoking the feel of a coffee shop, there could be a small table in front of the bench.
This whole section of the kitchen is a thoroughfare of sorts. You have to step foot on the rug in this picture to come in from the deck, to access the stairs, and to walk down the bathroom hallway.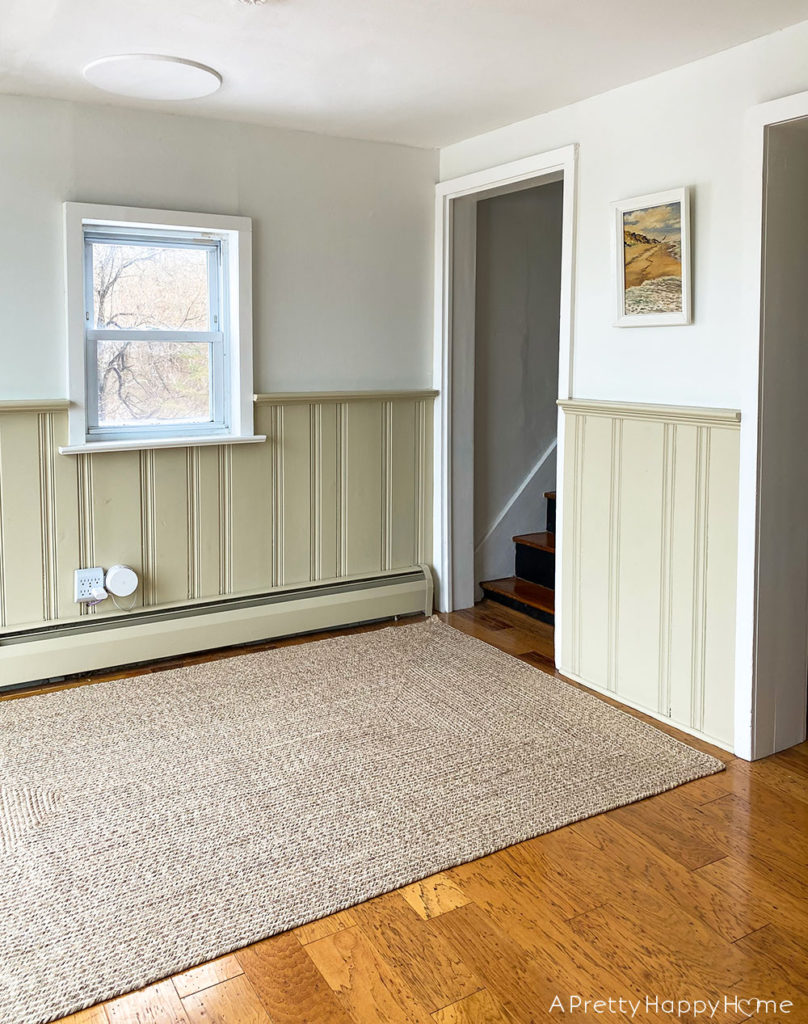 The real question is if we go the bench route will I find one on Facebook Marketplace or will we build one?
It will be fun to find out!
Right now, I'm just happy that we have options for this section of our kitchen.
---
Do you love wood heat or do you think it should only be used occasionally? Tell me on Instagram or Facebook. You can also email me via the Contact page on this website.
---
P.S. We have a Generac whole house generator.  It was installed by the previous owners. The benefit of one of these whole house generators is you can set them to automatically kick on if the power goes out. I can see how this feature would not only be necessary but also provide peace of mind if you were reliant on medical devices for breathing or other purposes. Plus, it is super convenient.
We are grateful to have this generator and happily use it when the power goes out, but I don't know that we would install a system this robust given our current needs.
---
Thanks for being here today and following along with our house journey! If you'd like to read another post, I've got a few you might enjoy.
Grey Fireplace Mantel in Our Primary Bedroom
DIY Kitchen Cabinet Feet From Scrap Wood
Living in Ireland: Inside My Kitchen
*affiliate links in this blog post*