8 Inexpensive Christmas Tree Decorating Ideas
There are so many gorgeous Christmas tree ornaments in stores right now and then there's my reality. I like to mix things up a little with my Christmas tree decorating every year because that's fun for me. I do not have a big budget to do this, so I've needed to employ a whole host of inexpensive Christmas tree decorating ideas over the years.
Here are some of my favorite inexpensive Christmas tree decorating ideas. I hope you'll let me know some of yours too!
---
Inexpensive Christmas Tree Decorating Ideas #1: Make Your Own Ribbon
The ribbons hanging on the tree in the below picture are not actual ribbons.
I made my own by cutting up an old button-up shirt that belonged to my husband. Don't worry. It wasn't his favorite shirt. It was in the donation pile.
The fun thing about this idea is that you can choose the width of your ribbon.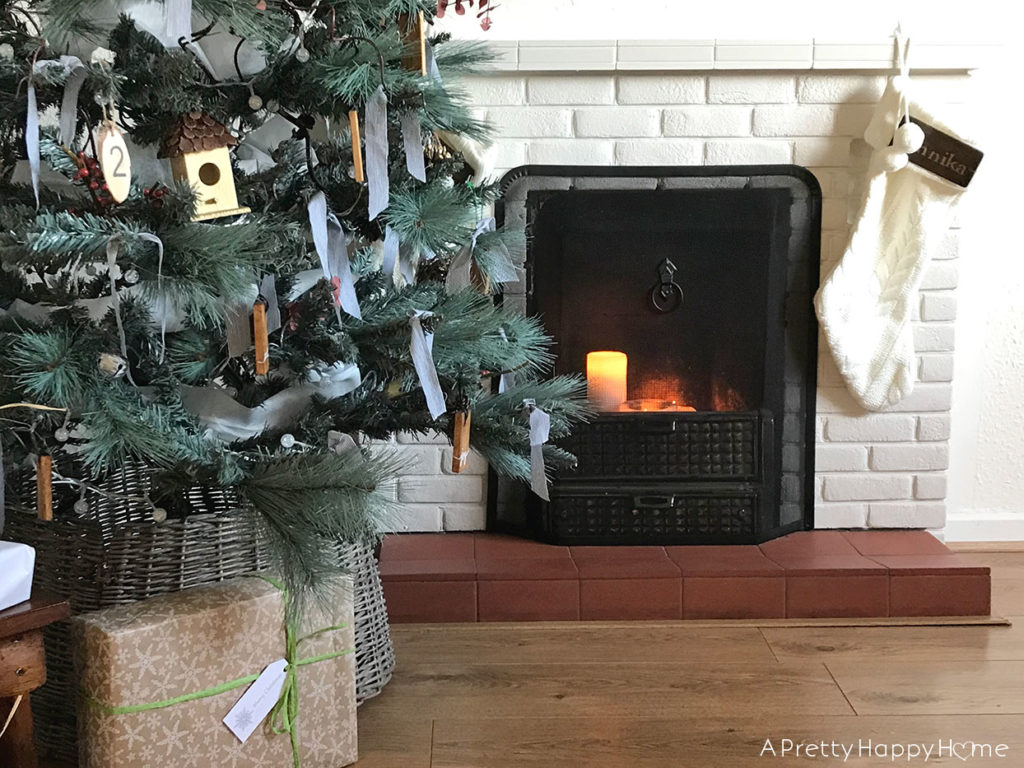 ---
Inexpensive Christmas Tree Decorating Ideas #2: Use Scrap Wood
If you're a little bit handy and have scrap wood lying around, making ornaments is a good way to use up some of that wood.
You could also use pallet wood or wooden paint stir sticks to make ornaments too.
I used some wood scraps to cut tag or arrow shapes. I painted the bottom part of the tag blue. I then drilled a hole in the top of the ornament so I could hang my new scrap wood ornaments and voila! Unique and super inexpensive ornaments using an item that was destined to be thrown away or used in the campfire.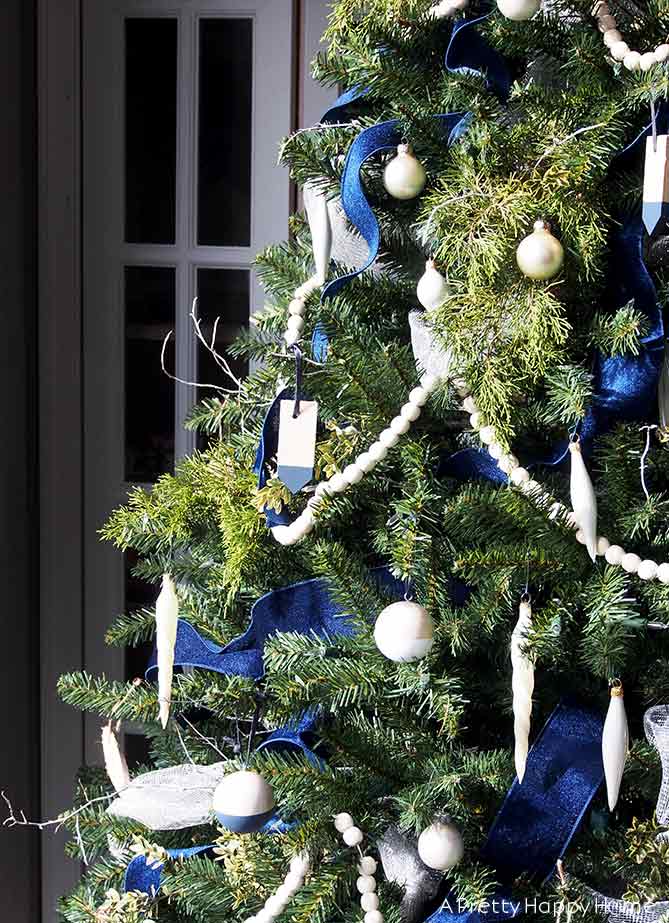 ---
Inexpensive Christmas Tree Decorating Ideas #3: Make a Paper Garland
If you have card stock, scrapbooking paper, or construction paper on hand, you can make a fun garland for your tree.
These paper trees and pom poms are strung on embroidery thread, but any string will do.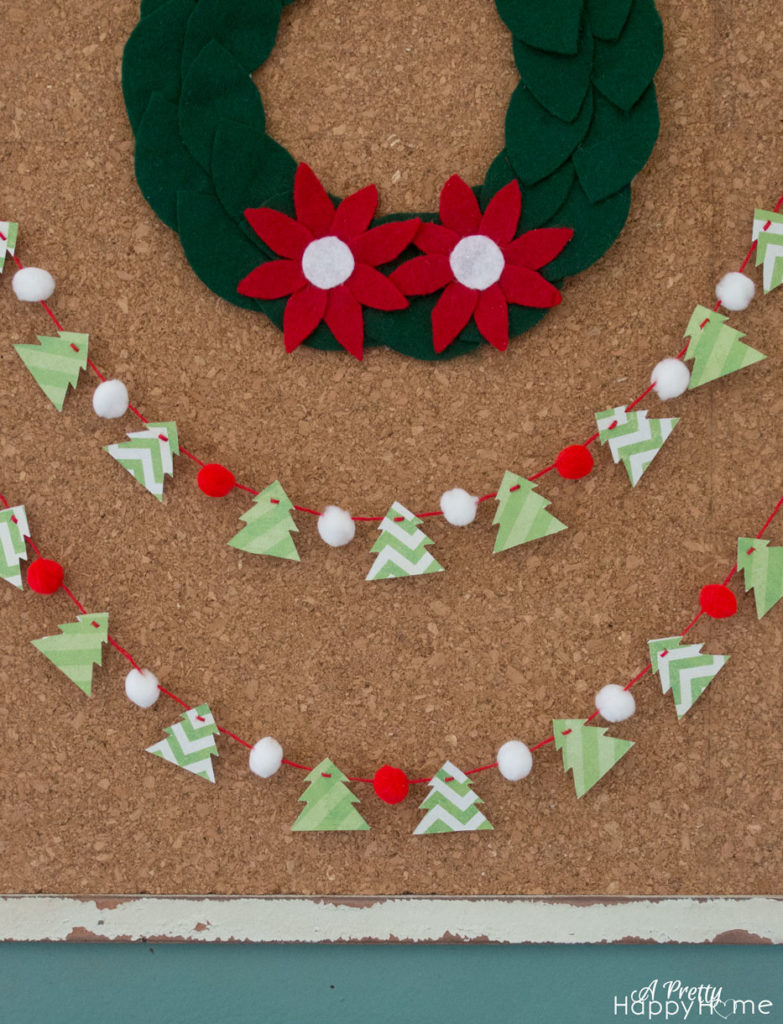 ---
Inexpensive Christmas Tree Decorating Ideas #4: Use Doilies As Snowflake Ornaments
Small doilies make the loveliest snowflake-like ornaments.
Am I suggesting you learn how to crochet? No.
On second thought, that would be cool. You should definitely learn how to crochet, but not for this project.
If you ask around, it is very likely that your Great Aunt Myrtle or your mom's best friend's aunt has a bunch of doilies sitting unused in a drawer that you could borrow. If you're super lucky, they'll just give them to you.
You can also find doilies for super cheap at thrift stores. I bought a pack of 6 small doilies for $1.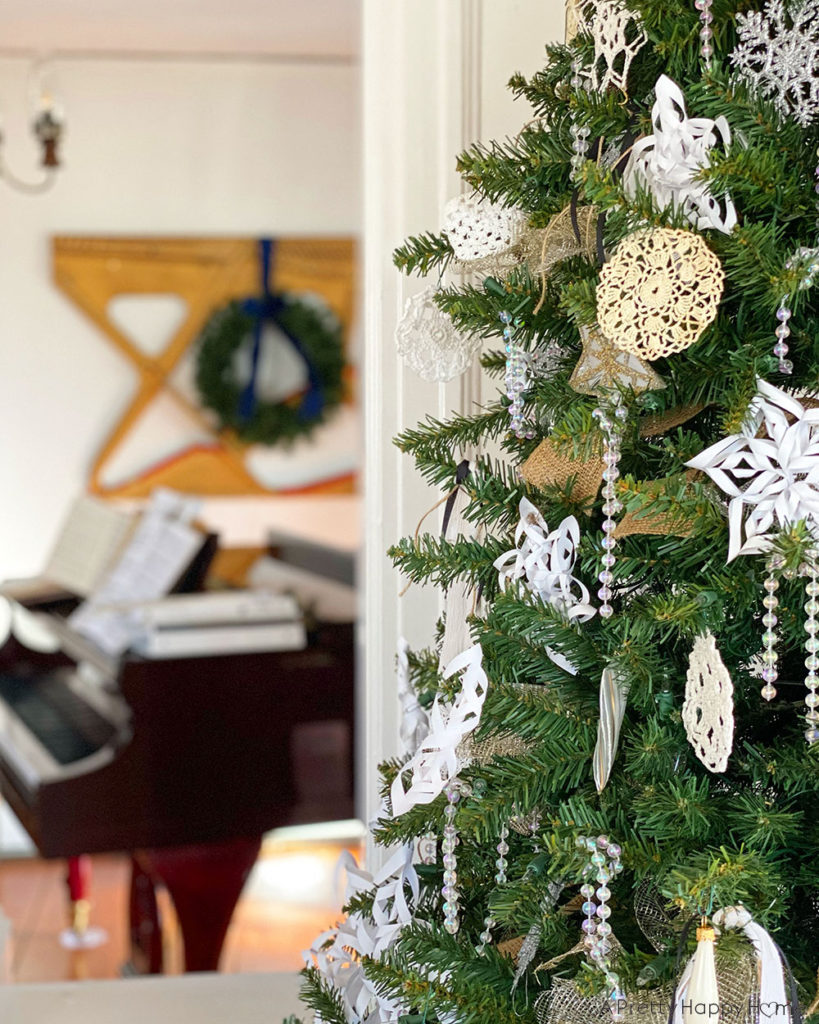 You can hang the doilies as is or if you want, you can add a little liquid starch to them to stiffen them up. It's up to you. Either way, they will make gorgeous, unique, and inexpensive Christmas tree decor.
While I generally think of the white doilies as snowflake-like, even colorful doilies can look festive on a Christmas tree. The below tree was decorated by one of my kids.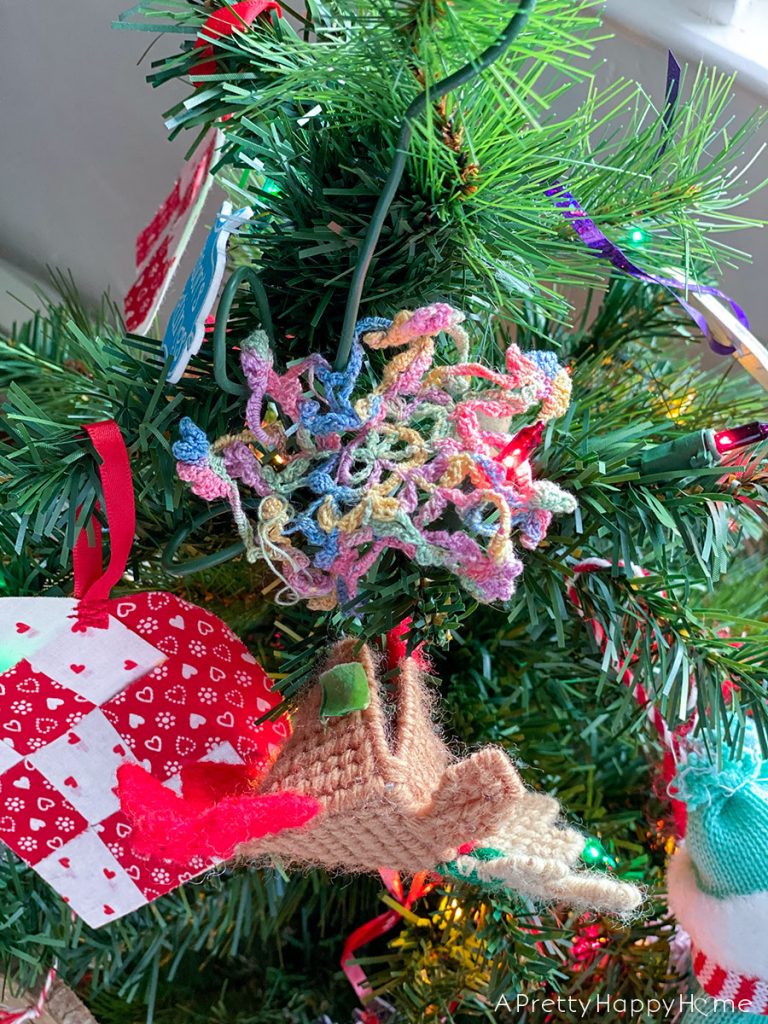 ---
Inexpensive Christmas Tree Decorating Ideas #5: Use Clippings From Your Yard
What's better than inexpensive?
Free.
Christmas trees, especially the faux ones, often need filler to make them look filled out and less fake. You can do this with actual clippings from a fir tree. Just poke a few real branches in here and there in your fake tree and you'd be surprised how it changes the look of your tree. I use this trick for fake wreaths too,
But don't limit yourself to fir boughs. Other clippings from your yard will look great too. One year I added pampas grass clippings!
Fair warning though…almost all natural clippings shoved into a Christmas tree will dry out and make a terrible mess when it's time to put the tree away. The pampas grass was the worst. Inexpensive and gorgeous, but a mess to clean up! Have your vacuum ready.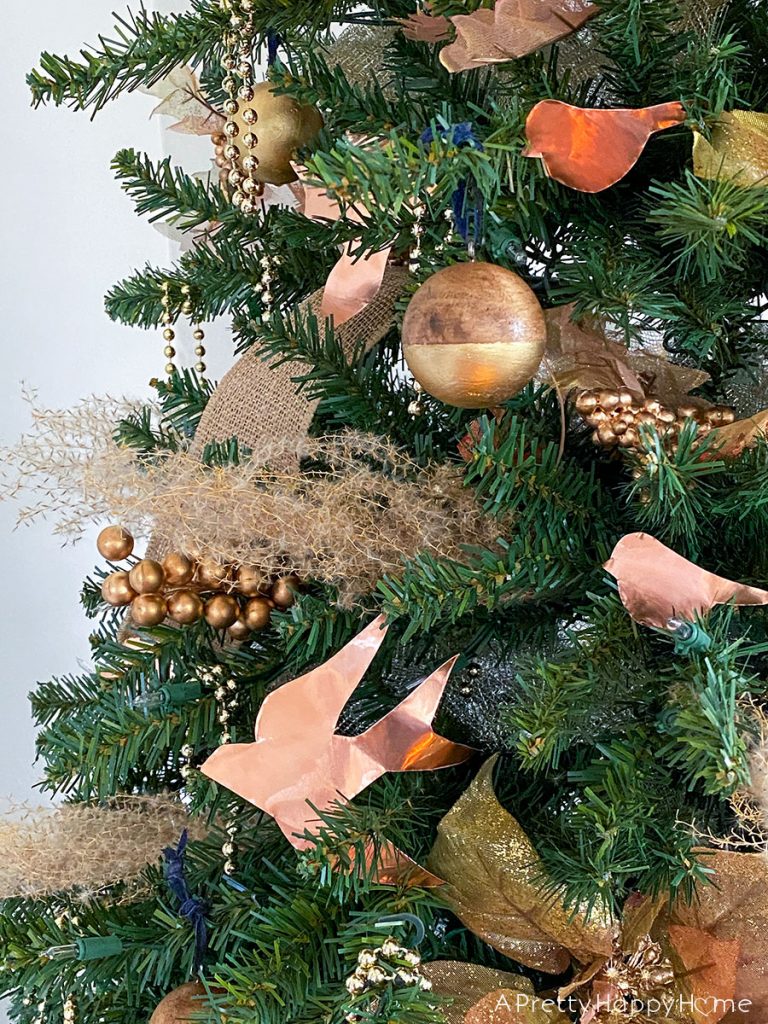 ---
Inexpensive Christmas Tree Decorating Ideas #6 : Make 3D Paper Snowflakes
You can use any paper to make 3D paper snowflakes.
Try using brown paper bags, computer paper, construction paper, wallpaper, or newspaper. I used computer paper for the white 3D paper snowflakes on the tree below and brown paper bags for the ones behind the tree.
How do you learn how to make paper snowflakes? YouTube! Seriously, there are what feels like a million tutorials but I watched this one.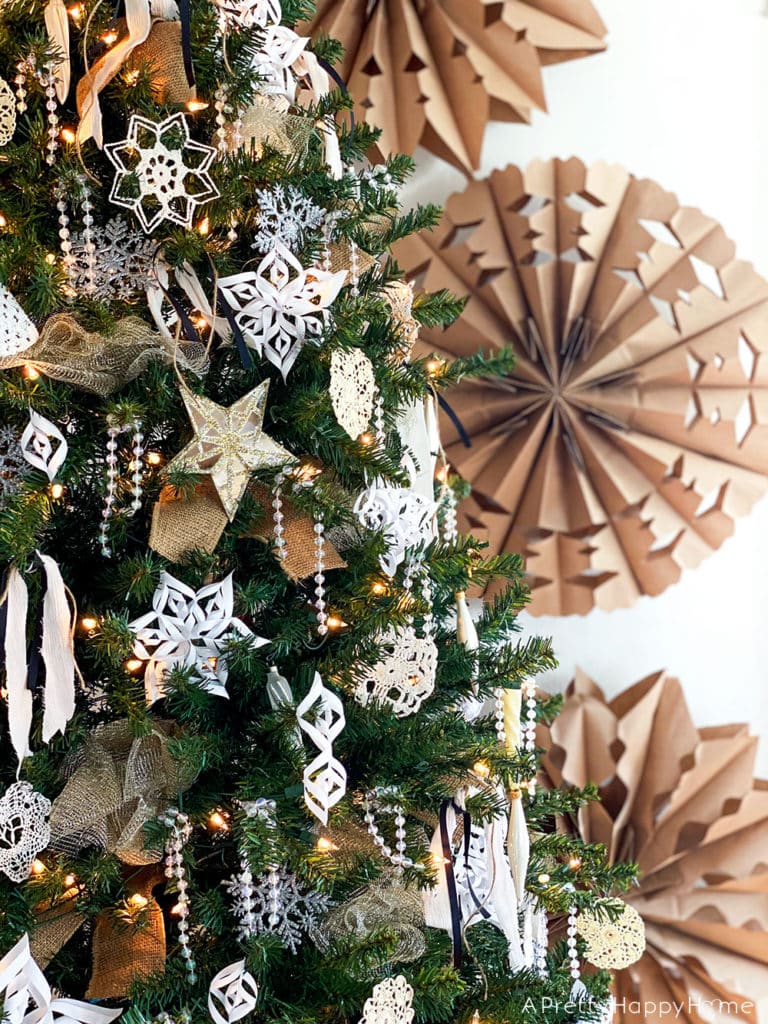 ---
Inexpensive Christmas Tree Decorating Ideas #7: Swap Ornaments With A Friend
Friends host cookie exchanges every year. Why not host an ornament or Christmas decor exchange? If a party is too complicated, just swap with one friend. 

Everyone ends up with some new-to-them ornaments or decor and it doesn't cost a thing!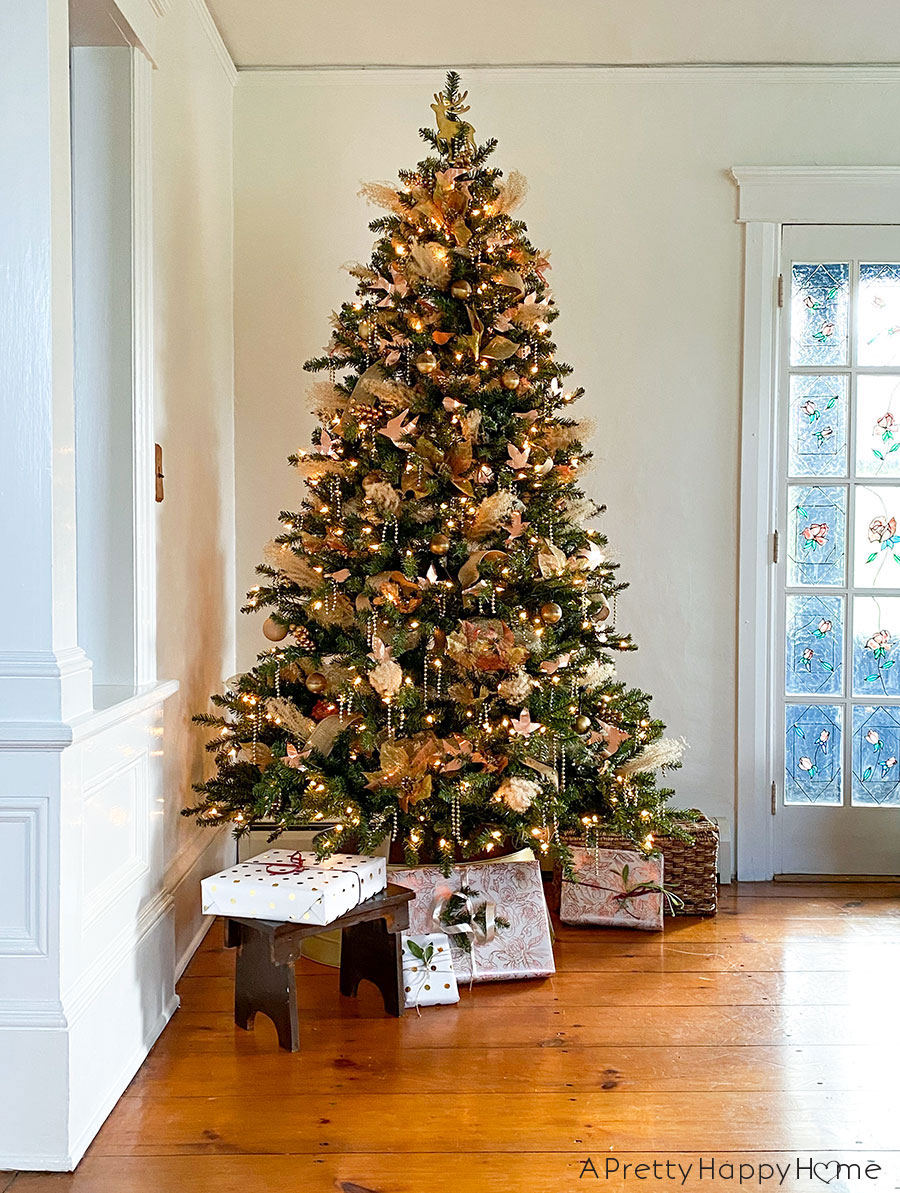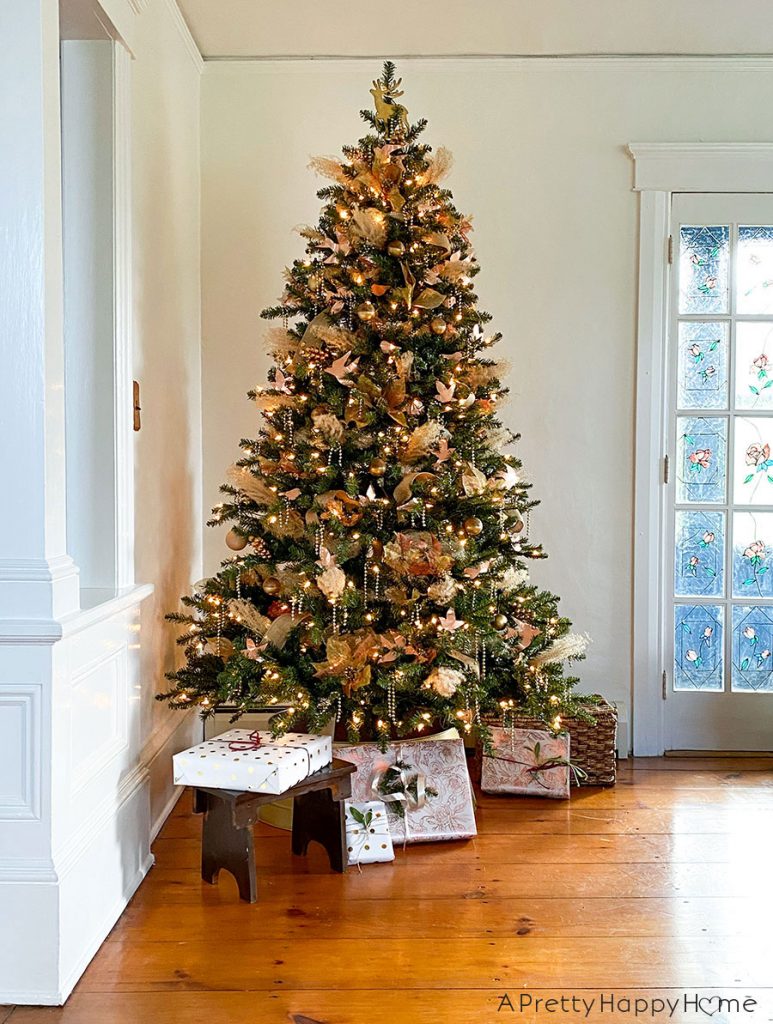 ---
Inexpensive Christmas Tree Decorating Ideas #8: Keep It Simple
You don't need a ton of ornaments or any ornaments at all to have a festive Christmas tree. The tree in the below photo has lights and ribbons. That's it.
Even without the ribbon, it would have made me smile to look at this tree all lit up at night.
In a world of excess, keeping your Christmas tree decorating simple and intentional is a beautiful thing.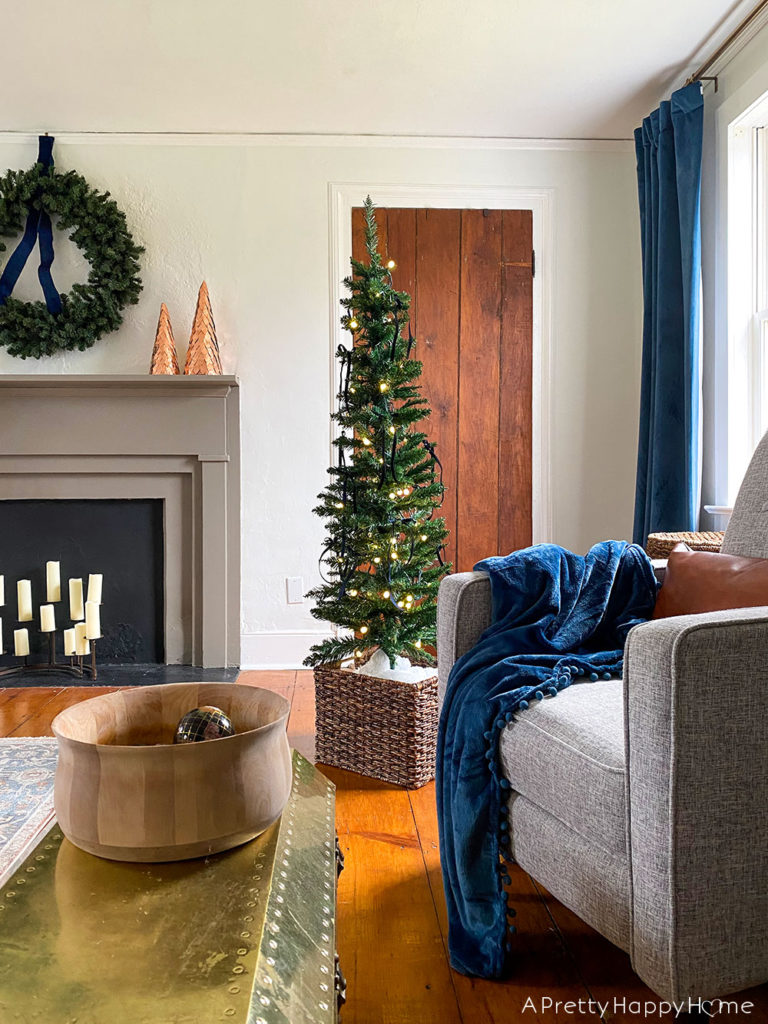 ---
I've shared my inexpensive Christmas tree decorating ideas. Now I'd love to hear about yours! We can all learn from each other.
You can always comment on this blog post, email me here, or reach out via Instagram or Facebook.
Happy Christmas!
---
Thanks for being here today! I know there are a million things you could do with your time, so the fact that you spent a couple of minutes here means a lot to me. If you'd like some more ideas for Christmas, check out one of these blog posts.
DIY Copper Christmas Tree From a Safety Cone
Paper Snowflake Mantel For The Holidays