In Praise Of: Ceiling Medallions
It doesn't matter how decrepit a home is, whenever I see ceiling medallions in a home I think, "Ooh, fancy!"
Is that your impulse too?
That impulse is spot on.
Ceiling medallions peaked in popularity in the mid to late 1800s. (source) This was the Victorian era and folks living then liked to make a bold statement in their homes with everything from elaborate trim to fussy furnishings.
There was nothing subtle about the Victorians. If you had a ceiling medallion in the 1800s this meant you likely had a hanging light fixture of some sort and these items were signs of wealth.
There's nothing like your neighbor's wealth hanging over your head.
Ceiling medallions also served a practical purpose in camouflaging the soot that would rise to the ceiling from these light fixtures. 'We have a dirty ceiling but make it fancy' was their attitude.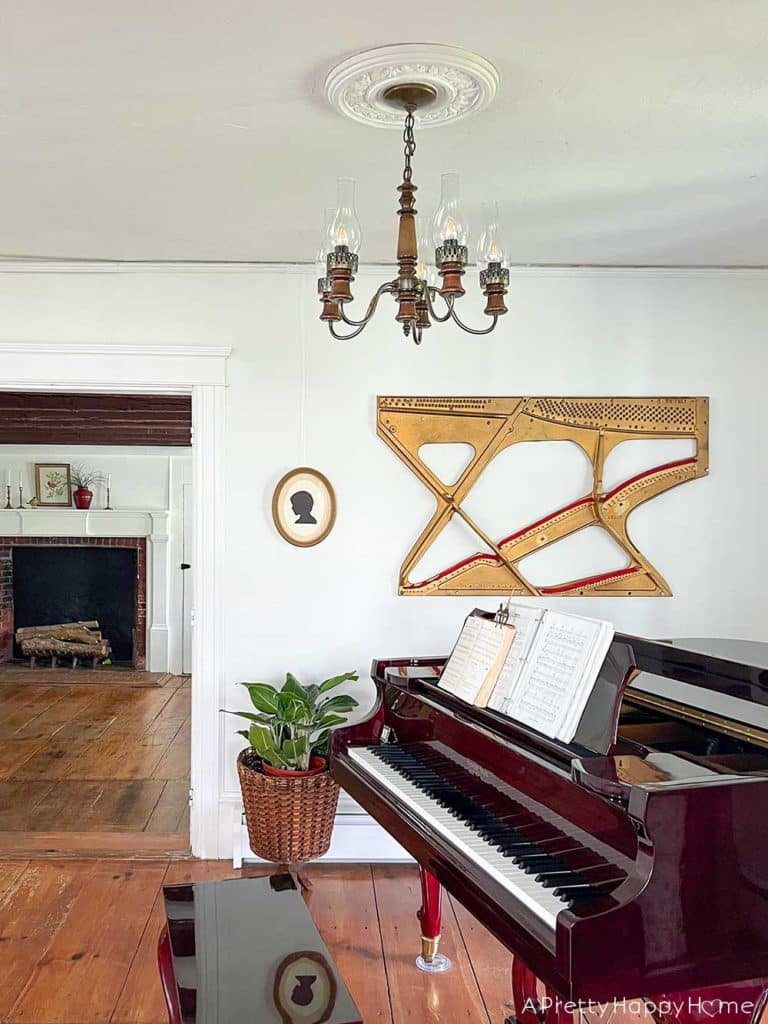 Our home existed through the Victorian period but it's not the fanciest home on the block.
I'll likely never know if our house had ceiling medallions in the 1800s but our music room does have one now. It was added in the last few decades. How do I know? Well, because it's made from the oh-so-modern high-density urethane foam and not plaster.
Our living room chandelier does NOT have a ceiling medallion and it could really use one.
Here are some ceiling medallions I've come across in my search for a ceiling medallion for our living room. Some of these I'd consider for the space. I like others for different reasons but they wouldn't work for our home.
---
The ornate finish on this ceiling medallion is very swanky. It's also going to set you back almost $500!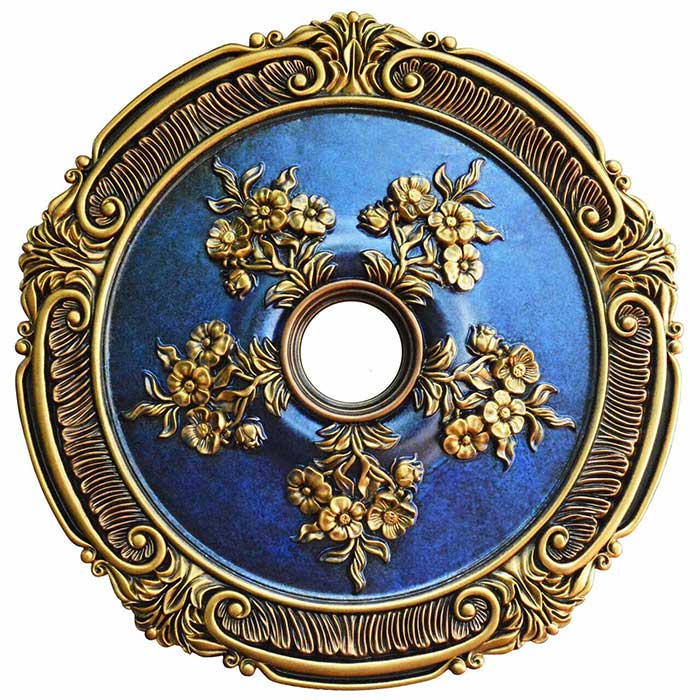 (image: Wayfair)
---
This feels like a pretty traditional ceiling medallion. I think it could work in our living room. The question is would I ever dust it? That's a lot of nooks and crannies.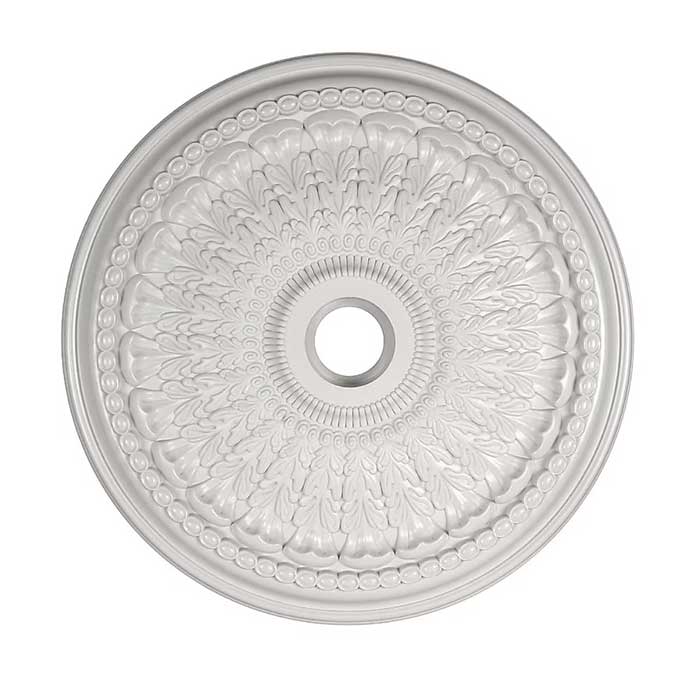 (image: Lowe's)
---
Ceiling medallions were originally made of plaster. Now, by and large, they are made of high-density urethane foam, which might also be called polyurethane or PVC plastic. (source)
However, you can get ceiling medallions made of wood.
I wish we had the tools to make a ceiling medallion like this one! Isn't it pretty?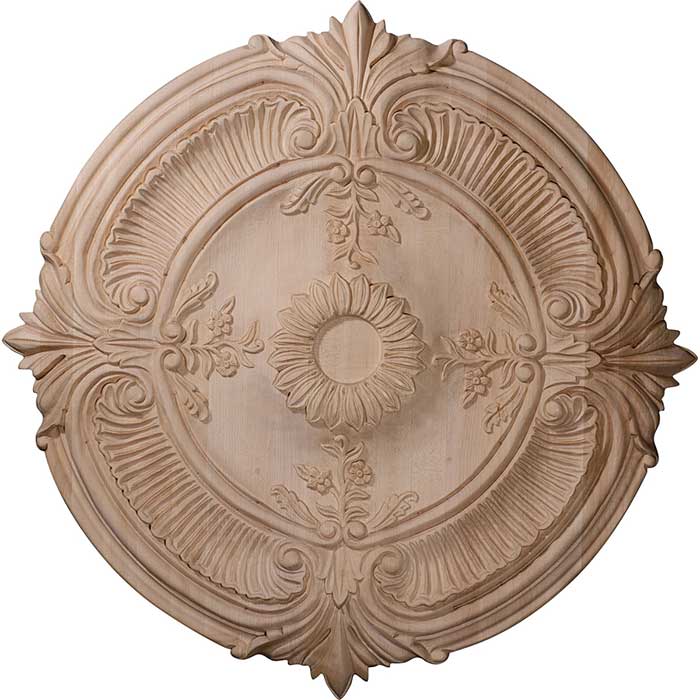 (image: More Than Moldings)
---
My mental image is of ceiling medallions being in super fancy homes or really old homes but I was not thinking broadly enough.
This diamond-shaped ceiling medallion would look amazing in a more modern home. This one was around $33 at the time I'm writing.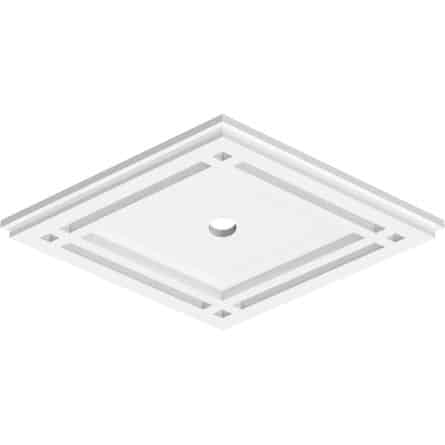 (image: Wayfair)
---
Most ceiling medallions are sold in a white color that you can then paint yourself. However, I have noticed that the ones that are available in colors, usually from architectural supply shops, are most often in a flat finish. Most ceilings are painted with paint in a flat finish, so this makes sense.
The exception might be if they are painted to look metallic.
This green color is so pretty and I can see this ceiling medallion in a room with a ceiling that is either wallpapered or painted a color other than white.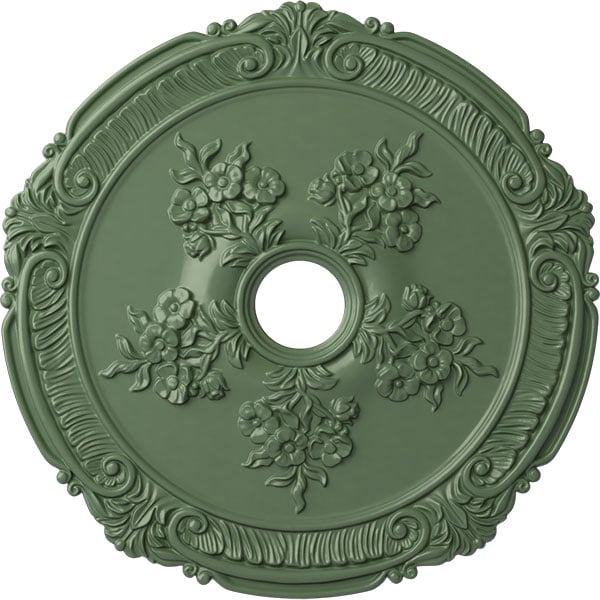 (image: Architectural Depot)
---
Something I've noticed while shopping for ceiling medallions is that Google is your friend.
At first, I thought I had just looked at one too many images of white ceiling medallions and they were all starting to blur together and look the same. In actuality, there are definitely multiple stores selling the same exact ceiling medallion.
If you do find one you like, Google can often tell you quickly who has the best price.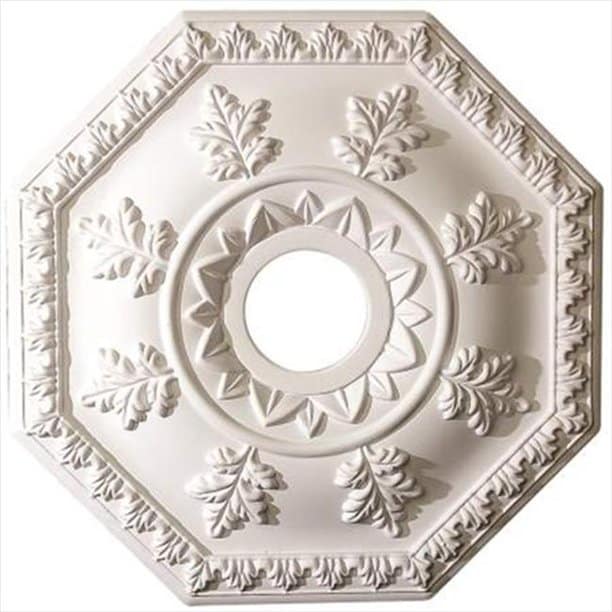 (image: Walmart)
---
The other thing I've noticed is that you have to keep an eye on the size of the ceiling medallion you are ordering. It needs to fit your light and also extend across the ceiling in a way that looks proportionate to your room and light fixture.
Prices can vary wildly on ceiling medallions. Most of the common sizes can be found for under $100 at your home improvement stores. But if you see one that's really inexpensive, under $20, then check the size. It probably has a small diameter.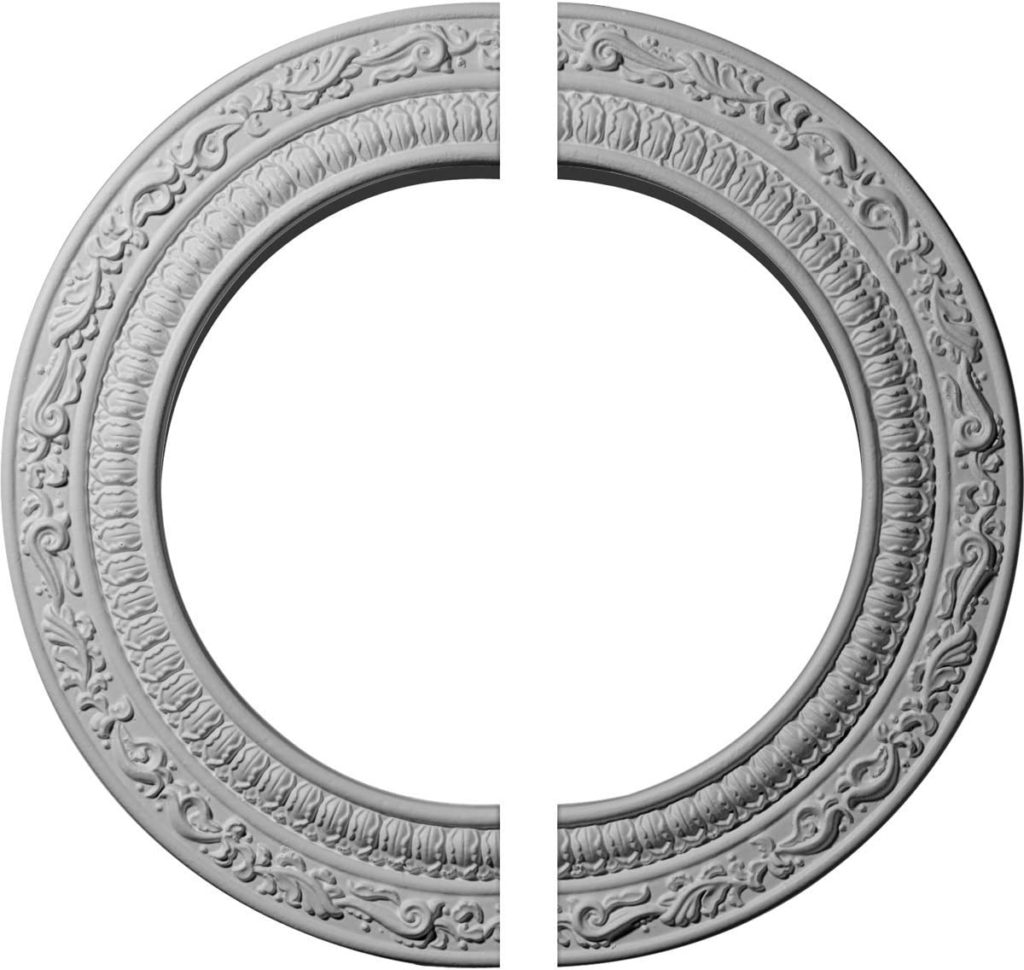 (image: Amazon)
---
My living room chandelier needs a ceiling medallion for practical and aesthetic reasons as it isn't mounted flush to the ceiling.
It makes me wonder if it used to have a ceiling medallion but something happened to it. Or maybe something weird happened with the installation of that light. It's one of those old house mysteries that probably has a mundane explanation.
Mundane explanations aren't that interesting. I like drama!
But not too much drama.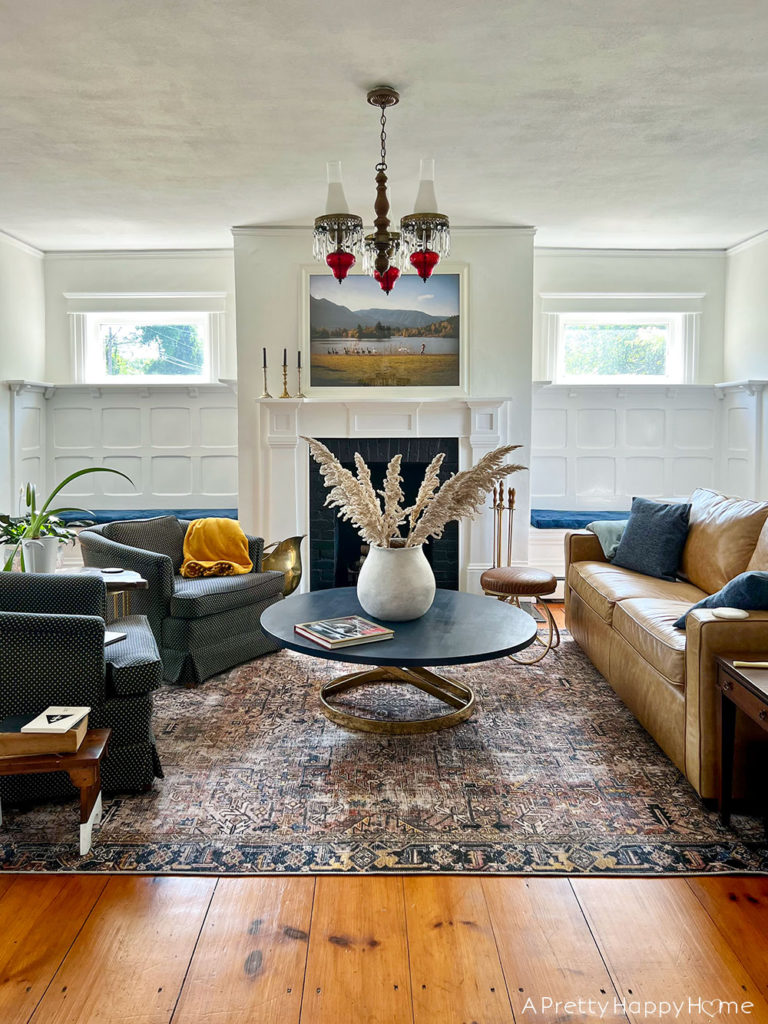 Because we'd like to avoid any of the old-house drama that costs us unexpected time, money, and heartburn, I'm strongly leaning toward purchasing a split medallion. This way, we wouldn't have to remove the light and mess with the wires to install the ceiling medallion. That would make everyone, especially Handy Husband, very happy.
But first I need to settle on a ceiling medallion style for our slightly quirky but extremely fabulous ruby glass chandelier.
Does your house have ceiling medallions? What do you think of them? I'd love to know. You can always comment below, email me here, or reach out via Instagram or Facebook.
---
P.S. Learn more about the history of ceiling medallions in this Apartment Therapy article.
---
Thanks for coming on this journey with me. If you have time for another blog post, I have approximately 1,300 more you can read. 1,300 might be a little excessive…how about you start with one of these.
3 Reasons To Love Tiffany-Style Lights
I'm Keeping The Ruby Glass Chandelier
Adding Magic To Our Deck With Lighting
*affiliate links in this blog post*