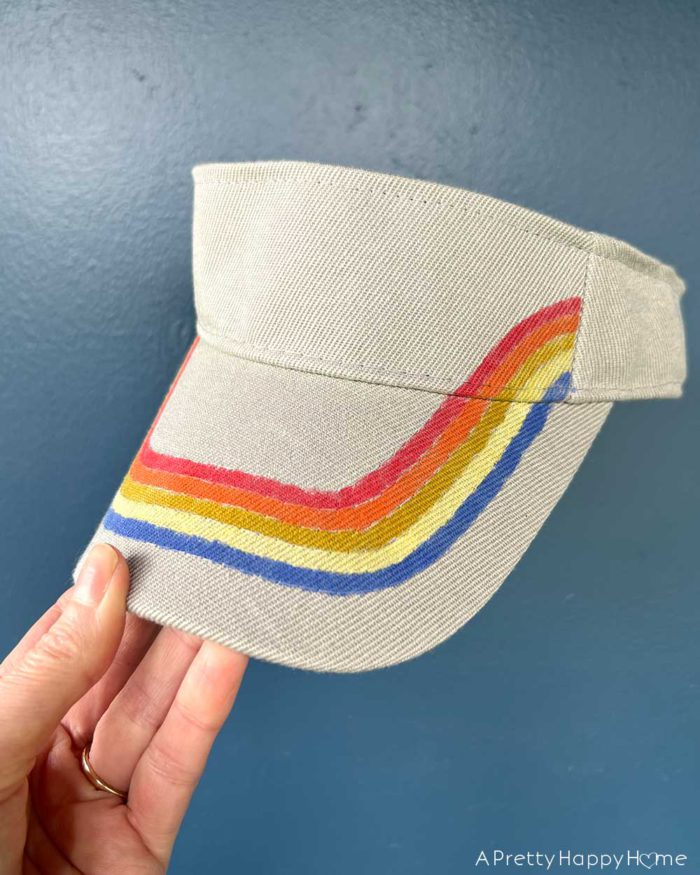 How To DIY A Retro Stripe Painted Visor Or Hat
Have you ever used fabric paint to jazz up your clothing? I used fabric paint to DIY a retro stripe painted visor and I love how it turned out.
If I can do this craft, you can definitely paint a visor or hat.
How do I know?
Well, there aren't many rules. So, most anything goes.
This is one of those low pressure, therapeutic crafts that's also practical because you can wear your creation. Let's get started.
---
Supplies needed to make a retro stripe painted visor or hat:
visor or hat of your choice (mine)
fabric paint (this set comes with paintbrushes)
paintbrush
paint palette or paper plate to mix colors on if desired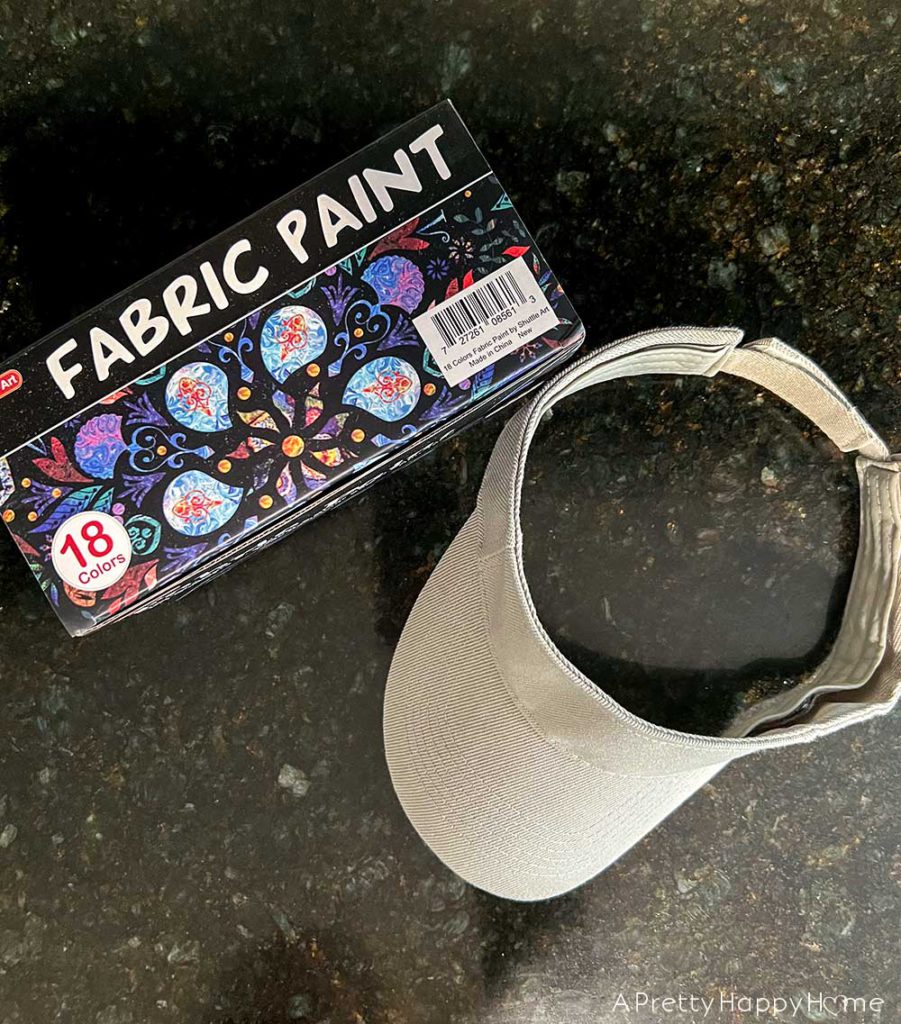 ---
How to paint a retro stripe on a visor or hat:
Step 1: Pick your colors. 
Most fabric paint sets include paints in primary or vivid colors. I mellowed out some red, orange, and blue colors with a little bit of white fabric paint to get my retro colors.
Step 2: Decide where your stripes are going to go and start painting!
There's really no right or wrong place to paint your stripes on your visor or hat. Go with placement and size of stripes that make you happy!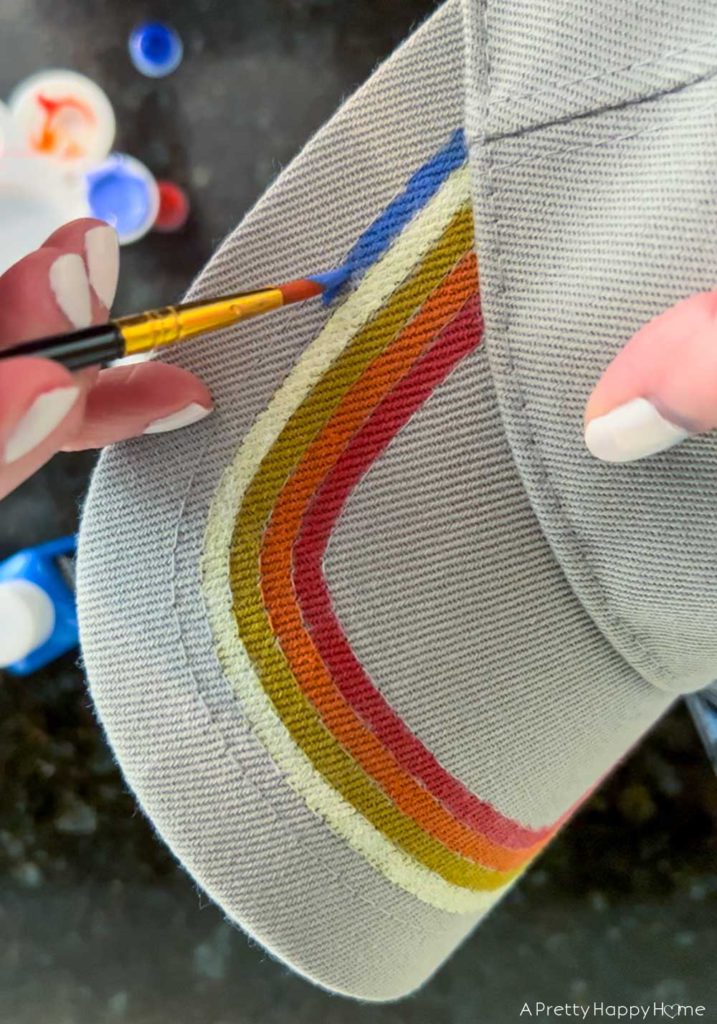 I decided to use the stitching on my visor's bill to make my stripes. The stitching gave me natural guidelines for the stripes. This meant I didn't have to use tape, my own markings, or rely on my not-so-steady hand to make the stripes.
I did end up freehanding the part on my visor where the stripes curve. That was a bit nerve-wracking at first, but it all worked out.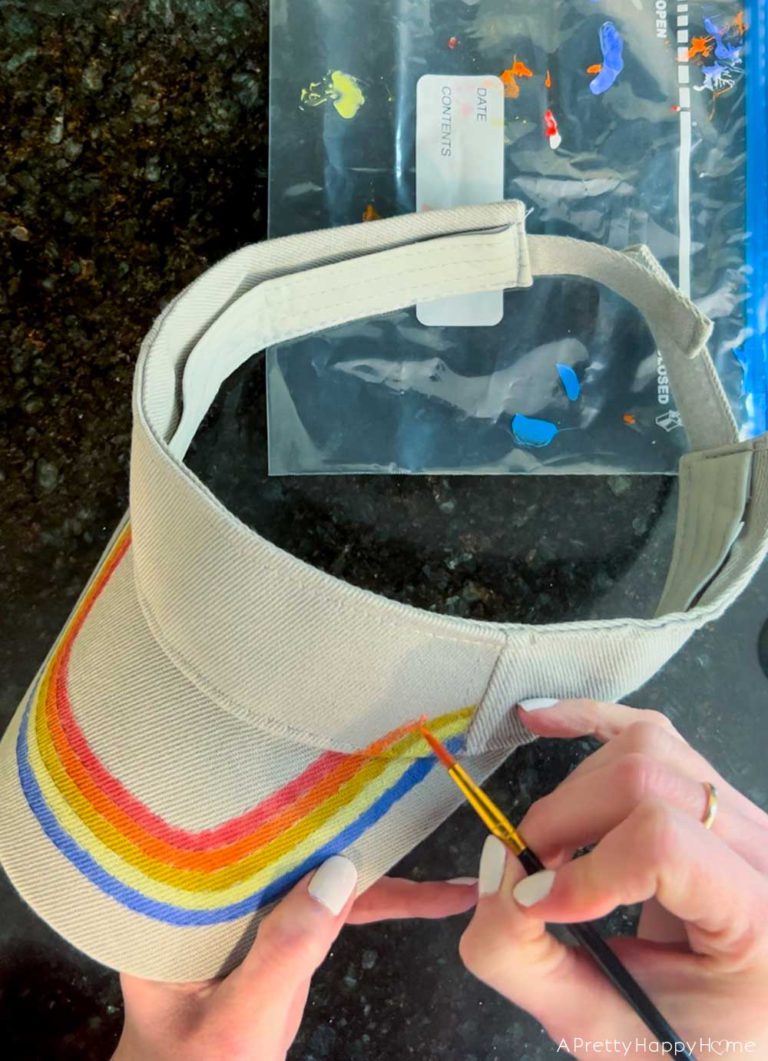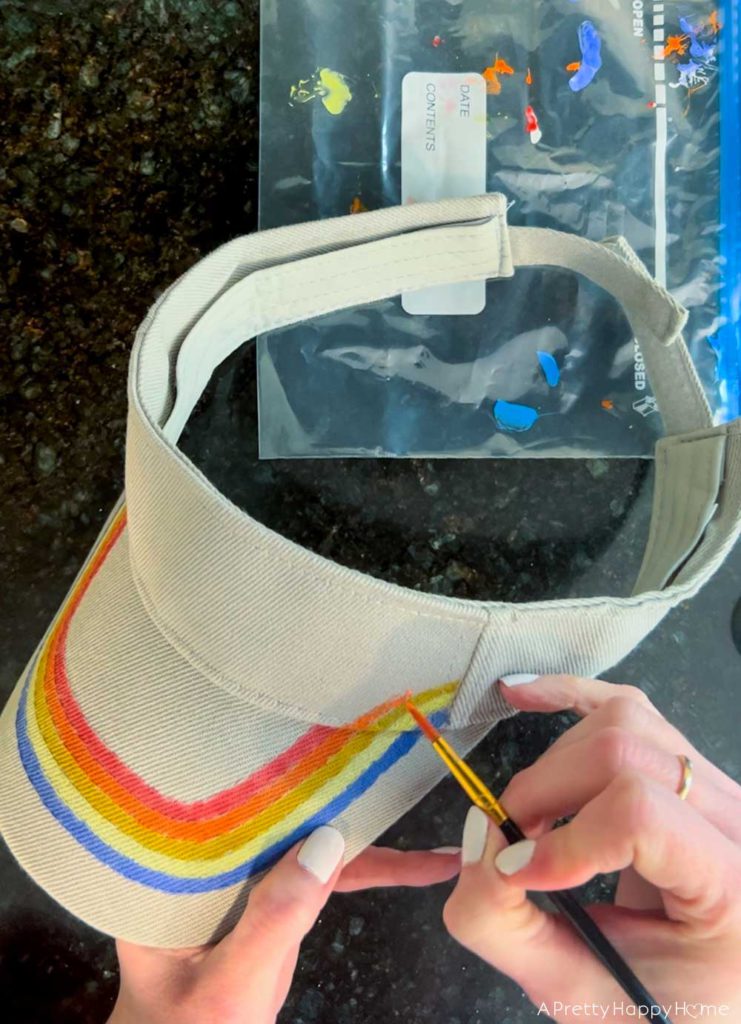 Keep in mind that you may need to do multiple coats of paint to get the level of color saturation that you want, especially if you are painting on a visor or hat that is dark in color.
Step 3: Wear it loud and proud!
You should wait at least a week before you wash your newly painted visor or hat but you can wear it as soon as it dries.
I know some people never wash their hats or visors but I think they get gross over time with sweat and makeup, so I wash my visors. I've always had good success washing my visors (even the painted ones) in the washing machine with like colors and cold water.
Make sure the velcro on the hat or visor is fully closed so that it doesn't snag other clothing. When done washing, I reshape my visors and let them air dry.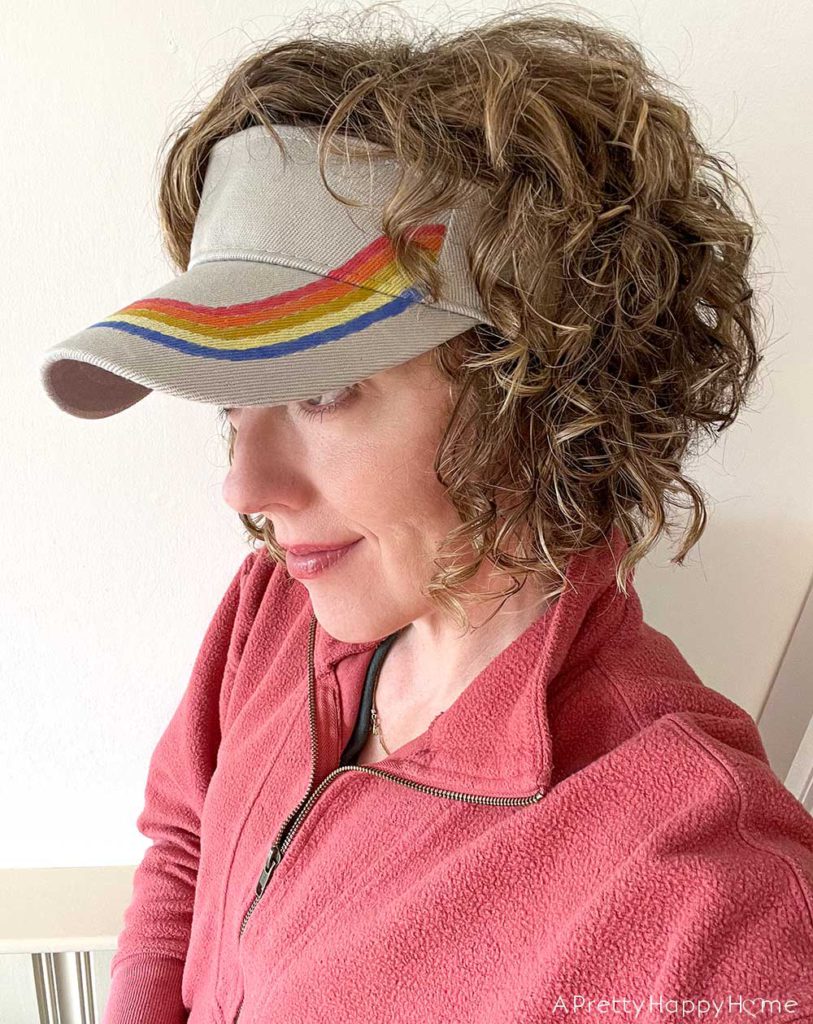 ---
Fabric paint is permanent. I haven't used every brand of fabric paint but my experience with a variety of them is that the visor or hat will wear out long before the fabric paint will.
If you've never used fabric paint, painting a visor or hat is a great place to start. The fabric is stiff, so it makes it easier to paint than something like a t-shirt that has stretchy fabric.
Have you tried painting fabric? What did you create? I'd love to know. You can always comment below, email me here, or reach out via Instagram or Facebook.
Happy crafting!
---
P.S. I think this would be a fun activity for teens on a sports team. They could paint visors or hats in their school's colors.
---
Thanks for hanging out with me on the blog today! I appreciate it. Here are some other blog posts you might enjoy.
How To Make A Map Out Of Leather
DIY Embroidered Heart Sweatshirt
Three Ways To Decorate With An Antique Splitting Wedge
*affiliate links in this blog post*