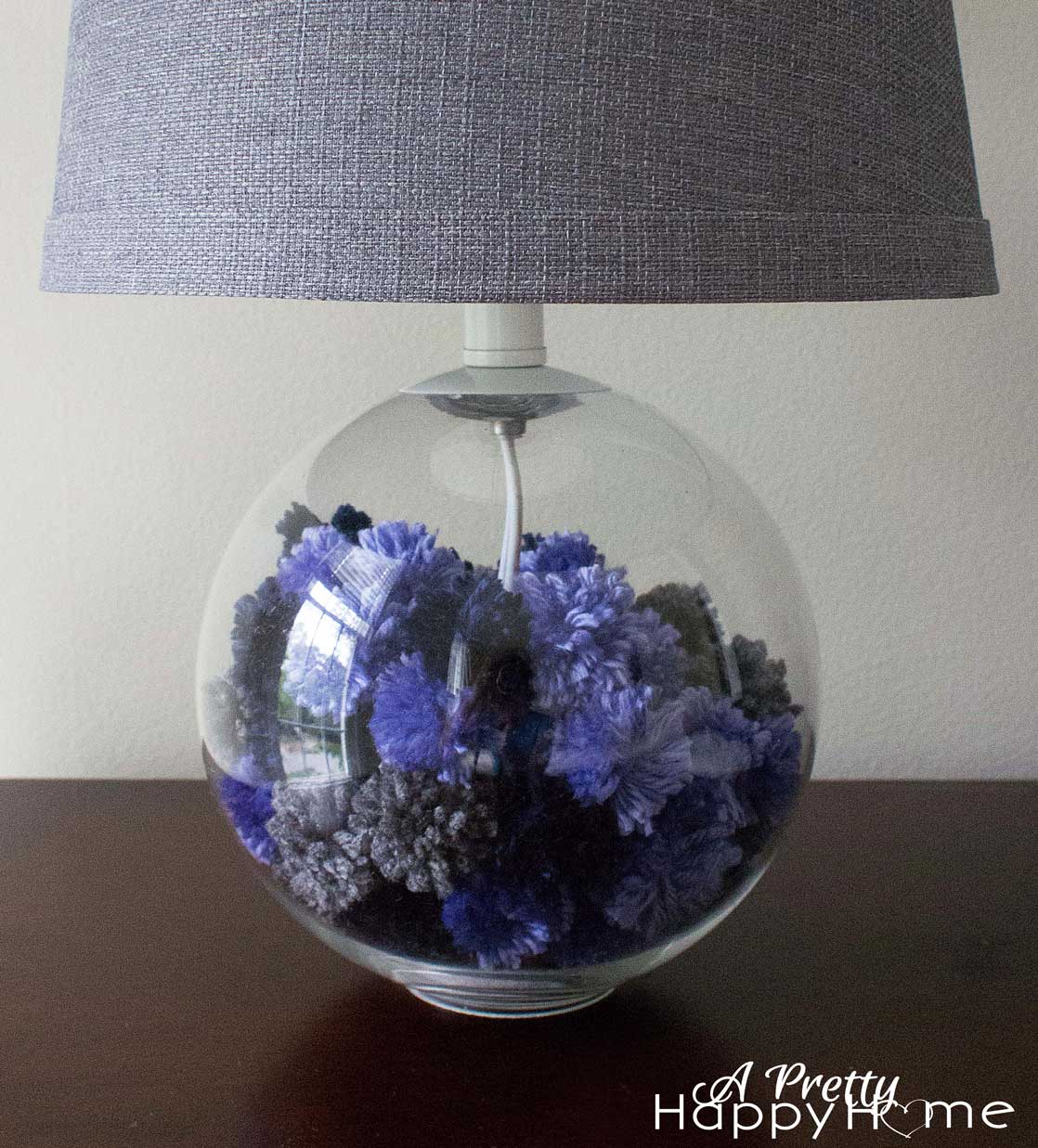 Lamp Base Filled With Yarn Pom-Poms
My 7-year-old daughter's bedroom is almost done. Or done enough. Is it ever really done-done?
We are blessed that she loves to read. When we put her to bed at night, she will stay up and read for awhile, so a lamp on the bedside table was a must!
The colors of her room started out as grey and lavender. However, now her favorite color is blue. Who can keep up? Instead of starting all over on her room design, we compromised by adding navy into the mix. That way we could keep her existing decor, but freshen it up with her new favorite color. The next time she changes her mind, I don't think I will be so lucky. What if it is orange?? That's not going to work.
Anyway, I wanted to have some fun with the lamp, so I opted for a clear lamp base that is fillable. I bought this one at Target. It is the "Room Essentials Orb Mix and Match."
Now, what to fill it with??? That was the question I asked myself as I leisurely perused the aisles of Michael's. Ha! Kidding. That WAS the question. Except there was nothing leisurely about the trip. It was more of a "don't touch that or that or that" and "please get off the filthy floor" and "don't even think about taking your shoes off here" kind of trip. So, pretty much normal.
I finally settled on a brilliant idea: yarn pom poms! I say brilliant with a wee bit of sarcasm because most of my brilliant ideas take way longer than I intend. This project was no exception because I needed approximately one million and one pom poms to fill the lamp base.
I used a tutorial from The Pleated Poppy, which was great because I only needed yarn, scissors and a fork! I'm not convinced my pom poms looked as great as Lindsey's, but you couldn't really tell when they were all piled in the lamp base. I'll spare you the how-to's because her tutorial was awesome!
I haven't decided what, if anything, to do with the shade. For now, I'm digging its simplicity.
I like that my daughter's lamp, with the addition of the yarn pom poms, is one-of-a-kind! In my mind, it's filled with a little bit of handmade love and that makes me very happy! Best of all, she likes it too!
P.S. You're also getting a glimpse at how we made over her nightstand! I HEART brackets!
---
Here are some other projects you might like!
Pom Pom Letter Embellished Gift Bag