I do a lot of confessing on the ol' blog.
Why stop now?
After we moved here in March, I decided to hang my first ever gallery wall. I know, I know. What took me so long? Visions of every bad gallery wall I saw in the 80s, that's what. 
I had some frames and in April I hung them on a wall I deemed perfect for this inaugural endeavor. I told myself I would fill them with pictures before my children's birthday party in May. Of course, that didn't happen. After the party was over, I figured everyone had seen my wall of framed strangers, so why rush it?
It took me 7 months and a new printer to replace those strangers, some who were even hanging upside down and sideways. Decorating takes its sweet time in this house.
I don't have a before, but here is when I began to replace the strangers…
My original idea was to fill this wall with my husband's landscape photography. He is the real photographer in the family.
However, just like the cobbler's children have no shoes. The computer programmer's wife can't access the fileshare where the photos are stored. It seems I'm not the only one who takes the slow approach on getting things set-up.

In true ME fashion, this was a budget-based project. Our old printer finally died and it was good riddance! After years with laser printers, we decided to go back to inkjet. We purchased the Epson WorkForce WF-7610 Wireless Color All-in-One Inkjet Printer with Scanner and Copier
mainly for its multi-page scanning capabilities. We have a paperless filing system and this function streamlines the scanning part of being paperless.
It also happens to print 11×17. YEEHAW! Just as I have carried around boxes of envelopes for years on end, I've also been hauling around a ream of 11×17 paper. Who's the smart one now? 
I had the perfect way to see what this printer could do – with my gallery wall. I got to printing straight away! The color definitely came out better when I set the printer controls to let Photoshop control the color. The photos would look better on actual photo paper, but I was pleasantly surprised with what it could do.
As to whether or not to use mats, I couldn't really decide. The square frames are using faux mats, anyway. At some point, I should probably make them consistent, but let's not rush things!
The other thing I'm considering for Gallery Wall Version 1 is to remove the two tiny frames at the very top. I was trying to fill some noticeable gaps, but now I'm kind of "eh" about it.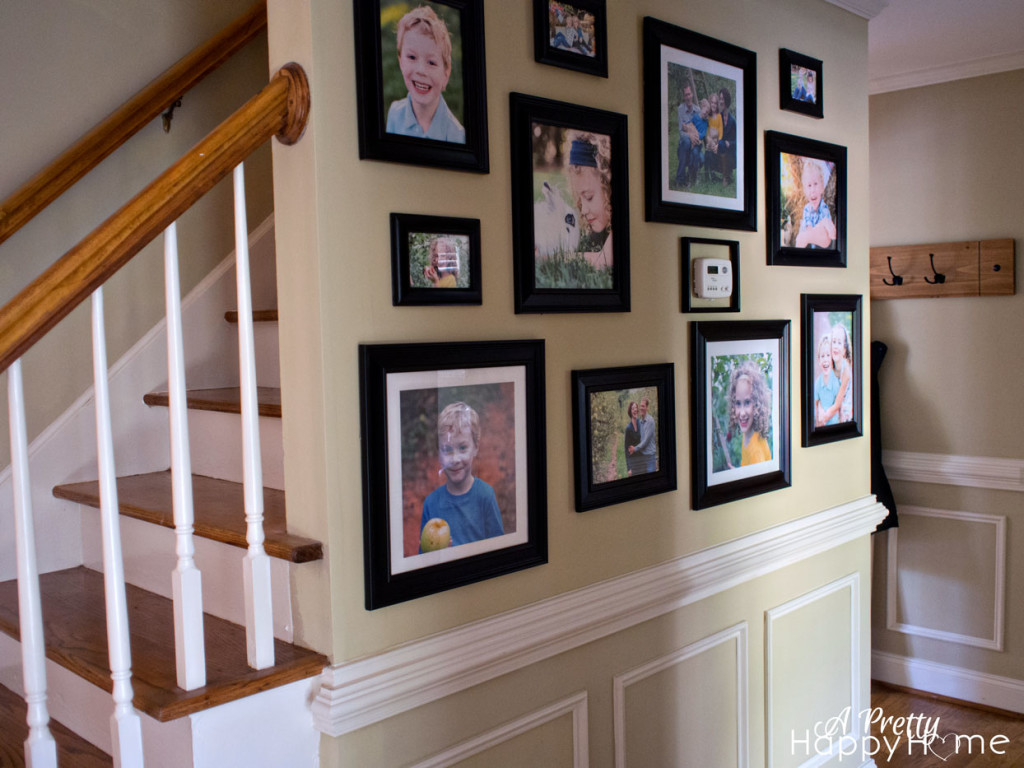 Taking photos of a hallway wall without a lot of natural light is tricky. The professional photographer who took the photos of my family is probably CRINGING right now at how I'm representing her art! It's a good thing her kids like to play at my house. 😉
I am extraordinarily thankful and so happy that in the past 18 months she has taken photos of my kids 3 times. Otherwise, this wall would probably still be filled with strangers.
If you are in the Atlanta area, Meg Davidson Photography is the best!
---
If you enjoyed this post, you might like one of these!
Easily Add a Hidden Pocket in a Scarf
---
*affiliate link in this post*