White Chocolate Cashew Cookies
Every good cookie needs an equally good story. This one has touches of Little House on the Prairie, Desperate Housewives and Dirty Jobs.
Doesn't that sound appetizing? I used to be in marketing.
It all started with a giant jar of UNSALTED cashews. That's right. I accidentally purchased unsalted instead of salted cashews. How was I to know what would transpire after that?

The humans I live with were displeased.
In all fairness, they are also displeased with baths, vegetables, bedtime, wearing shoes and any days that start with school. But, back to the cashews.
My husband decided to dip the cashews in Nutella.
I decided to make White Chocolate Cashew Cookies.
I'm not going to say one of those choices is wrong, but I think there is definitely a "righter" choice. That would be my choice, in case you were confused.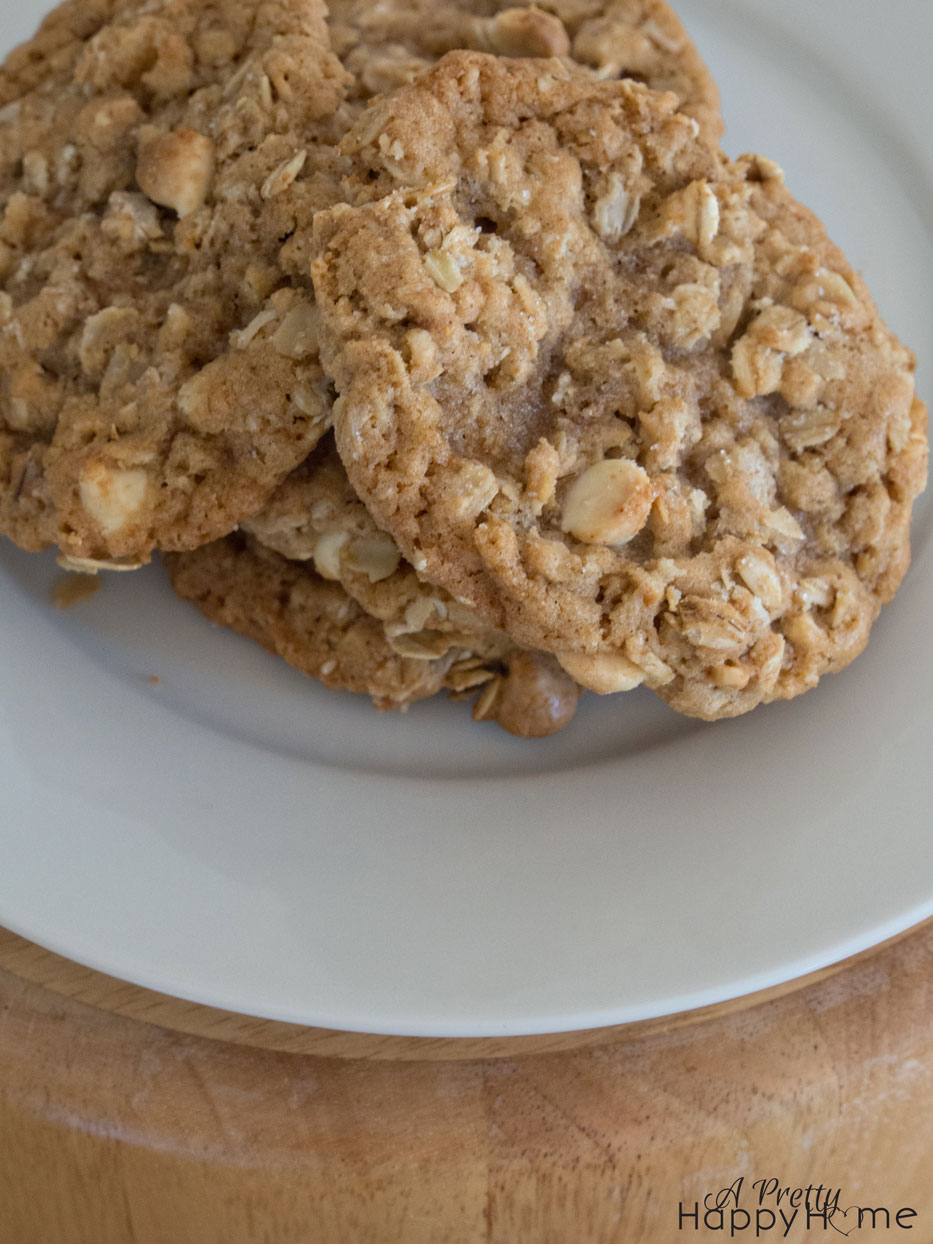 I adapted my favorite chewy oatmeal raisin cookie recipe to make this creation. I left the oatmeal in because, well, YUM!
The chopped cashews add balance to the sweetness of the white chocolate, and dare I say, important protein. Protein is healthy, right? Plus, I like it when the underdog wins and my unsalted cashews fit that bill.
The kids gave the cookies two thumbs up and exclamations of me being the best mom ever…or at least, that's what I heard over their mumbled mouthfuls of cookie.
Manners. I'm certain we'll reach a breakthrough on those any day now.

I was really on a roll. This kids were home from school, we were making cookies, doing laundry, vacuuming, dishes. We even went shoe shopping and had a play date.
The cookies were the delicious cherry on top of our day. Metaphorically speaking.
And then it happened.
The kids were recording the sound of a toilet flushing with their Little Live Pets Talking Birds
.
Let's just pause for a moment and take in that bit of awesomeness…
Then they informed me the toilet wouldn't flush and the faucet wouldn't work.

There are times in life when it is appropriate to mutter naughty words under your breath. This, I swear, is one of those times.
The water for our house comes from a well. The well pump stopped working. We had no water. It presents a situation that is about as awesome as it sounds.
Inevitably, this is the exact moment when everyone in the house decides they have to go number two. It's an unwritten law. Happens every time.

Since I was desperate for a quick repair, it was guaranteed the opposite would occur. That meant the next morning you could find me and my prairie skirt scooping water of out of the lake in Laura Ingalls Wilder fashion in order to flush the toilets. Yes, I could have used store bought water, but that seemed a little wasteful when I have a huge body of water 200 feet out my back door. Of course, I had to chip away at the ice to get to the water and then haul the heavy bucket up the hill, but hey, totally worth it! 😉
By the way, did I mention my husband was in Dubai for a work trip? Convenient.
Now, as it turns out, I'm convinced the White Chocolate Cashew Cookies played a huge role in expediting the well repair process. That's right. Nothing pushes you to the front of the line like a huge plate of delicious, mouth-watering cookies. Trust me on this. I got a text at 11p.m. at night from the well repair guy saying and I quote, "OMG!!! Those are delicious…wow…thank you so much!" These cookies are powerful. They can win friends and get your well repaired.
If you need me, I'll be here happily flushing my toilet just because I can.
P.S. Valu-Rite Plumbing in the greater Atlanta area is AWESOME…even if you don't give them cookies. They are the real deal. They do all sorts of plumbing, not just wells and know their stuff. They don't know I said that, but they have my vote.
WHITE CHOCOLATE CASHEW COOKIES RECIPE
Adapted from Allrecipes.com with the recipe submitter as Bittersweet1
Ingredients:
1 cup butter, softened
1 cup white sugar
1 cup brown sugar, packed
2 eggs
1 teaspoon vanilla extract
2 cups all-purpose flour
1 teaspoon baking soda
1 teaspoon salt
1 1/2 teaspoons ground cinnamon
3 cups old-fashioned oats
1 cup white chocolate chips
1/2 cup unsalted cashews, chopped
optional: white sugar for sprinkling
Directions:
In a medium bowl, cream together butter, white sugar, and brown sugar. Beat in eggs one at a time, then stir in vanilla. Combine flour, baking soda, salt, and cinnamon; stir into the creamed mixture. Mix in oats, white chocolate chips and cashews. Cover, and chill dough for at least one hour.
Preheat the oven to 375 degrees F (190 degrees C). Grease cookie sheets. Roll the dough into walnut sized balls, and place 2 inches apart on cookie sheets. Flatten each cookie with your hand and sprinkle a little white sugar on top.
Bake for 8 to 10 minutes in preheated oven. Allow cookies to cool on baking sheet for 5 minutes before transferring to a wire rack to cool completely. (If you are using one of those AirBake cookie sheets
, it might take 11 minutes, at least it does with mine.)
---
If you like white chocolate, you might like these posts too:
Red Velvet White Chocolate Cookies
Gingersnaps With White Chocolate Drizzle
Pomegranate White Chocolate Cookies
---
*affiliate link in this post*