I recently started reading How to Eat Fried Worms
 by Thomas Rockwell with my children.
Do you remember that book?
One boy takes a bet to eat 15 worms in 15 days and if he does his friends will give him $50.
A movie was made in 2006 based on the book. From what I can tell from this trailer, the premise is a little different, but something my kids would probably eat right up.
Pun definitely intended.
My kids are loving this book. It has the kid factor, the gross factor and the "would I really do it" factor going on.
On the day we started reading this book, I took the kids to dinner at Panera Bread. It had been ages since I had been there, so I decided to order something different, the Soba Noodle Salad.
As luck would have it, the booth farthest away from every other restaurant patron also happened to be a bit dim. It added to the illusion when I brought my dinner over to the table.
My children's eyes opened about as wide as this bowl when they saw my salad. Remember, my salad didn't look this perfect, nor was it lit professionally and photoshopped.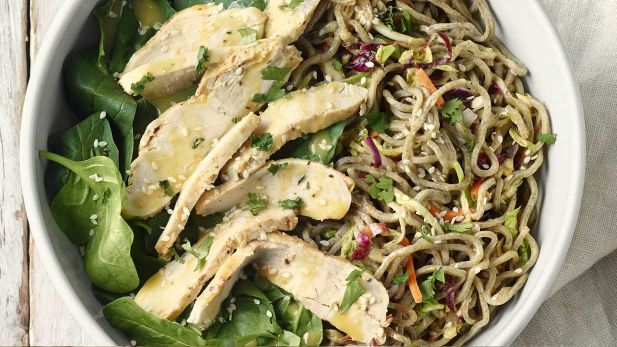 Them: "What is that?" 
Me: "What does it look like?"
Them: "Worm salad."
Me: "Well, that's what it is. Do you want a taste?"
Them: "NO!"
As I took that first bite, very slowly and with dramatic pause, their mouths hung open wide and their eyes practically bugged out of their head. They voiced a collective "EWWW" when I gulped my first bite down with supreme exaggeration.
I have to admit, it does make me happy to mess with them a little! I laughed so hard! They still want to believe and I love that about them. I'm going to miss when they aren't so easily open to suggestion. Now, if only I hadn't psyched myself out… the noodles' texture was a little suspect.
---
Laughter is the best medicine! Here are some other Friday Funny posts! 
---
*affiliate links in this post*