On Monday I showed you pictures of my new headboard.
It took me a fair amount of time to work up the gumption to show you pictures of where I sleep. It's a little creepy.
Point of clarification: You aren't creepy, it's the internet creeper that's creepy. You are freaking amazing and I'm glad you are here.
Anyway, I'm slightly neurotic (I'm sure you couldn't tell) and posting pictures of my bed meant I had to iron my pillowcases and the part of the flat sheet that would be visible. Oh, and the duvet cover. I'm pretty sure I cleaned my oven too. So, yeah. That was a pain in the butt.
Like I said, neurotic.

What I wanted to point out today are the wall sconces next to the bed.
They didn't start out that way.
They started out as basic silver Arstid wall sconces from IKEA.

I needed bedside lamps that would not take up nightstand space and that could be plugged in instead of hardwired. The Arstid sconce fit the bill and was inexpensive. $14.99 each, if I recall correctly.
I wanted to switch the sconces up a little to match my decor and I got a great idea on how to do so from the Shine Your Light blog.
I removed the fabric covering on the lamp shade and gave the shade and the sconce a few coats of gold spray paint. Make sure you protect the electrical components of your lamp with painter's tape.

When spraying a lamp shade, be extra thorough. If the shade is unevenly coated with paint you will be able to see those imperfections when the light is turned on. (Don't ask me how I know this.)
Whether or not it bothers you is a different matter!
For those of you who question the quality of IKEA products. Let me assure you, they take their glue VERY seriously. I could not get all of the glue residue off the lamp shade. You can see the glue residue at the very bottom of the shade.

Shine Your Light blog covered up this imperfection with tape. I decided to cover it up with some bling. I do love shiny things.
I found these adhesive gems at Hobby Lobby. It took a bit of patience since the lamp shade is tapered, but I was able to cover up the glue marks to my satisfaction.

The faux gemstones definitely helped give the sconces a more finished look.
Now I just need to install cord covers to tidy up that area and finally finish the project. Details, details.
I may iron my sheets for you, but completely finishing a project before I talk about it? Let's not get carried away.

By the way, there are NEVER flowers on my nightstand or a dish for my jewelry. In fact, this is my husband's side of the bed. During the day there's usually nothing on our nightstands. At night, there are charging phones and iPads on the nightstands. It's not very photogenic, but it's real life.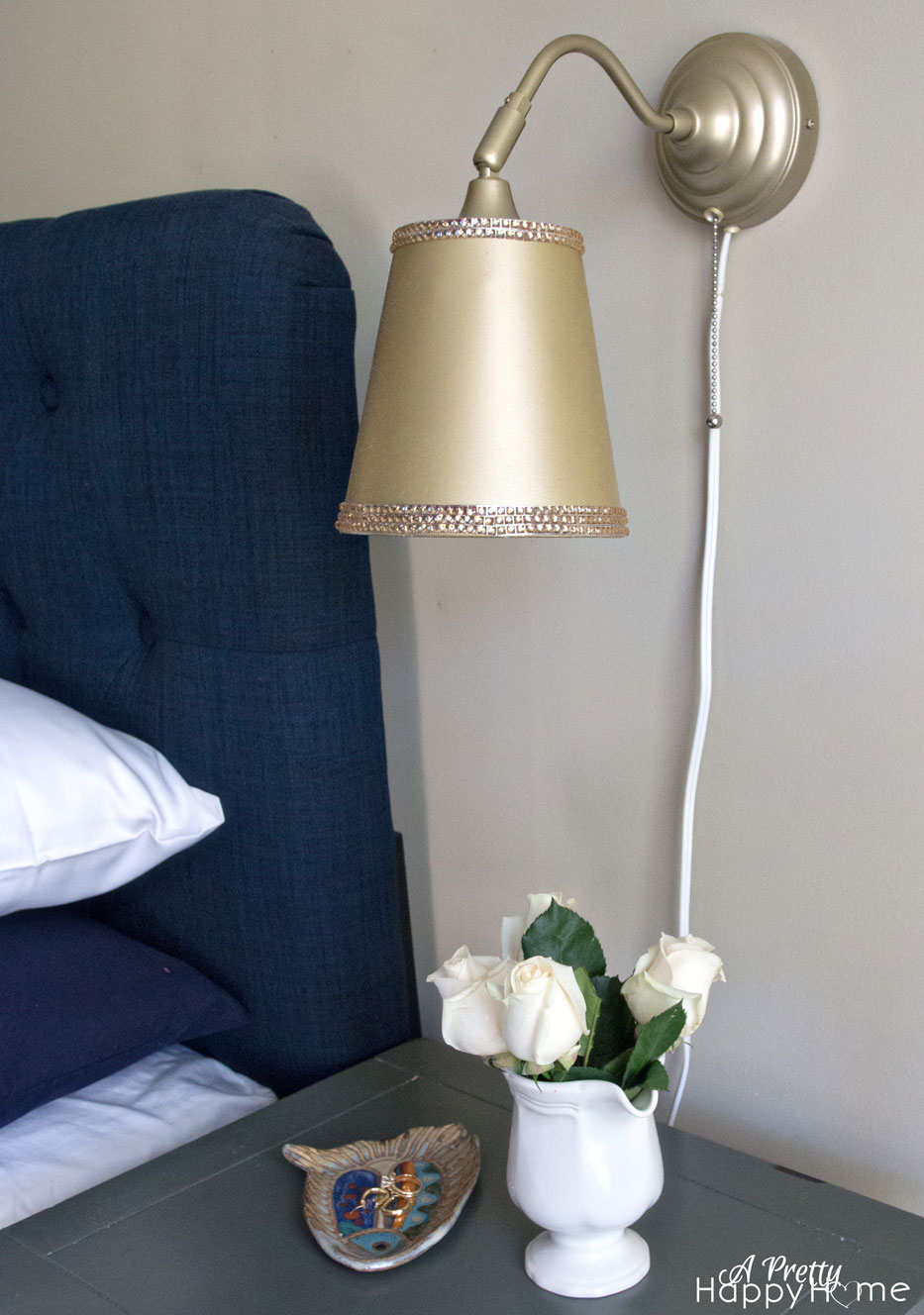 The reason we keep the surface of our nightstands clear has to do with our eyesight. Half blind people are prone to knocking everything off a nightstand when they are trying to turn off an alarm at o'dark hundred. You do not want to start your day with a glass of spilled water on an iPhone. Keeping breakable and water-filled items out of the danger zone makes for a slightly happier wake-up. Emphasis on the slightly.
P.S. If you buy IKEA lighting, make sure you buy their lightbulbs. Some of IKEA's lamps require irregular sized lightbulbs that aren't readily available everywhere.
---
Thanks for stopping by today! You may enjoy one of these posts too.
Lamp base filled with yarn pom poms
---
*affiliate links in this post*