When we lived in the Atlanta, Georgia area, I finally had the spacious foyer I'd always dreamed about having in a home. Always.
The irony is not lost on me that while I finally had the spacious foyer, no one used it because the house was a 'come in the back door right into my kitchen' sort of home. *sigh*
Our home in Ireland is definitely a 'come in the front door' type of home. The foyer is actually of decent size and is its own designated space, so people aren't walking immediately into our living areas.
Assuming that we've actually had people over. We haven't.
Note to self: need to make friends.
Hey, you guys are friends! Come on in and check it out.

Do you know how outrageously happy I am that the bench Handy Husband built fits perfectly in this space?
If you missed how the bench came to be, it's a good story.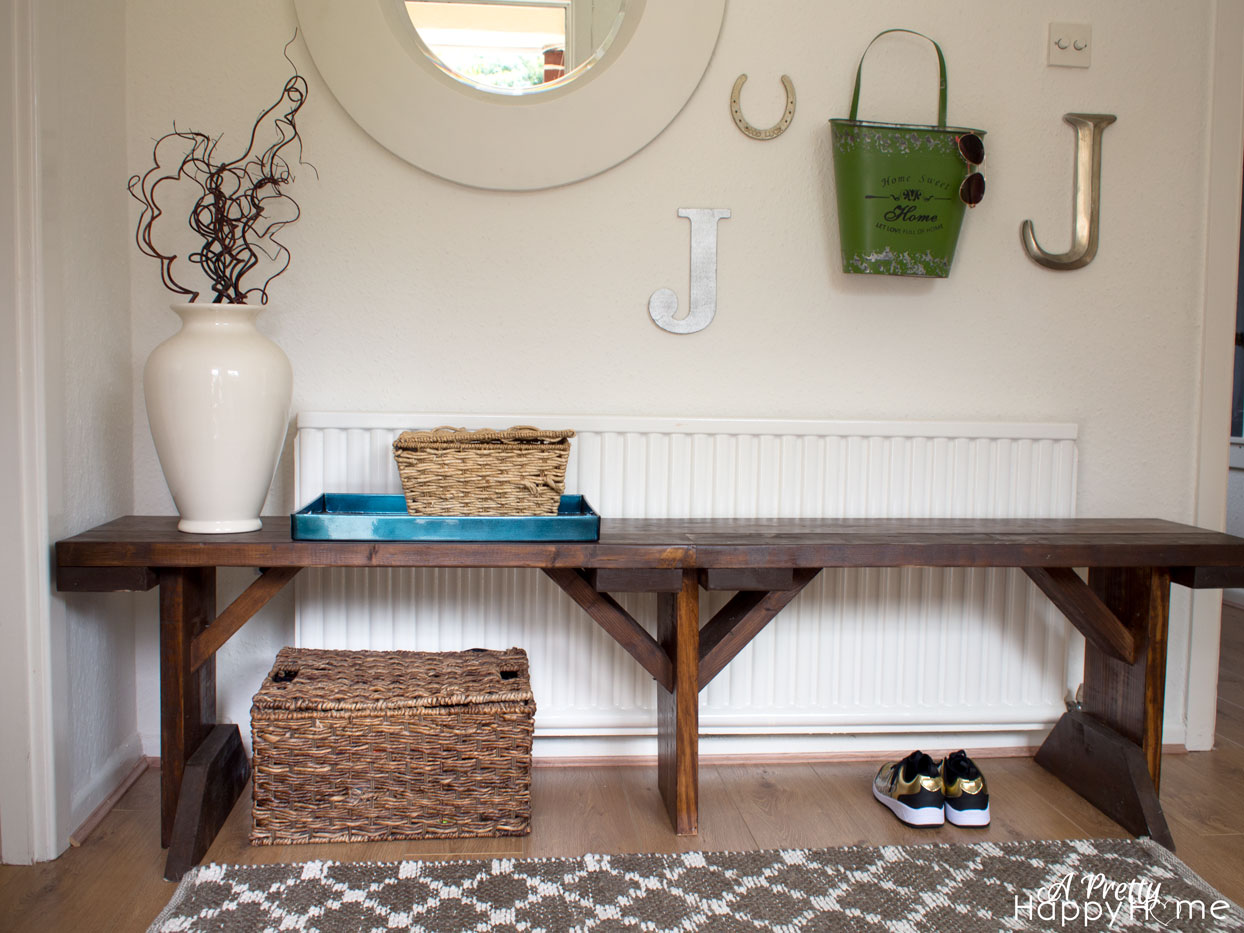 The entry was inspired in a manic moment of "all the things must get off the floor now." This is a very real part of the unpacking and moving-in process if you are me.
I can always tweak it later to make it match and/or function better. Yes, there is a radiator behind the bench, but it's not touching it. At this point we don't plan on using this radiator, but I'll get back to you in January.
The doorway to the right of the below picture leads to our dining room.

The doorway adjacent to the dining room doorway (a lot of doors in this house) opens into the living room.
The doors in this house are my nemesis. I'd take some of them off, but I don't have anywhere to stash them.
More doors mean more walls. I've learned the default method of construction in Ireland is concrete block walls. Therefore, it is very likely in a home this old (1960s) that all of the walls are structural. To remove a wall would require a significant look by an engineer and placement of a large beam.
If the doors are my nemesis, the concrete walls are my…uh…what's worse than nemesis? That's what the doors are.
Do you know what a pain it is to hang stuff on concrete walls? Huge. Gigantic. You need a good drill, masonry drill bits, plastic anchors and screws. Muscles help too.
Everything on this wall, except the mirror, was hung with Command Strips
. If you own stock in the company that makes Command Strips
, you're welcome. I think my purchases should insure they have a very good quarter.

One of the pretties I hung on this wall (with Command Strips) is the good luck horseshoe I made awhile back. I know I say all of my projects are my favorite, but I do love this horseshoe makeover. It's such an easy DIY project.

To give you some perspective on how everything works when you come in the house, here's the bench in relation to the front door. I hung the coatrack we made with wood from our wine bar right behind the front door. There was really no other spot for it.
The solid white door leads to the office. And, no, I'm not ready to bare my soul and show you the cord-a-palooza that's going on in there. Or the printer propped up on crates. Or that brand new drill we needed that's still sitting on the floor.
I'm keeping shoes in a closet next to the stairs, which I didn't take pictures of for this post.
The basket under the bench is holding mittens, hats and miscellaneous running gear for Handy Husband who run commutes to work. Run as in actual running with two feet running. Yes, he's nuts dedicated.
The basket on top of the bench is holding all of the miscellaneous stuff that I carry around in my pockets. Lip gloss, keys, change, etc.
The rug was left here by our awesome landlord and I'm kind of digging its neutral zen right now, so I've added it into my rug rotation.
I'm happy to have a foyer we actually use and that is functioning pretty well so far. At the end of the month we'll be adding backpacks, school papers and lunch boxes into the mix, so we'll see how hard this area works for us then.
---
Thanks for stopping by today! If you enjoyed this post, you might like one of these.
Two Easy Ways to Corral Hair Bands
Hiding Computer Cords in the Office
---
*affiliate links in this post*