Perler Bead Pokemon Coasters
I've wrote before about how much I adore perler beads.
One day, a couple of years ago, I bought a container of 10,000 perler beads for my daughter. It was a great deal!
Clearly, I did not understand how many 10,000 perler beads actually was.
I'm guessing we still have 9,217 perler beads remaining.
Last weekend, I left Handy Husband and our daughter home for ONE HOUR while I took our son to his fencing practice. One. Hour.
Imagine my horror when I got home to see the tray from our entryway being used like this…

When I accusingly calmly asked who released 6,000 perler beads
from their secure containment facility (aka plastic tub) it was Handy Husband who raised his hand.
What? I thought you had my back, dude!
He explained he had the idea to sort the perler beads by colors to make it easier for our daughter to complete her perler bead designs. Admirable, no doubt. Ambitious, most definitely.
He gave up after sorting approximately 53 beads.

He redeemed himself when he told me the backstory.
Our daughter had made him a Pokemon perler bead design awhile ago and he took it to work because I told him to like the dutiful dad he is.
My problem with perler beads
and the designs kids craft with them is WHAT IS THEIR PURPOSE? For the love, someone tell me what you're supposed to do with these perler bead creations?
Well, Handy Husband came up with a use for it. He used it as a coaster for his coffee mug.
Brilliant! I love that idea.

Apparently, quite a few of his co-workers have asked about his "coaster." When my daughter heard this, she was over-the-moon happy and she should be. It's a pretty big compliment to hear that someone likes your work!
She decided to make more perler bead "coasters" for daddy to take to work. She worked on them all weekend and he took four new creations to work on Monday and gave them to his co-workers.
Cue the collective "awe."
As a side note, I asked my daughter whether the "coaster" should be displayed with this smooth melted side or with the side with the holes. She liked them this way and I always defer to the artist's prerogative. It's hard to tell from the pictures, but her designs are actually wide enough to hold a mug.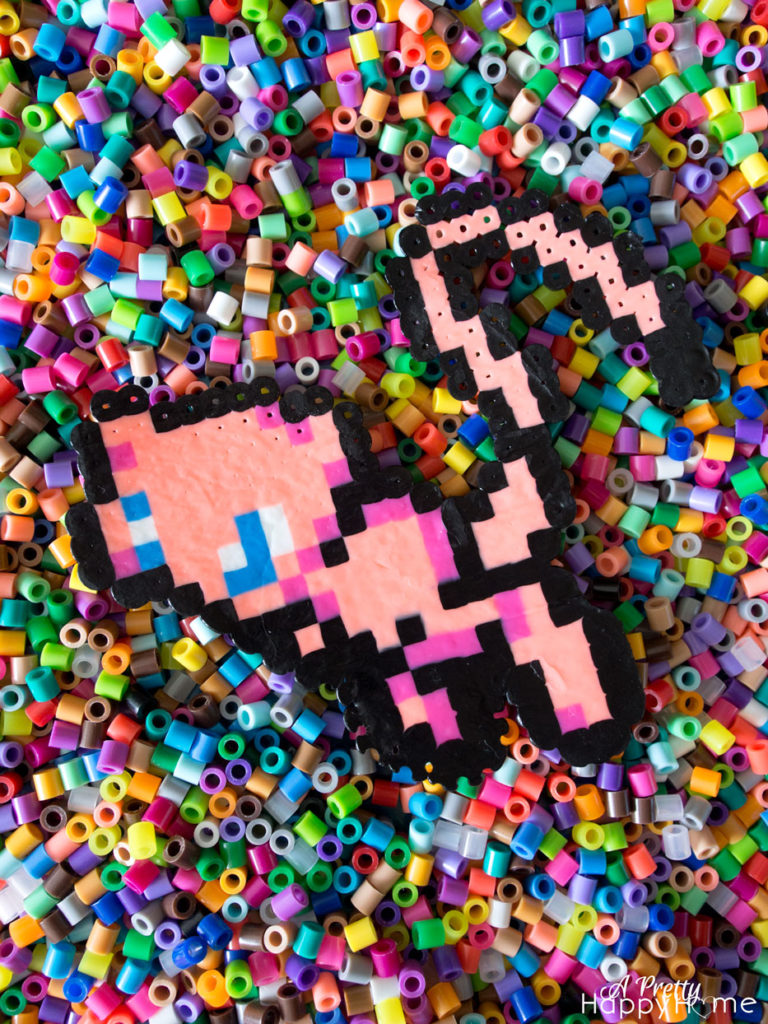 I realized I neglected to take pictures of these "coasters" being used as coasters. In my defense, I was still disturbed by the beads roaming free outside of their secure containment facility.
I'm happy to report all the perler beads
were safely returned to their container without incident. And no husbands were harmed in the making of this post. I know you were concerned.
If your kids want to make Pokemon perler bead designs too, here's a link to some free patterns.
---
Thanks for stopping by my corner of the Internet! Here are some other posts you might like too!
Emoji Golf Balls – great craft for older kids
Tips for Paper Mache School Projects
---
*affiliate links used in this post*