House Number Sign From Wooden Spool
It's been quite awhile since I've shared a Junk Whisperer project.
I missed them! I missed The Junk Whisperer more though.
And yes, that is shameless flattery. I've invaded her home and I need all the brownie points I can get.
Me + Children = Lots of noise, mess and groceries.
Now, back to the point of this post: a good "why didn't I think of that" project.
When The Junk Whisperer shares her projects with me I usually have nothing more clever to say than, "that is SUCH a good idea!" over and over and OVER. It's mildly embarrassing.
This project started with an old wooden spool, similar to this one.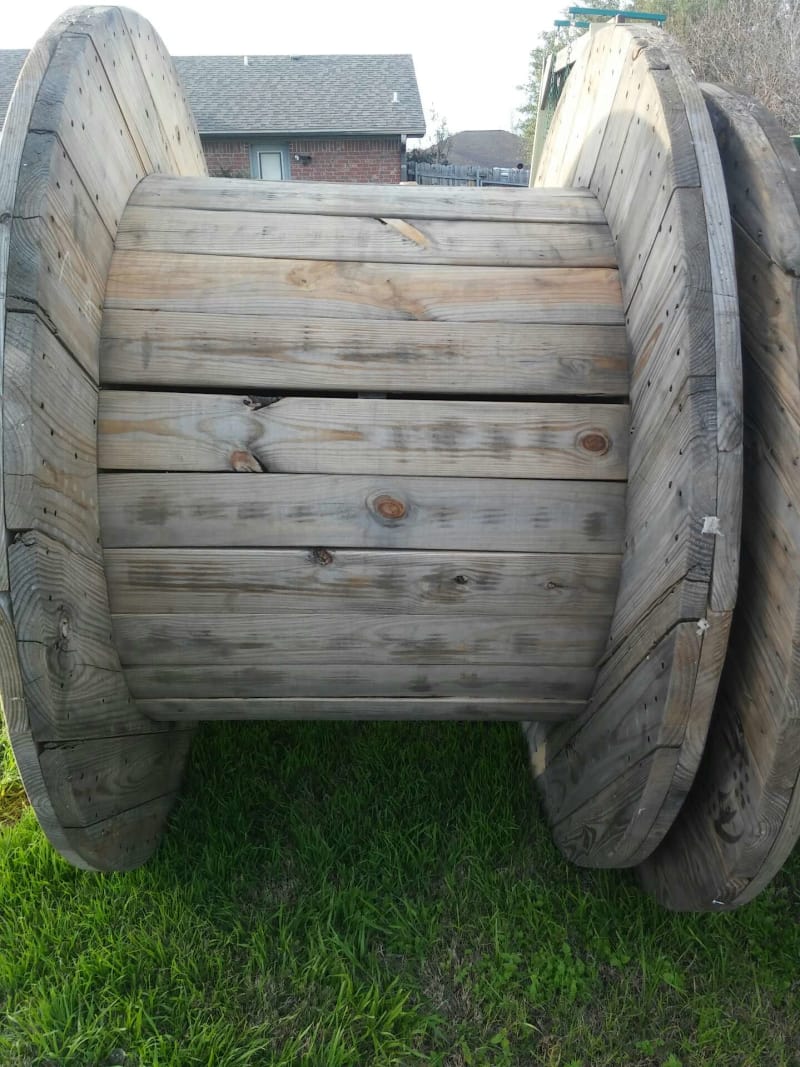 (image)
I have seen countless projects where folks turned these wooden spools into tables or bookshelves.
I have not seen anyone do what The Junk Whisperer did.
She started out by dismantling a wooden spool. The best projects always start with a little demolition.
If you take apart one of those wooden spools, you will likely find a cool circular piece hidden inside. That's what the rest of the wood pieces that make up the spool are attached to.
Who knew?!?! Clearly, not me.
The Junk Whisperer turned that center bit of goodness into a one-of-a-kind house number sign.
Can you believe it? Such a good idea, right?!?
This could definitely be a renter-friendly project as well since the sign is removable.
In terms of how-to's it is pretty simple.
After the demo (which I'm sure was a pain), the only thing she did to the wood was lightly sand it to knock off some of the roughness.
The remaining nail holes add incredible texture and interest to the wood boards.
After the front was lightly sanded, she screwed in her house numbers and attached the metal animal design.
She did experiment with embellishing the sign in other ways, but the animals were fitting since this is a farm house.
You'll also need to add a hook, wire or something to the back to hang the sign on the house.
If you attempt this project and your street address has fewer numbers, it will look even better – that's straight from The Junk Whisperer herself.
Who else wants to tear apart a wooden spool now to find one of these circles inside? I'm already thinking of all the OTHER things you could make out of it!
I'm so happy The Junk Whisperer shares these projects with me and, in turn, lets me share them with you.
---
Here are some other junky projects you might enjoy! WILL enjoy!