Update: Making the Switch to Linen Bath Towels
A couple of year ago I posed the question: Should I switch to linen bath towels?
You can count on me to ask the hard-hitting questions.
At the time I was living in Ireland and drying clothes outside on the line was the norm. Since Ireland has a well-deserved reputation for raining A LOT, I hung clothes indoors to dry on a rack next to our radiators too.
Cotton bath towels were tricky to wash in a teeny tiny washing machine (many European washing machines are smaller than their U.S. counterparts) and even trickier to dry, so that's what led me down the rabbit hole of linen bath towels.
In some parts of Europe, linen bath towels are the norm. Good linen towels get better with age and some are even passed down from generation to generation! That's how long they last.
I am back in the U.S. now with a full size washer and dryer. I currently own 3 linen bath towels and 6 regular cotton bath towels for our family of 4. That's it.
In full disclosure, we do have a handful of beach/pool towels, but we don't use those for showering. I thought I might need to one time though when we had a house full of guests!
We've had and regularly use the linen bath towels for almost 2 years now. I think that's plenty of time to report back on how I like them. Or is it?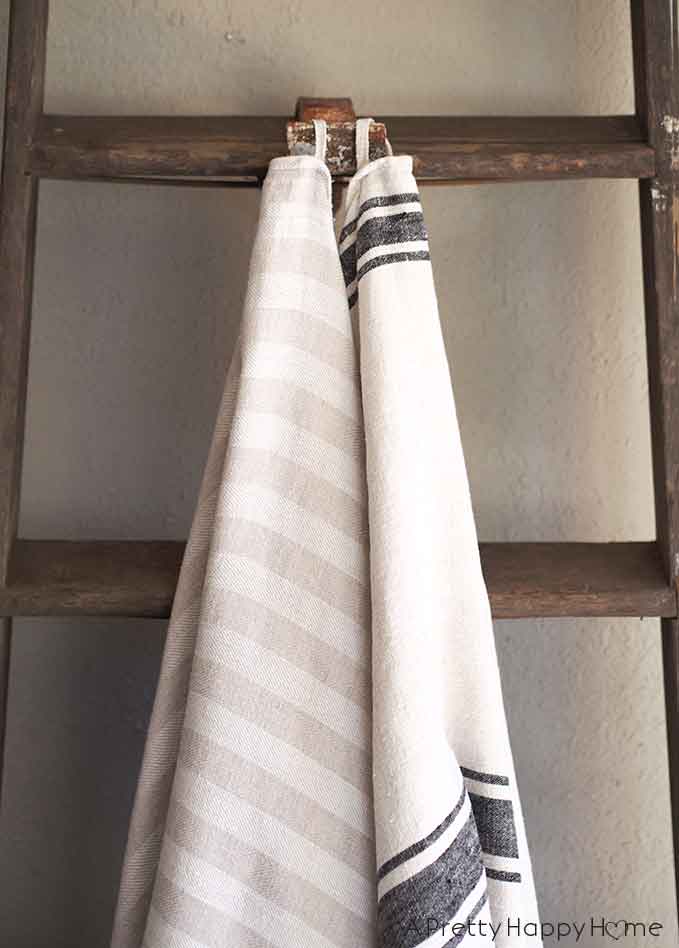 There won't be any scandalous photos in this post. Not even of our bathroom with the mustard-colored walls and the bear head hooks. I won't do that to you because we are friends. And friends don't scare friends with their rental house bathrooms. Now who wants to come visit before our lease is up? HA!
Instead, this will just be a good ol' compare and contrast session.
First up is the Bless Linen towel
 (see label in below picture) and I can't tell you enough how much I love the 30″ x 58″ size. Don't buy a linen towel unless you can get in approximately this size. It's large enough to actually wrap around yourself and tuck in the edges for a makeshift cover-up or to make the mad dash from the bathroom to the bedroom.
The Bless Linen towel is not buttery soft, but it's pretty darn soft and has become softer over time. It's just as absorbent if not more so than our cotton bath towels. But, of course, it dries so much quicker and takes up far less room on a shelf.
The Bless Linen towel has 5-star reviews on Amazon.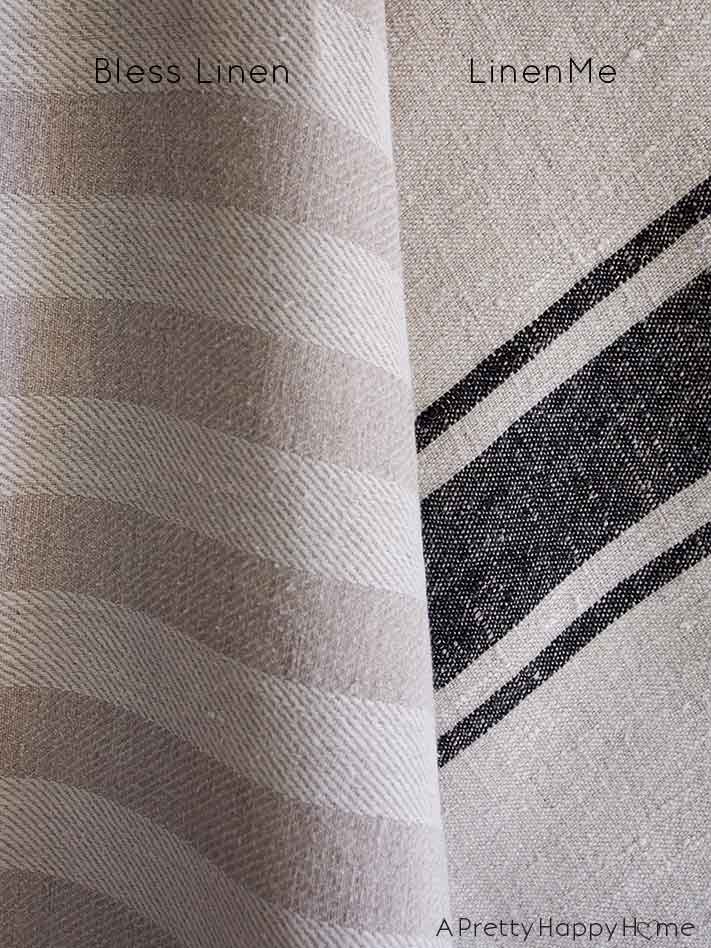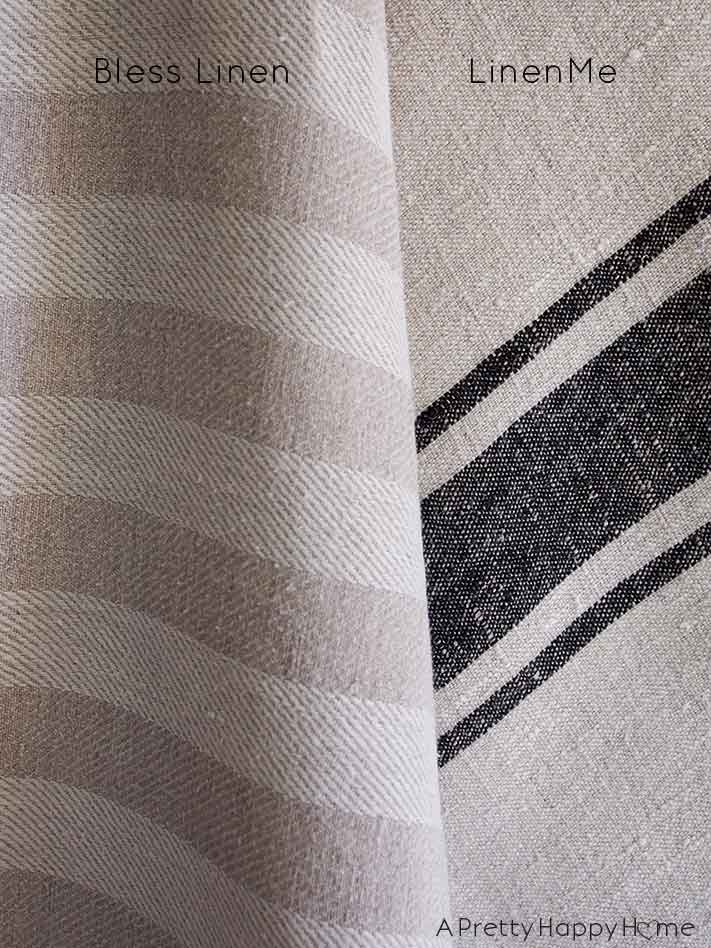 I like the look of the LinenMe towels
 a lot better (see label in above picture). The black stripes against the linen-colored fabric give me all the heart eyes. But if this was your first experience with linen towels, you'd never buy another one again. They aren't scratchy, but they are rough like if you dried a regular towel outside and it got a little "crispy." I thought they'd soften up over time, but they haven't almost two years in. They also aren't as absorbent as the Bless Linen towel. In short, comparatively speaking, I like how the LinenMe towels look, but not how they function.
However, I'm glad I purchased them because now I know that not all linen towels are created equal. Also, I've only purchased this one particular style of LinenMe towels
, so I don't know if they are all the same or not. The reviews on Amazon are quite good – 4.5 stars.
Will I Continue To Make The Switch to Linen Towels?
Yes, that's the plan. This experiment has convinced me and the rest of my family that the pros outweigh the cons. I definitely like how the linen towels function in terms of being super absorbent and drying quickly. Also, when linen storage is tight, I like that these towels take up less space.
For me, this is going to be a slow transition. This is due, in part, because there are other linen towel brands that I'd like to experience. Also, I'm in the habit of buying $10 – $15 cotton bath towels from Target or HomeGoods. Adding a bunch of $30 linen towels at one time is hard to swallow – even if they will last decades. Adding them slowly, over time, as my cotton towels wear out is much more fitting with my lifestyle and budget.
If there's a reason for people to not like linen bath towels, I think it would be because of the feel. It's a little like drying yourself off with a towel that feels more like a tablecloth than a plush bath towel. Now, over time, most cotton bath towels lose that plushness. If you're like me, you keep that cotton bath towel long after you should! In contrast, a good linen towel should get softer over time and retain its absorbency.
Some of my projects and experiments are dismal failures! This one has definitely been a learning experience, but I'm so happy I branched out to try something different.
---
Linen Bath Towels Referenced in This Post
LinenMe Provence Bath Towel, 26"X 51"
 (If you purchase this brand of towel, you need to size up to the 39 by 57-inch
if you want to wrap it around you.)
BLESS LINEN Jacquard Striped Pure Linen Bath Towel, 30 x 58 Inches, Grey/White
 – So far, this is my favorite in terms of function.
*Not a sponsored post. These companies don't know me. I do use affiliate links in this post though. I get credit if you use a link to make a purchase, but it doesn't cost you anything extra. It's how we keep this blog running, so thank you for your clicks! 
---
This has been fun! Want something else to read? 
How to Turn a Shower into a Closet Without Damaging the Shower