Grain Sifter Easter Bunny Wreath
Whimsical is not an adjective I would use to describe myself or my decorating style.
Nevertheless, I gave it a shot with this Grain Sifter Easter Bunny Wreath.
I figured isolating at home during a pandemic would be a good time to give whimsical a whirl.
I've got to say, I can see the allure.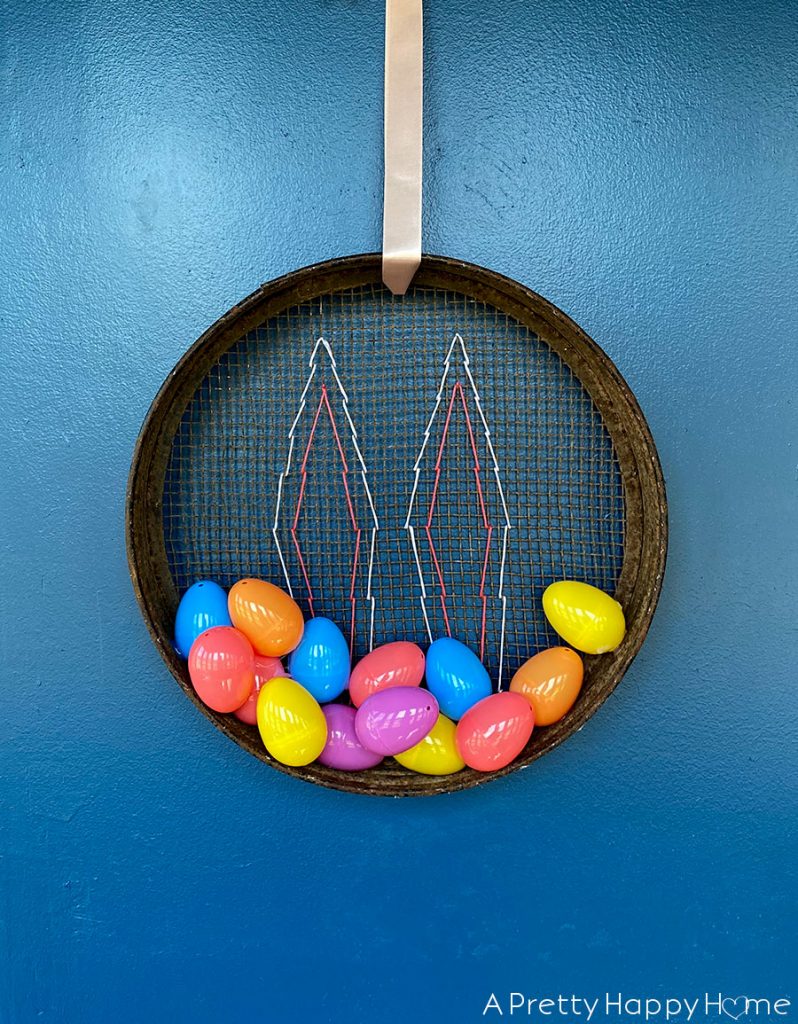 This isolation creation is brought to you by items I already had on hand: a metal grain sifter, embroidery thread, hot glue, pale pink ribbon and plastic Easter eggs.
I had the grain sifter because I dug it out of a dumpster when we lived in Ireland. By the way, a dumpster is called a skip in Ireland. Don't ask me why, but you are welcome for that random bit of trivia.
Now, one of you might be thinking, "She dug a grain sifter out of the garbage and then proceeded to move that thing across the Atlantic Ocean when she came back to the U.S.?"
Yes. Yes, I did.
I call that forward-thinking.
Besides, I couldn't leave that rusty bit of grain sifter goodness behind! It was a reminder of one of my most embarrassing moments while living abroad. You need these things to remind you to stay humble.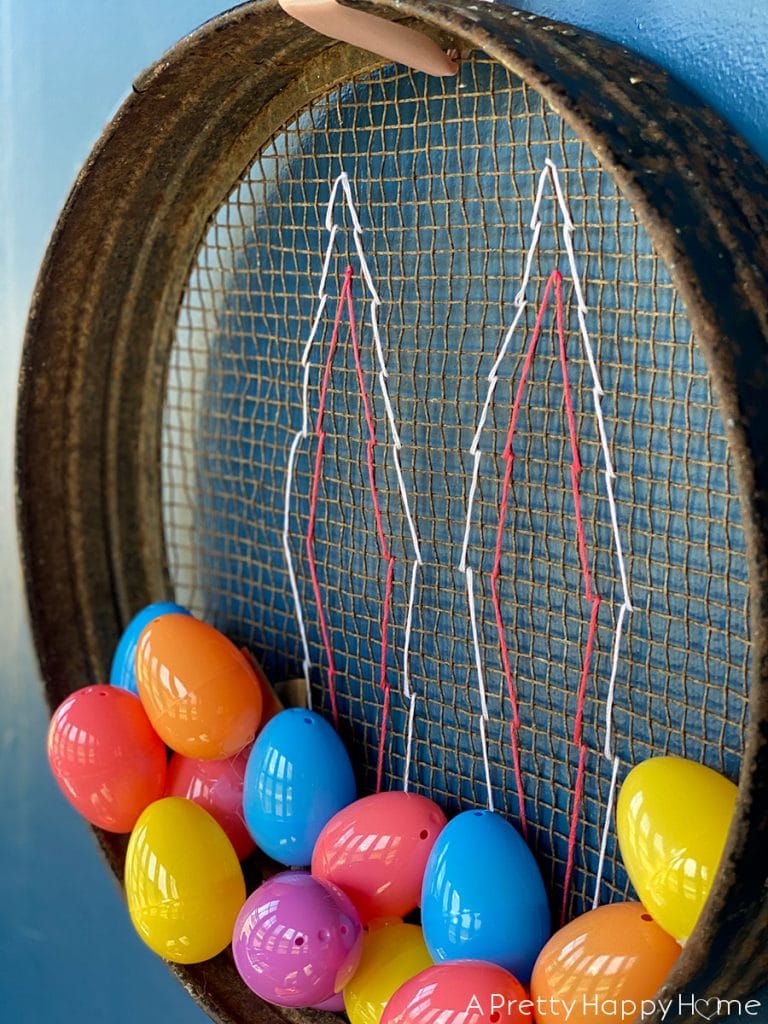 While I was making this Grain Sifter Easter Bunny Wreath, Handy Husband popped in to check on me.
Actually, he wanted to know what was for dinner.
"Dinner? I'm forcing myself to be whimsical. I can't think about dinner!"
That's a lie. I'm always thinking about my next meal. We were having calzones, roasted vegetables, and apple galette.
I asked him what he thought of the bunny ears I was creating out of embroidery thread.
He looked at my attempt and I saw that twinkle in his eyes right before he laughed.
Hmm…
Some wives might feel affronted by this response to their Herculean efforts to create slightly rounded bunny ears out of an unforgiving, square metal grid.
Not me. After all, I did want this wreath to have a whimsical vibe.
The definition of whimsical is playfully quaint or fanciful, especially in an appealing and amusing way.
Based on his laughter, I think I nailed the "amusing" part.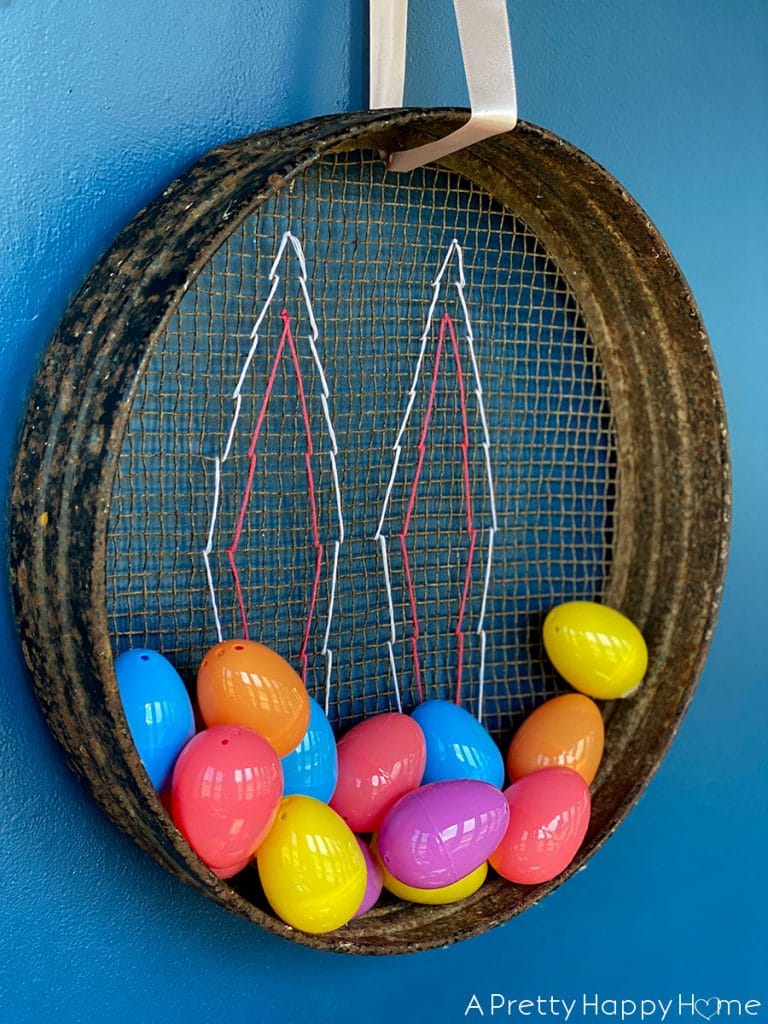 I'd like to tell you that this Grain Sifter Easter Bunny Wreath is still hanging up in our home.
Alas, I've already taken it apart.
It's for a good reason though!
I needed to make sure we had enough candy and plastic eggs for the kids' Easter egg hunt. Since we are still under a stay-at-home order, I shouldn't, but I've thought about it can't just run to the store for a chocolate emergency.
Therefore, I decided to prep the eggs early. That way, we wouldn't have an egg hunt crisis on our hands on Easter day because someone ate all the Easter candy and someone else had hot glued all the plastic Easter eggs to a grain sifter.
Forward-thinking saves the day again.
Happy (early) Easter, everyone.
---
P.S. If you want a grain sifter, I don't blame you. They are ridiculously awesome. The antique grain sifters with wood frames seem to be the most valuable. There is a vast selection of all types of grain sifters on Etsy.
Ebay is another place to find them.
---
While I'm not sure whimsical decorating is quite my style, I'm glad you were here for the journey. If you're not ready for the journey to be over, here are some other posts to tickle your fancy. 
Geometric Mirror Hack Using Children's Blocks
Easter Egg Hunt for Adults – TRUST ME, it's fun!
*affiliate links in this post*