Vintage Milk Can Side Table
There is nothing I won't rescue and repurpose for our home.
Well, maybe I should throw a caveat in front of that declarative statement.
There is almost nothing I won't rescue and repurpose for our home.
Take this rusted out milk can, which I ultimately turned into a vintage milk can side table.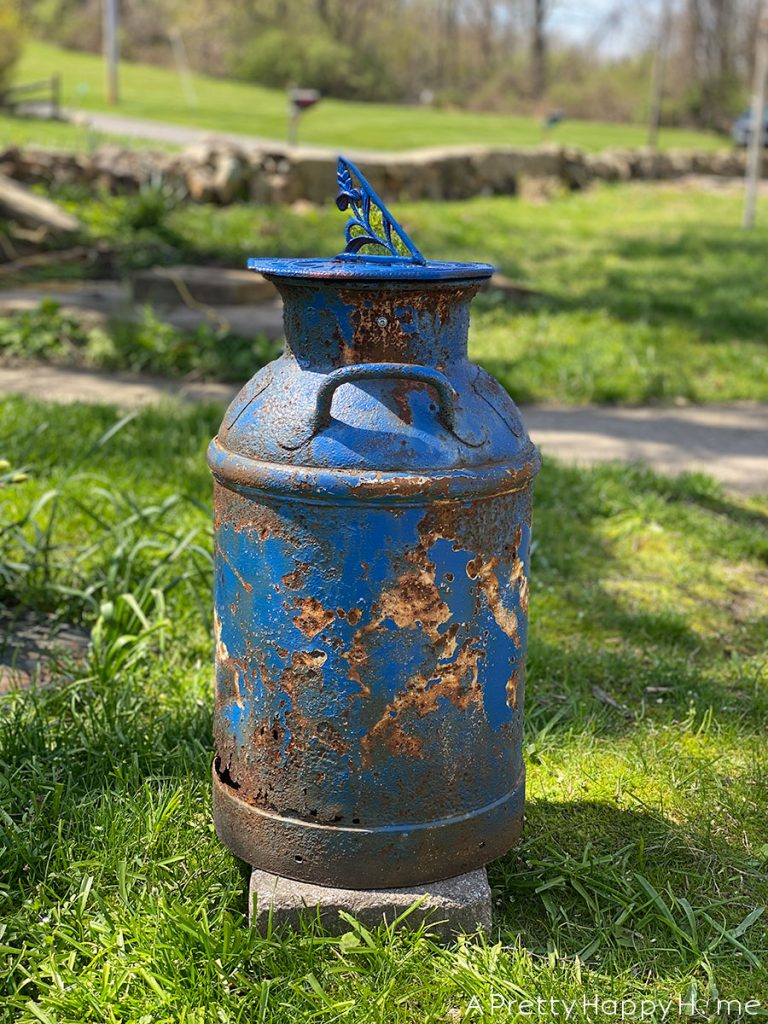 It was sitting in our yard when we bought the Colonial Farmhouse. If the big hole near its base is any indication, I think it is safe to say the milk can had been sitting there for awhile.
A good long while.
It was just waiting to be noticed while it weathered the elements.
"Hey, guys! Guys? I'm over here getting RUINED by the rain and snow! Anyone?"
Oh, I heard that milk can's cry for help, but in my zeal to rescue it from ruin, something unfortunate happened.
I picked the milk can up to move it out of the way of our lawnmower and the top fell off and broke. The sundial top was the best part of the milk can!
*sigh*
I guess you can say the milk can was ruined by rain, snow, and Annisa.
That's quite the trifecta of natural forces.
My rescue plans for that milk can were just that. Rescue only.
I had no plans for the milk can after that. It took almost a year before I had an idea to create a vintage milk can side table with that rusted out hunk of dairy holding goodness.
I started by cleaning up the milk can and scraping all the flaking paint off of it. I was a little worried that I'd start scraping and the milk can would dissolve into a pile of rust-colored dust, but thankfully, that didn't happen.
Next, Handy Husband screwed some wood supports into the inside of the can. First, he pre-drilled four holes around the inside of the can and then screwed in some scrap wood supports. These would be important because it is how we would secure the wood tabletop to the base.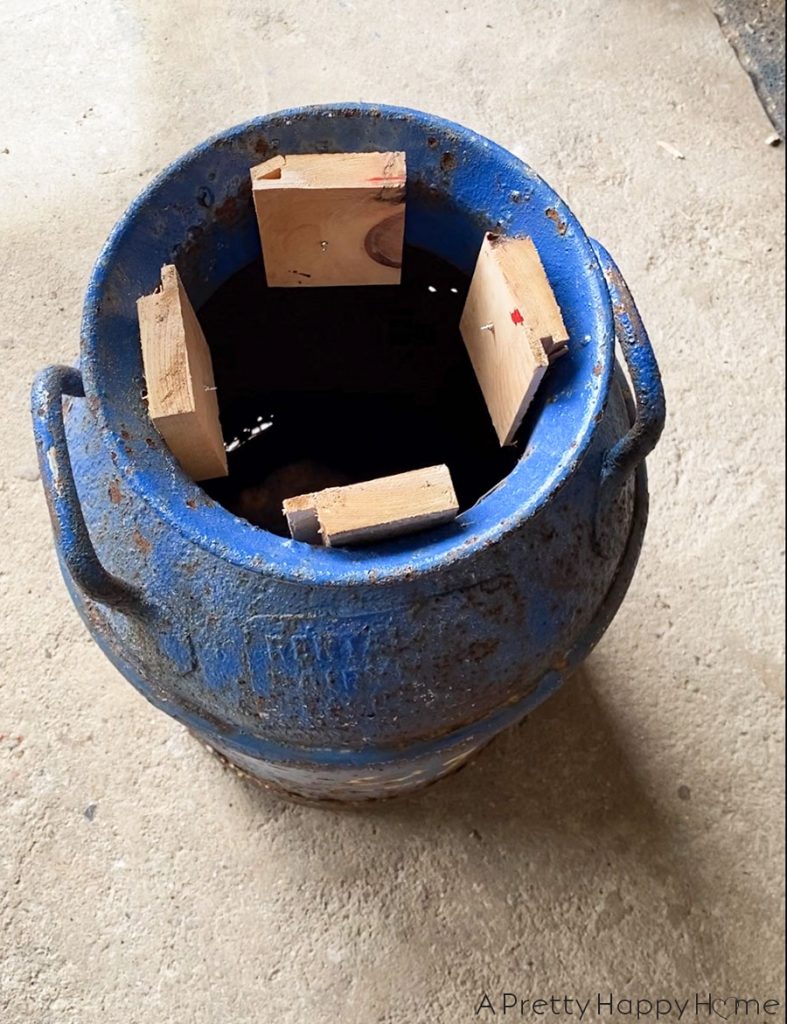 After that, I needed to fix the sundial lid for the milk can.
I'll pause and say this is not the original lid to the milk can. It's just a lid that happened to fit, so someone added it a long time ago. Sundials are awesome and I like the quirk factor it gives to the milk can, so I decided to keep it.
A little construction adhesive
fixed the broken sundial. I don't think the dial will survive a huge hit from the side, but I can pick it up by the dial now.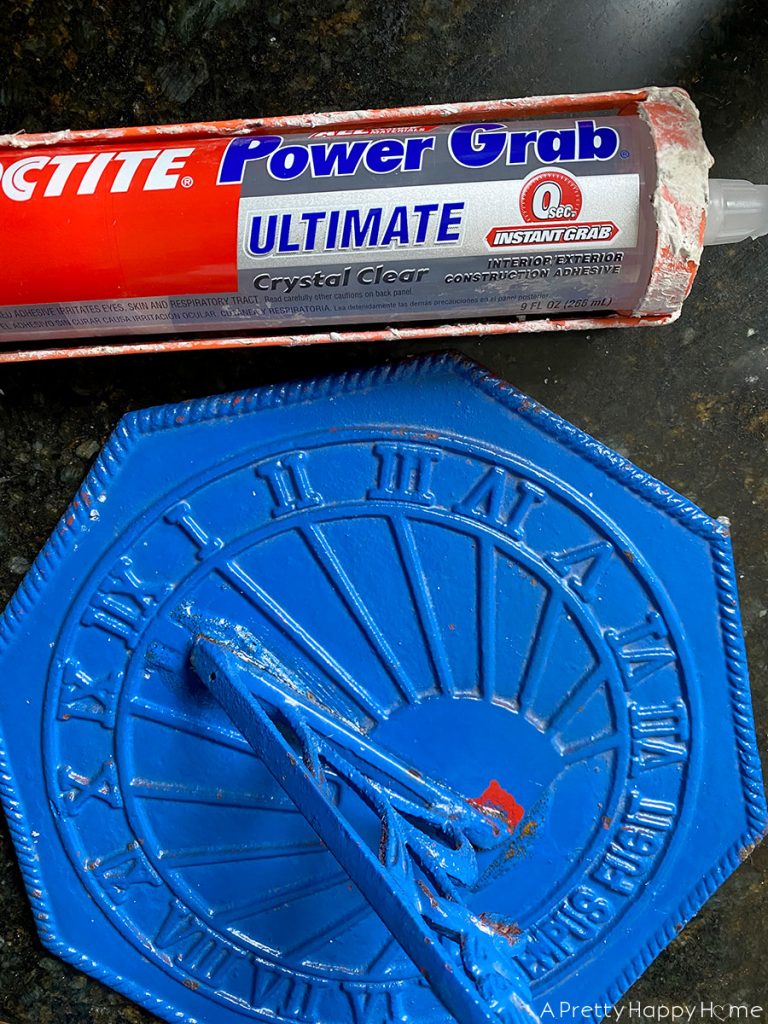 Then the can received a fresh coat of black spray paint
. Several coats, actually.
The round tabletop was constructed from a leftover piece of tongue and groove wood from another project. Nothing goes to waste! We pre-drilled four screw holes in the top that would match up with the wood supports inside the can. Then I stained the top with a honey-colored stain that had some polyurethane mixed in.
We secured the top to the base and made sure to countersink the four screws. I didn't bother to fill in the holes wood putty because they'd be covered up when we sandwiched the wood tabletop between the milk can base and sundial lid.
If you make one of these tables and your milk can lid won't sit flush on the table top, you may have to forego that detail.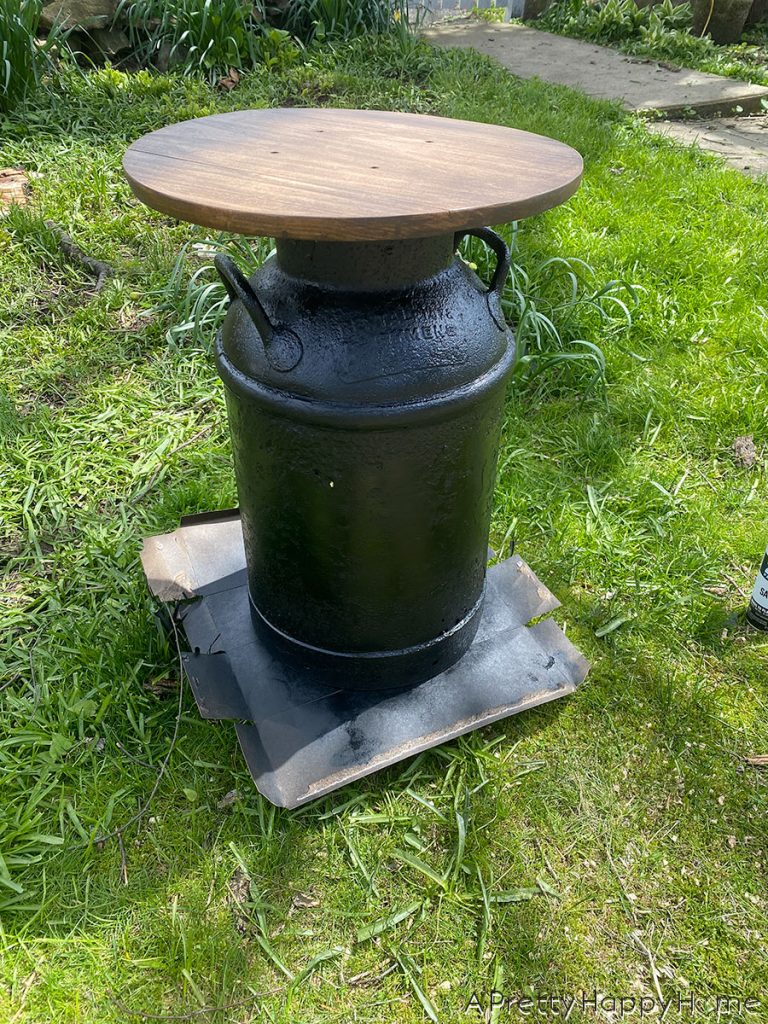 Quite honestly, that sundial lid is like the cherry on top of this rustic vintage milk can side table.
It was the coolest part of the milk can, so I couldn't give it up.
Even if the sundial does make the tabletop a little less functional it was totally worth it!
I also love that the sundial says "tempus fugit," which means times flies.
If ever there was a moment for time to fly by, it's when you're sitting on the front porch sipping a refreshing beverage.
The vintage milk can side table turned out better than what I had envisioned. So much so, that I might keep it longer than a season.
Say what?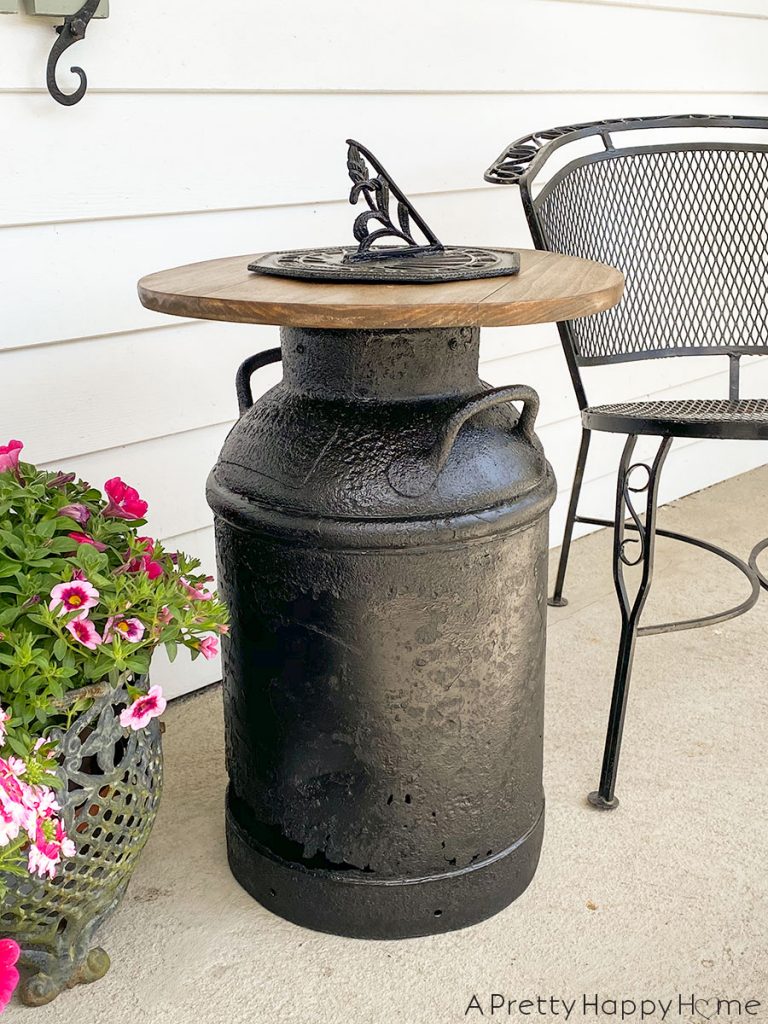 It's true.
The vintage milk can side table leans a little too heavily in the farmhouse/country decor category for my particular tastes. Before I finished the table I had it in my mind that I wouldn't keep it longterm.
Now, I'm not sure. I like it better than I thought I would.
If you think it's weird that I love something I created, but don't want to keep it, maybe it is. Maybe it isn't.
It just makes me happy to create things. Sometimes I keep the things I create. Sometimes I turn them loose for someone else to enjoy. Everyone wins!
---
If you want a milk can, you can always find one on Etsy or eBay with or without the rust. Ha! I see them from time to time at antique shops and flea markets too.
This project would be easier, but perhaps more expensive, if you purchased a pre-cut 24 inch wood round
.
My table will be located outside, but in a covered area that does not get wet. If your table will be exposed to harsh elements, take care in selecting a sealant for the tabletop.
---
If you make a milk can side table, I'd love to see a picture of it! Here are some other posts you might enjoy too.
Modern Live Edge Side Table – Target Hack
Turn an Side Table into a Tray
*affiliate links in this post*