Wood Chandelier in the Music Room
We have a new-to-us wood chandelier in the music room and I couldn't be happier about this turn of events.
Our music room was once used as a formal dining room.
In fact, it got the 1990s/early 2000s royal treatment with a gigantic silver chandelier that was way too modern for the space. It was also a head knocker.
No, it did not knock some sense into me. I know one of you just thought that.
I usually have plenty, thank you very much.
Here's the music room on the day we moved into our Colonial Farmhouse in 2019.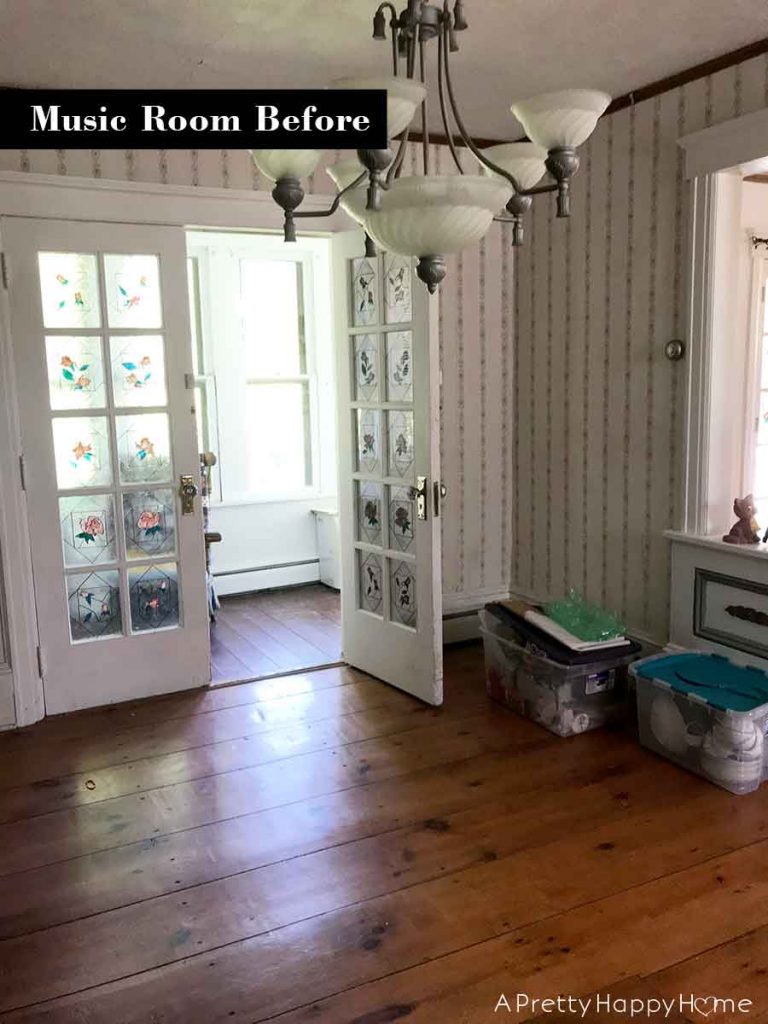 Here's the music room after I took down the wallpaper and hung a few things on the wall.
That chandelier still looked out of place in the space.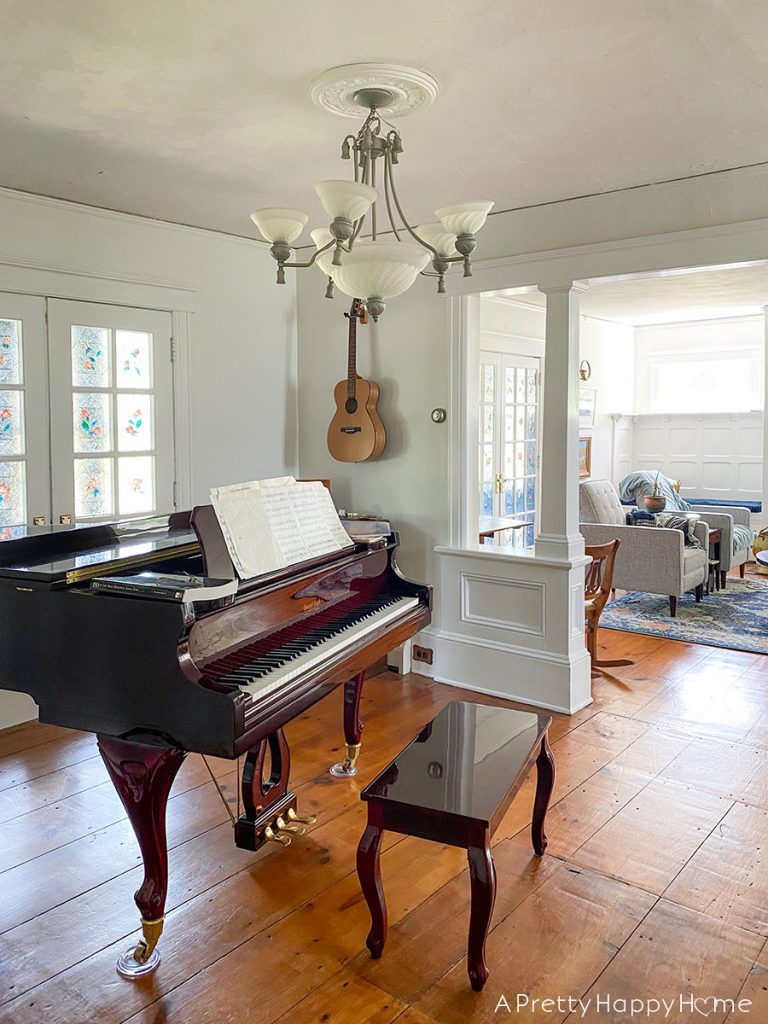 I originally wanted a ceiling fan for this room because it would have been practical to help move the air around during the hot summer months.
I even bought a ceiling fan for this space after you all weighed in and gave me your opinions.
Then we found some questionable wiring and ceiling supports and Handy Husband cooled off on the idea of installing a ceiling fan.
Whomp, whomp.
I didn't give up hope, but I choose my battles carefully. In the meantime, I was idly keeping my eye out for some other light fixture for that space.
Not too long ago I was perusing our local Habitat Restore for some art and happened to notice a wood chandelier that reminded me of the quirky wood and ruby glass chandelier in our living room.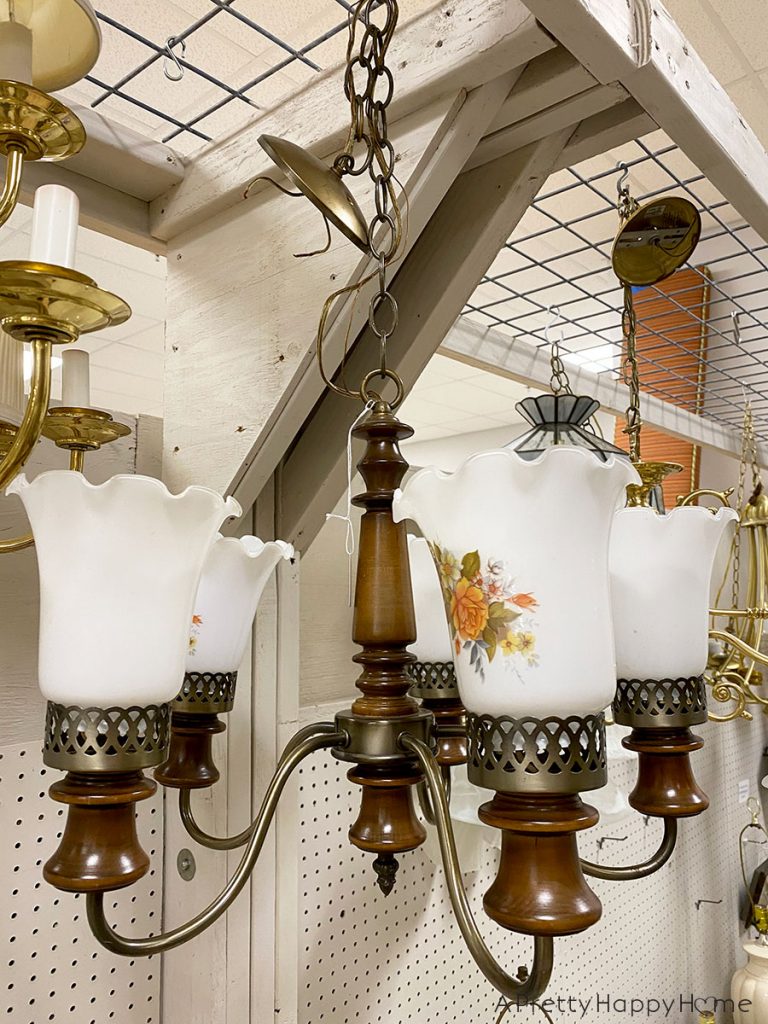 It was then that I felt a funny flutter of dare I say, hope, in my chest.
Could this be the one?
Could this be the chandelier to make me ditch my dreams of a ceiling fan?
It was definitely possible.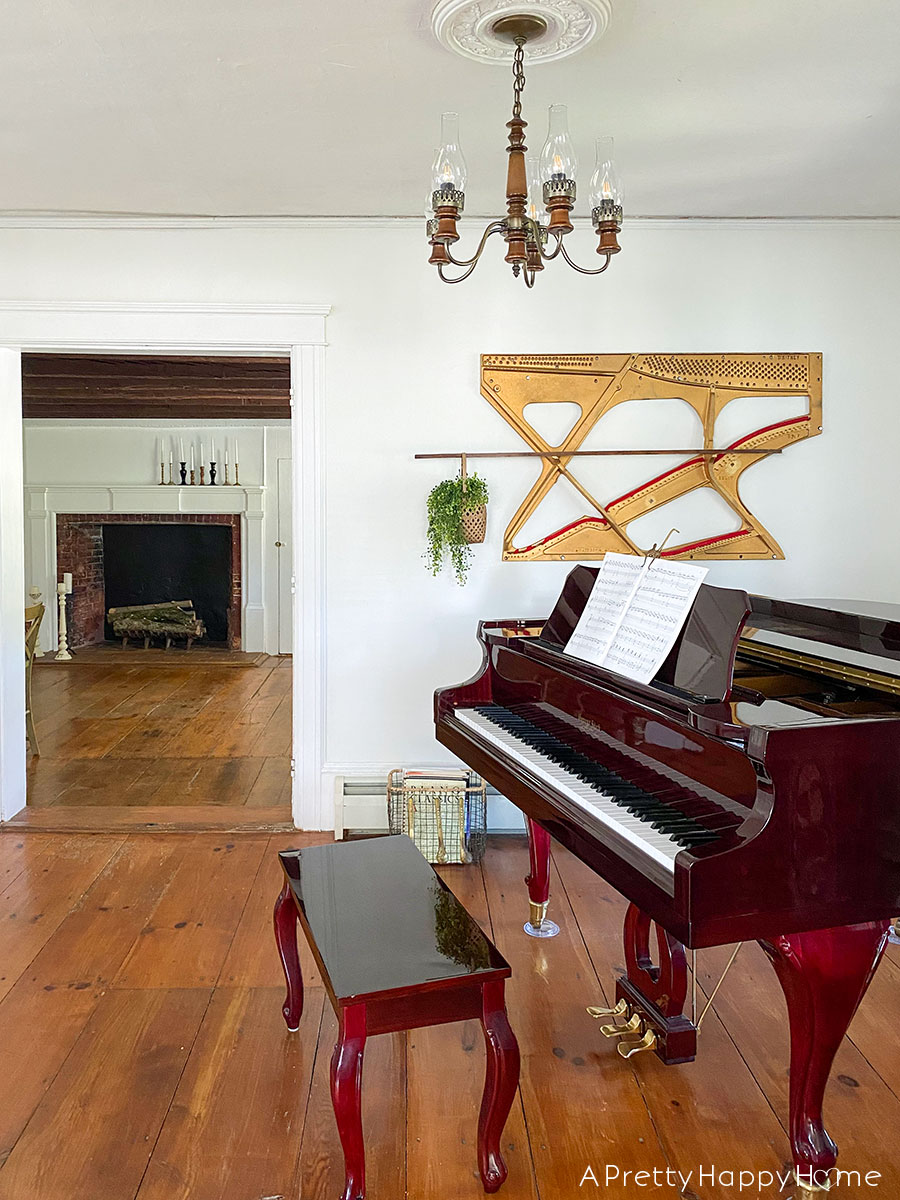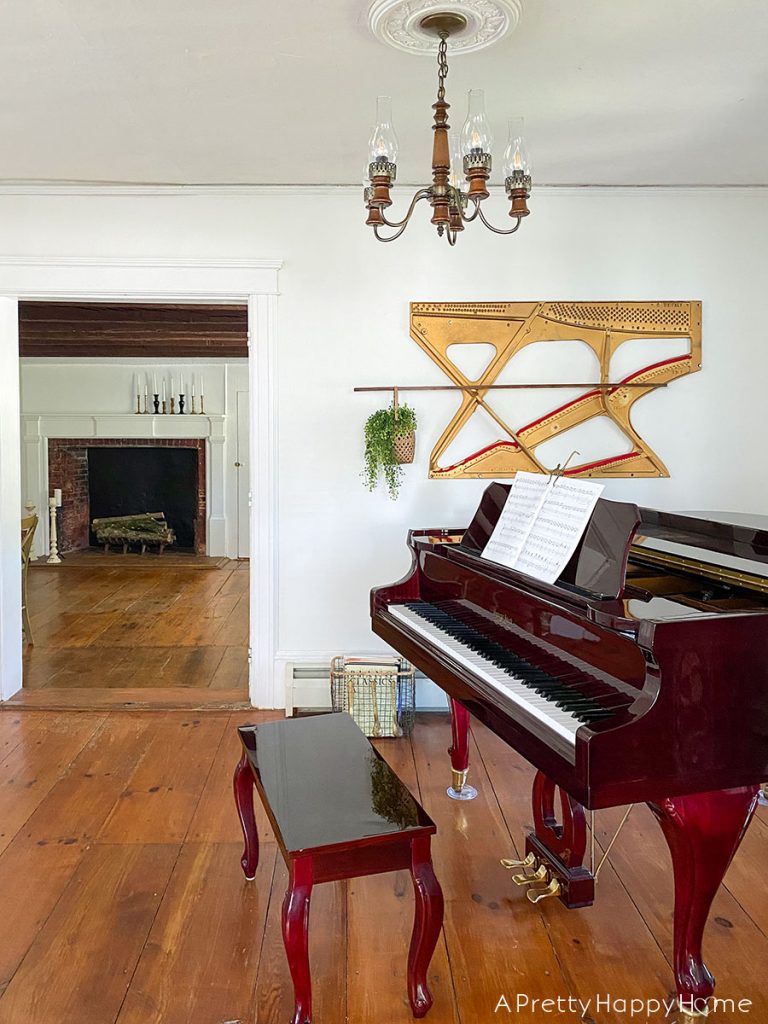 I'm a firm believer in walking away from something you want to spend money on. It you still want it later and it is still there, it was probably meant to be.
There was also a practical reason for walking away from the wood chandelier.
I don't buy used light fixtures without consulting Handy Husband first. I don't know anything about wires and wiring and what's possible given our home's electrical quirks.
Plus, it's easier to sweet talk him into helping out with all my ideas if I consult him on the technical aspects of the project first.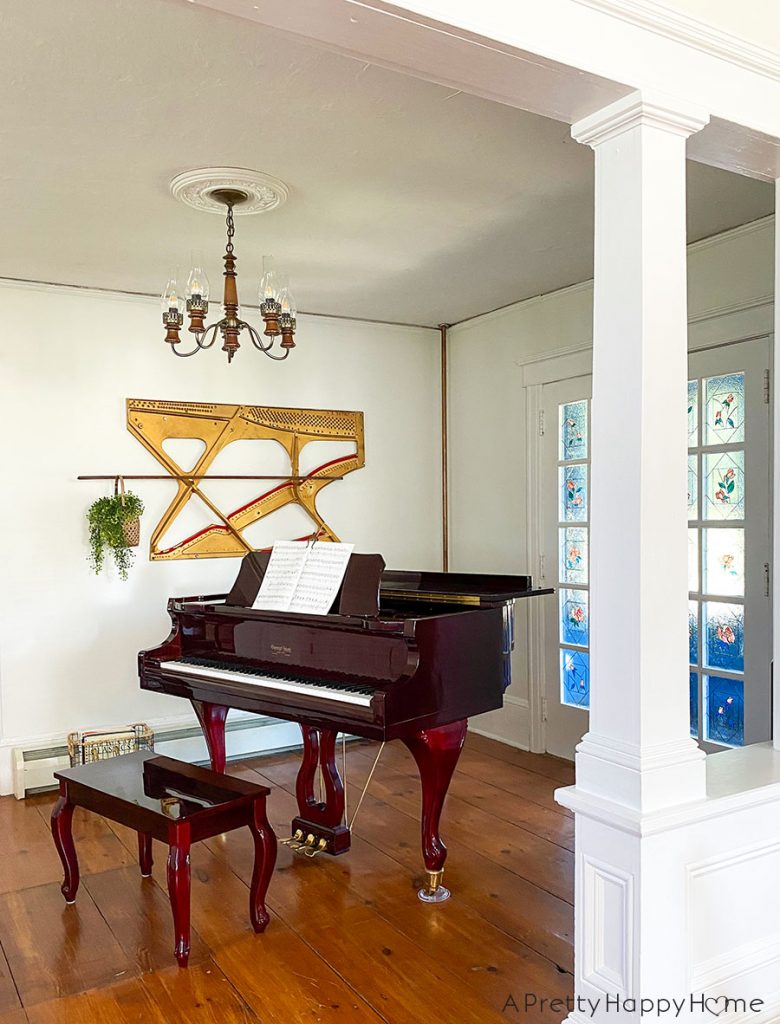 Here's the part of this story that I think will make you laugh.
Even though I definitely believe in curbing my impulse purchases, I was nervous that the chandelier wasn't going to be at the thrift store when I went back for it.
After all, I waited ten days.
TEN!
I really like to tempt fate, don't I?
With all the people in the world buying new light fixtures, I guarantee you 99.9% of the population would not give this wood chandelier a second glance.
In fact, it's probably not the right look for the vast majority of homes.
In that context, I didn't REALLY need to worry, but I still held my breath when I walked back into the store to see if the wood chandelier was still there.
I was so relieved to find the wood chandelier hanging where I originally saw it that I almost let out a little whoop of glee. Almost. I caught myself just in time because Handy Husband was with me and that really would have embarrassed him.
But inside I was whooping and hollering and doing my happy dance!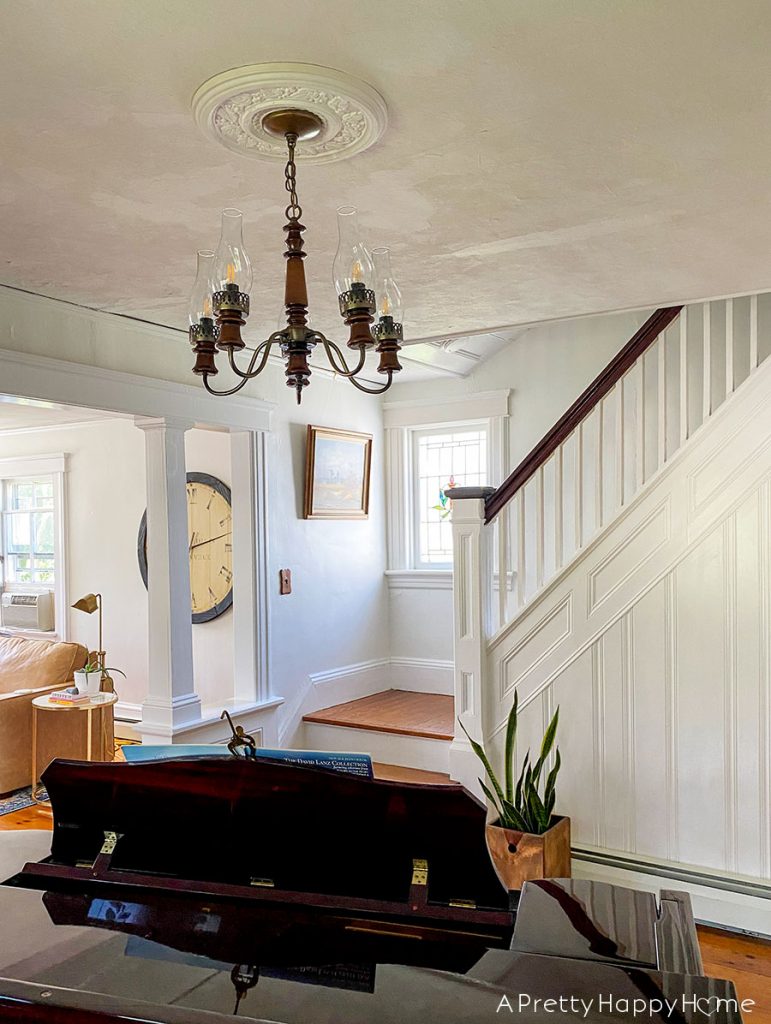 As you can see, I did end up buying new glass shades for the wood chandelier.
The shades the chandelier came with were not original to the chandelier. How do I know this?
Easy.
They didn't fit. The shades were too big and just wobbled around the lightbulbs.
I needed shades with a 2 5/8-inch fitter (that's the diameter of the base) and of course they cost more than the actual chandelier. That's how these things work when you start with something thrifted.
The chandelier cost $19.
A 6-pack of shades cost $25.
Honestly, my shade options were limited in the size and general style I needed.
I ended up selecting a clear glass chimney-style shade mainly because it fit the style of the wood chandelier and it coordinated with the chimney-style shades on the ruby glass chandelier in the next room.
Since the chandeliers are both viewable from most any part of our downstairs, I wanted them to complement each other.
While both chandeliers have a similar wood frame and chimney-shaped shades, the real star of the show is still the ruby glass chandelier in the living room. It's too flashy with its crystals and ruby glass not to be the star!
However, even in a supporting role, the music room wood chandelier seems to fit the style of our home. It looks like it belongs and holds its own without calling attention to itself, if that makes sense.
It also provides a nice transition from our more rustic dining room into the more contemporary styled living area of our home. I love blending old and new together into a space that is uniquely mine and this wood chandelier adds another layer to that blended scene.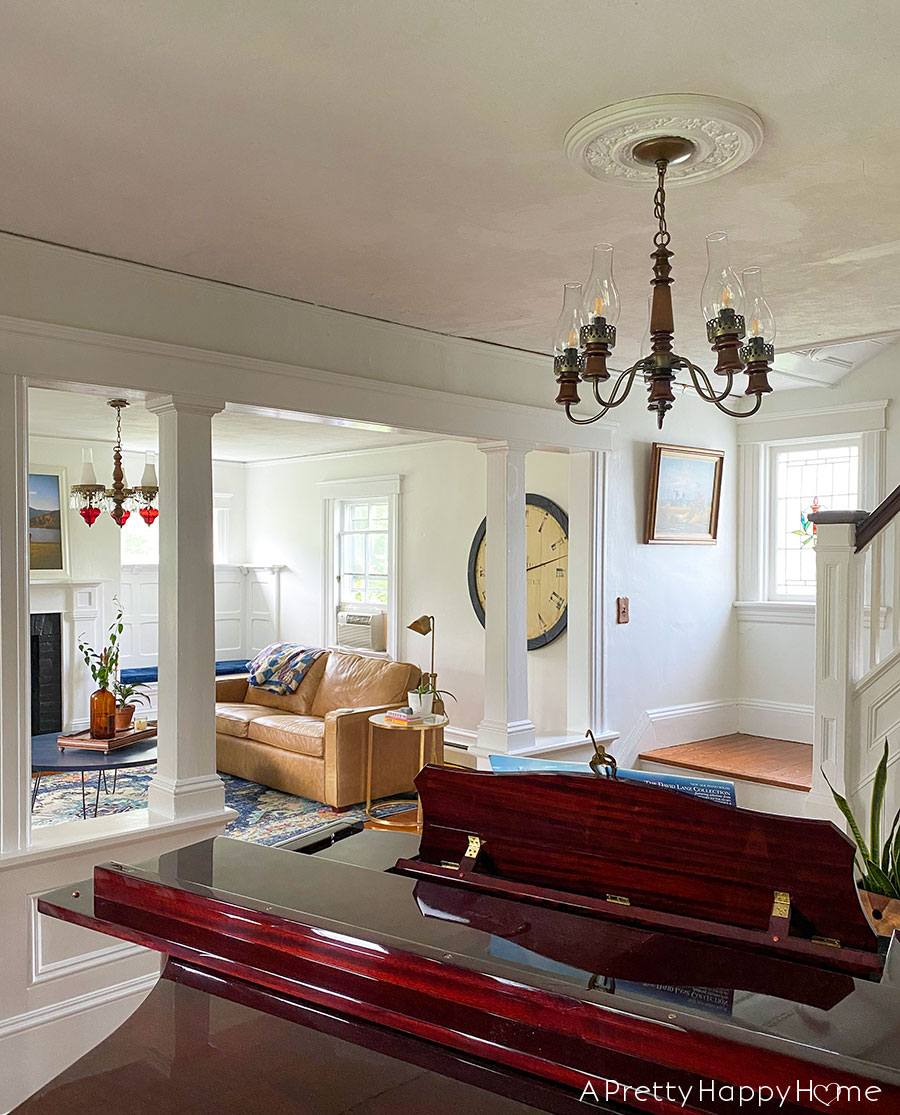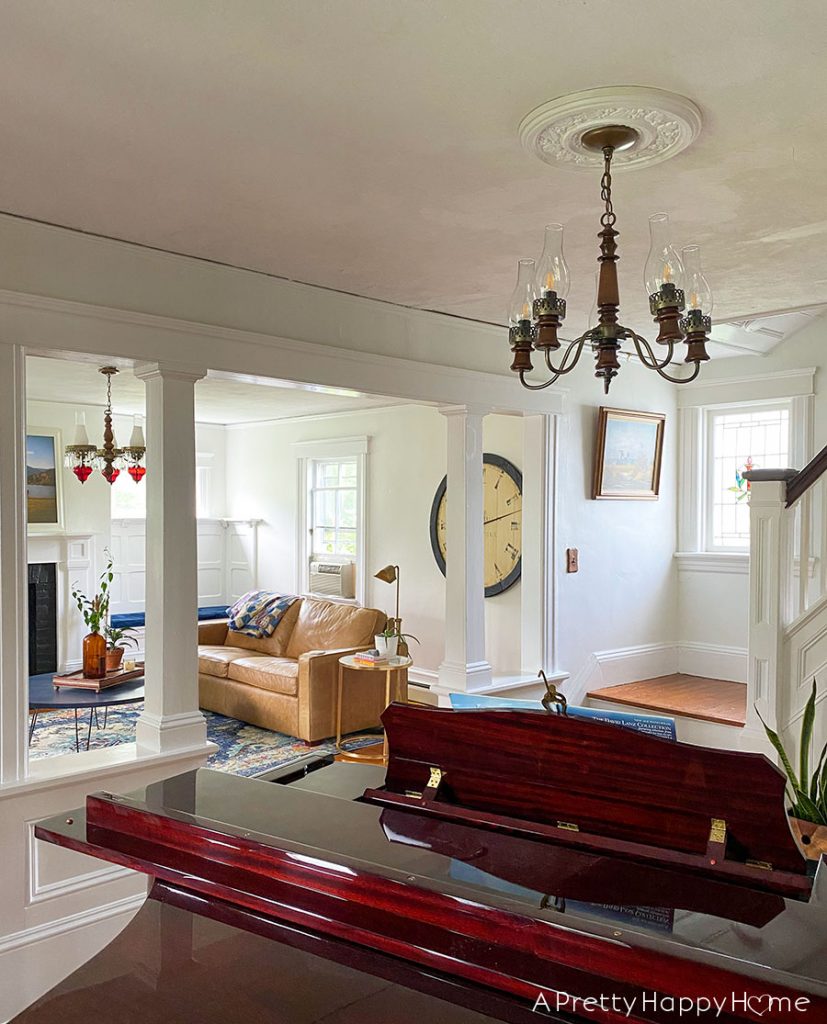 I'm so happy no one else saw the potential in this wood chandelier.
I'm thrilled that I could turn a little disappointment with what I thought I wanted for this space into something even better.
Most of all, I'm ecstatic that this old light actually worked because you never know when you're buying something used!
---
Room Sources:
The light might be old, but the LED chandelier light bulbs
 are new and only cost $14. SCORE!
Glass chimney shades
: This link is for the 8 1/2 inch tall shades, I couldn't find a link for the 7 1/2 inch tall shades that purchased.
Planter with leather handles for snake plant: DIY (post here)
Piano Harp Art: DIY (post here)
*affiliate links in this blog post*
---
Thanks for hanging out with me today and watching this room progress. Here are some other posts you might enjoy.
The origin story of our music room
A wood paneled music room (in our last house)
How not to get dusting streaks on a piano with a glossy finish