A New Old Closet Door for our Bathroom
We have a new old closet door for our bathroom.
Did that sentence even make sense?
Don't worry. I'll over explain what I meant in nauseating detail.
Our main floor bathroom is a special place.
It's special because it even exists. This house was built before indoor plumbing was invented.
It's special because of its awkward location. Bathrooms were often tacked on to the end of an old house when indoor plumbing was eventually added.
It's special because holy moly it needed to be updated in the worst way.
Here's the bathroom on the day we took possession of the Colonial Farmhouse. Please note this was how we found the bathroom. None of the items you see are ours.
But thanks for leaving the good kind of apple cider vinegar! Score!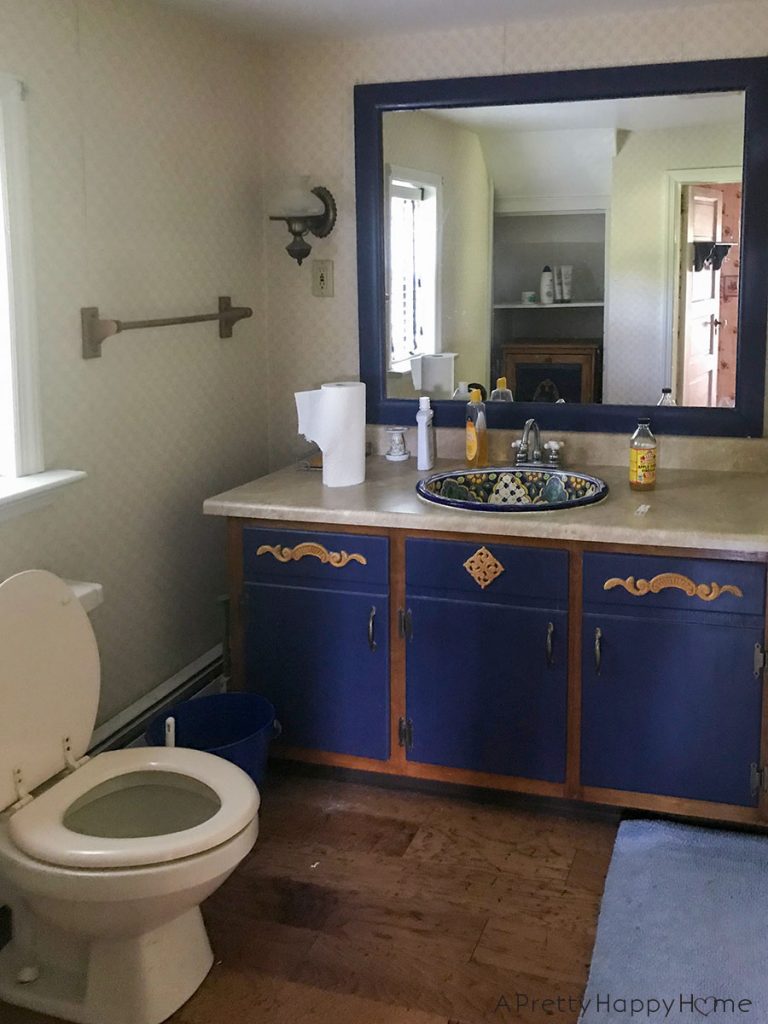 Here's a closer before look at the closet that is the subject of today's makeover.
It's tucked under our kitchen stairs, so that's why it has a funny angle at the top.
The laundry hamper worked great (it was also left here), but that tiny shelf was not doing the trick for towel storage.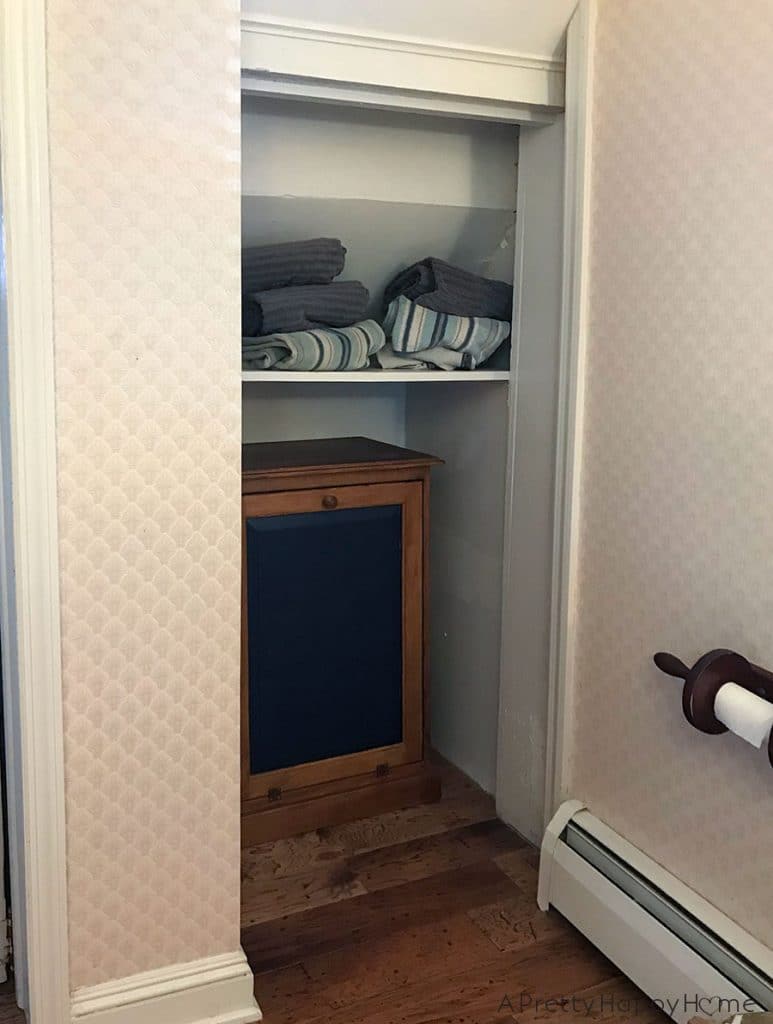 I ended up giving the laundry hamper a makeover and relocating it to the other side of the bathroom.
Then we added some shelves to that closet to hold all the products that are a waste of money give us that youthful glow.
The only problem was this closet didn't have a door and those shelves were not designed to be seen.
This closet could now HOLD all of our products and cleaning supplies, but it couldn't HIDE them. I suppose that was progress.
Progress could also have included tidying up these shelves for the "before" shot, but I have no shame, apparently.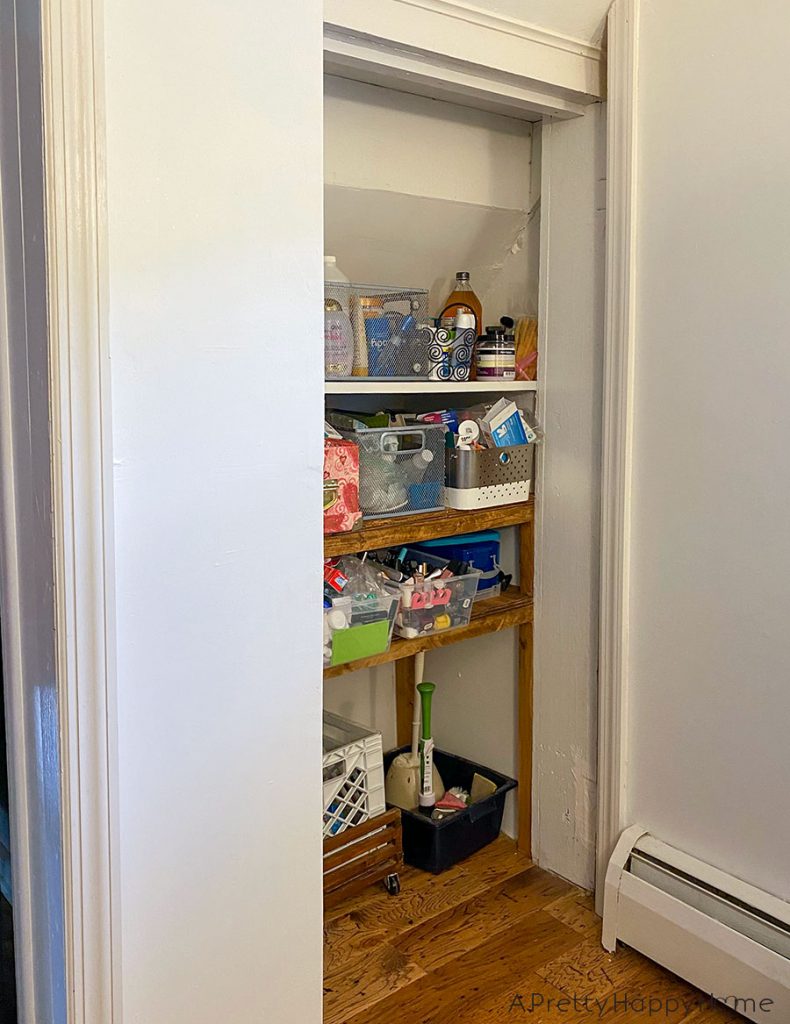 I was 100% certain in February when we built these shelves that I'd want a door to hide all this crud.
Eight months later in October when we FINALLY added a door to this closet, I was still 100% certain. No wavering. Nope. Not me.
If you think your projects drag on, welcome to my world.
Handy Husband and I brainstormed how he could build a door for this closet and what it would look like.
It was a great back and forth. Ideas were bouncing around. We had achieved real synergy. There was a door building plan firmly in place. It was shaping up to be our finest collaboration yet.
Then Handy Husband took a slow sip of his Diet Pepsi and casually mentioned, "We have a tiny door in the garage. I wonder if it would fit here."
Wait. What?
We have a tiny door? And you are just now mentioning it? After 8 months and all this synergy?
In any other house, in any other context, this would be an odd conversation. In this old house full of quirks, a tiny door isn't all that odd.
It turns out that tiny door didn't just fit there, it was originally FROM there.
All those months wasted and we could have just hung back up the original closet door.
In hindsight, it's almost funny.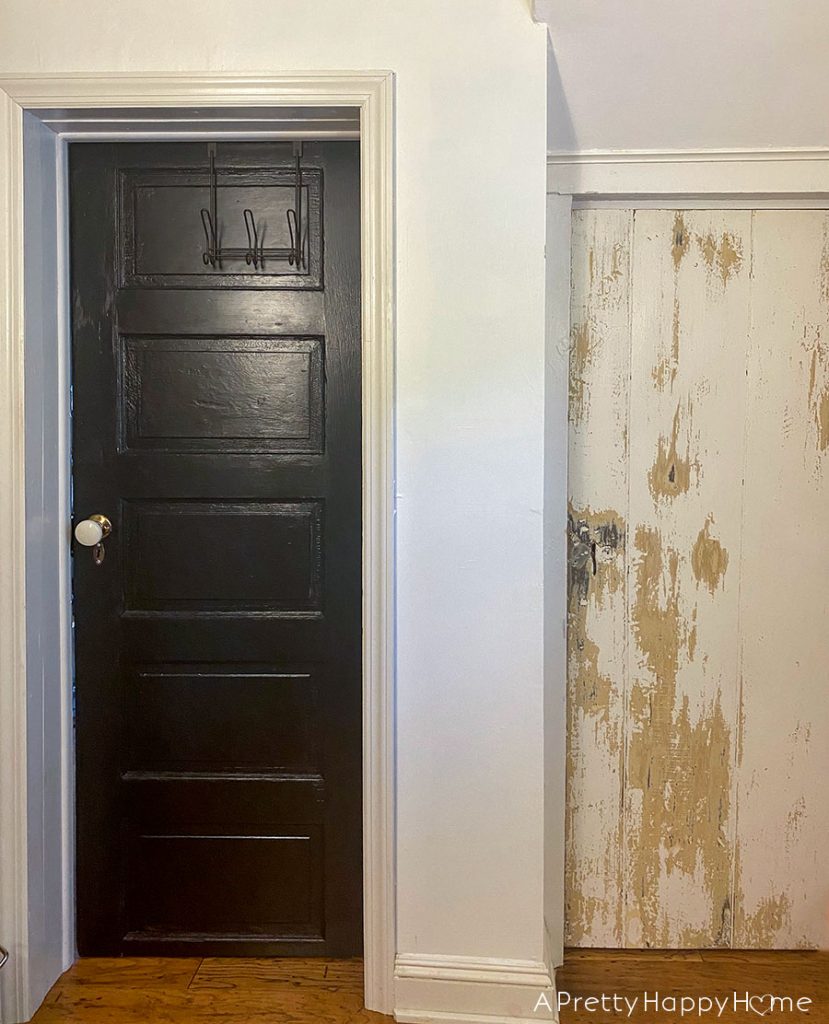 If it isn't obvious from the pictures, this is a short closet. It's probably 5-feet tall, since it is tucked midway under the stairs, not at the top. That's why the moniker "tiny door" is apropos.
(The main door for the bathroom is also short at 6-ft tall. Old house quirks. Aren't they great?)
We have surmised that the closet door was most likely removed in 1996. That's when the bathroom received an 1990s-style update. We know that's the date because there are dated barcode stickers on the back of all the "modern" trim that was installed in this bathroom. We used this project as an excuse to remove all of that trim.
Handy Husband did have to work his carpentry magic to build in a door jamb on the hinge side of the door. That whole closet is a confusing mess of false walls, interesting recesses, and missing door jambs.
It's fine.
Making sense of a mess is an area where Handy Husband excels.
After he made the closet door functional again, it was was my turn to make the area look pretty with paint.
This is an area in which I excel.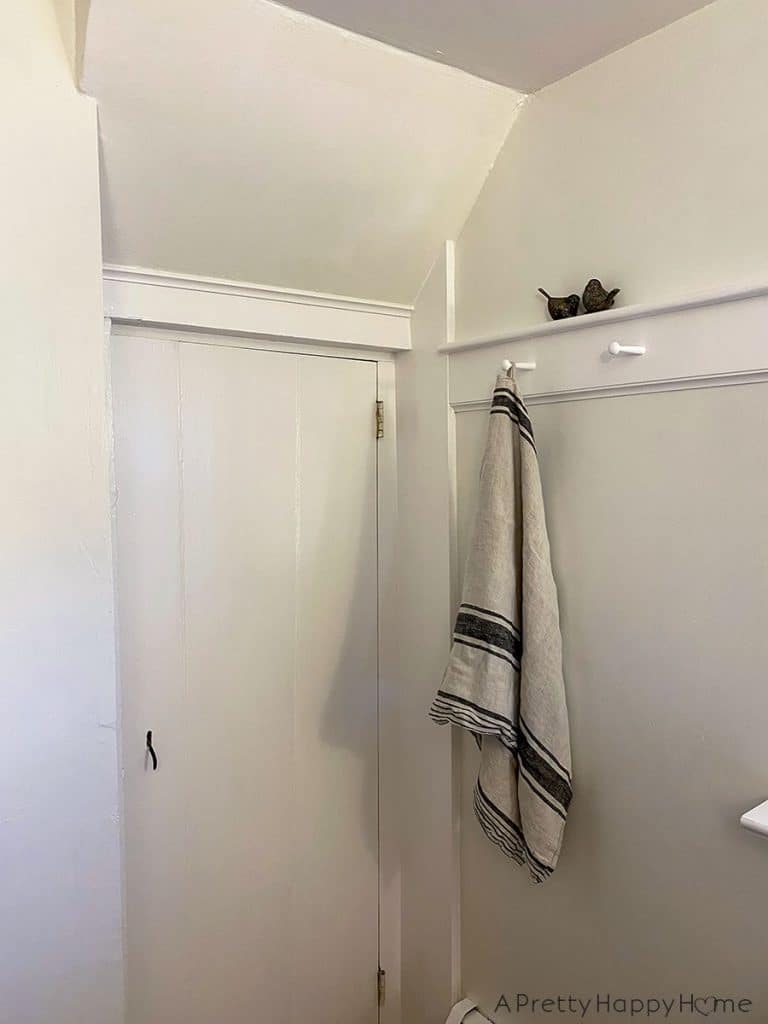 We decided to leave the door hardware on the closet door as is for now. If it looks funny having a hook-like lever for a door knob, that's because it is a little funny.
The door is supposed to have what is called a thumblatch, but it is missing the locking latch part of its door hardware. I'm on the lookout for a replacement latch. I know exactly what it is supposed to look like because we have another closet door with similar hardware.
In the meantime, this new old closet door works just fine as is.
I have to say, we're feeling pretty happy with ourselves for how this project turned out. It's like we righted a wrong by restoring this closet door to the place it was previously located. That's an old house win!
---
P.S. While reinstalling this old new closet door we also built a custom peg rail to hang towels. We have several peg rails in this house, mainly in closets or on the back of doors, so it felt natural to add a peg rail in the bathroom too. We used 3.5 inch shaker pegs
 for this project.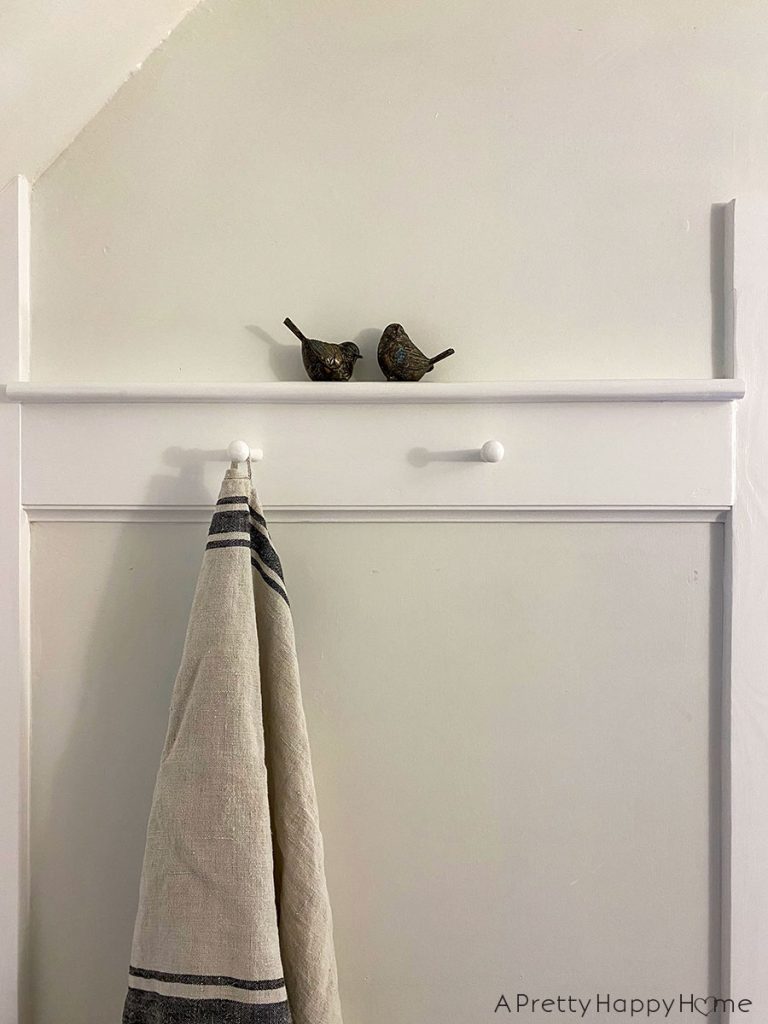 P.P.S. If it all feels very cold and white in here, DON'T WORRY. Have I let you down yet? We aren't done with this bathroom and I certainly haven't decorated it yet. Those birds don't even belong on that ledge. I just needed something there for the photo and I haven't found any art for this space yet. Do I need to remind you how our projects drag on?
Also, there is a tremendous amount of warmth coming from the vanity that we built months and months ago. I just haven't shown you pictures of it because the mirror above the vanity always showed that unfinished closet. Now that the closet door is finished, maybe I'll get around to taking photos soon.
---
Thanks for reading over 800 words today about a closet door. (I guess I can talk about anything.) I think you deserve a prize! I can offer you a virtual pat on the back or another blog post to read. Or both! I'm generous like that. 
Update: Making the Switch to Linen Bath Towels
Living in Ireland: Inside my Kitchen
*affiliate links in this blog post*