Antique Nail Caddy Fall Centerpiece
My husband thinks an antique nail caddy should be used for…wait for it…holding nails and screws. I think an antique nail caddy should be used as a fall centerpiece.
It's not as if there's a right or wrong choice here, but my choice is more right.
Right?
Glad we agree.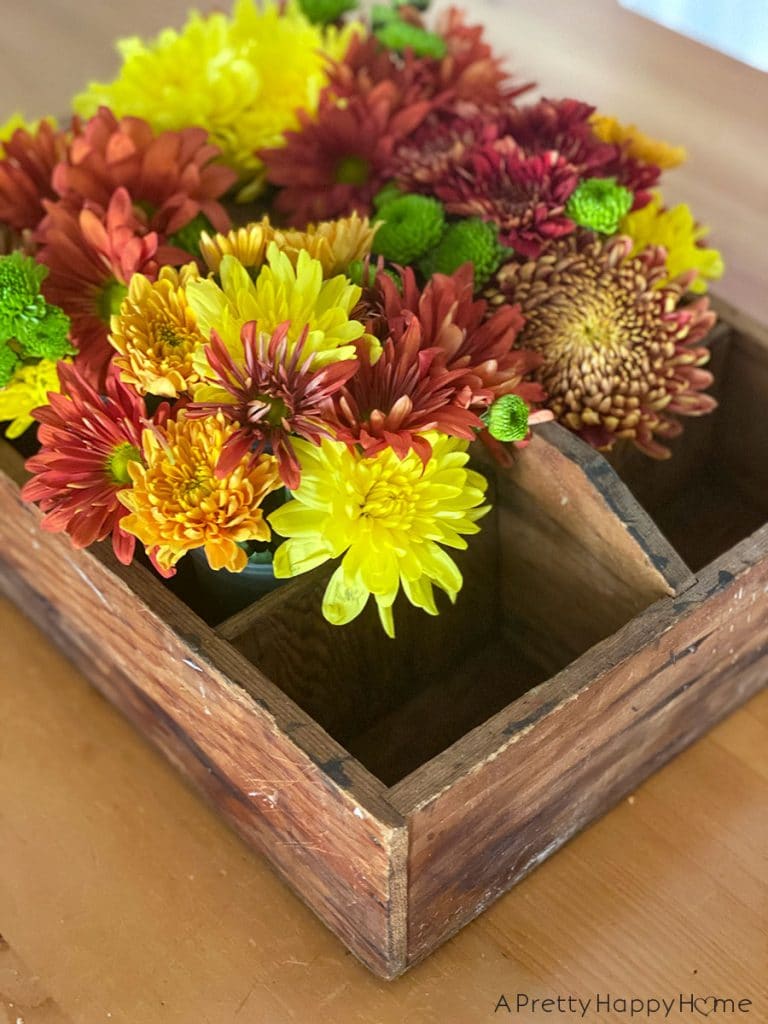 The first step in creating an antique nail caddy fall centerpiece is to find yourself an antique nail caddy.
I found ours in our garage full of, you guessed it, nails and screws.
The antique nail caddy was left here by the previous owner. In a roundabout way, he left us all the nails and screws that were in the nail caddy too. We saved them when we dismantled the rotting play structure that was also left here.
If you didn't buy a house full of junk like we did, save yourself the headache and find an antique nail or tool caddy on eBay or at a flea market. You can also find new nail caddies on Etsy.
You could also just make your own nail caddy. If you want it to look old, take a hammer or screwdriver to it to give it some dents. Rub some dirt on it. Let your kids play with it for five minutes. You get the idea.
Ironically, I had to scrub a lot of dirt OFF of my nail caddy in order to bring it in the house. So much dirt.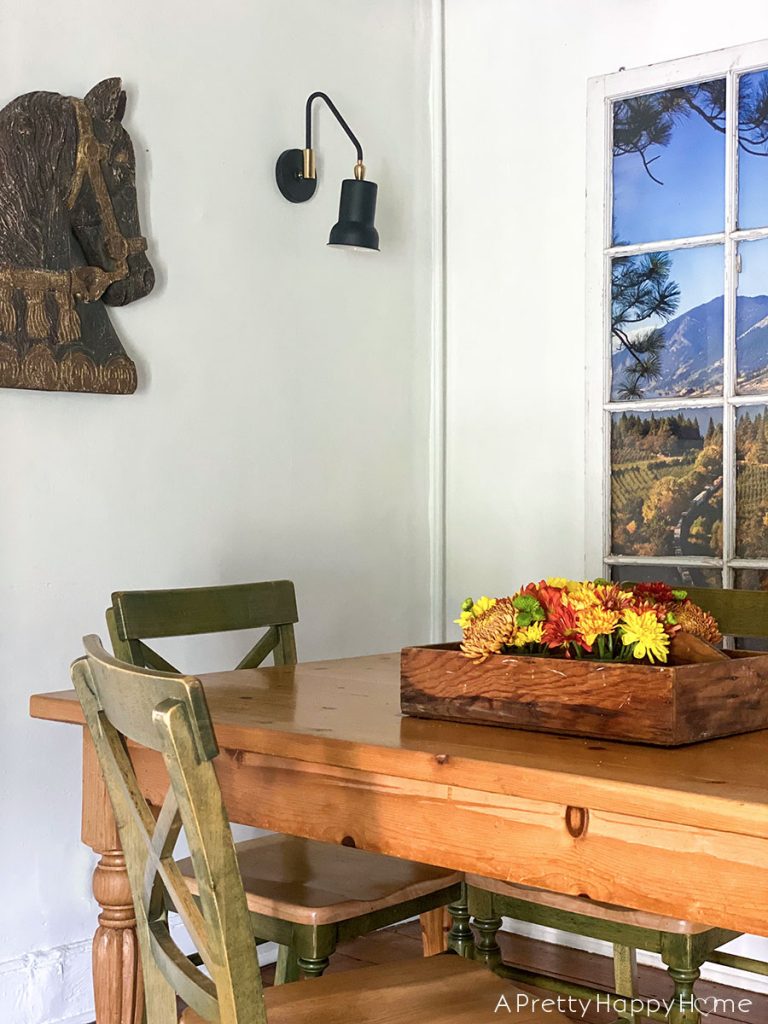 The next step is to buy yourself some grocery store flowers.
I know, I know. You can probably skip over this step because your spouse regularly surprises you with flowers. For no special reason.
Umm…
Same here.
Yep, yep. So many flowers. It's like living in a flower shop.
Anyway…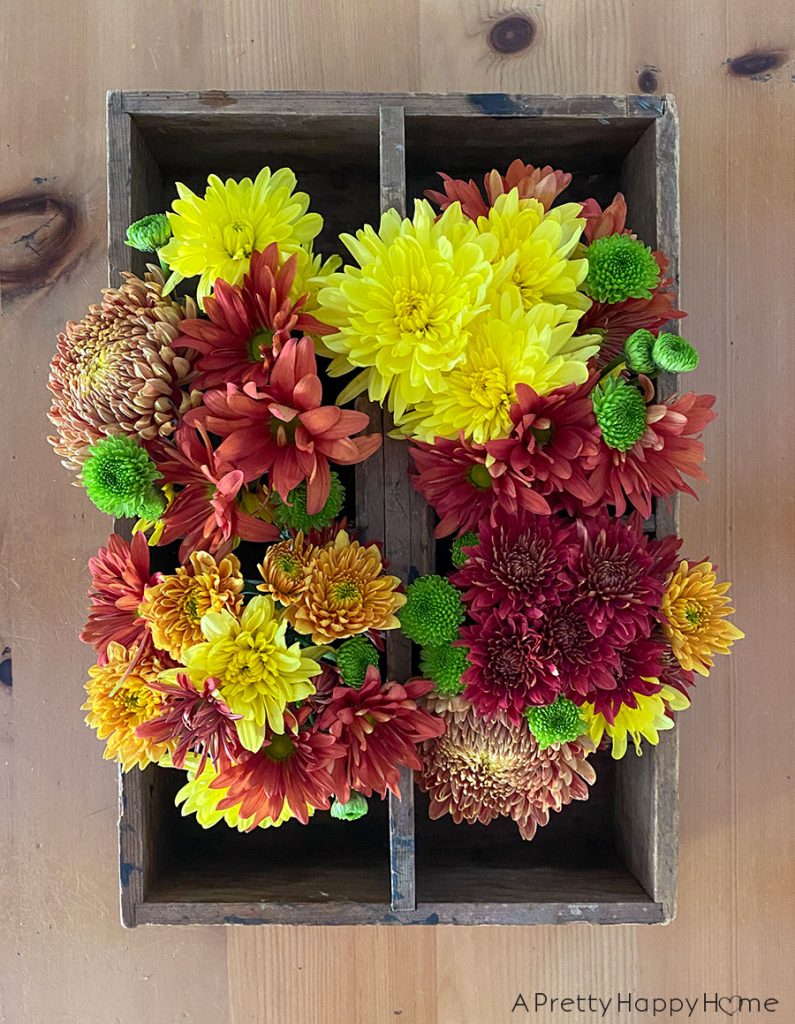 Next, you're going to have to decide how to display your grocery store flowers.
There are no rules! Arrange them however makes you happy.
I wanted a low and lush arrangement that I could keep on our dining table and not have to move every time we sat down to eat. Come to find out, it's easier to have a conversation with my kids during dinner if they can't hide behind the centerpiece.
I used jam jars to hold my flower bouquets because they were low enough to stay hidden in the four center compartments of the nail caddy.
It did feel weird to cut my flower stems down to almost nothing though!
For reference, my antique nail caddy has 8 compartments and is roughly 17 inches x 12 inches x 4 inches. I used one $10 mixed flower bouquet for this fall centerpiece.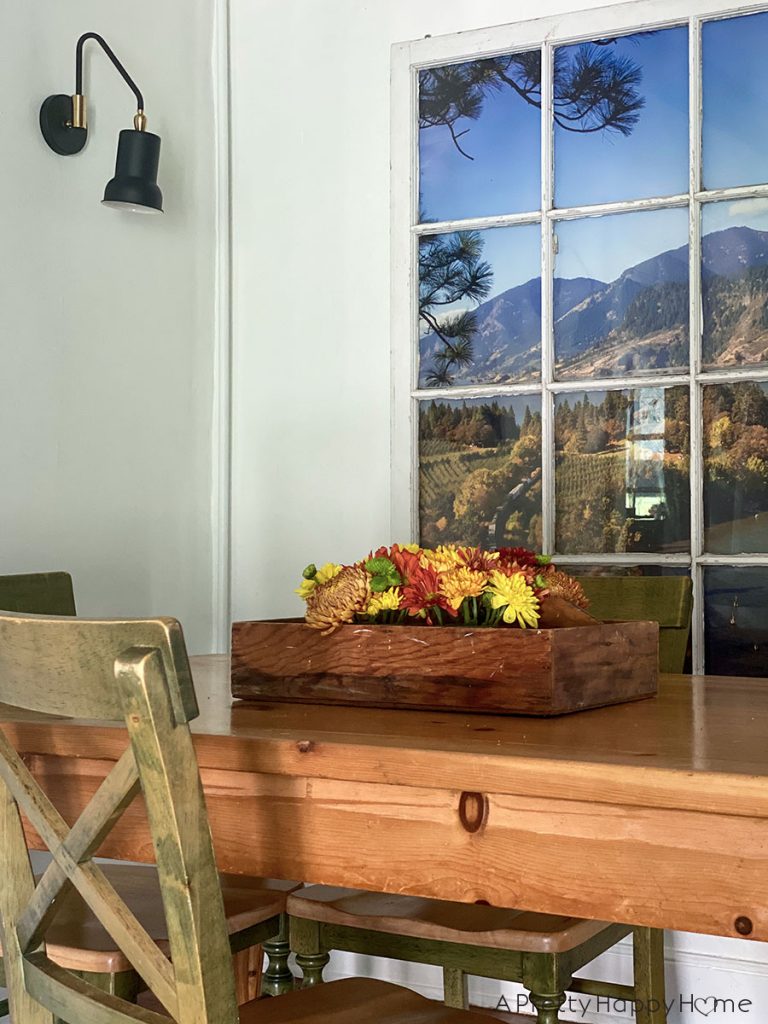 Just because the calendar flips over to September does not mean it actually feels like fall, at least not in my part of the U.S.
I need to ease myself into all things fall-related because giving up flip-flops, tank tops and long summer days is hard for me! No need to rush the seasons along, unless we are in the middle of a cold, miserable winter.
Designing an antique nail caddy fall centerpiece was a gentle way to ease myself into all the happy feelings autumn evokes without having to bust out all the pumpkin decor. That will come soon enough.
---
P.S. Even if you had to buy an antique nail caddy off eBay (depending on which one you purchased), this antique nail caddy fall centerpiece would most likely cost less than ordering a bouquet online!
---
Room Sources:
Dining Room Table and Chairs: Used to be the lunch table at a place I worked
Window: Rescued from a barn. It was originally used in an Oregon schoolhouse.
Horse Head Carving: Bought at Elephant's Trunk Flea Market
Black and Brass Wall Sconce: Amazon
(I used the magic light trick since we don't have electricity on this wall for hardwiring in sconces.)
---
Do you love fall? Or is it hard to say goodbye to the warm summer days? I'll bet you might love one of these posts! Maybe not as much as pumpkin spice, but that's a hard standard to meet, isn't it?
Magnetic Hubcap Bulletin Board
*affiliate links in this blog post*