Repurposed Light Shade Planter
I adore a good repurposed decor project and my Repurposed Light Shade Planter  is just that!
What was destined for the dumpster is now being repurposed in my home.
This industrial light was on the end of our Carriage House. We took it down because it wasn't working. Also, hornets had made a lovely home inside of it. I can see the appeal.
Handy Husband was going to get rid of the light.
*GASP*
Did he not see the potential?
No. He did not.
It's a good thing I'm here to save all the junky treasures!
I'm sure Handy Husband feels the exact same way.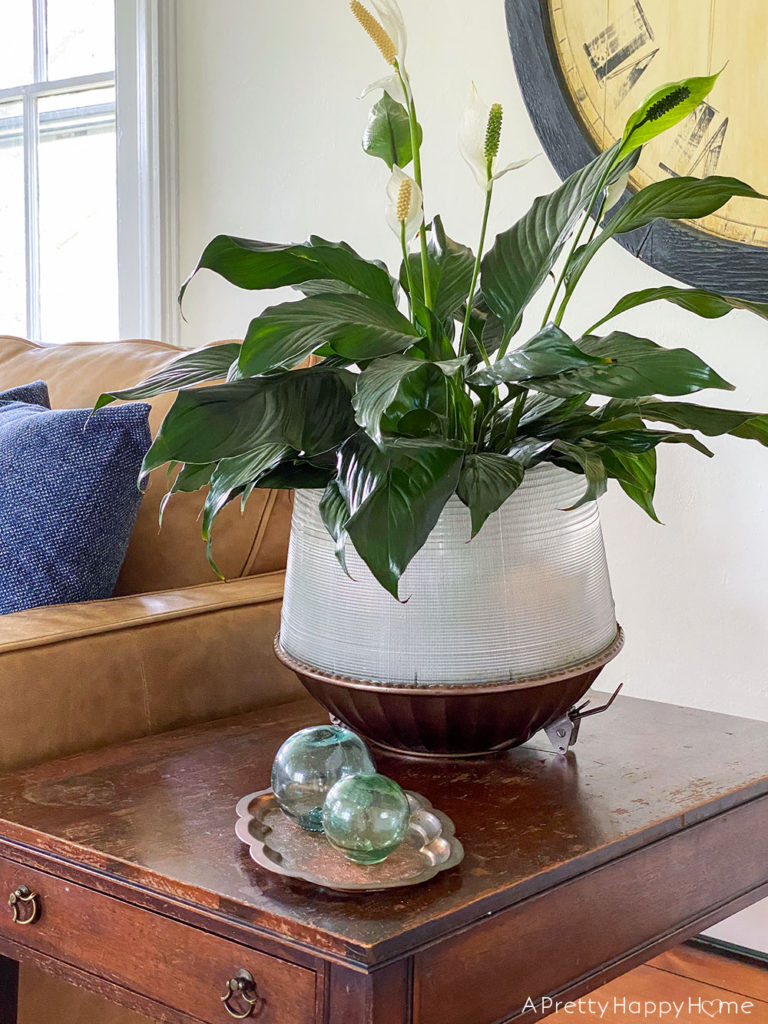 Yours truly gave the light shade, which is plastic, not glass, a coat of copper spray paint on the bottom.
Or is it the top?
I suppose it is the former top, which is now the bottom of this repurposed light shade planter.
The copper spray paint makes the repurposed light shade planter blend into my home a little better and helps me unsee the fact that this shade used to be part of an industrial light.
Handy Husband still can't unsee it.
However, if I hadn't told you that I repurposed an industrial light shade as a planter, I don't think you'd walk through my home and say, "Why is that light shade holding a plant?"
At least, not out loud.
What you'd probably really say is, "Wow. She is really good at keeping plants alive."
This is partly true. I am good at keeping them alive, but not necessarily healthy. This is just the newest plant to be sentenced to life in my home, so it is still looking relatively robust.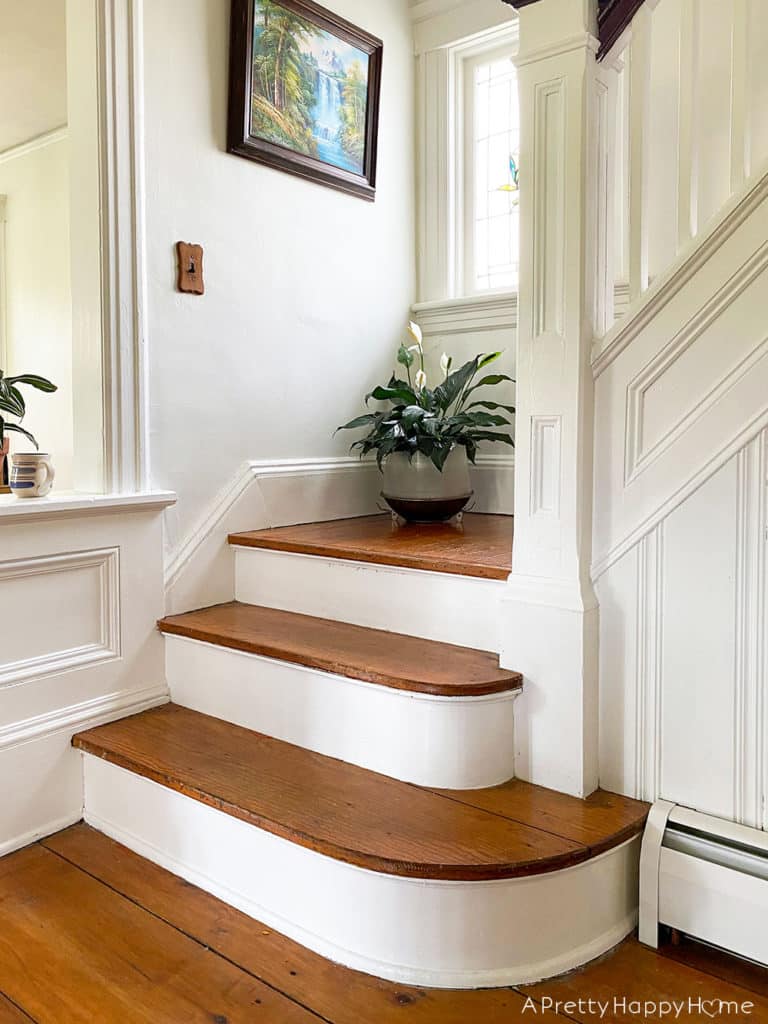 In case you are wondering, I did move my newly repurposed light shade planter around my house for a photoshoot.
What can I say? She's a diva and demanded I follow the light.
Actually, what happens is the place I might put a plant in real life doesn't necessarily look good on camera. I need to put a plant somewhere impractical so the photo has visual interest. The camera lens is the real diva around here!
All that aside, I am happy I could reuse this light shade in a practical, and dare I say, clever way!
---
P.S. Since my light shade does not have a top or bottom, the plant is in its own container and tucked inside the shade. A saucer or salad plate fits in the bottom of the shade though should I need to use it.
---
Here are some other metallic planters I like that aren't thrifted:
Sahara Brass Planter from CB2
This one has such a lovely patina.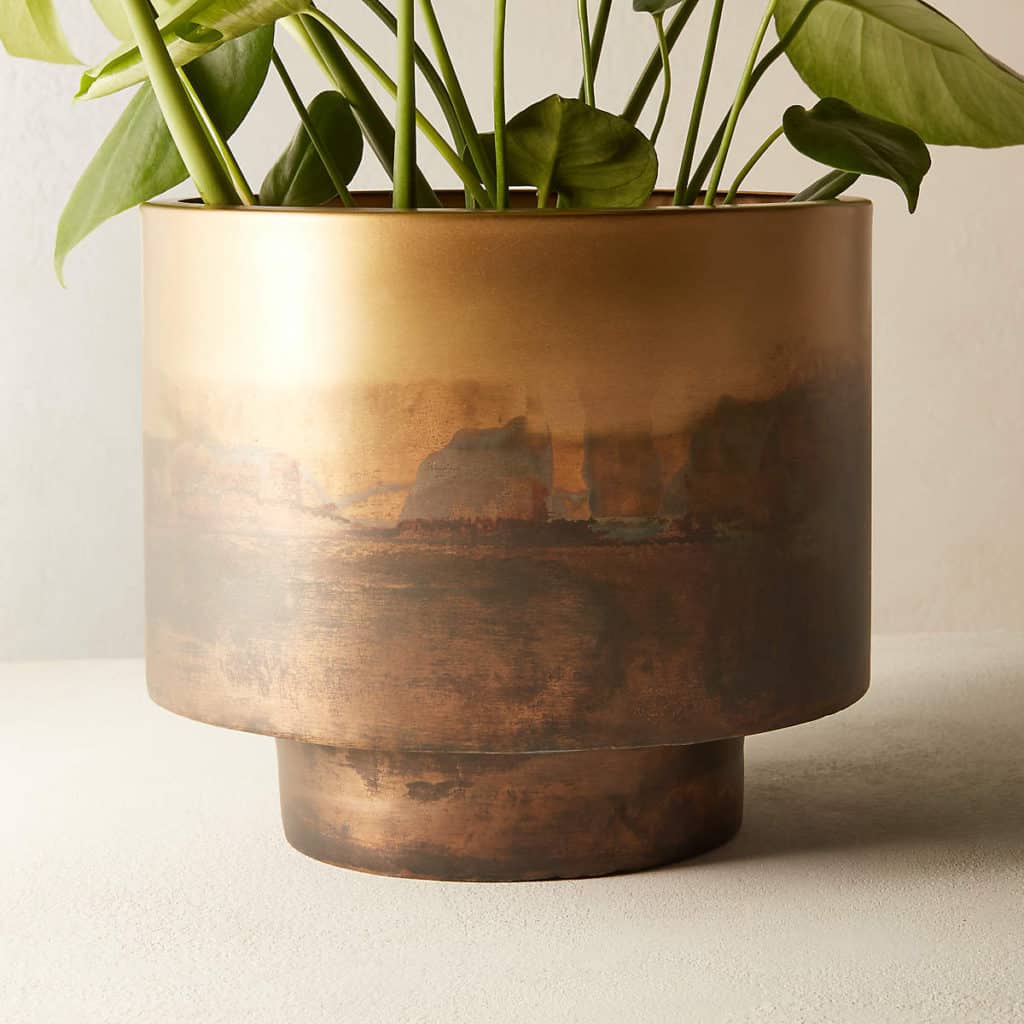 ---
Olivia & May Galvanized Planters from Target
I love a trio of planters. I also like that solid wood bench they are sitting on! It looks like a squared off tree trunk that is elevated slightly and I am here for it!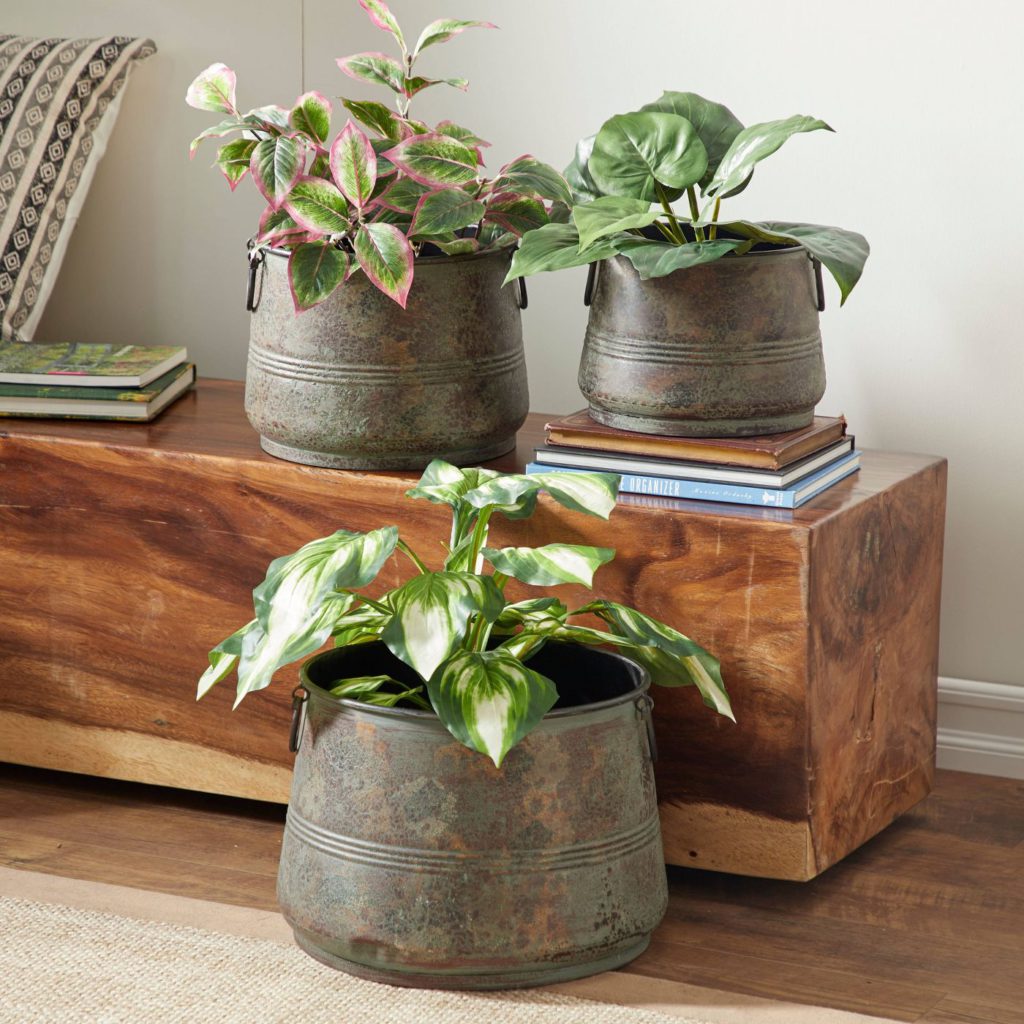 ---
Kate and Laural Gavri Galvanized Planter With Stand from Amazon
For that modern farmhouse vibe, this planter on a wood stand is fun.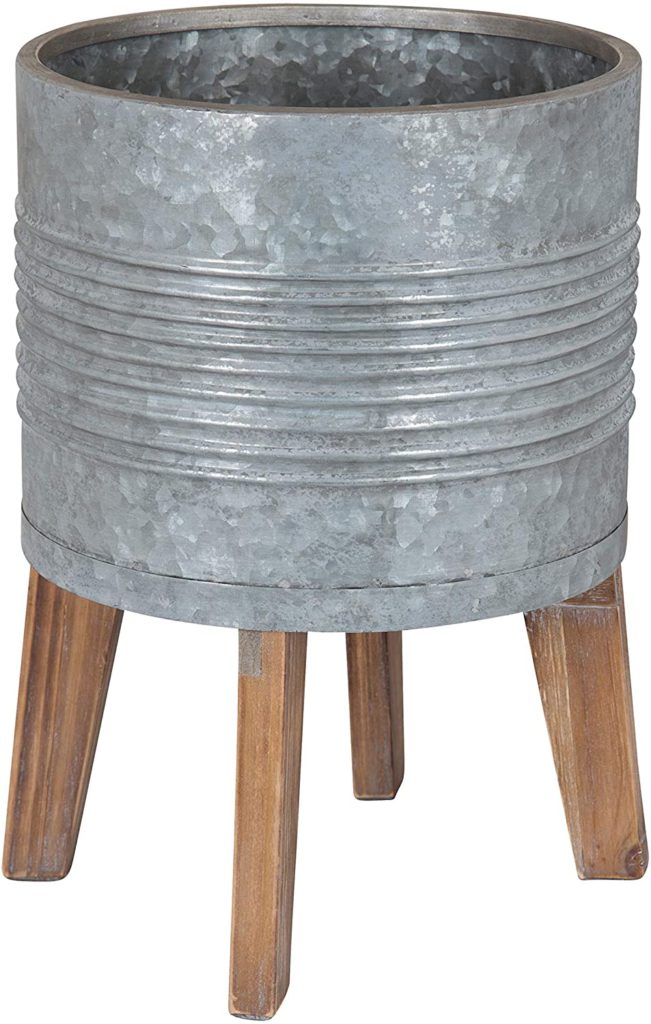 ---
Gold Lattice from Wayfair
This is a trash can, not a planter. Just wanted to see if you are paying attention! BUT! I would totally put a plant in this. Not a dead one…a live one that I would love and cherish and occasionally water.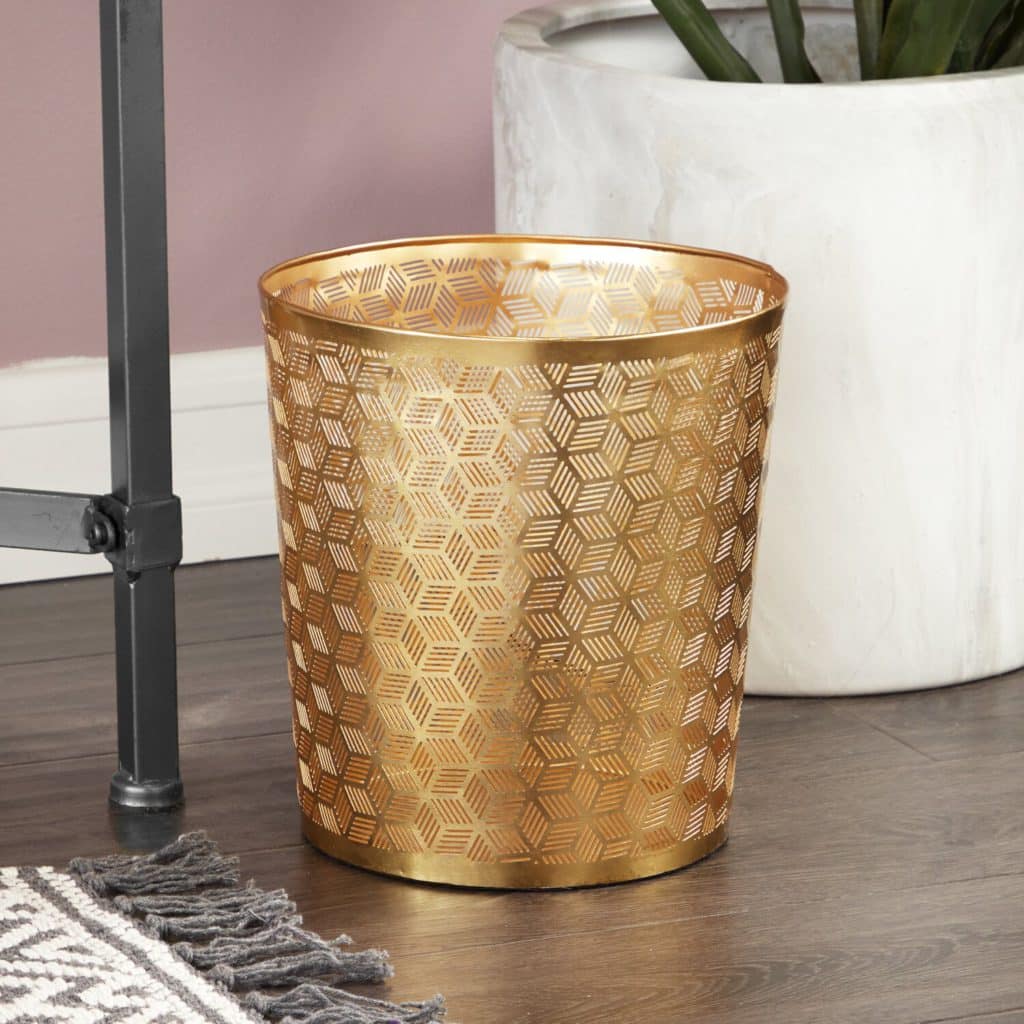 ---
Thanks for being here today! If you've repurposed something unexpected into a planter, I'd love to see it! I always need more ideas.
Speaking of ideas, here are some other posts you might enjoy. 
Wood Planter with Leather Handles
3 Unexpected Succulent Planters
Upcycling a Tire into a Colorful Hanging Planter
*affiliate links in this blog post*