Halloween Mantel With a DIY Witch's Broom
Hello you gorgeous ghouls and goblins! Let's dish on all things Halloween mantel and DIY Witch's Broom related.
Do you have a mantel decorated for Halloween this year?
I wasn't going to do any Halloween decorating because I just wasn't feeling it, but then Handy Husband tossed some proverbial inspiration in the wood chip pile and I dove in right after it.
That sentence didn't make any sense, did it?
Let me back up my broomstick and let you hop on for a ride.
A few weeks ago Handy Husband was trimming brush and tossed the coolest-looking stick in the pile to be woodchipped.
Noooooo!!! I need that!!!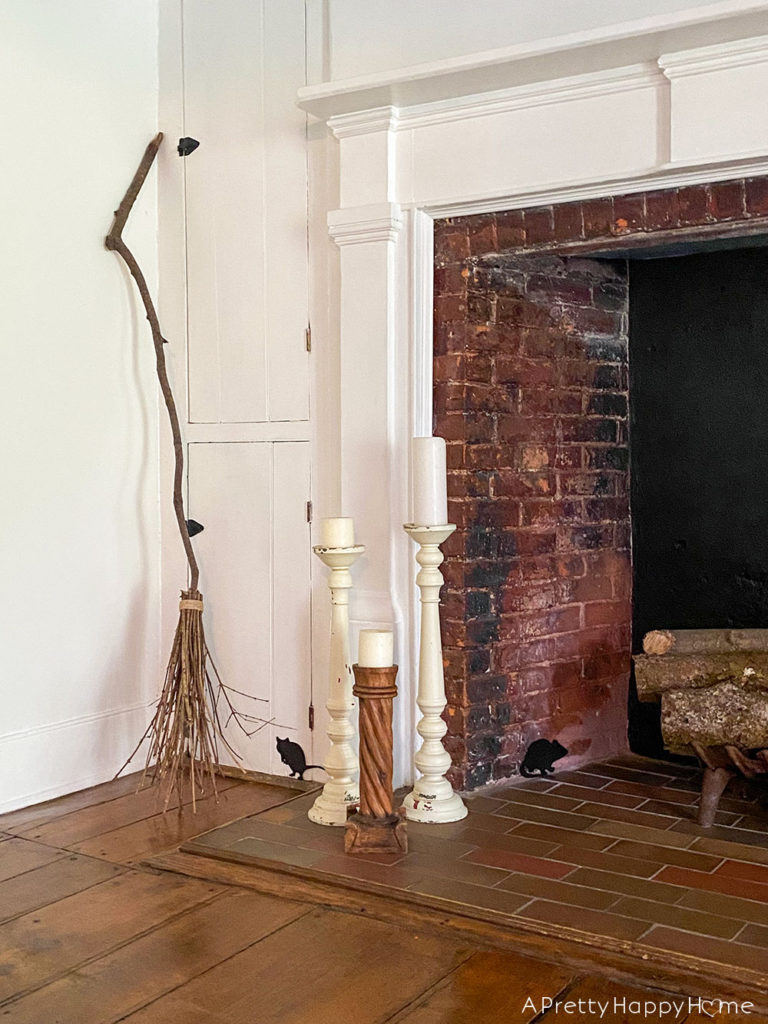 It really takes the fun out of things when he doesn't even question why I might need to rescue a crooked stick from the woodchip pile.
I guess he's used to my need to save all sorts of weird things.
Let's face it. It WAS a need not a want. That stick needed to be turned into a broom handle for a witch's broom.
A DIY witch's broom can be made in any number of ways, but it only takes three key elements. You need something to make a handle, something for the broom head or bristles, and a way to bind it all together.
I used a stick for the handle and twigs for the bristles. I prefer to hot glue my "bristles" to the broom handle. Some people rubberband them to the handle. I'll then glue twine or decorative ribbon around the bristles to make it look more finished.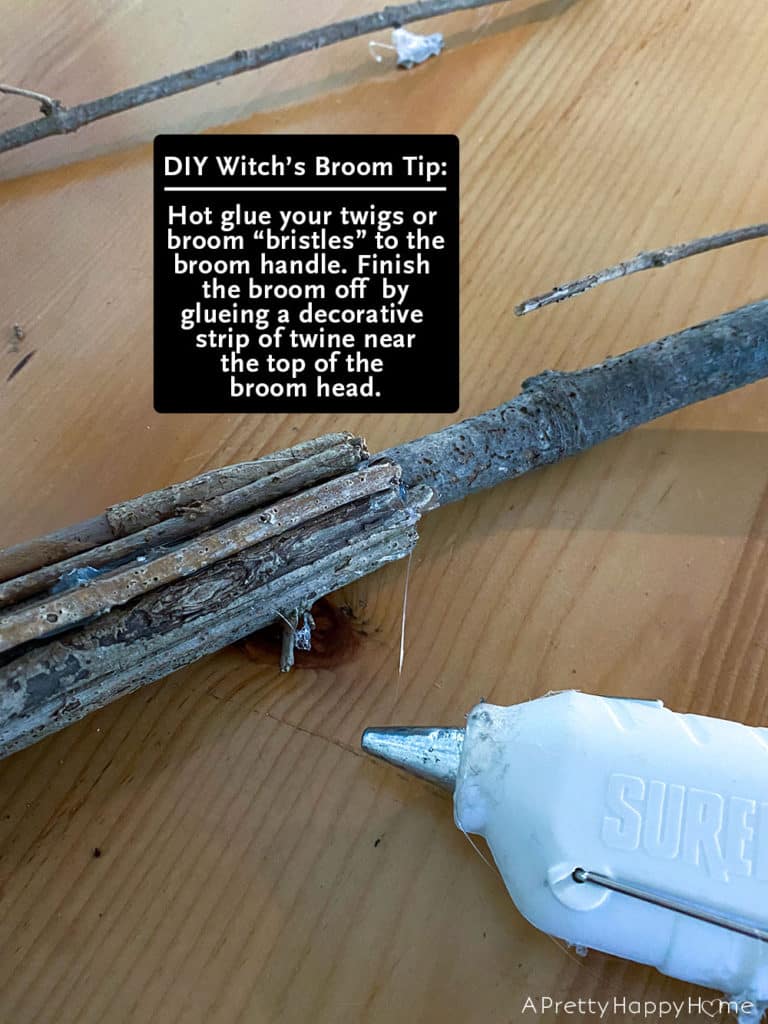 Now that I had a witch's broom, I might as well put some bats on the mantel too.
I cut all the bats you see in these photos out of black card stock a few years ago.
I don't care how overdone this decorating trick is. It took me forever to cut those bats out. As long as they bring me joy you can bet that I'll be using them every chance I get. In fact, I'll probably hang them up for my grandchildren someday.
I hope they appreciate them or it will be all tricks, no treats!
Kidding. I plan on spoiling my future (hopefully, very future) grandchildren with all sorts of Halloween candy. Then I will gleefully send them back to their parents with an innocent look on my face. As one does.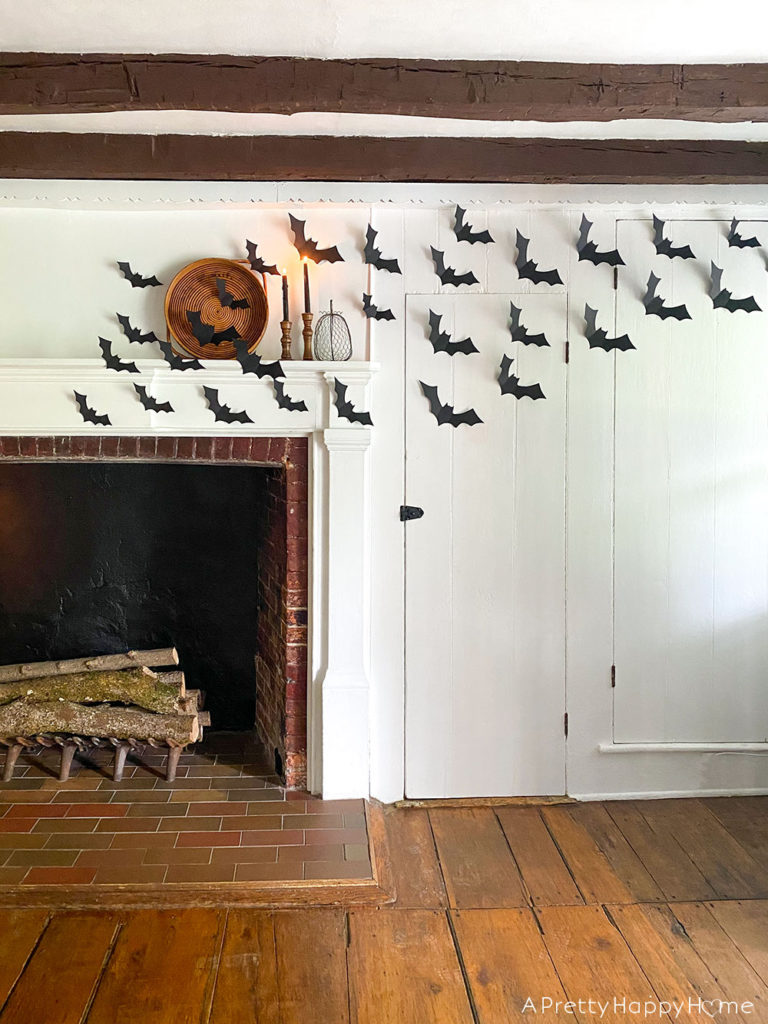 Speaking of my future plans, I have no idea how many years we will live in this Colonial Farmhouse. That means I need to really savor the unique decorating opportunities this house serves up to me on a platter.
For instance, don't you think we have a great house for all things witch decor related?
You know, because of the architecture in our dining room…not for any personal reasons.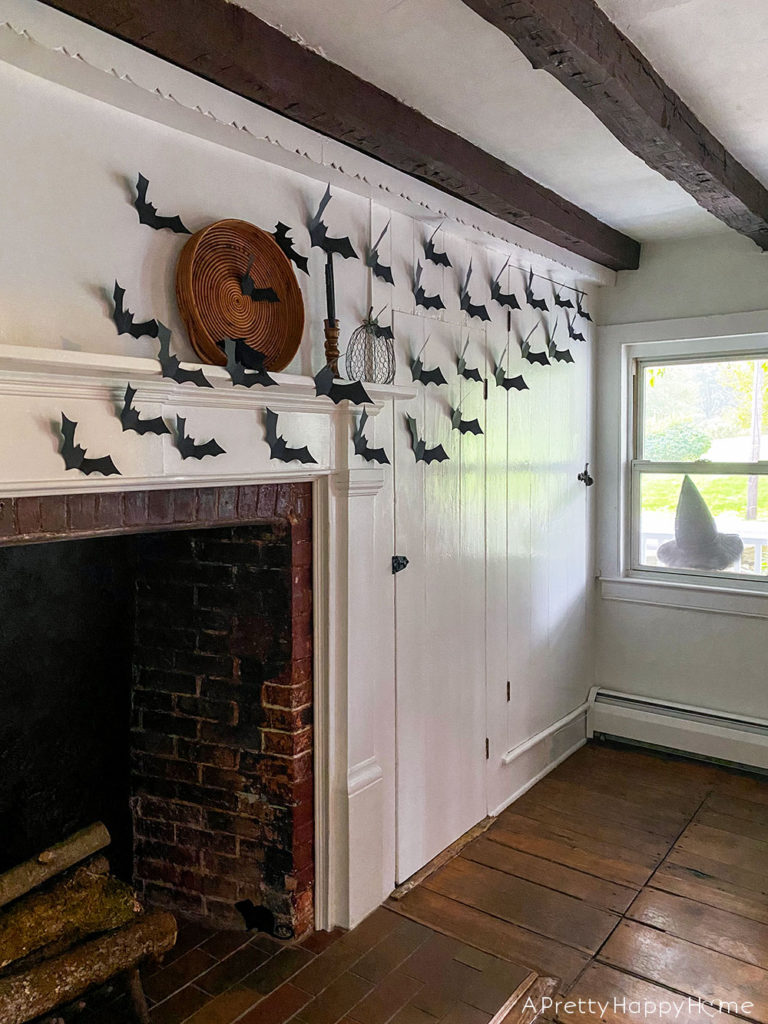 This year's Halloween mantel is all in good fun. If I really wanted to make my Halloween decor look authentic, I wouldn't use paper bats I'd stage a photo in our attic.
From the first moment I saw this house, my overactive imagination just knew a movie needed to be filmed up there during a thunderstorm. The main character would open her book of spells and she'd use it to cast out all the evil troubling the town. Then they'd all live happily ever after.
However, I don't really like to be up in our attic because I know mice also like to be up there. That's TOO authentic if you know what I mean.
I'll stick with the paper bats and the DIY witch's broom in our rustic dining room.
If you're saying, "Wait? This is a dining room?" Yes. It is. Our table is behind me in all of these photos.
Our dining room fireplace would have been where meals were cooked when this home was built in the late 1700s.
All. the. meals. Every. day. Over and over until you died.
Makes you darn happy for your microwave, doesn't it?
---
I hope you enjoyed my Halloween Mantel and DIY Witch's Broom. If you make a broom of your own, please tag me on Instagram or Facebook or leave me a comment here. I'd love to see what you create.
---
Thanks for being here! I hope today's post made you smile. Here are some other posts you might enjoy.
The Other Time I Made a Witch's Broom When We Lived in Ireland
How NOT to Make a Book Pumpkin. A funny tale of where I went wrong.