How to Remove Plexiglass Film That is Stuck On
After much trial and error, I can definitively tell you how to remove plexiglass film that is stuck on. I'm talking baked-on protective plexiglass film that no amount of prying or peeling will remove.
If Google brought you here to fix this specific problem then this below photo of plexiglass film that is stuck on probably looks familiar. Hopefully yours isn't dotted with tears of frustration.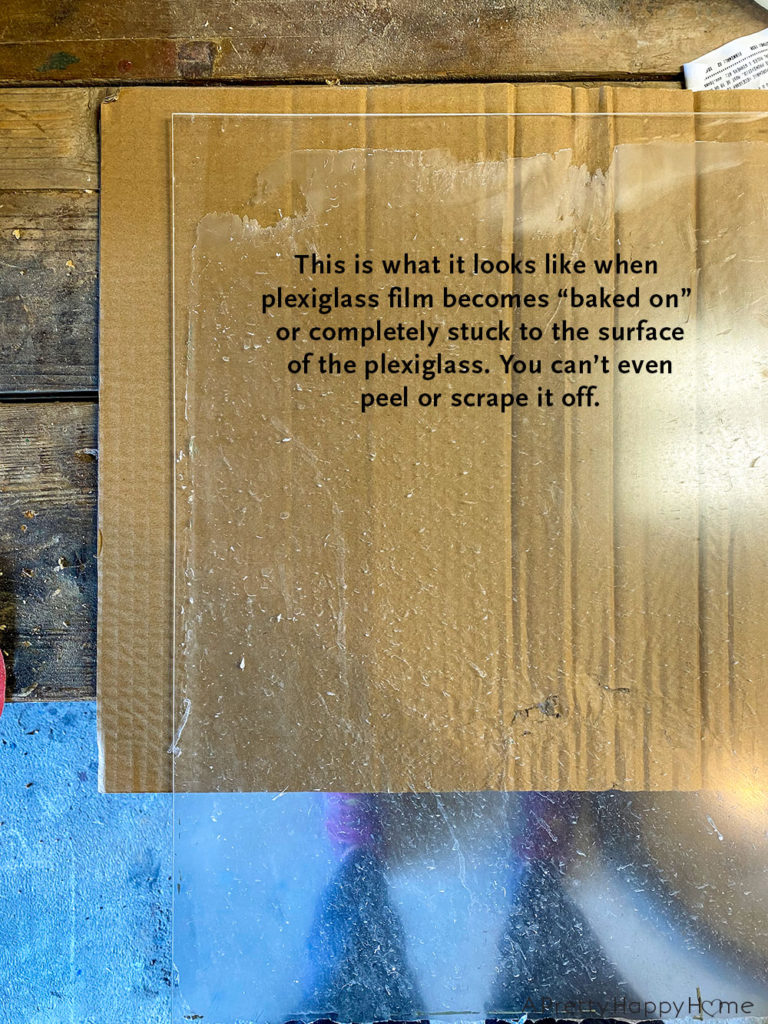 We had a piece of plexiglass that was installed over a broken basement window. We don't know how long the plexiglass had been filling the role of a window but suffice to say it had been years. No one had ever removed the protective plexiglass film and over time the plexiglass film had become one with the plexiglass.
We could not get it off.
So many things can scratch plexiglass, but we gave the following techniques a try:
We tried heating it up with a hairdryer.
We tried a Magic Eraser.
We tried scraping at it with a plastic putty knife.
We tried every cleaning product under the kitchen sink.
We tried praying to the plexiglass gods.
This was getting ridiculous!
A bunch of online forums mentioned a 3M General Purpose Adhesive Cleaner. We happened to have some in the garage that the previous owner who installed this plexiglass window had left.
Rubbing the adhesive cleaner on won't work, but I learned the technique that WILL work.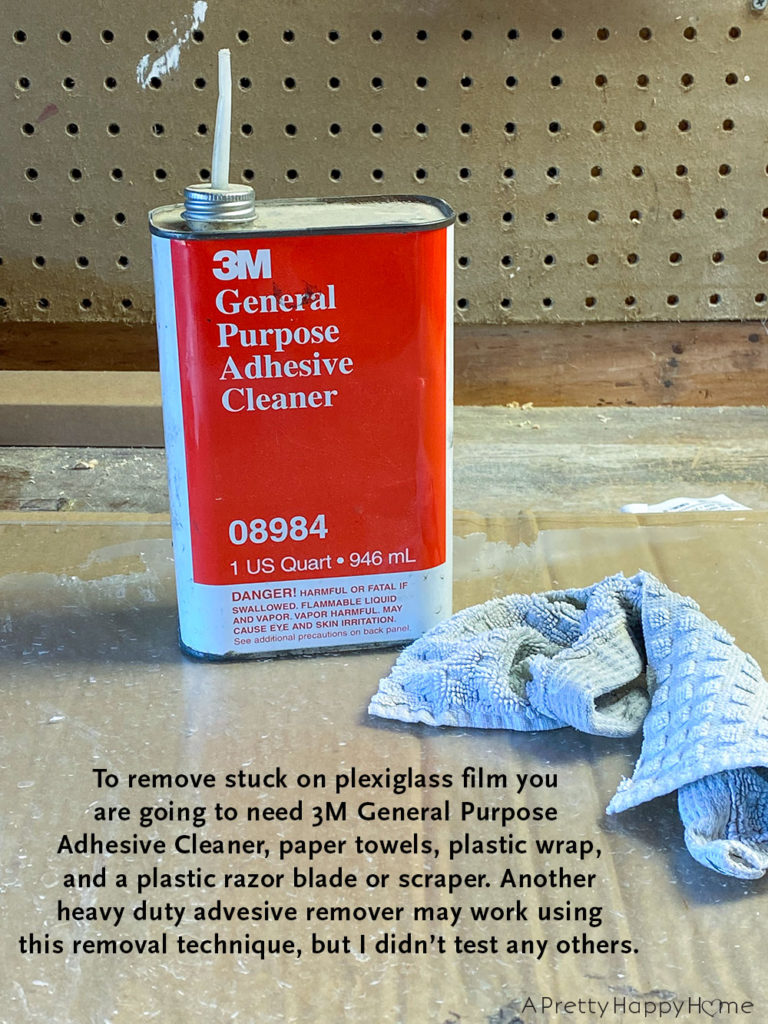 ---
Here's how to get started removing the plexiglass film that is stuck on:
You need to saturate a paper towel(s) with the 3M General Purpose Adhesive Cleaner. (It also comes in an aerosol can.)
Lay the saturated paper towel(s) on top of the plexiglass film that is stuck on. Wrap the entire thing in plastic wrap so that the paper towels don't dry out. This is key.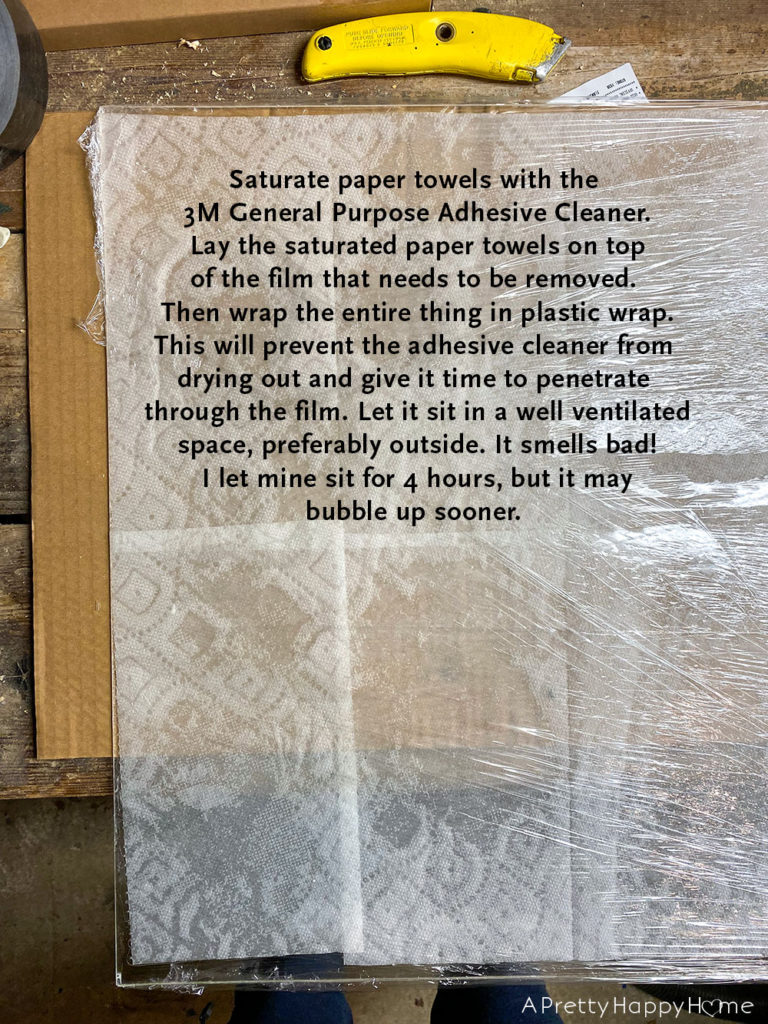 Set the wrapped plexiglass in a well-ventilated area, preferably outside. This stuff stinks and cannot be good to breathe.
Let it sit until the plexiglass film starts to bubble up.
I actually don't know how fast this will occur.
I came back to check on a small section I tested after 3-4 hours and it was all bubbled up and ready to be scraped.
Since that was a success, I let the 3M General Purpose Adhesive Cleaner work its magic on the rest of the plexiglass overnight and that turned out great too!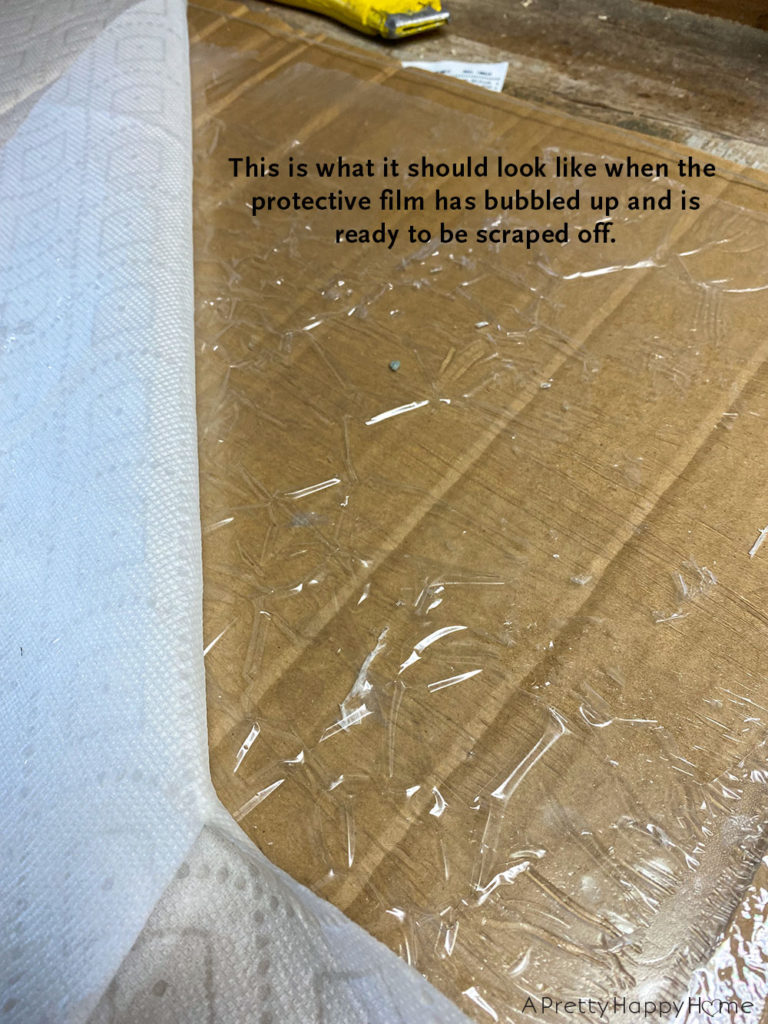 When the plexiglass film that is stuck on has bubbled up gently scrape it off with a plastic razor blade.
The plastic razor blade shouldn't scratch the plexiglass. A plastic putty knife would probably work too.
Use the saturated paper towels that you just removed from the plexiglass to further clean off any adhesive residue that is left on the plexiglass.
Dispose of the saturated paper towels carefully.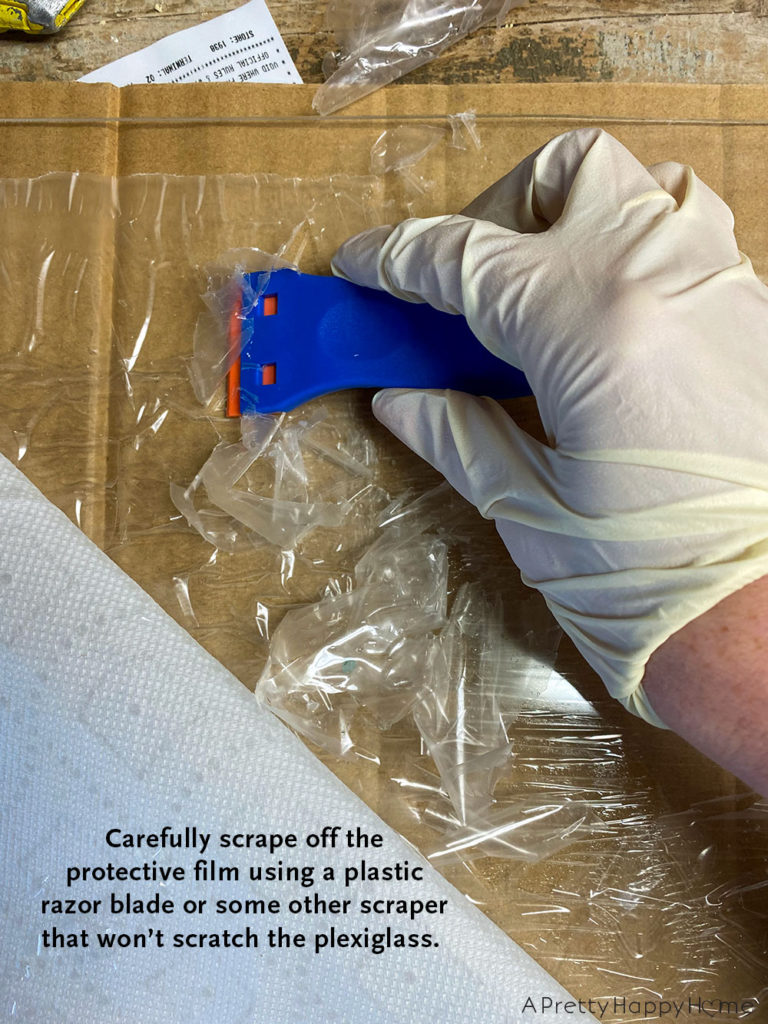 All you have to do now is celebrate having a clean sheet of plexiglass!
Actually, all you have to do now is get back to whatever project you wanted to complete before you realized the plexiglass film was stuck on the plexiglass. Ha!
I hope you feel much happier having solved this problem!
---
P.S. It's possible the removal technique described in this blog post would work using a different adhesive remover. If you try another product and find success, please add a comment to this blog post to help other folks out. You can also email me or tag me on Instagram or Facebook and I can add the tip to this post. Let's help each other out!
---
Products Used in This Tutorial:
3M General Purpose Adhesive Cleaner
3M General Purpose Adhesive Cleaner AEROSOL
---
Thank you for being here today! I hope today's blog post was helpful. I would love to see you around these parts again! Here are some other posts you might enjoy.
How to Convert a Tub/Shower to a Closet Without Damaging the Shower
DIY Charging Bench for Electronic Devices
*affiliate links in this blog post*