5 Fall Decorating Tricks To Give Your Home Cozy Vibes
I have learned a few tricks to give my home cozy, fall vibes without using fall-specific home decor. It's a subtle, but surprisingly effective approach.
Other than Christmas, I don't keep much seasonal-specific decor on hand. I've never had room to store those items and tend to skew a bit more minimalistic on the decor spectrum anyway.
It's a good thing for me that there are some easy tricks to make my home look and feel ready for fall without having to hang an "it's fall y'all" sign. (No shade intended.)
In fact, you might like these ideas so much you use them all year. That's what I do. My home can be ready for fall, arguably the best season, at any given moment and I make no apologies for it. I like what I like.
Here are my 5 fall decorating tricks to give your home cozy vibes.
---
Fall Decorating Trick #1: Toss a throw blanket with warm fall colors over a chair.
Throw blankets solve a lot of problems don't they?
Keep you cozy, hide a stain on a couch, provide a roof for a fort, act as seasonal decor, and the list goes on.
Bust out a throw blanket with tones of mustard yellow, rust orange, or cinnamon brown, and faster than you can say pumpkin spice your living room is ready for fall.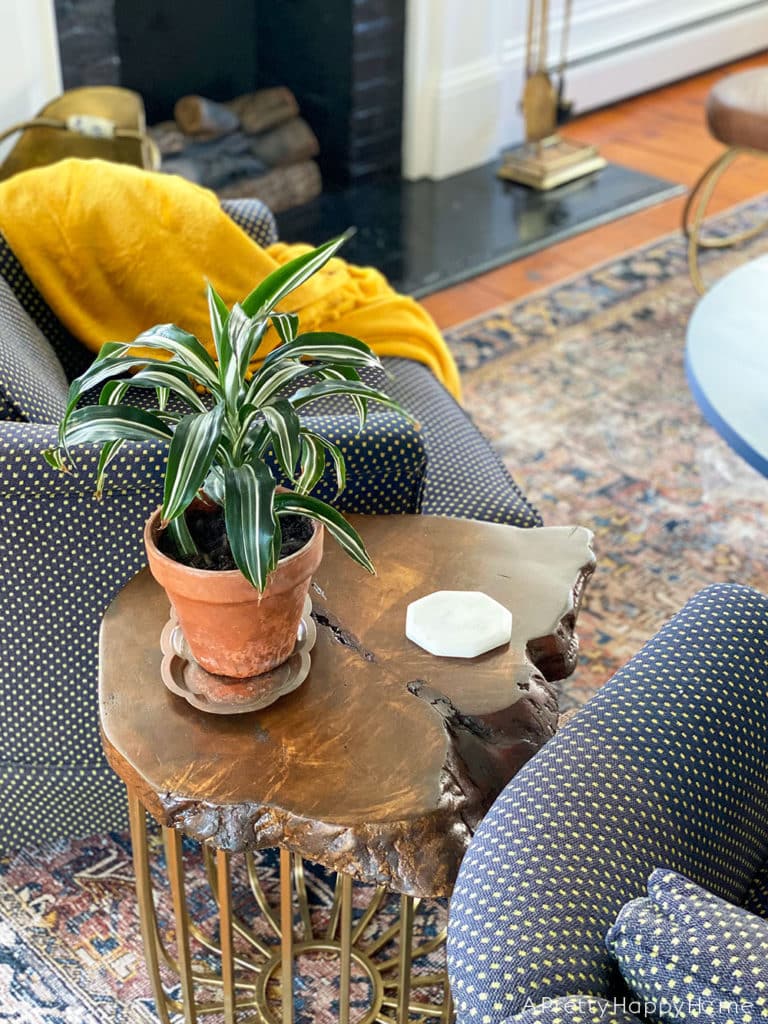 The hardest part of this whole shebang is figuring out how to casually drape a throw blanket over a couch or chair arm to make it look effortlessly cool. Have you tried it? It's harder than it looks!
---
Fall Decorating Trick #2: Dried foliage is your friend. 
Dried foliage is your friend when it comes to fall decor, but not just any dried foliage. Keep the corn stalks outside and bring the pampas grass or wheat stalks inside.
Stick them in a vase and you've got instant fall vibes happening.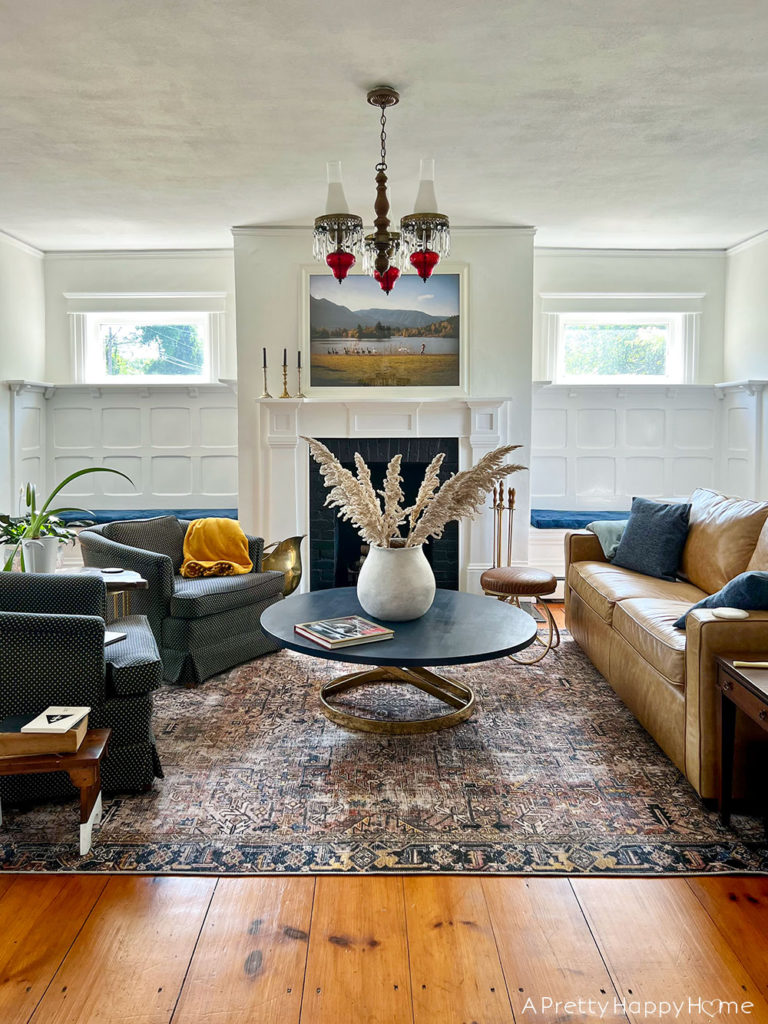 Please note that pampas grass is one of those items that you need to put in a vase and then never touch again in order to avoid it dropping little fluffy bits of insanity everywhere. Don't even look it directly in the eye – it knows.
Also, don't know where to get wheat stalks and you don't live next to a wheat field?
Amazon has you covered for that. I bought a bunch of 100 there last year.
Just be aware that 100 wheat stalks seem like a lot more than it is. When I'm done using the wheat stalks for the season, I carefully wrap them in plastic wrap or parchment paper and store them in a safe place where they won't be disturbed so that the stalks don't break.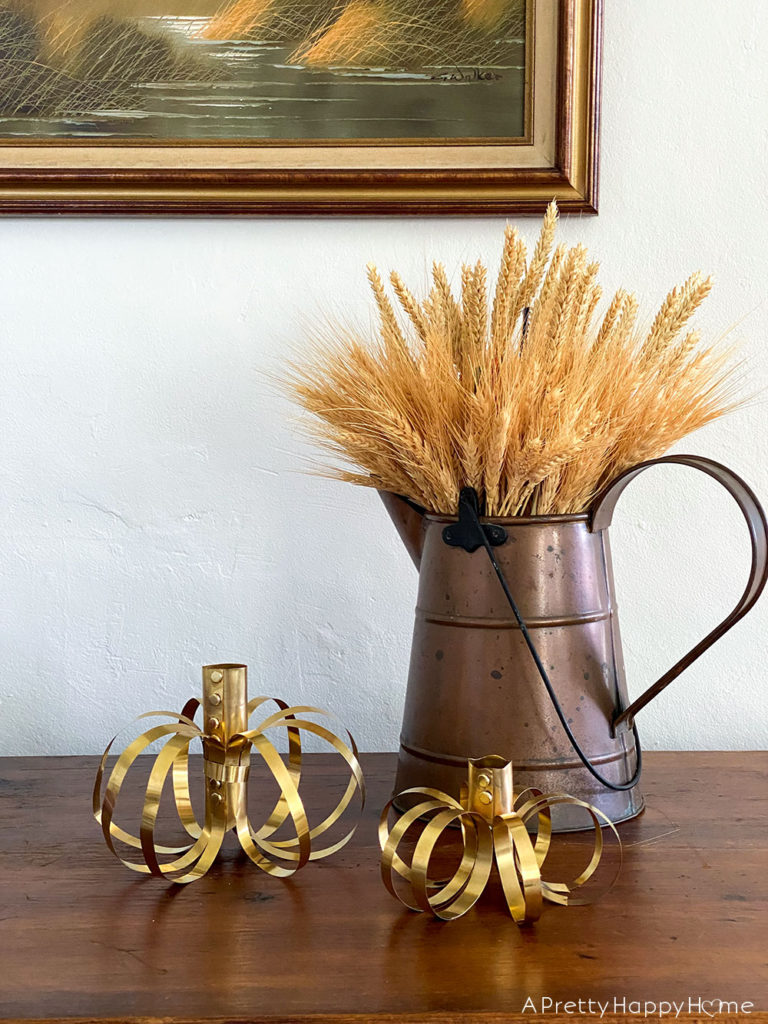 ---
Fall Decorating Trick #3: Hang art with warm, fall colors.
I might not collect seasonal decor, but I do have a few extra prints and paintings that I can rotate around the house when the mood or season strikes.
In the fall, it's a subtle, but effective visual cue that autumn is here and we're getting cozy to hang art around your home that has warm, fall colors or depicts fall scenes.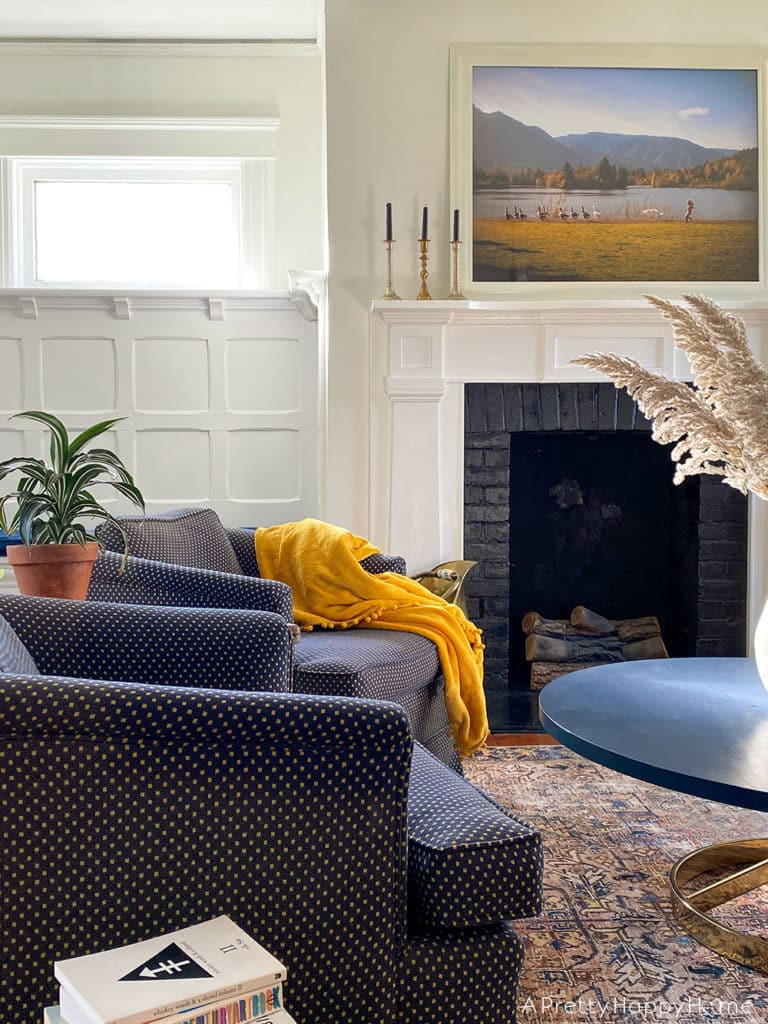 P.S. That picture over my fireplace stays up year-round except during the holidays because I love it so much or rather, I haven't found anything I love more for that spot yet.
---
Fall Decorating Trick #4: A fruit bowl, except make it pumpkins.
I shouldn't even include this fall decorating trick because it's so easy it feels like cheating.
Put mini pumpkins or gourds in a pretty bowl and set it anywhere for instant cozy, fall vibes.
Coffee table, entry table, dining table, side table, kitchen counter, dresser, shelves – all these places would look fabulous with a bowl of pumpkins.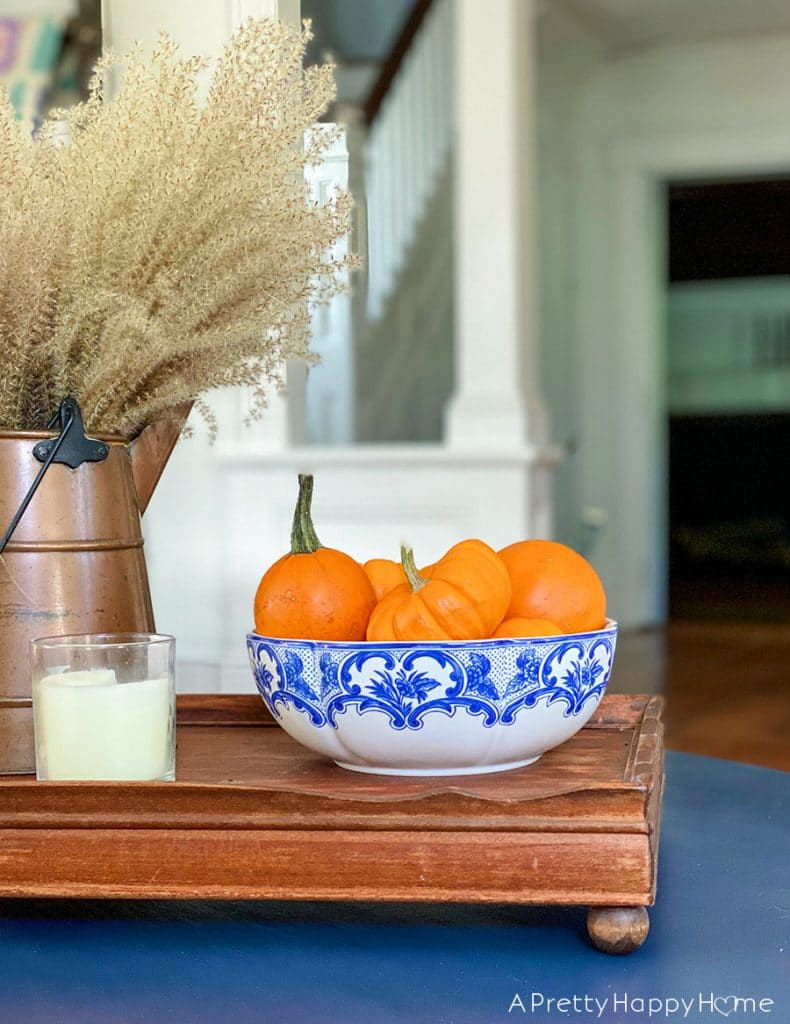 Just maybe show a touch of restraint and don't put a bowl of pumpkins on every horizontal surface in your home. Save some pumpkins for the rest of us!
---
Fall Decorating Trick #5: Treat yourself to a fall floral arrangement.
Treat yourself to fresh flowers in the fall. I know you've probably bought mums for your front porch, but a pop of freshness inside does wonders for your house and you too.
Fresh flowers equal self-care to me!
I usually buy my flowers at the grocery store because that's where I shop the most and where flowers are, in my experience, the least expensive.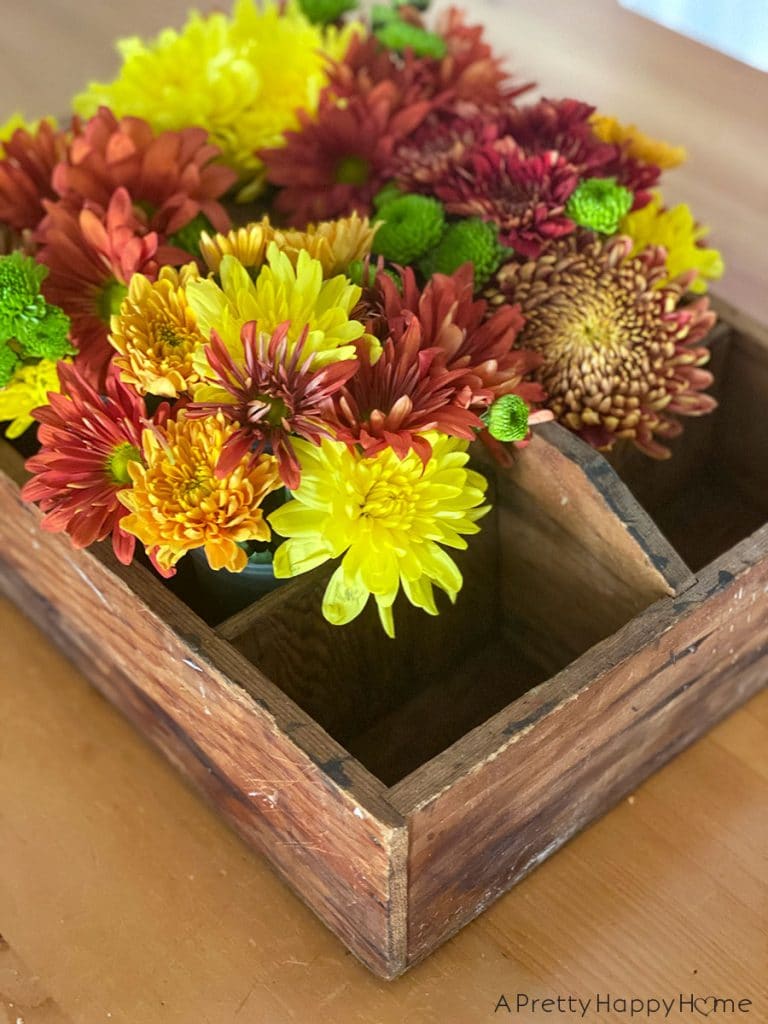 ---
What did you think of my 5 decorating tricks to give your home cozy, fall vibes?
Love them? Hate them? Already do them? Did I miss any? I'd love to know. You can always comment on this blog post (I have to approve it first before it appears), email me here, or reach out via Instagram or Facebook.
Happy (almost) Fall!
---
Thank you for sharing part of your day with me. I hope you had a good time. Here are some other blog posts that might tickle your fancy.
Would I Make It Again: Maple Glazed Apple Pull-Apart Bread
*affiliate links in this blog post*