Christmas Mantel With Three Wreaths
Our Christmas mantel above our dining room fireplace is decorated with three wreaths this year.
Three wreaths.
Three wise men.
Coincidence?
Probably.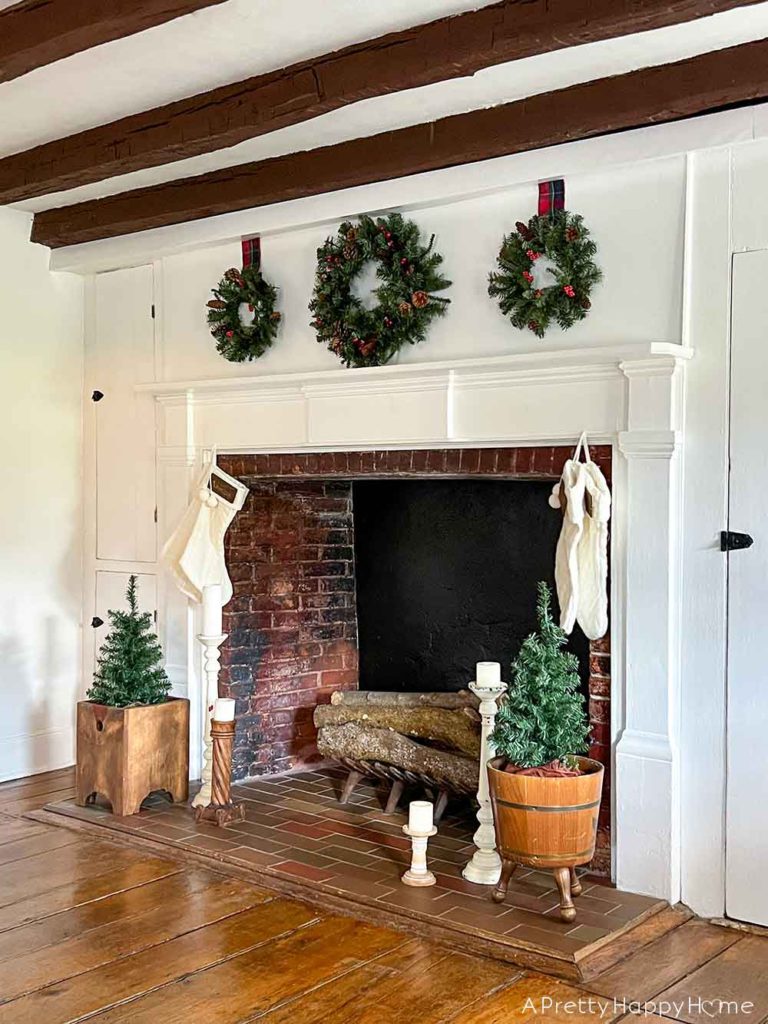 Last year, I went a little wild and made a quadrillion (or so it felt like) paper snowflakes to decorate our Christmas tree and the Christmas mantel in the dining room.
I loved that Christmas mantel and saved those paper snowflakes because they did take me binge-watching multiple seasons of Gilmore Girls to make.
That's not time wasted, but not time I can get back.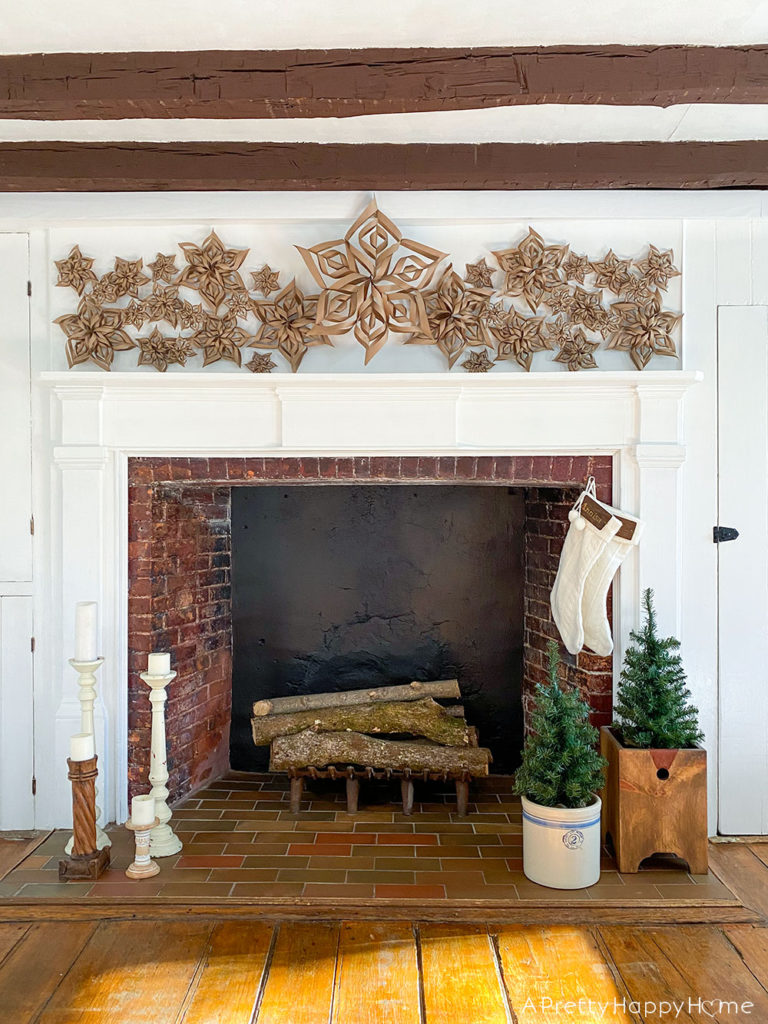 However, this year, I wanted something greener and more natural for our Christmas mantel.
What else says green and natural like faux wreaths and faux Christmas trees?
I would use real greenery but dried-out greenery that drops needles everywhere gives me a bad case of Grinch-itis and I'm really trying to avoid that condition this year.
It should also be mentioned that this fireplace is not currently in use, so regardless of the type of greenery that I use to decorate our Christmas mantel, there isn't an elevated fire risk.
Will we ever return this fireplace to a working one? Perhaps, but it's so low on the list of things to do in this colonial-era farmhouse that it might as well not even be on there.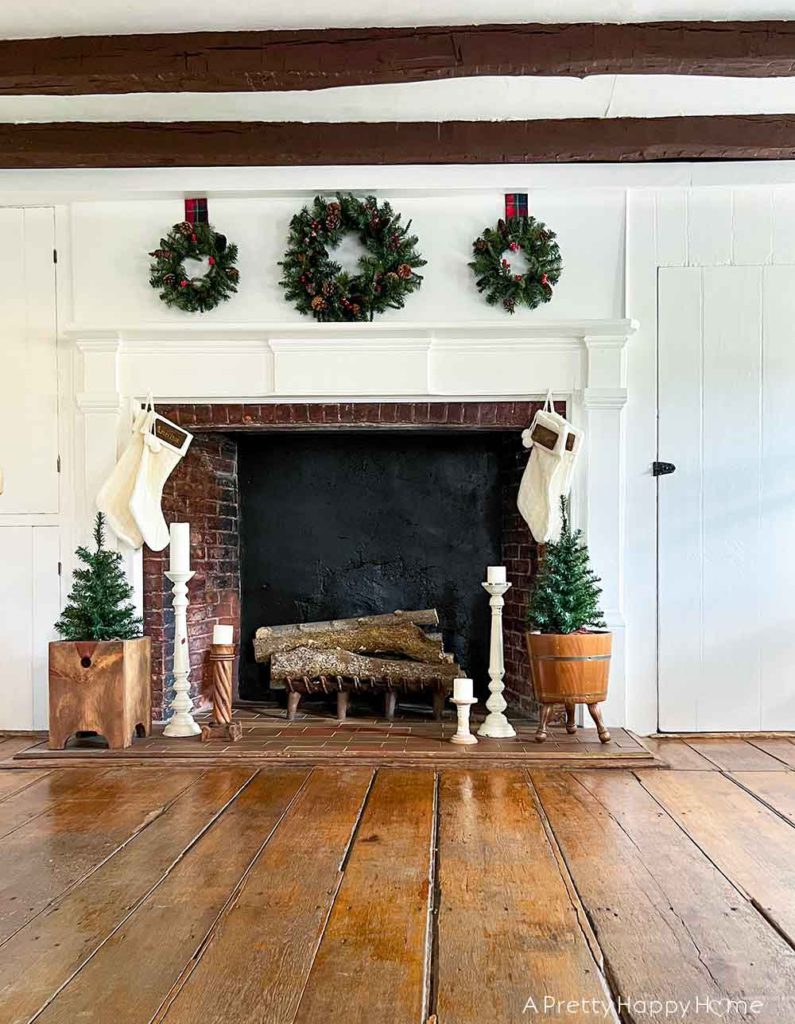 To get the fireplace working again, we'd need to inspect the chimney for safety issues. Although, we don't have any reason to suspect there's a problem with it. It just hasn't been used in a long time.
The bigger issue, the way we currently understand it, is that the floor of the firebox would need to be raised higher to get the correct draft. You can tell from the marks on the bricks that it used to be higher.
Instead of focusing on fireplaces, we'd rather spend money on modernizing the heating system of this colonial-era home to something more efficient, cost-effective, and environmentally-friendly than what we currently have.
Besides, this dining room fireplace makes a big statement even if we never light a single fire in it.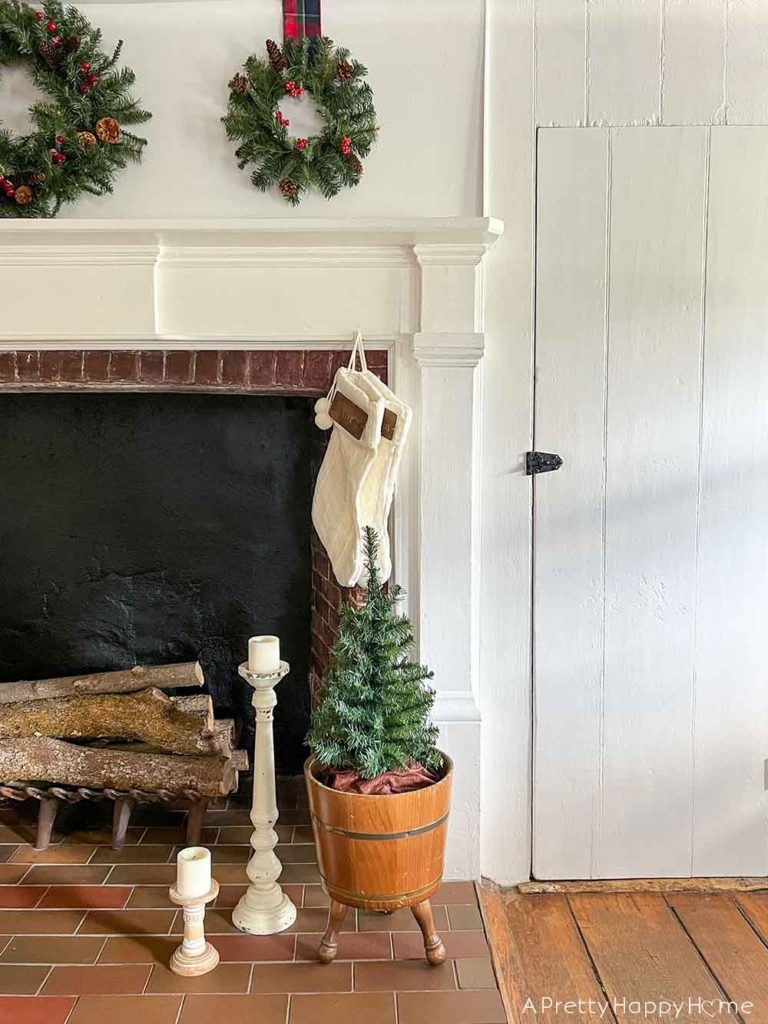 I do mean big in the literal sense.
This fireplace is very large. It's almost seven and a half feet wide! That's about as wide as the tallest NBA player is tall!
(The tallest player inducted into the Naismith Memorial Basketball Hall of Fame is 7-foot-6-inch Yao Ming, according to Wikipedia. You can't say you don't learn something by reading this blog! Ha!)
When our home was originally built in the late 1700s, it was just this room where the fireplace is located and a sleeping loft above. Presumably, the fireplace would have been used for cooking and heating.
In the mid-1800s, it is very likely that this home gained a very modern-for-the-time coal-powered cooking stove.
In its almost 250 years long lifespan, this old house of ours has experienced quite a lot of technological advancement. From cooking over a fireplace to ordering food for delivery on our iPhones.
When people look back with longing for "the good old days" I think, "Really? Do you know what it used to take to get dinner on the table? And breakfast? And lunch?"
I'm good with this current era.
Wow.
This story started with a Christmas mantel and 3 wise men and ended how every day ends with one person pondering what to make for dinner.
I'd say my work here is done.
Happy Christmas.
---
Do you have a fireplace all decorated this year for the holidays? I'd love to hear about it or see pictures. You can always comment on this blog post, email me here, or reach out via Instagram or Facebook.
P.S. Other than some new ribbon, everything used to decorate my Christmas mantel was stuff I already had on hand. It feels good to decorate using items I already own but use those items in a new way. It's the ultimate decorating challenge!
---
Thanks for being here today! Here are some other blog posts you might enjoy. 
DIY Wood Name Tags for Storebought Christmas Stockings 
Christmas Trees In Every Bedroom