Piano Hammer Christmas Ornaments
Piano Hammer Christmas Ornaments.
Trust me. This is a thing now.
Okay, okay. It is probably only a thing on my Christmas tree!
Every trend starts somewhere, right?
---
To recap, we took apart an old upright piano because we could not find anyone to take it off our hands. It took more time and effort than we want to admit. On the plus side, we have been repurposing the piano parts. For instance, I turned the piano harp into wall art. I donated the piano keys to our local middle school for an art project. We turned the back of the piano into a garage workbench.
---
The piano hammers, in the below picture, are the kind of tennis racquet-shaped pieces below the piano's tuning pins. They have a rounded end made out of felt and that is what strikes the piano strings to produce sound. The type of felt and how it is adhered to the hammer contributes greatly to all of the nuanced sounds that a piano can produce.
I no longer cared how this particular piano sounded, but the hammers did look interesting. In fact, the cream, red, and ice blue colors of the piano hammer felt screamed Christmas to me. Or maybe they were just screaming "why did you take me apart?"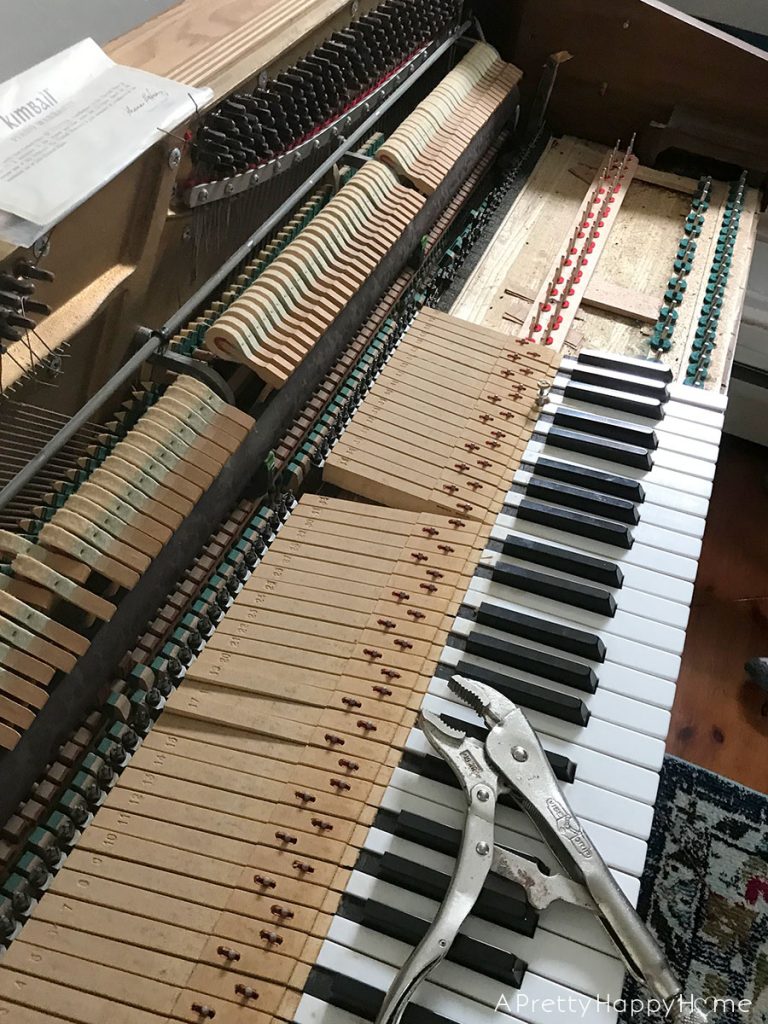 Making the Piano Hammer Christmas Ornaments was actually pretty easy. It was just time consuming because there were 88 of them.
We weren't super precise when we took apart the piano, so the hammers were left with a spiky dowel on one end. Spiky dowel is not a technical term. That is actually the hammer shank. I had to cut off the hammer shank (I used this oscillating tool) and then sand it smooth.
After that, I drilled a tiny hole in the wooden hammer moulding. By the way, that IS the technical term. I am a pianist, but I did have to look that one up!
I planned to hang my Piano Hammer Christmas Ornaments from the tree with embroidery thread, so I just needed my hole to be big enough to pull the thread through. Honestly, the threading part was probably the longest step in this project.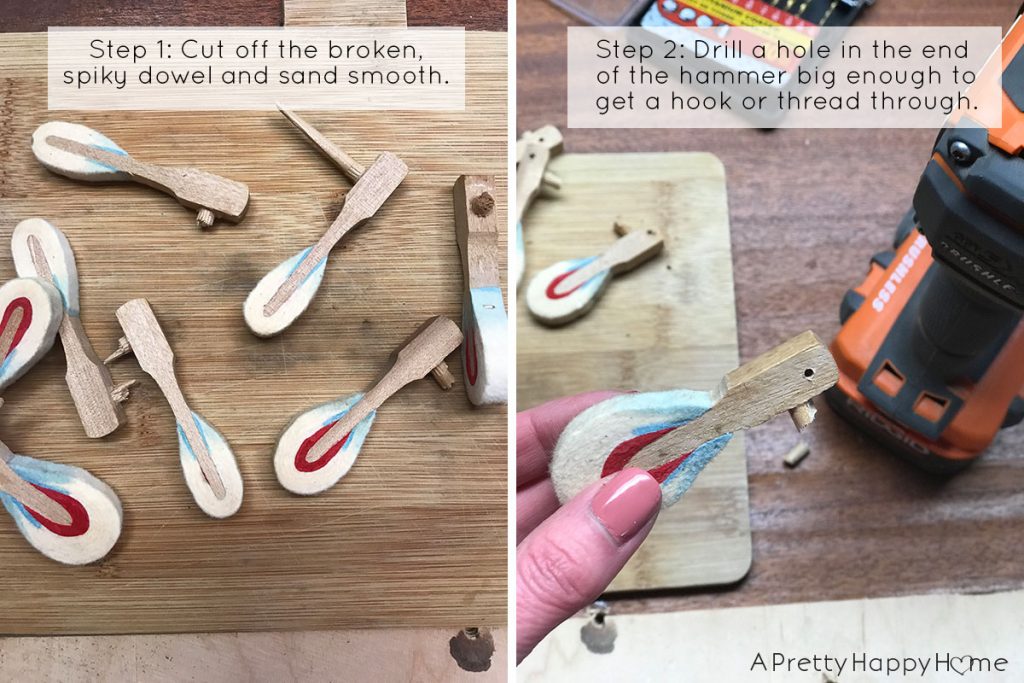 When I start a project, especially one where I'm winging it, I don't know where it will land on the scale from amazing to epic fail.
However, this time, I'm pleasantly surprised with how the Piano Hammer Christmas Ornaments turned out!
Phew!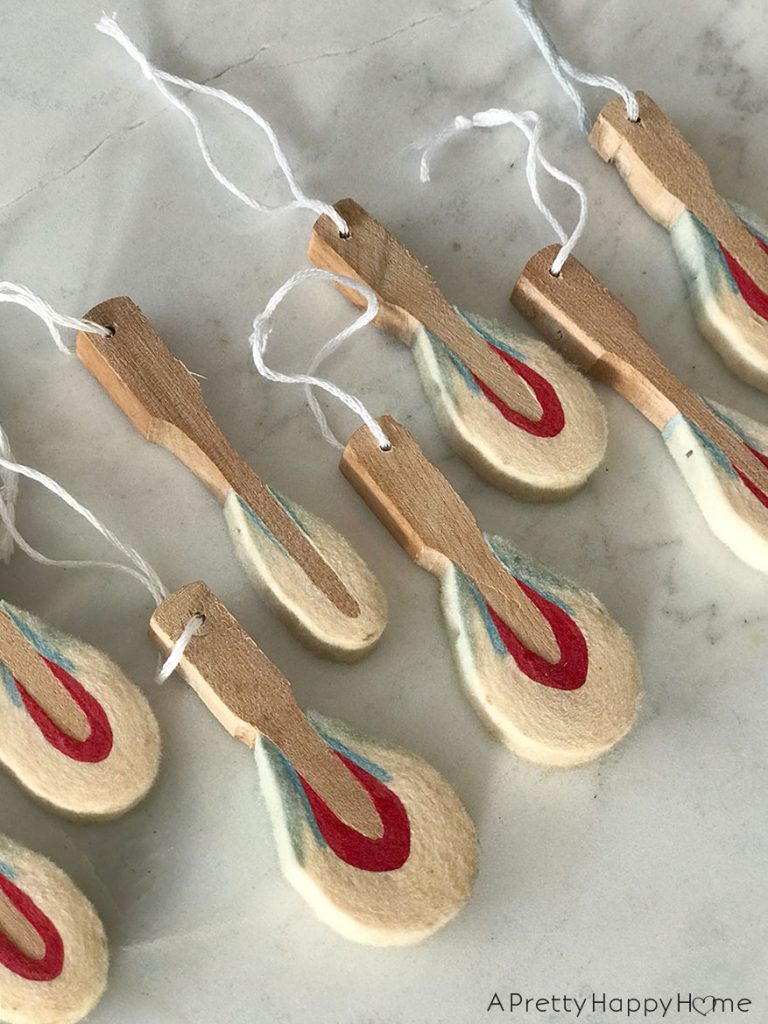 To me, the Piano Hammer Christmas Ornaments are interesting without being overly kitschy.
If you didn't know what they were, you might not even think I had a music-themed Christmas tree this year.
I do love a subtle decorating statement.
That's why I made sure to hang all 88 of them on my tree.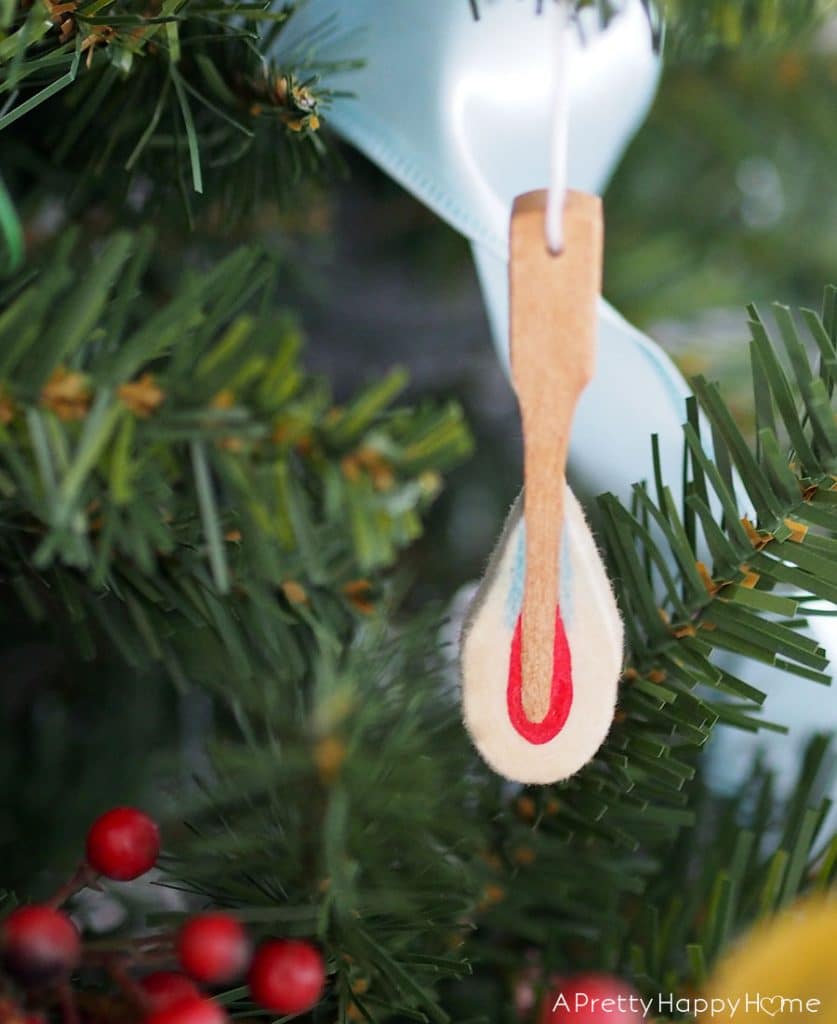 Now! Drumroll please!
I have one more surprise ornament for you because Piano Hammer Christmas Ornaments weren't enough.
I needed to use up some of that piano wire too!
So now I'm declaring Piano Wire Christmas Ornaments are another trend that is sure to catch on. Just wait for it…
We may be here awhile.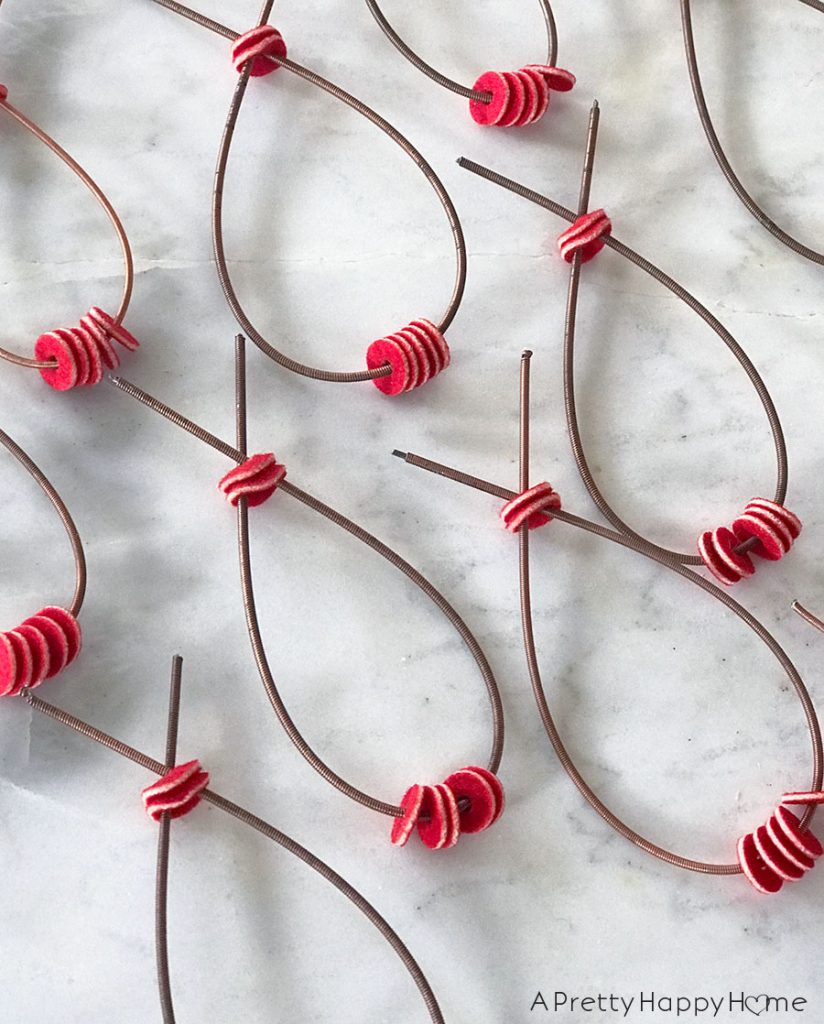 I really wanted to turn the piano wire into Christmas trees, but that wire is not easily bendable. Well, it bends, but it is hard to keep it in a particular shape. I haven't given up on the tree idea. I just haven't figured it out yet.
Instead, I turned sections of the piano wire into ornaments by using some of the felt discs that came off of the piano.
The discs are actually called punchings
and they come in different thicknesses depending on where they are installed inside the piano. If you reference the very first picture in this post, you can see the punchings
(red and green ones) underneath the piano keys.
I trimmed the piano wire to size using wire cutters. It took two of the punchings to actually hold the wire in place because the wire has so much tension.
When I was finished making the Piano Wire Christmas Ornaments they reminded me of the ichthus symbol. I only made about a dozen of these before I ran out of red felt punchings.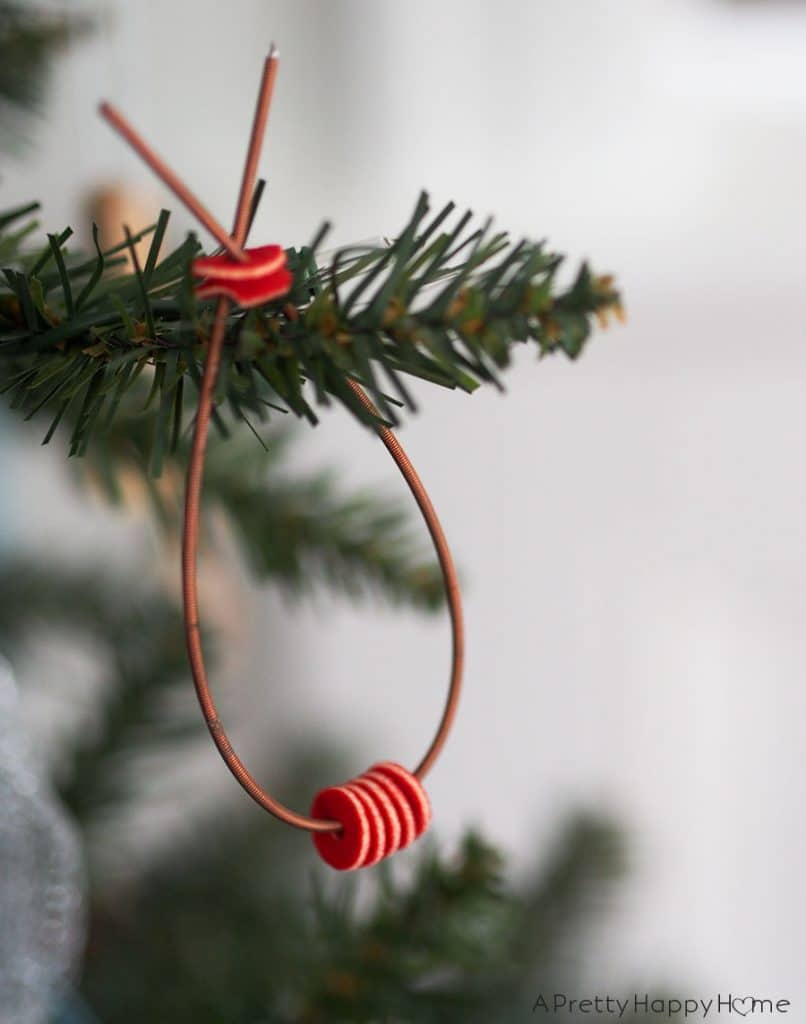 The last bit of piano repurposing on this Christmas tree comes in the form of our tree topper.
That's right! Those are piano pedals on top of my tree.
I'm sure you've seen crazier things, right?
I talked about how the Piano Pedal Tree Topper came to be in this post.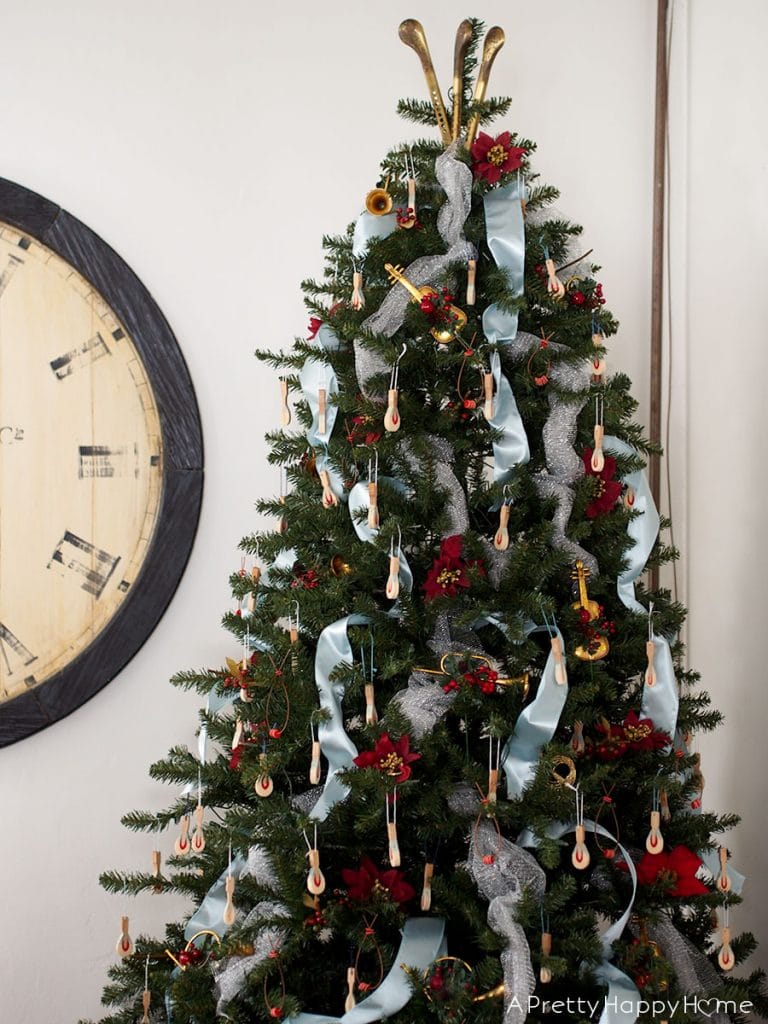 I have had SO MUCH FUN repurposing the parts of the piano we dismantled.
It has been the best kind of creative challenge to find clever and beautiful ways of using the piano parts and pieces in my home. The sky is the limit of what I could create with the piano parts, but it is much harder, for me, to create something that I will actually use and fits the style of my home.
I realize most people will not dismantle a piano. My hope in sharing these Piano Hammer Christmas Ornaments and Piano Wire Christmas Ornaments is that it will spark your imagination to create something fun for your home.
Happy Christmas and happy creating!
---
P.S. Someone on Etsy turned piano hammers into keychains and I thought that was a good idea.
---
Thanks for hanging out with me today! Here are some other posts you might enjoy. 
11 Things to Know Before Hiring a Piano Moving or Storage Company
Turn Building Blocks into Christmas Ornaments
DIY Wood Name Tags Personalize Christmas Stockings 
*affiliate links in this blog post*