In Praise of Blates (Pasta Bowls)
Have you heard the term blates? A blate is a cross between a plate and a bowl. You might also know them as pasta bowls, low bowls, or dinner bowls.
I feel silly typing the word blate, so you know I didn't make the word up. I read about it on Food52. It seems like a very English language thing to make up a new word, doesn't it? However, using the term blate instead of pasta bowl does imply that things other than pasta can be eaten in these dishes with shallow sides.
Now here's where the story gets really wild. We eat almost all of our meals on blates or pasta bowls. I don't even keep our dinner plates in the kitchen. That's how infrequently we use them.
Unless you're eating something that needs a lot of aggressive knife cutting (we don't usually), a blate or pasta bowl makes more sense, in my opinion.
Using a blate or pasta bowl for all our meals started out as a way to help our kids keep their food on their plates as they were learning how to use a fork and a knife. Because the blate, low bowl, or pasta bowl has shallow sides, it is easier to push food onto your fork without having to use a second utensil or, heaven forbid, a finger.
After a while, we started to prefer blates over dinner plates.
What sort of things do we eat on our blates?
Pasta? Check.
Salad? Yes.
Sandwiches? Of course.
Soup? Of course not.
Scrambled eggs? Definitely.
Pancakes? It could go either way.
Tacos? For sure.
Pizza? Tricky, but I've made it happen.
Rice? Always.
Burgers and fries? Been there done that.
Plus, I'm convinced food just looks better served on blates, especially if you eat a lot of rice or pasta-based dishes like we do.
We've broken a few of our blates in the last year, so here are some new sets that have caught my eye. Please note that every store calls them something different because we can't even agree on that. Ha!
---
Marin Low Bowl | Crate and Barrel
I like the handcrafted look of this low bowl from Crate and Barrel.
While I'm drawn to the white, they also come in really pretty shades of light blue and grey.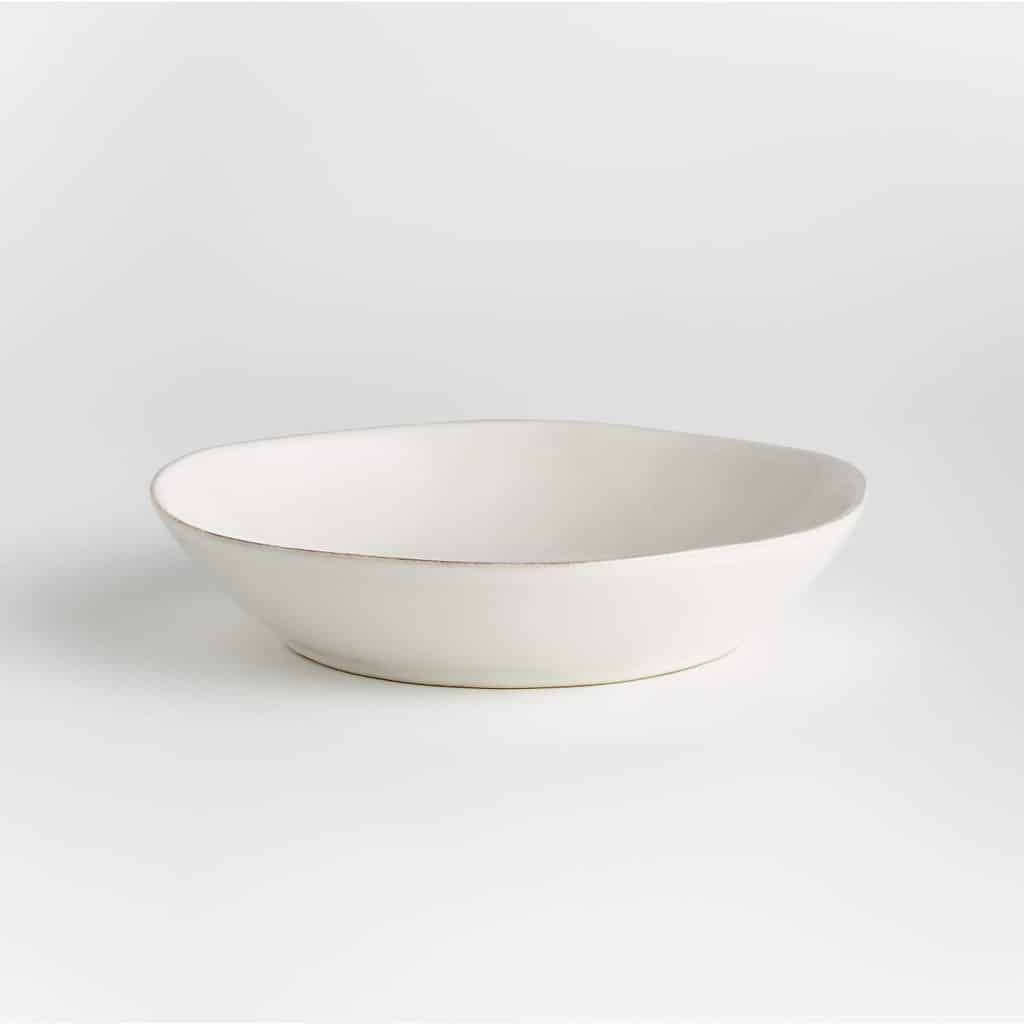 (image: Crate and Barrel)
---
Mora Flat Pasta Bowl | Amazon
Two things I love about these pasta bowls from Amazon. First, they are flat on the bottom. That's key if you need them to be as versatile as a plate. Second, I love the two-toned look of these pasta bowls.
They come in different colors and this mixed neutral palate is so pretty.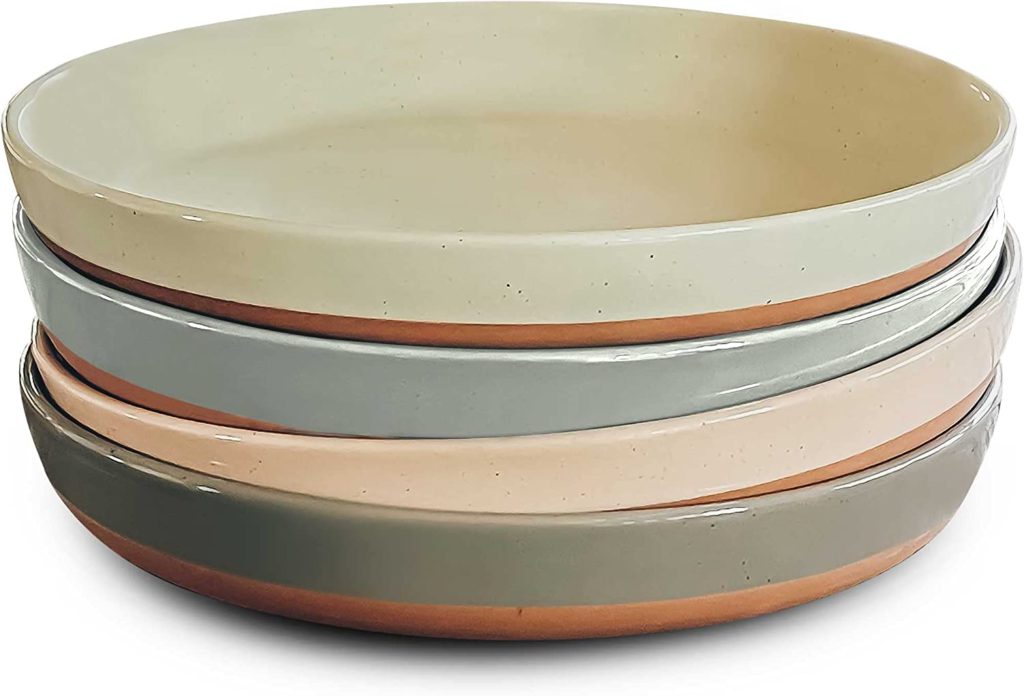 (image: Amazon)
However, if I was going to purchase this set today, I'd almost certainly pick the white. I like the blank slate of white dishes. Food looks great on them and they work for any season or occasion.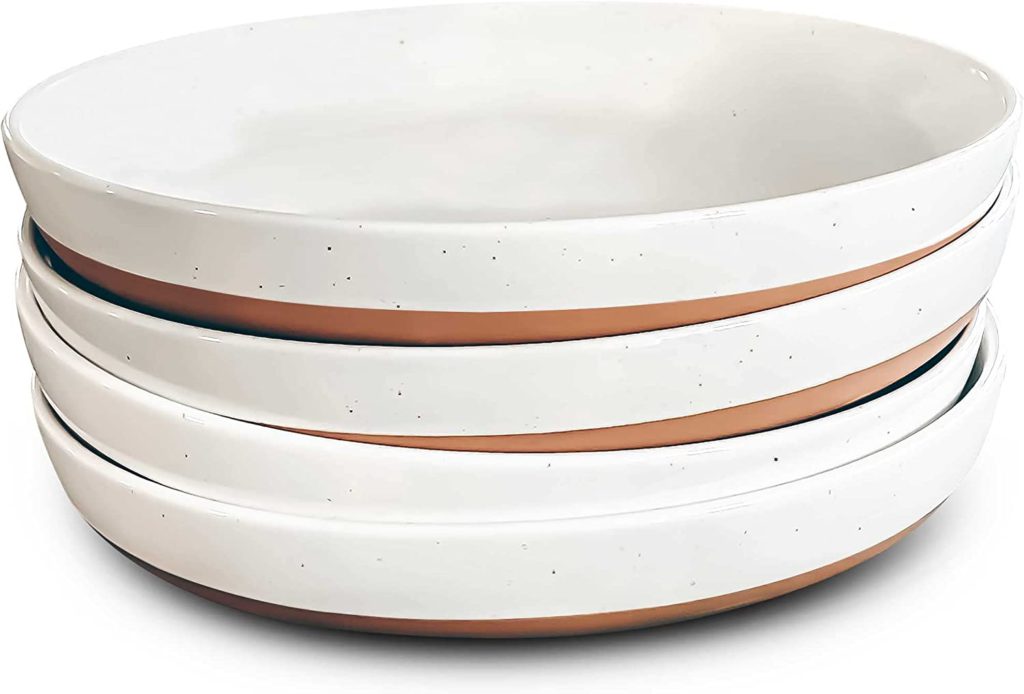 (image: Amazon)
---
Mainstays Chiara Round Dinner Bowl | Walmart
The price is definitely right for these pasta bowls from Walmart ($2.96!) and I do like how the detail is on the inside of the bowl instead of the outside.
They also come in multiple colors, but not white.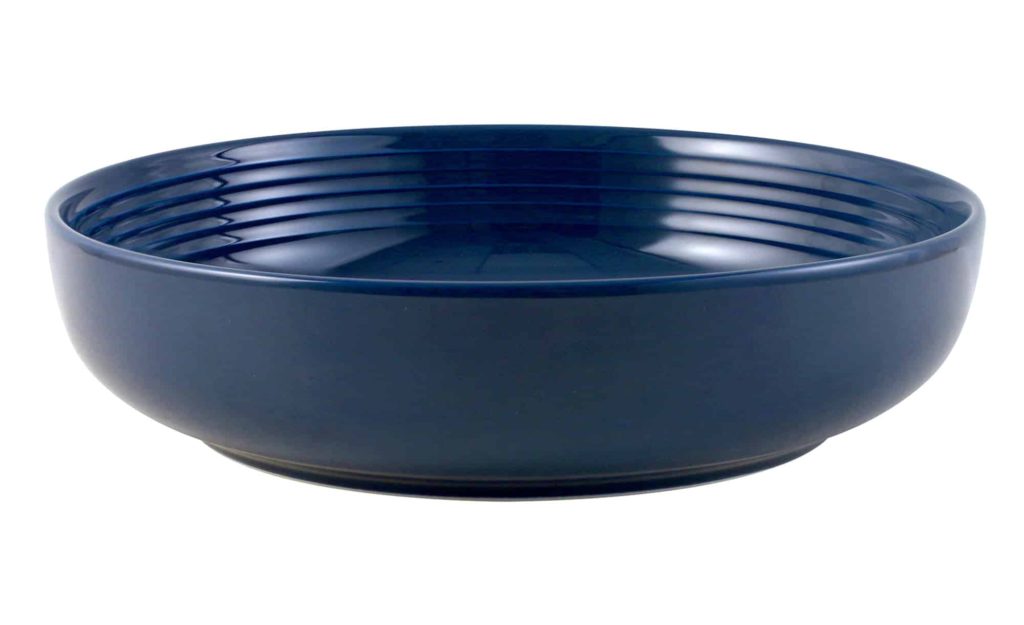 (image: Walmart)
---
Contact White Pasta Bowl | CB2
Can't go wrong with this classic set of white pasta bowls from CB2. I like that they are sold in a set of 8, as well.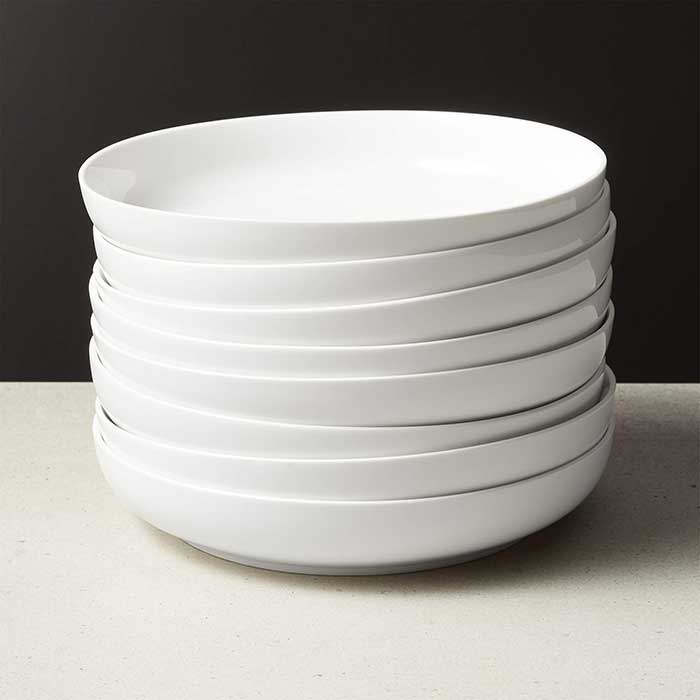 (image: CB2)
---
Blue Reactive Glaze Ribbed Low Bowl | World Market
The detail on these low bowls from World Market is so, so pretty! They would definitely be worth breaking my "only white dishes" rule for.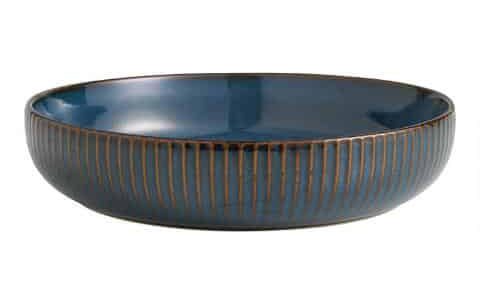 (image: World Market)
---
Melamine Dinner Bowls | Target
Let's finish this list with a shout-out to melamine! I know a lot of people who prefer using melamine dinnerware because it's lighter to lift into cupboards and it doesn't break.
This dinner bowl set from Target is very happy and fun! Plus, a 4-pack is $14 right now, so it's a good way to see if blates or low bowls or whatever you want to call them are something you'd enjoy using.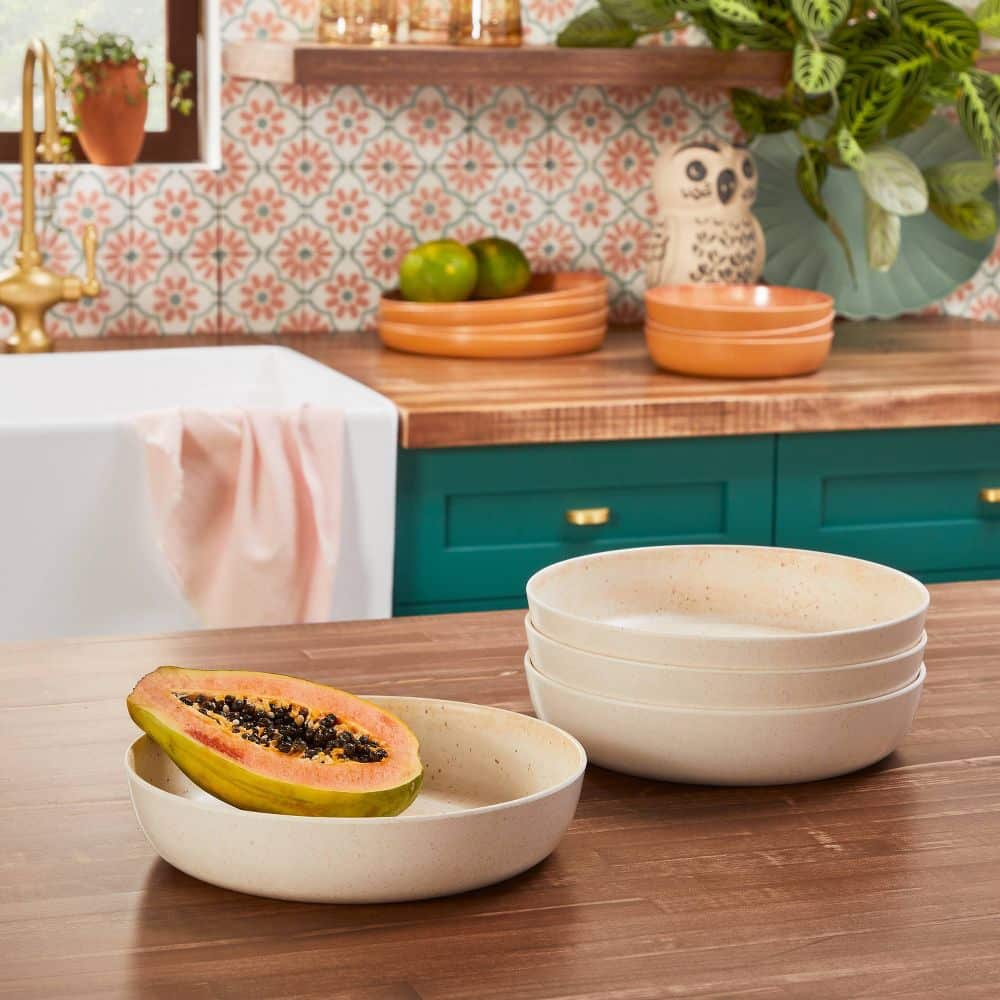 (image: Target)
---
Pretty much every online store I shopped at while researching this blog post offers a version of a blate, low bowl, pasta bowl, or dinner bowl. That suggests to me that these versatile dishes are becoming more mainstream for everyday eating than just for pasta.
Which blates do I currently own? I've owned these Y YHY pasta bowls that come in a set of 6 since 2020. They have 11,000 5-star ratings and I'd definitely give them 5 stars too.
Aside from the silly name, what do you think about blates? Have you given them a try? Do they make you happy? Do you use them for dishes other than pasta? Or do you think this is all nonsense? You can always comment on this blog post, email me here, or reach out via Instagram or Facebook.
---
Thanks for being here today! I hope you had fun. Here are some other posts in this series that you might enjoy.
In Praise of Historic Homes in Salem, MA
In Praise of Miniature Table Clocks
*affiliate links in this blog post*