Did I mention my current horseshoe obsession?
Earlier this month I made a gold good luck horseshoe after being inspired by the September 2015 issue of Better Homes and Gardens.
After that project, I saw the Dutchess County Fairgrounds post this inspirational picture on Facebook and I knew I had to make a horseshoe pumpkin similar to the one they posted. (I don't know who to give proper credit to for that idea.)
A friend messaged me and said, "hey, I have a whole crate of horseshoes. You can have them."
Well, as you can imagine, I calmly replied freaked out and said, "YES!"
She wasn't joking, there was a bunch! I wasn't expecting so many of the horseshoes to have those side tabs, but I guess that's what all the cool horses are wearing these days. I decided to roll with it.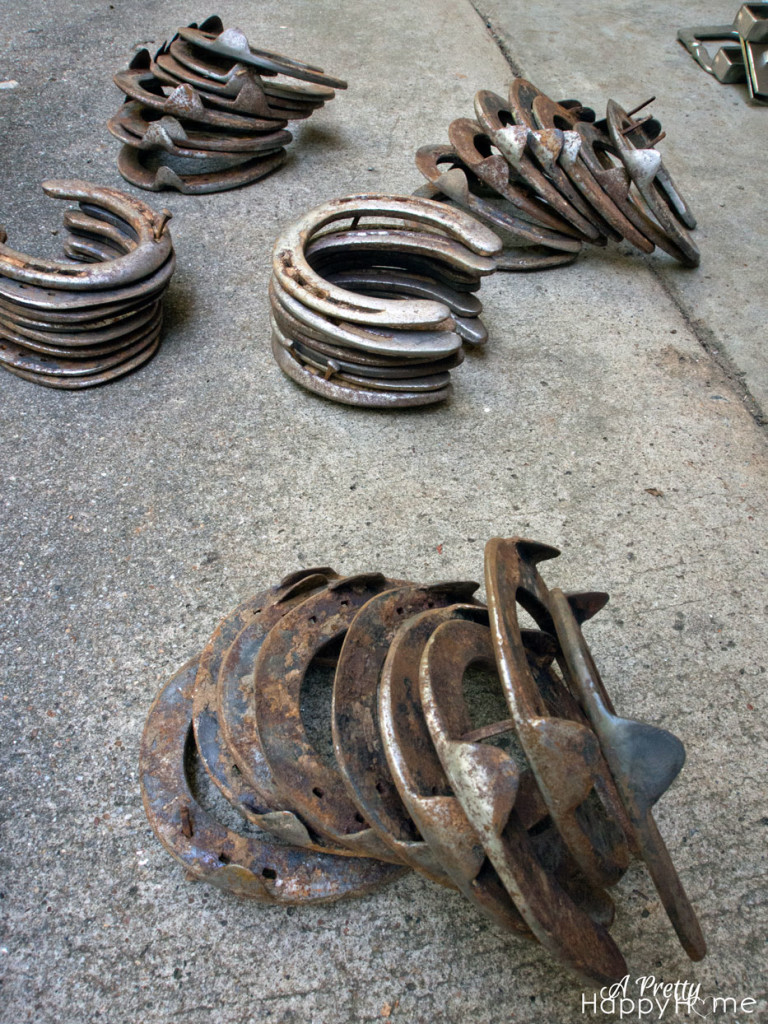 The reason we could even do this project is that Handy Hubby has a wire-fed welder
. The welder doesn't get a whole lot of use and that's a crying shame.
Good thing I came up with a cool welding project, right?

This welder 
is a homeowner-grade welder. It's easy-to-use for a novice welder. The down-side is that it doesn't get quite as hot as we needed it to make seamless welds on the thick metal of the horseshoes.
For most normal homeowner welding, it's going to be just fine. And in this case, it definitely bonded the horseshoes together.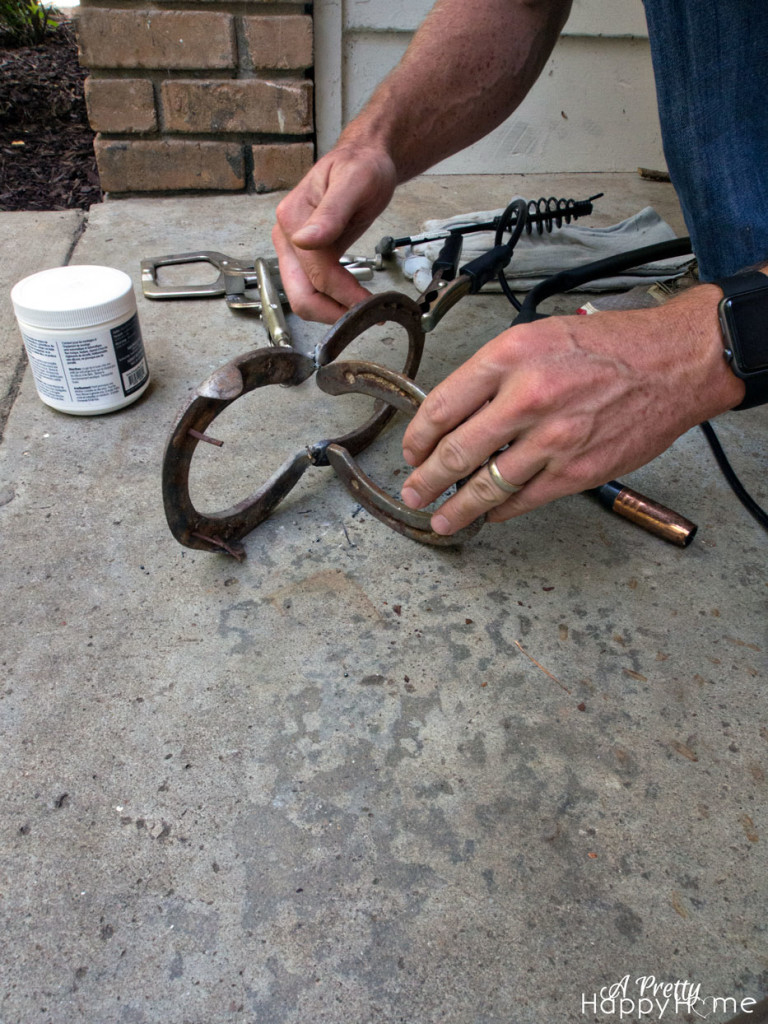 If you're going to make one of these pumpkin horseshoes, you're going to need 8 horseshoes of similar size.
In the big ol' crate of horseshoes I received, there was everything from itty-bitty pony-shoes to gigantic Clydesdale horseshoes. Finding 8 exact matches from used horseshoes was not happening. I did the best I could.
Pumpkins need a little character, after all!

For the stem I decided to use half of a horseshoe. We used a sawsall to cut one in half.
By "we," I mean not me.
A tree branch or coiled piece of wire would be cute too.

When Handy Hubby finished welding the pumpkins, I used a wire brush to brush off the fresh welding marks and make the horseshoes look like they have always been fused together like that.

In areas where I could, I broke off the loose nails that were still in the horseshoes. All it took was a pair of pliers, a bit of patience and some muscle.

I like the cuteness and perfect symmetry of the inspiration photo, but I think I'm more drawn to the rusty patina and quirkiness of the ones we created.
Or I could just be biased because we invested some elbow grease into these guys!

Whatever the reason, they make me happy! We made 4 total and gave 2 to the friend that contributed the horseshoes. Sharing the pumpkin love!
P.S. My gold good luck horseshoe got a featured mention on Knock Off Decor! Give Beckie some blog love and hop over to her site! It is bursting with inspiration.
---
If this post gave you a smile, try one of these too! You can't have too many smiles!
Horseshoe Pumpkins Go Mainstream
Gold Horseshoe Knock Off From Better Homes and Gardens
---
*affiliates links in this post*