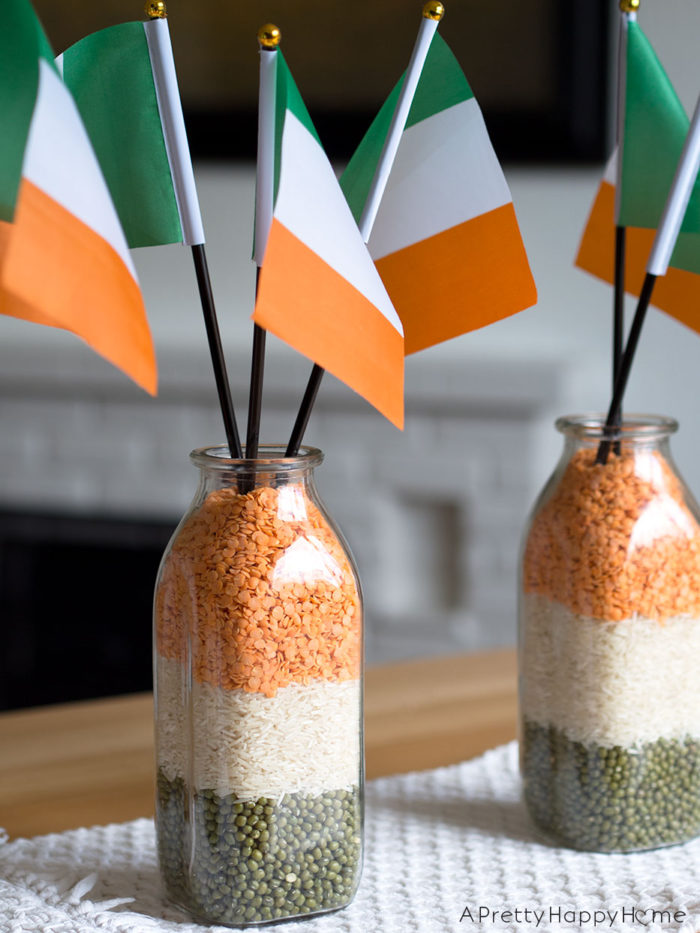 Our celebration of St. Patrick's Day would not be complete without showcasing the Irish flag on our dining room table!
Isn't this Irish Flag Centerpiece festive?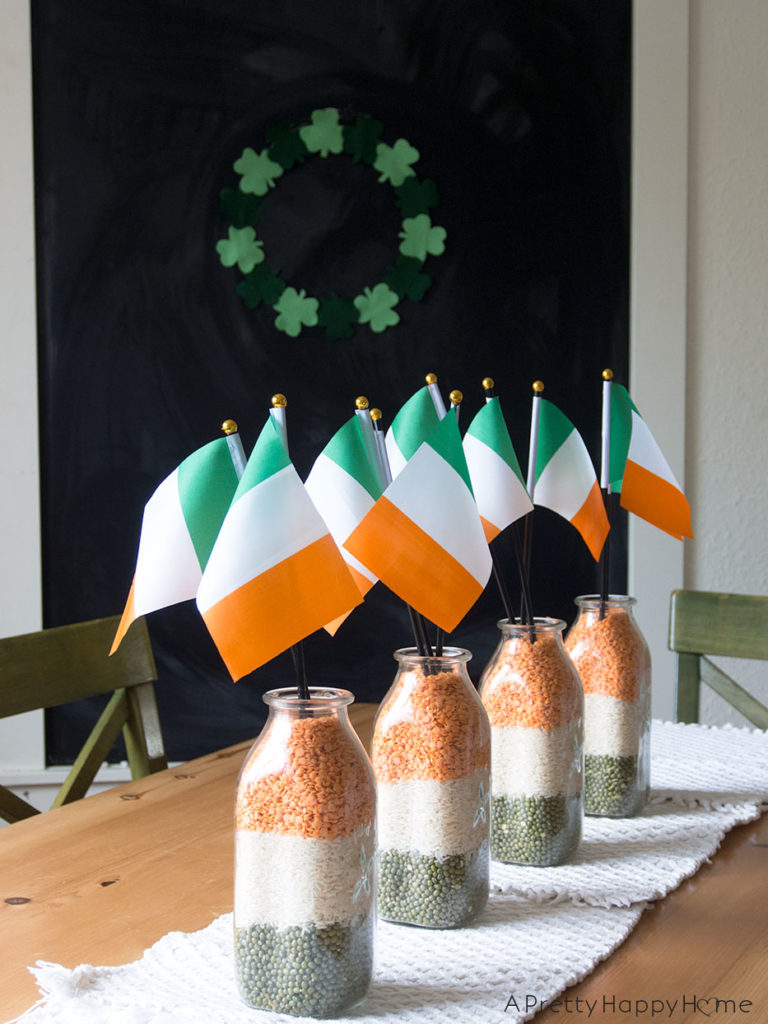 My flag holders are milk bottles filled with green mung beans, white basmati rice and orange split lentils.
My son and I poured the dry ingredients in the milk bottles in color order as it relates to the stripes on the Irish flag.
The simple design of the Irish flag was very helpful in this regard.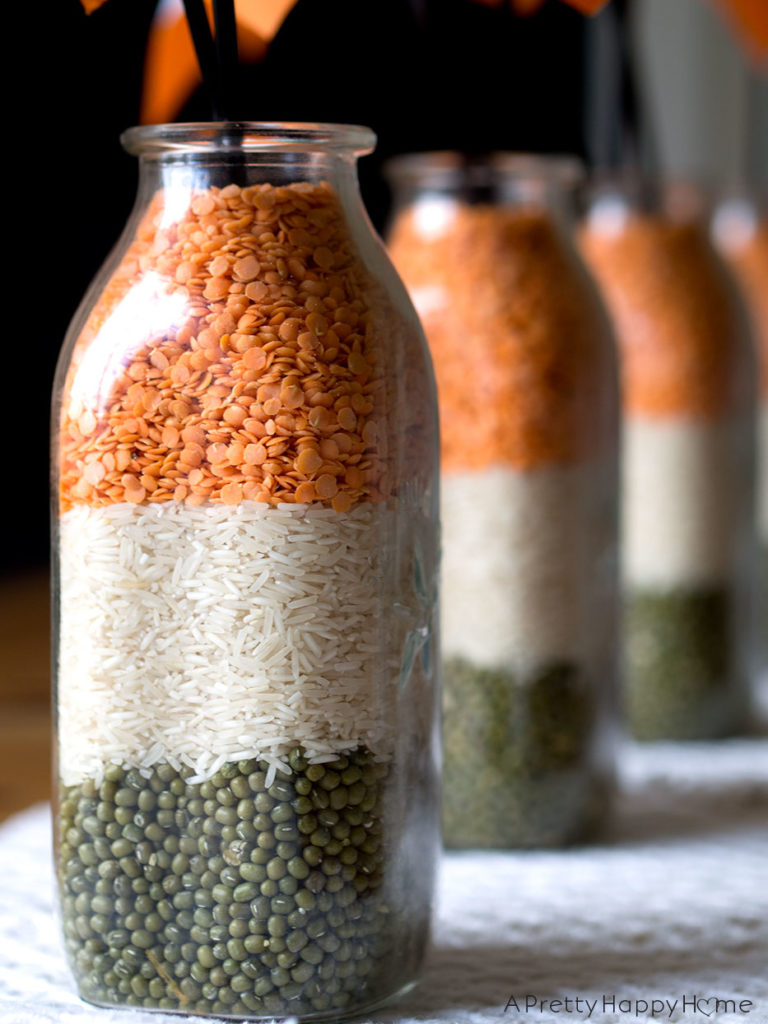 The Irish flag, also known as the Irish tricolour, has been in existence since 1848.
However, it didn't become Ireland's national flag until the rebels hoisted it over Dublin's General Post Office during the Easter Rising of 1916. It later became the flag representing the Irish Republic during the country's war for independence beginning in 1919.
In 1937, the flag was finally given constitutional status as the official flag of the Republic of Ireland.
The green and orange colors in the flag represent the different groups and traditions that clashed over the years. The white in the flag is a symbol of the truce forged between these groups. (Learn more here.)
And you thought you were just going to look at pretty pictures of an Irish Flag Centerpiece today!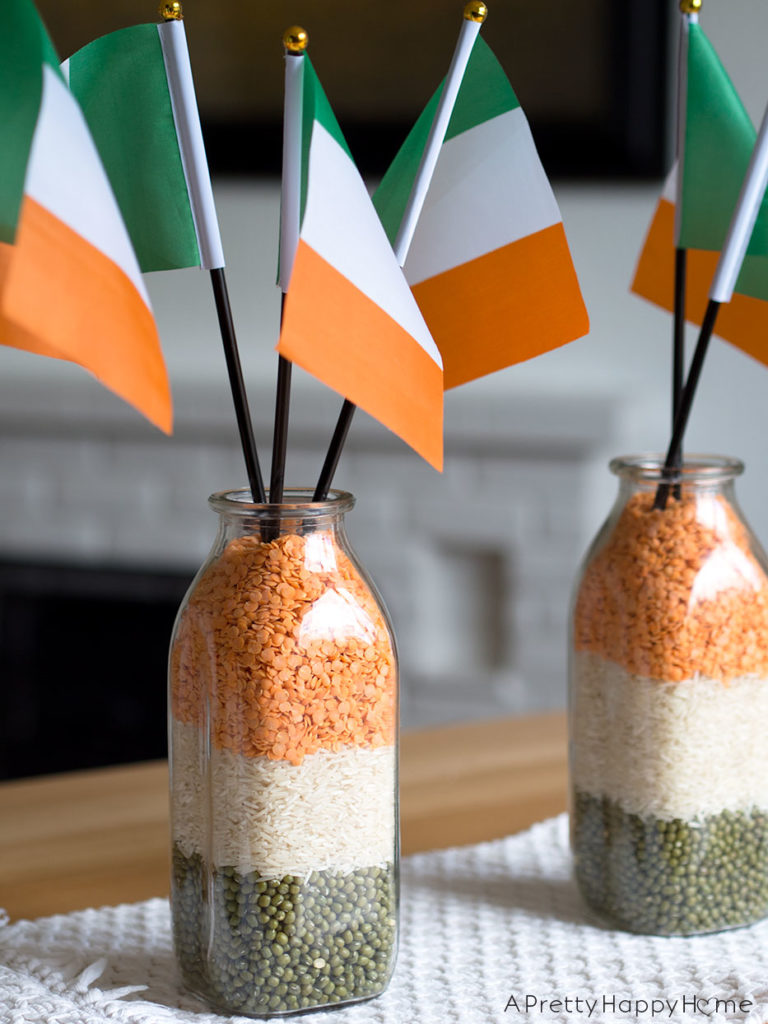 This Irish Flag Centerpiece is a riff on a flag centerpiece I did pre-blogging for the 4th of July in the USA. That time, I dyed rice red and blue to complete the red, white and blue theme for the American flag. The layers of colored rice looked really cool in my milk bottles.
Since I did not want to waste rice – even colorfully dyed rice – I started using it in meals after the holiday. It turns out rice dyed red and blue makes purple rice when cooked! You just can't get around those rules of color blending.
We ate very colorful stir fry for MONTHS.
This time, I think we'll be eating a lot of soup.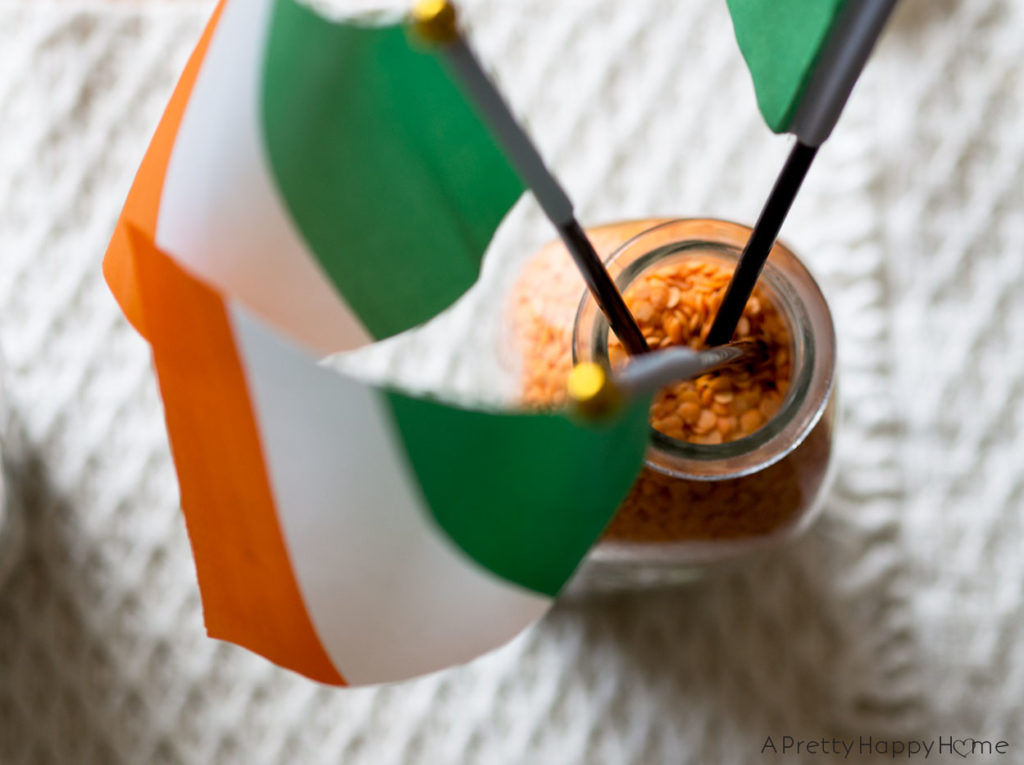 My pack of 10 Irish flags came from my local euro store.
There are euro stores in Ireland and the U.K. These are a lot like dollar stores in the U.S. with the same type of merchandise. Except products usually range in price from €1 to €5.
My pack of 10 flags was €1.50. Since the exchange rate between the U.S. dollar and the euro is almost equal right now, you can equate this price to $1.50.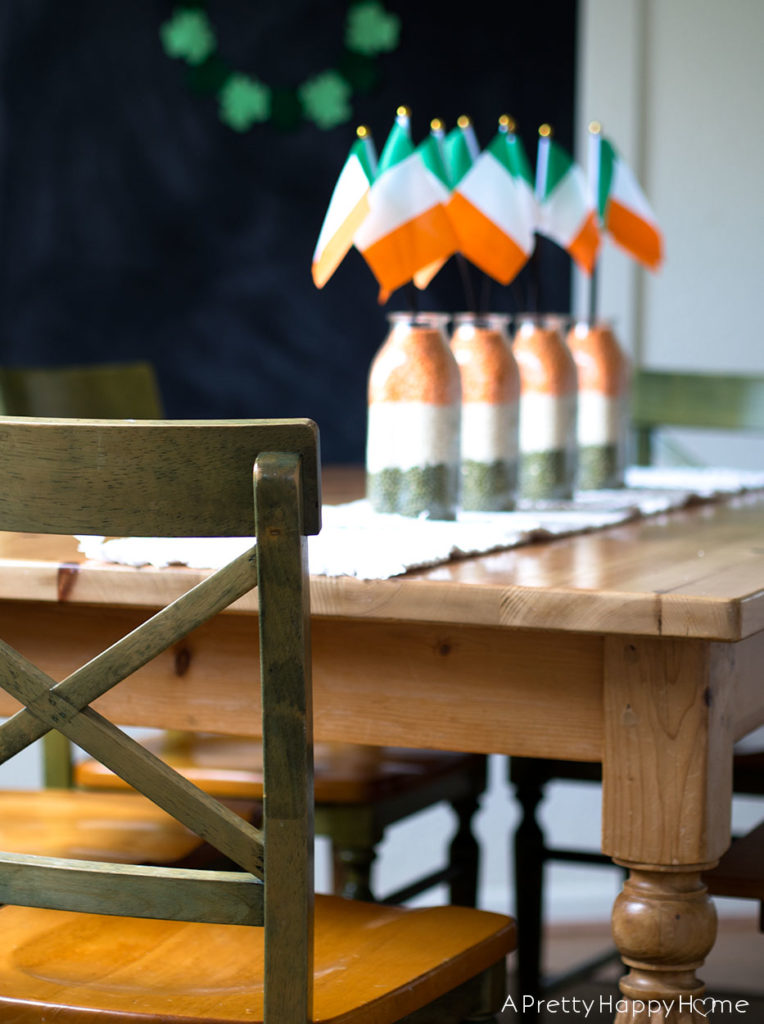 Well now. I'm feeling quite happy with how we've started this Monday on an over-achieving note. We've discussed decorating, history, science, culture and economics. That's pretty good considering some of you haven't even had coffee yet!
There's really only one thing left to do on this Monday. Research recipes that include mung beans, rice and lentils.
I guess I'll be finding out what mung beans taste like.
---
P.S. My milk bottles are super old from Pier 1, but here are some similar milk bottles
on Amazon.
P.P.S. The how-to on the felt shamrock flag can be found here.
P. to the S. to the P. If you'd like read about my adventures in refinishing my dining room table, click here. I'm happy to report, the finish is still holding strong. PHEW!
*affiliate links in this post*