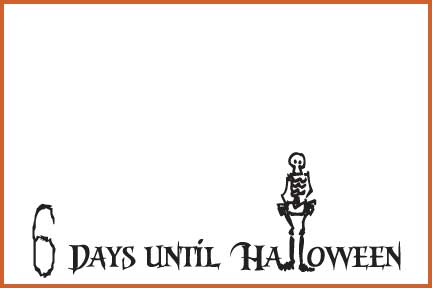 Halloween Countdown Lunch Notes
I first published this post last September. It is pretty hilarious to note that despite so much changing in our lives this year, the day-to-day has stayed pretty consistent. My children still forget to put on socks. Every. single. morning. And they've been asking since August if I'm going to do Halloween countdown notes in their lunch boxes. Why, yes. We are definitely counting down the days for that one special evening when it is suddenly okay to take candy from strangers. Free printable below! 
---
My children's selective memory is quite excellent.
Case in point. They have been asking me for at least 3 weeks if I am going to do the Halloween countdown in their lunch boxes like I did last year. But, can they remember that I asked them to put their socks on? While they are holding a pair of socks? No.
Priorities, people. My children have clear priorities.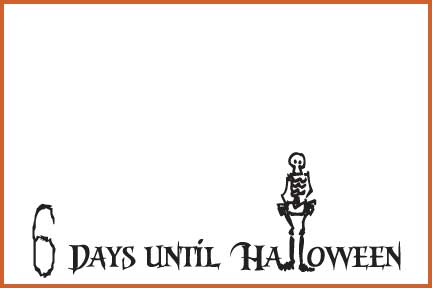 My real-life sock troubles aside, it does give me those mushy mom feelings to know that we are creating lasting, happy memories together.
It makes up for the fact that I yelled about the socks. Mom logic.

The great thing about these lunch box notes is that you can start the countdown at any day you choose! The kids don't read this blog! They don't know that I made 20 days worth. HA!
So, start it at 3 days before or 14 days before. Basically, whenever you remember to hit print on your computer. Hopefully this occurs before you get that panicky "OH NO, WE NEED COSTUMES" thought. By then, it's too late.
Kidding…I've got you covered. I made a "Happy Halloween" version with no countdown, as well. It's all good.

No tricks, all treats for you today! The free printable is linked below as a jpeg – just print them out on regular computer paper and trim to size. Now, not to jump the gun or anything, but Happy Halloween!
1 and 2 Days Until Halloween
3 and 4 Days Until Halloween
5 and 6 Days Until Halloween
7 and 8 Days Until Halloween
9 and 10 Days Until Halloween
11 and 12 Days Until Halloween
13 and 14 Days Until Halloween
15 and 16 Days Until Halloween
17 and 18 Days Until Halloween
19 and 20 Days Until Halloween
Happy Halloween
P.S. If you have any trouble printing these, please let me know in the comments and I can work some magic and maybe fix the problem for you. 🙂
---
Thanks for coming by today. Here are some other posts you might like!
Notebook Paper Lunch Notes – free printable
How NOT to Make a Book Pumpkin