3 Unexpected Succulent Planters
I'm excited to show you how I've planted my succulents in 3 unexpected planters.
I do not have a green thumb, but I seem to be able to keep succulents alive.
This is probably because succulents tend to do well with a little neglect less watering than regular houseplants.
Now that I've inspired your confidence in my abilities (ha!), let's get to the fun stuff. Pretty much anything is fair game around my house to be used or reused in an unexpected way!
---
Unexpected Succulent Planter #1: Shot Glass
This idea could go very tacky very quickly. Believe me, I know.
However, we happen to have a brass shot glass that looks like a thimble. It's pretty amazing with just the right amount of quirk. It's even engraved with the saying "just a thimbleful." I think it was a gift for my husband from his sister.
I'm not sure we ever used it for actual shots though.
I put a teeny tiny succulent in the shot glass earlier this year and the succulent seems to love this little container. I keep it in the kitchen on a wood tray with my dish soap. As you can see, the shot glass has developed some patina from being next to the sink.
This is not a huge size-wise statement maker, but it's probably one of my favorite details in my house right now.
---
Unexpected Succulent Planter #2: Small Dish or Bowl
I have a pretty lidded dish that lost its lid in our last move. I used to keep guitar picks in this dish, but haven't used it since I lost the lid. On the bottom of the dish is my Great Grandma Della's name and the date of October 1964, so the dish has sentimental value.
I don't know if I'll ever find the lid for this dish, but I wanted to keep using it. Now it holds a small succulent.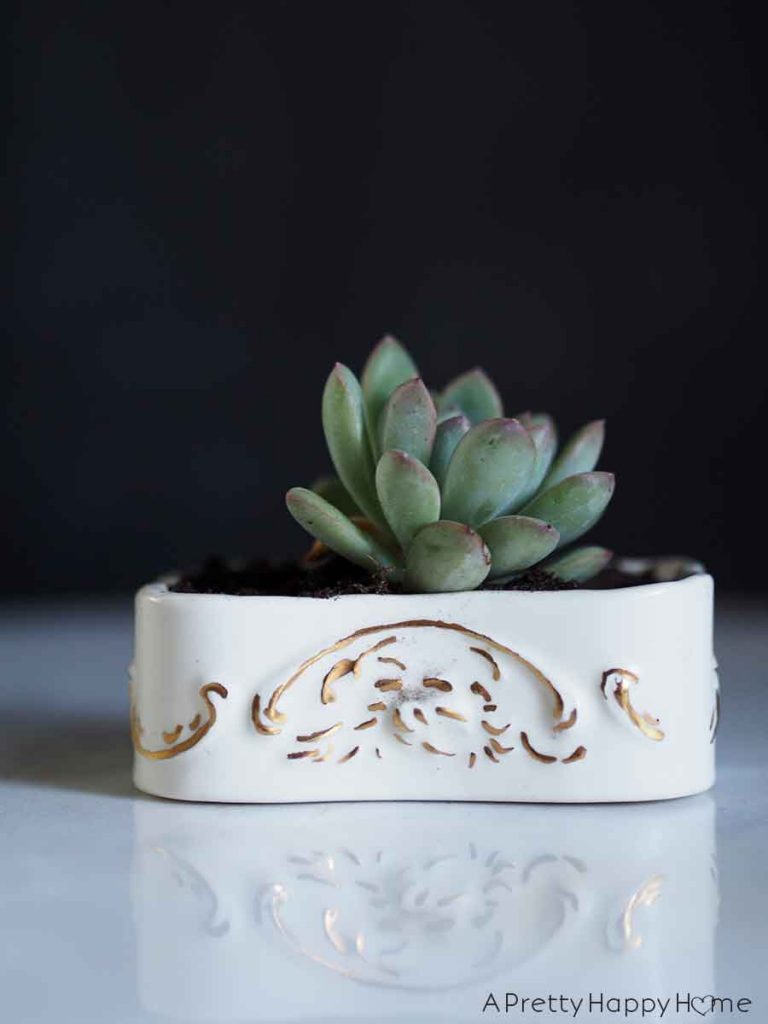 If by some miracle I manage to grow this succulent any larger, I will just find a new, deeper container for it. Crazier things have happened!
---
Unexpected Succulent Planter #3: Pewter Baby Cup
Anyone else have an engraved pewter baby cup from when they were, well, a baby?
It's definitely not the oldest item I own, but it is one of the most useless items I've carried around for my ENTIRE LIFE! Do people actually drink out of these baby cups?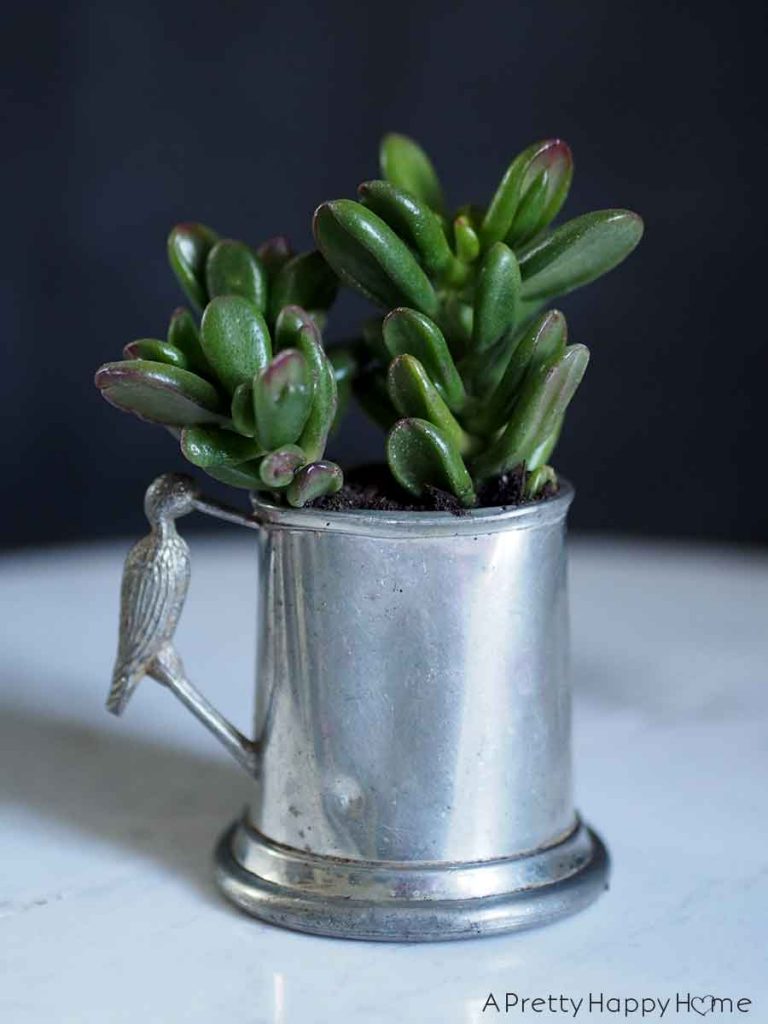 The other day I found the baby cup in the bottom of a box, which might explain why my cup is a little banged up and dented. Even though I've seen this cup a thousand times, this time it looked interesting to me and I thought I could make use of it.
Once I turned the cup around so that the engraving of my birth height and weight (20 inches and 7 lbs, 11 oz, thanks for asking) wasn't visible, it looked like a fun container that could hold a succulent!
I'm beyond tickled with how this one turned out and how well the succulent seems to like its new home.
---
Here's a caveat to planting succulents in these type of containers that weren't designed to be planters: there is no drainage. You have to be careful about over watering succulents anyway, but you especially have to be careful if you plant them in a container that doesn't have a hole in the bottom.
Generally speaking, over watering my plants is not my problem. In fact, it's usually quite the opposite!
If I am in the middle of watering a succulent and worry it got too much water, I carefully, so no soil falls out, tip the plant over so that any extra water can drain out the top. So far, so good!
Have you planted succulents or other plants in something unexpected? I'd be so happy if you'd share your planter ideas with me!
---
P.S. Here's a baby cup
similar to mine. You can find thimble shot glasses on Etsy. I do not know where you can buy a dish without a lid from 1964 with my grandma's name on it. I'm good, but not that good. Hahahaha!
P.P.S. I usually buy my succulents at Home Depot. Their plant section just sucks me in and gives me all sorts of false hope that I can keep those suckers alive! I recently bought a bag of this cactus/succulent potting soil so that I easily repot my succulents. My aloe vera plant from this post needed a bigger container with more soil.
---
Here are some other posts you might like!
Burlap Flag Centerpiece for 4th of July
House Number Sign from a Wooden Spool
*affiliate links in this post*