Four Recent Thrift Store Finds
I've become more interested in thrift store shopping for my home in recent years for three reasons.
I really, really, really, really like a bargain.
Certain items of yesteryear are made better than they are now.
I don't want my home to look like everyone else's. Plus, it balances out my Amazon shopping habit.
Oh, and did I mention I like a bargain?
My conundrum with thrift store shopping is that I really don't like shopping in general.
It feels like a waste of time and I don't usually have the patience for it. More often than not I go to a thrift store and see nothing that sparks a fire in my soul.
By "spark a fire in my soul" I mean I'm willing to drag the item home and go through the drudgery of cleaning it up so I can use.
That's my standard and I'm sticking to it.
Here are four recent thrift store finds that sparked that fire. One of them has definitely burned me in the process though.
---
Thrift Store Find #1: Arched Mirror
I wanted this arched wooden mirror at a thrift store bad enough that I was willing to ask for a price check since it wasn't tagged.
Then I had to act cool when the lady said it was only $5.
You may not realize this, but that took a lot of effort on my part.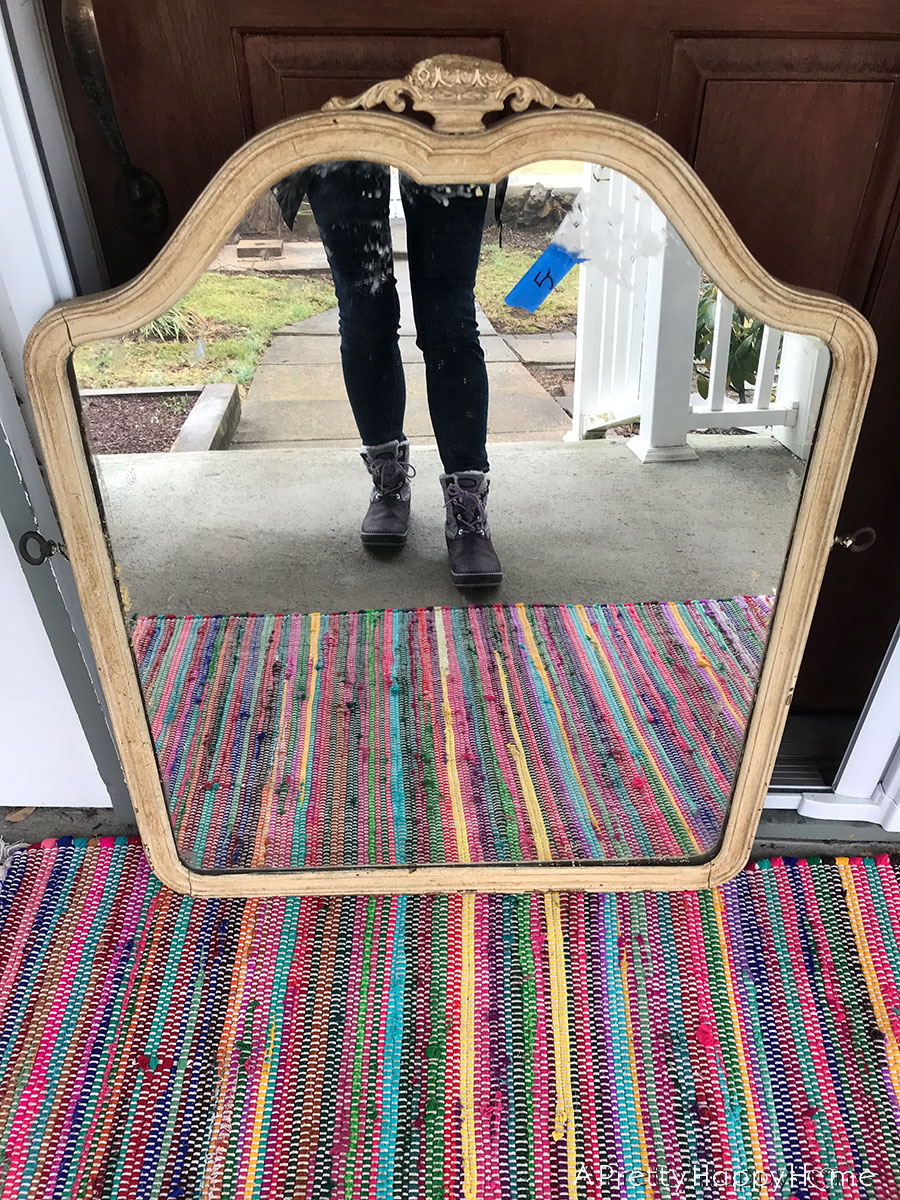 I decided to remove the whitewash finish from this mirror and IMMEDIATELY regretted my decision. What a mess.
I should have just painted the mirror gold and been done with it, but no. I had to see the wood underneath! I'm not done with this makeover, which is why I'm feeling the burn. If I ever do finish it, I'll be sure to tell you all about it painstaking detail. Lucky you.
This mirror reminds me a little of the arched mirror from Anthropologie that is everywhere on social media lately. Their 3-foot version is $498!
Now you know why I like $5 mirrors so much.
---
Thrift Store Find #2: Twin Bed
I took my kids thrifting with me on a Saturday. Sounds like fun, right?
My daughter needed a headboard and I wanted her to pick it out.
She picked this one out and guess how much it was.
$12.50!
It just needed to be cleaned up since it had some scratches.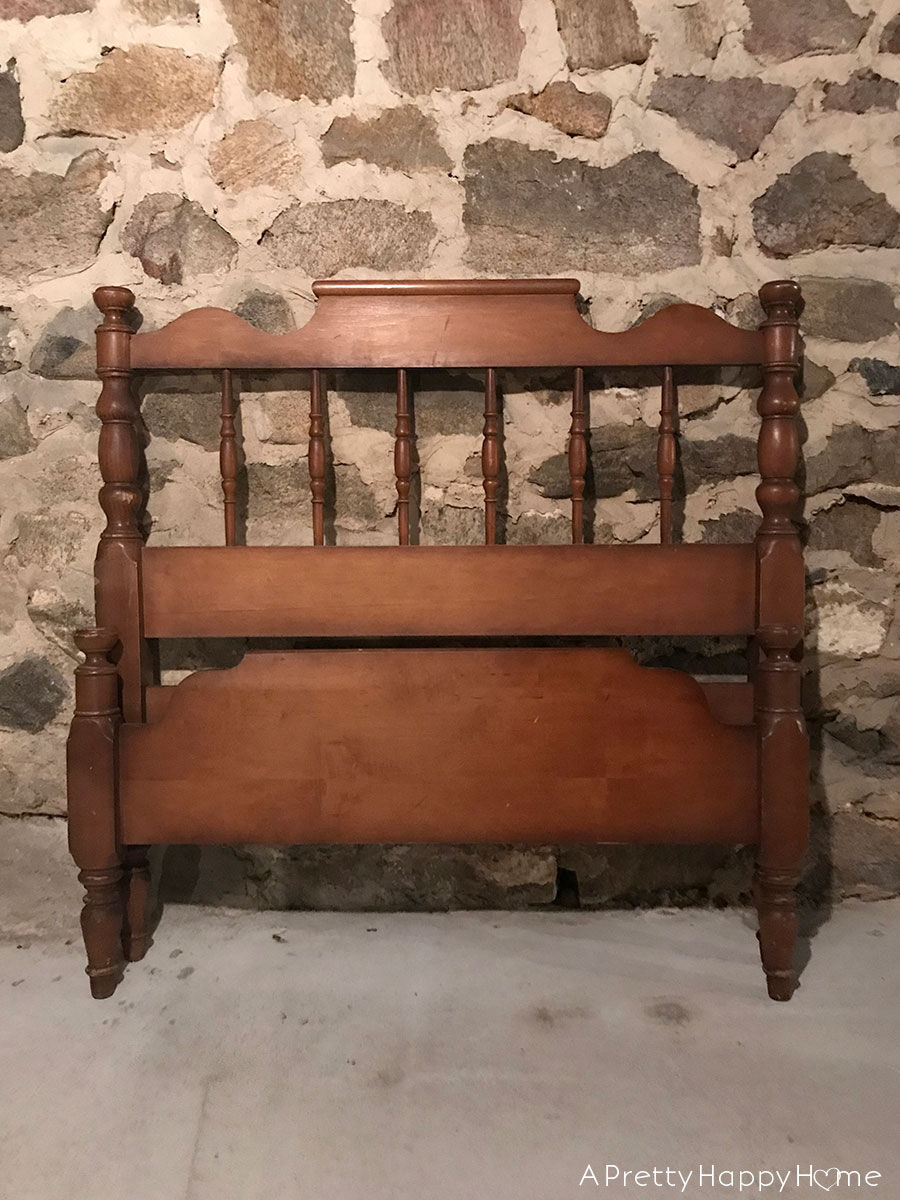 I don't think we are going to use the footboard because her room is tiny, but I don't know yet since we haven't installed it.
This headboard and footboard did not come with rails, so we will need to order this $10 bracket
to attach it to her bed frame.
All in all, this is a good deal and the headboard will look fantastic in her room.
---
Thrifted Find #3: Eagle Print
Art was 50% off on the day I went thrifting with my kids at the Habitat Restore. This particular store prices their art much higher than their headboards, so I would not have spent much time in the art section if it hadn't been 50% off.
My son picked out this eagle print for his room, but I'd like to use it elsewhere. Maybe I'll arm wrestle him for it.
Whenever I find a signed print in a thrift store, I Google it to learn more about the artist. This print is by Hugh Hirtle. He was born in 1934 and died in 2012. He established an art studio in Connecticut in the 1970s and was known for his nature artwork. This particular eagle print sells on eBay from anywhere between $28 and $90. We paid $10.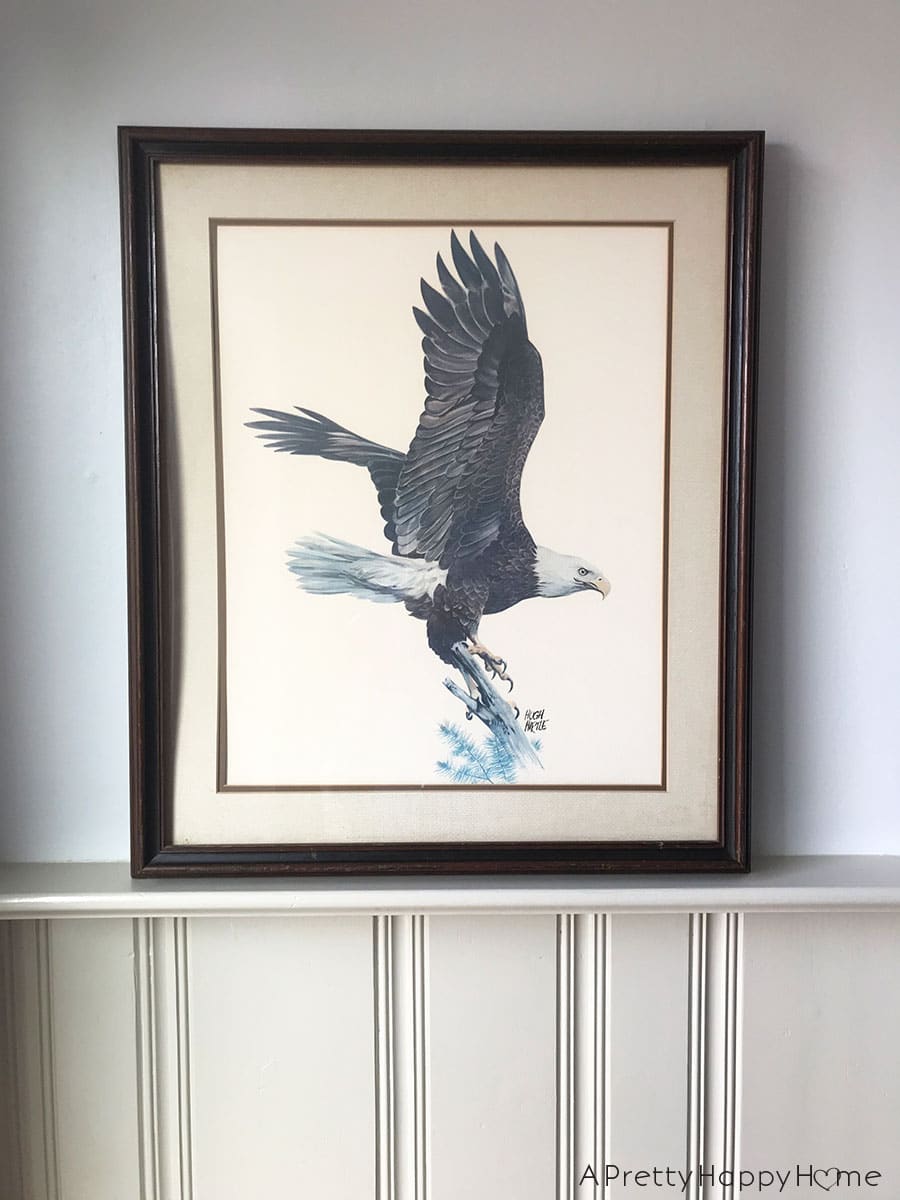 My son was SUPER into this research tactic, by the way. Take a 9-year-old shopping with you and give them a specific task and you might finish your shopping trip in peace.
Or you might end up purchasing over-priced artwork.
---
Thrift Store Find #4: Flower Print
I was drawn to this flower print because of the scalloped edge.
Isn't it pretty?
My daughter claimed this print for her room, which surprised me because I didn't know she liked burgundy these days. Honestly, it is hard to keep up with the changing color preferences of a 12-year-old.
Moral of the story: go thrifting with your kids and you'll learn all sorts of things.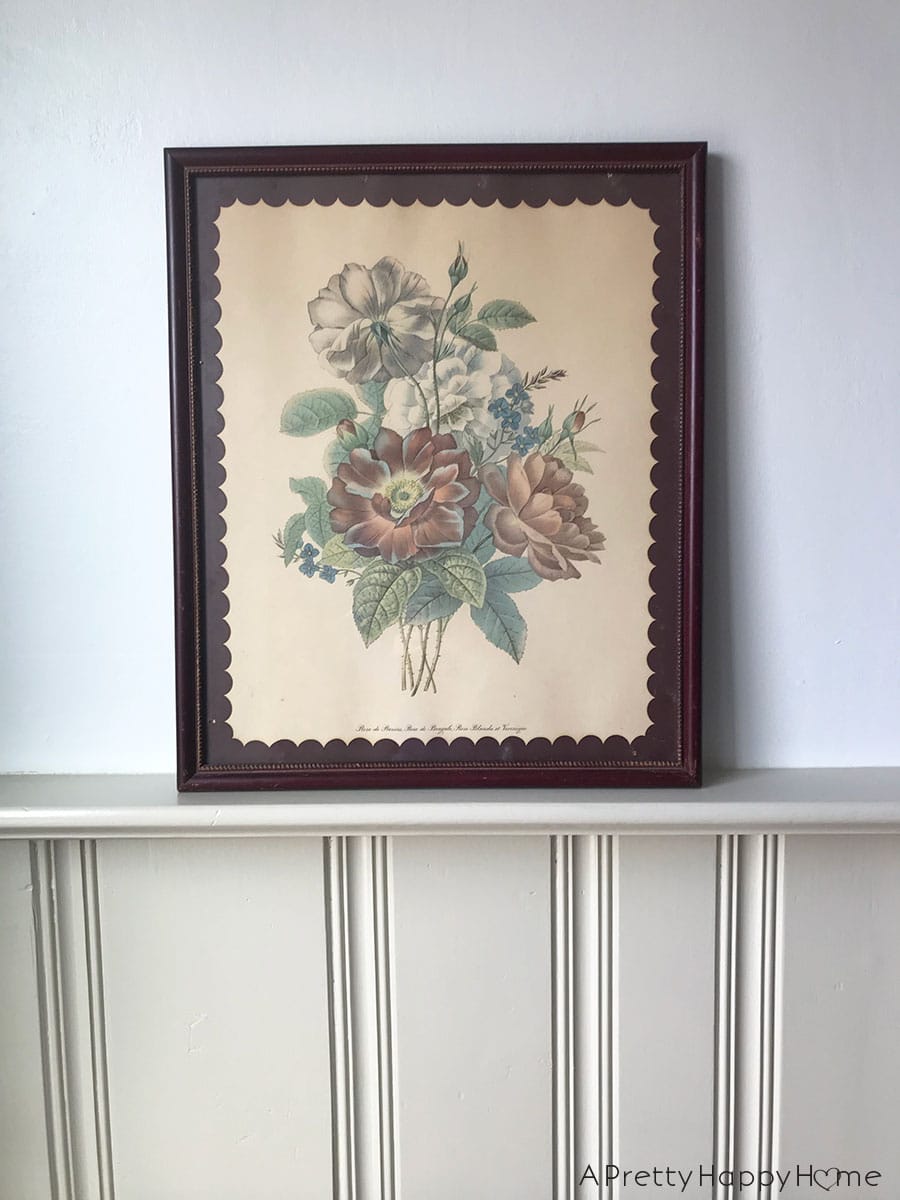 I can't remember how much this flower print was, but I know it was more than the $5 mirror.
This is the problem with thrifting for me. Once I find a really good deal that makes me so stinking happy, I expect everything else to be priced accordingly.
Apparently, that's not how balance in the universe thrift store pricing works.
---
Have you found any amazing thrift store finds lately? I'd love to hear about it. While you are mulling that over, here are some other posts you might enjoy. 
Living in Ireland: Practical Advice for Americans
Happy Thrifting: Elephant's Trunk Flea Market
Happy Thrifting: Smalltown Antiques
*affiliate links in this blog post*