Modern Live Edge Side Table – Target Hack
This story of how I created a modern live edge side table has the perfect old meets new plot line.
Get ready to feel a flutter deep down in your sentimental soul.
---
This story starts a long time ago in a land not so far away.
A huge tree used to stand tall and proud about ten steps away from the front of our house.
The diameter at the base of this tree was over 6-feet wide.
Had this tree stood sentry over our house for one hundred years? Maybe more? Was it here before cars were mainstream and the county road was paved? I don't know.
I was told the tree had to be cut down because it wasn't healthy and was posing a threat to the house, the county road, and the power lines.
Unfortunate, but it happens.
Fast forward several years and among the things left in our garage when we moved into the Colonial Farmhouse were two wood rounds. When I inquired about them, the previous homeowner told me that they did indeed come from the tree that had been cut down in front of the house.
There's a blessing and curse to buying a home from someone who had lived in that house for almost 50 years. I had just encountered the blessing side of this situation.
I KNEW one of those rounds, maybe both, had to be turned into a live edge side table for my house. There is no way I could get rid of or burn those rounds. They are a part of the Colonial Farmhouse's history.
Most live edge side tables that I've noticed have hairpin legs
. I didn't want to do that. I already have one table with hairpin legs
, so I needed to go a different route. I also didn't want the table to be too rustic because we don't live in a cabin in the woods.
I needed a live edge side table with a modern twist.
That meant I needed to come up with a different idea for the base. I scoured thrift shops and flea markets looking for the right thing. Turns out, those are the wrong places to look for something modern.
Enter one of my favorite stores, Target.
Target was selling a brass cage-style side table that I loved. I thought it could be the perfect base for my live edge side table. It had a modern vibe, but it wasn't too delicate looking. After all, it needed to be able to support a big slab of wood.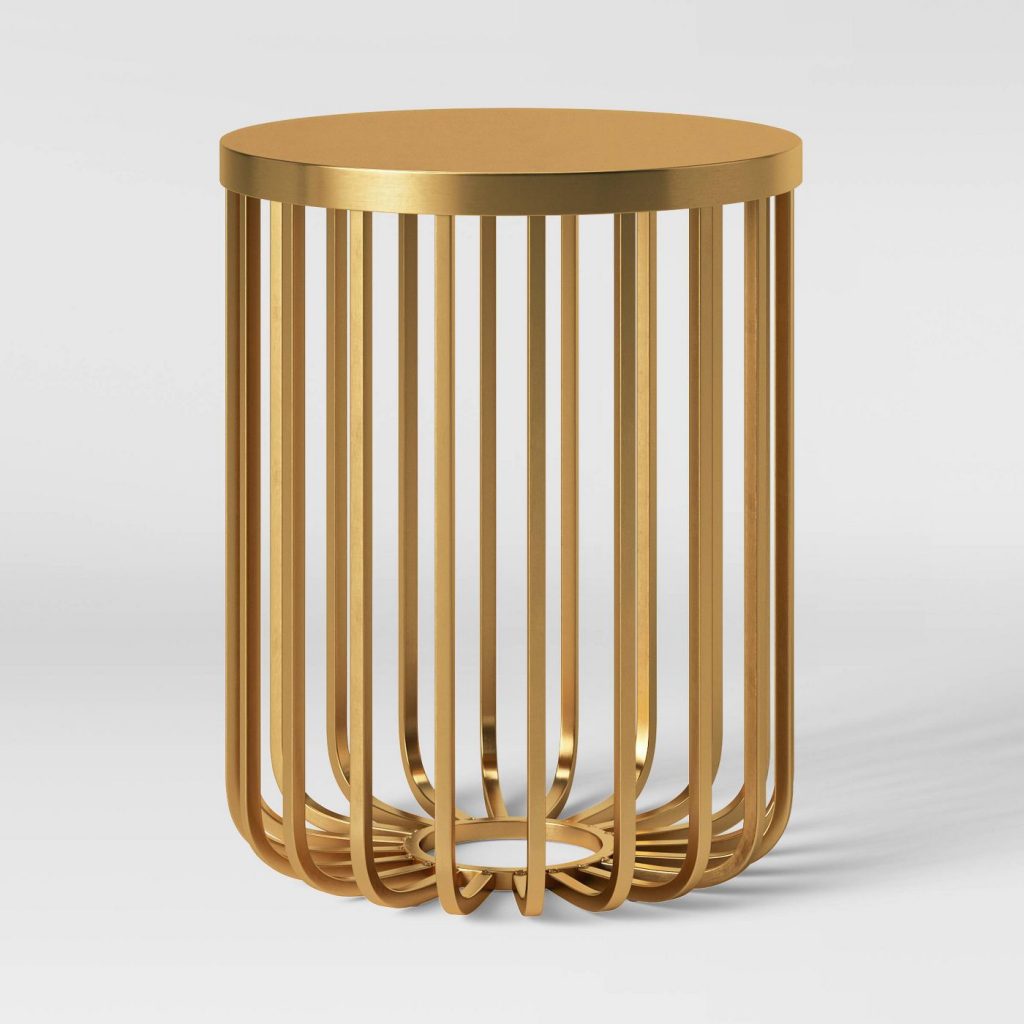 (image: Kibara Brass Cage Accent Table from Target)
I finally pulled the trigger on purchasing the table.
Should I tell you how many months I thought about it? Let's not dwell on how long I overthink things. If I've thought about something long enough to quantify it in months, not minutes, then it's a safe bet I will truly love that item for years to come.
The hard part of this project was going to be getting the live edge round ready to use. It had been cut with a chainsaw, so there were deep grooves in the wood.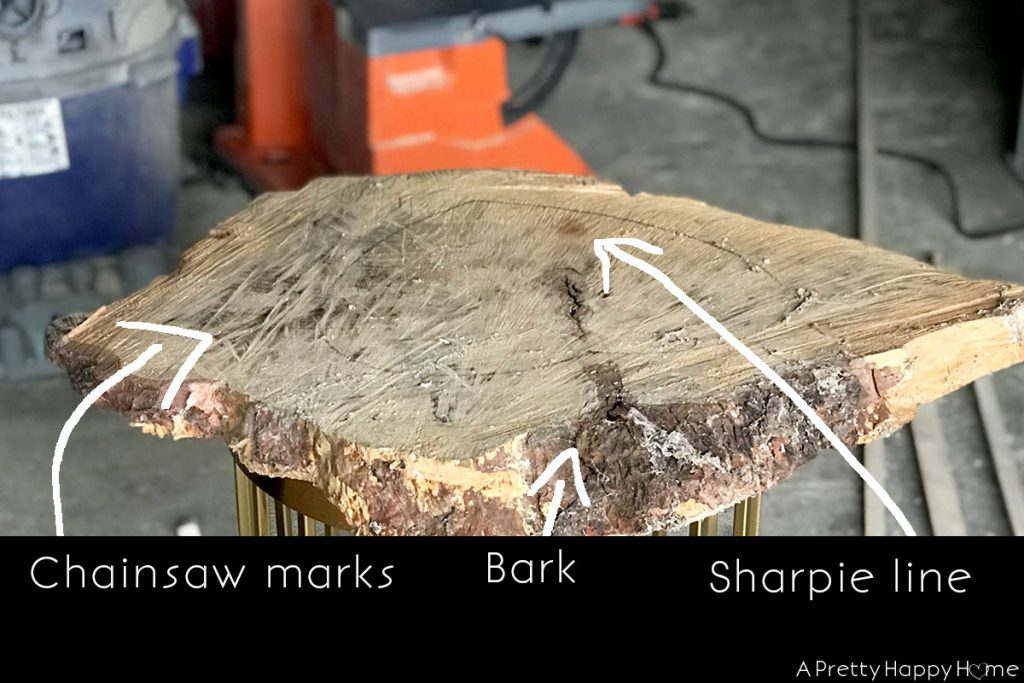 Also, the wood round wasn't level. That was a conundrum. A big one.
We didn't have the tools to deal with this situation. Perhaps I should have tracked down someone who could have helped me with this, but where's the challenge in that?
I'll figure it out on my own, dang it.
Thankfully, the round was a bit too big for this side table hack, so we cut off the thinnest section that was the least level.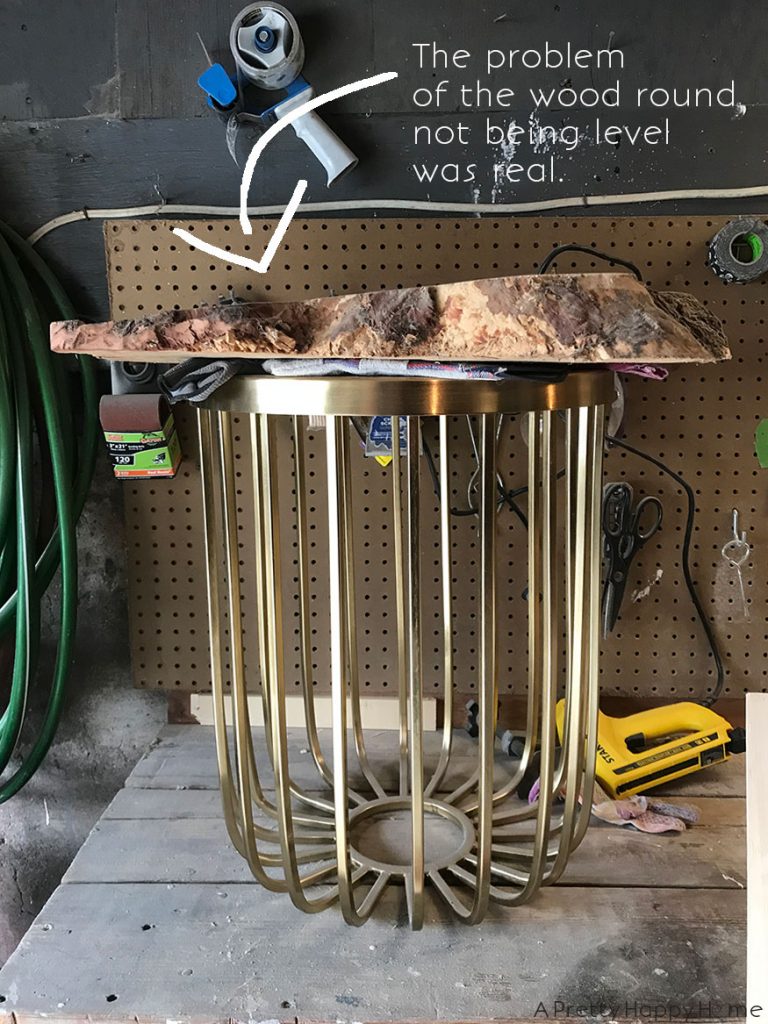 I chipped off the loose bark around the edge of the round with a chisel and a hammer. That was a fun way for the UPS driver to find me in my driveway. Being greeted with a hammer and a chisel probably wasn't the weirdest thing he encountered that day.
I then proceeded to lose track of the amount of time (it was hours upon hours) I spent sanding down this round. Partly in an attempt to get it slightly more level and partly in an attempt to get the chainsaw marks out.
At some point I gave up and called it good enough.
You knew that was going to happen, right?
After that, it took a few coats of stain and a coat of polyurethane to get the live edge round to the color and sheen I was going for with this modern vibe.
The most painful part of the project was asking Handy Husband to drill through a brand new table so that we could secure the top to the base. It goes against the grain to "ruin" something new, doesn't it?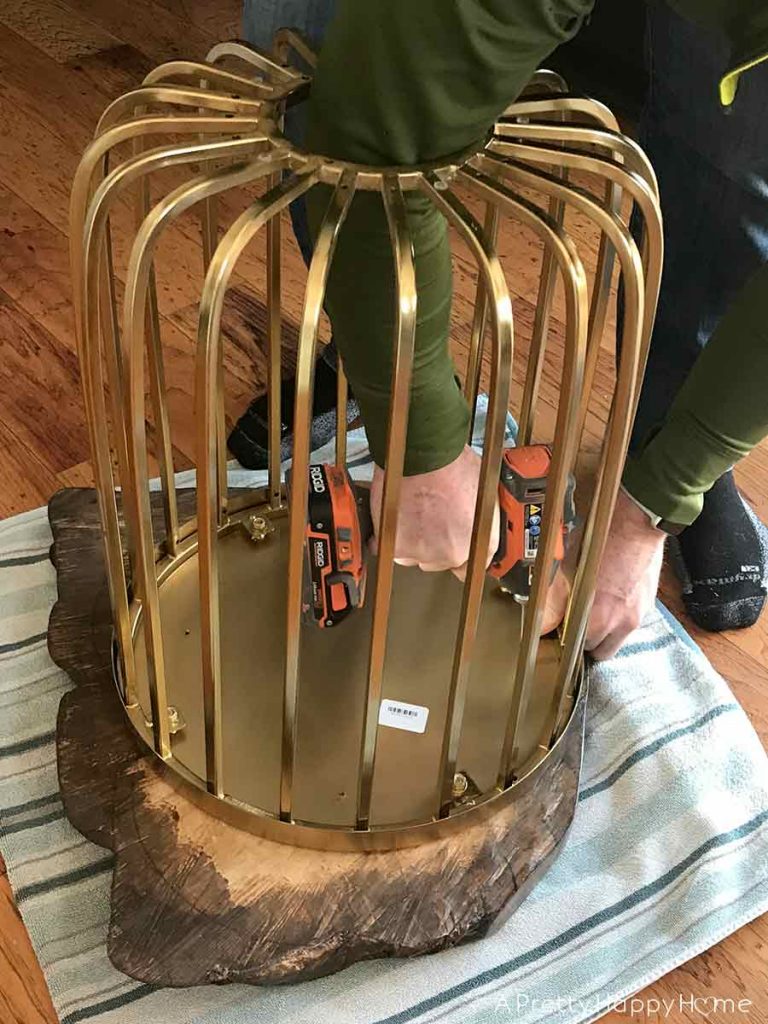 All the sanding in the world would be a waste of sandpaper was not going to make the tabletop completely level. Therefore, I cheated!
Before Handy Husband secured the top to the base, I added six clear, self-adhesive bumper pads
 between the top and the base to raise up the least level side ever-so-slightly. I'll be the first to admit this cheat did not entirely fix the problem. However, your glass is not going to slide off this table. Pinkie swear.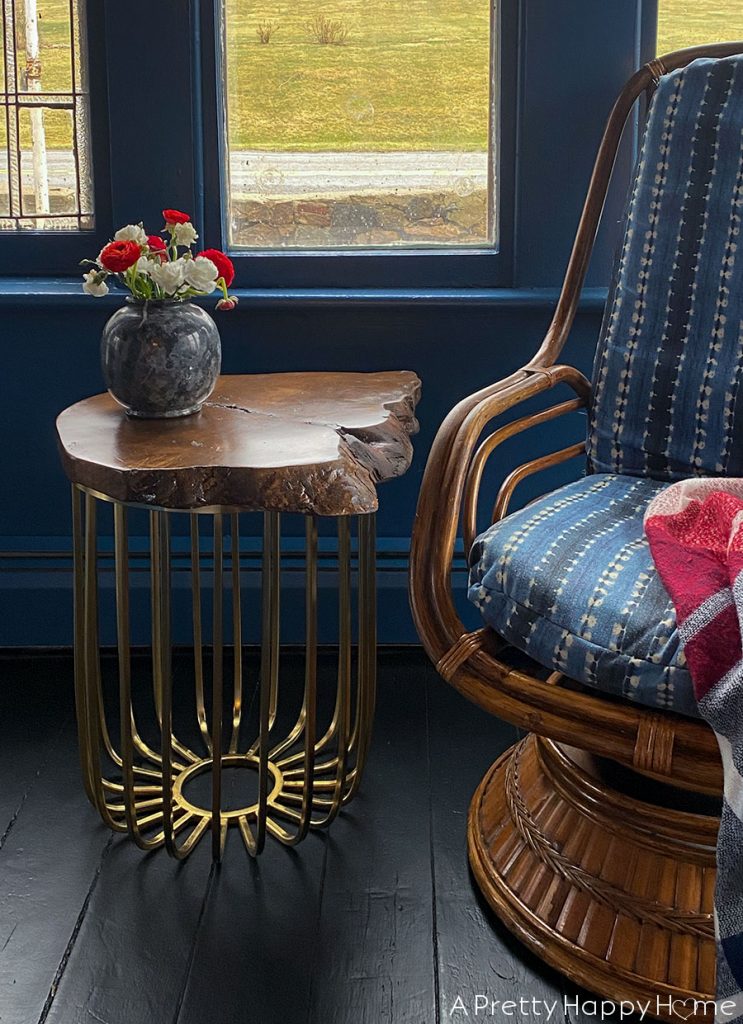 All in all, this live edge side table using a Target hack cost me $80 for the table plus the cost of some sandpaper and stain, which we already had on hand.
Do you think it was worth it?
Would you have guessed that this was a Target hack if I hadn't told you?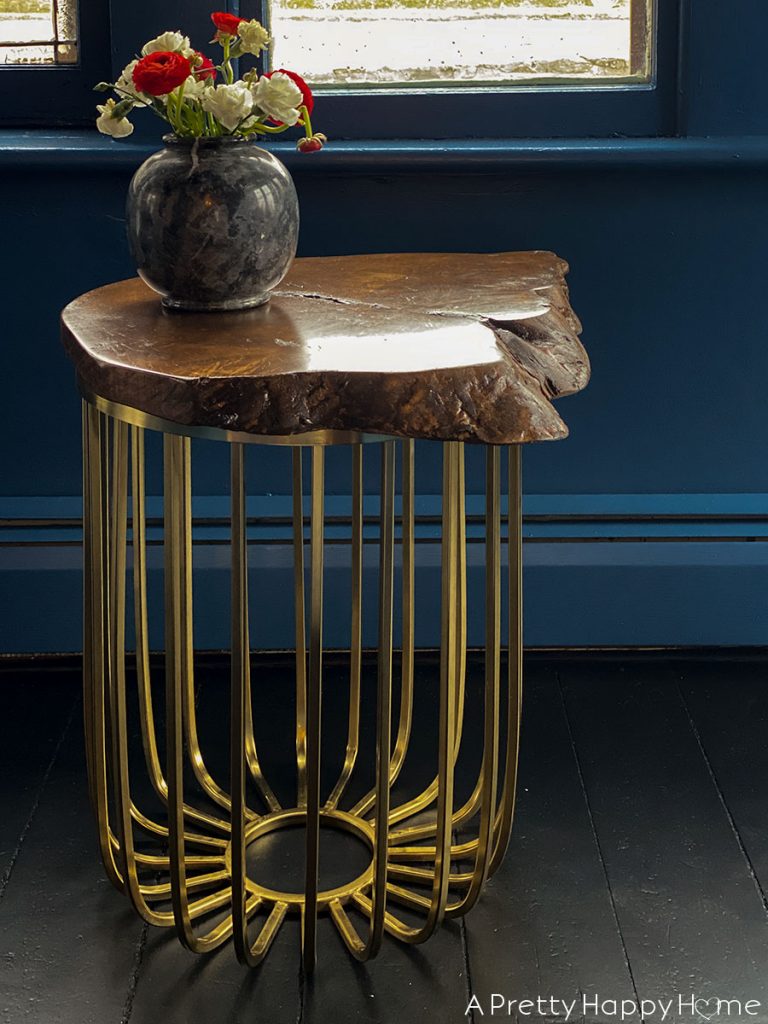 Perhaps those were loaded questions, but I am beyond happy – thrilled, really – to be able to save and repurpose another part of our home's history in a creative and unique way.
See?
I told you this story had a great old meets new plot line!
---
Products used in creating this Live Edge Side Table Target Hack:
Varathane Polyurethane – water based, semi-gloss
Kibara Brass Cage Table from Target 
Ridgid Orbital Sander  (60 grit sandpaper, 120 grit, 220 grit)
*affiliate links in this post*
---
If you enjoyed this post, here are some others that might float your boat too!
DIY Live Edge Wood Coffee Table