Soup Tureen Fall Centerpiece
I'll bet you didn't know a soup tureen fall centerpiece was a thing, did you?
Around here it is, especially since I'm always looking for ways to repurpose everyday items into festive decor.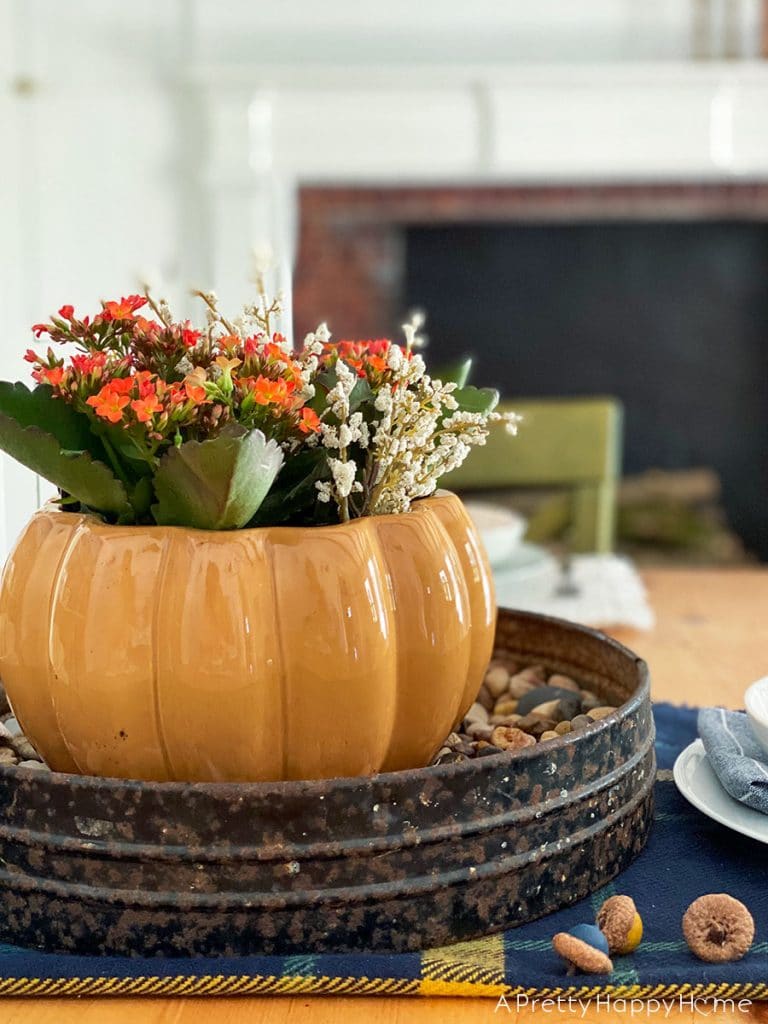 I bought myself more grocery store flowers the other day. Ones that will hopefully last longer than a week.
(You can read about the first batch I bought and what I did with them in this post.)
Clearly, I'm in a "treat myself" kind of mood lately.
Flowers seem easier on the hips than ice cream.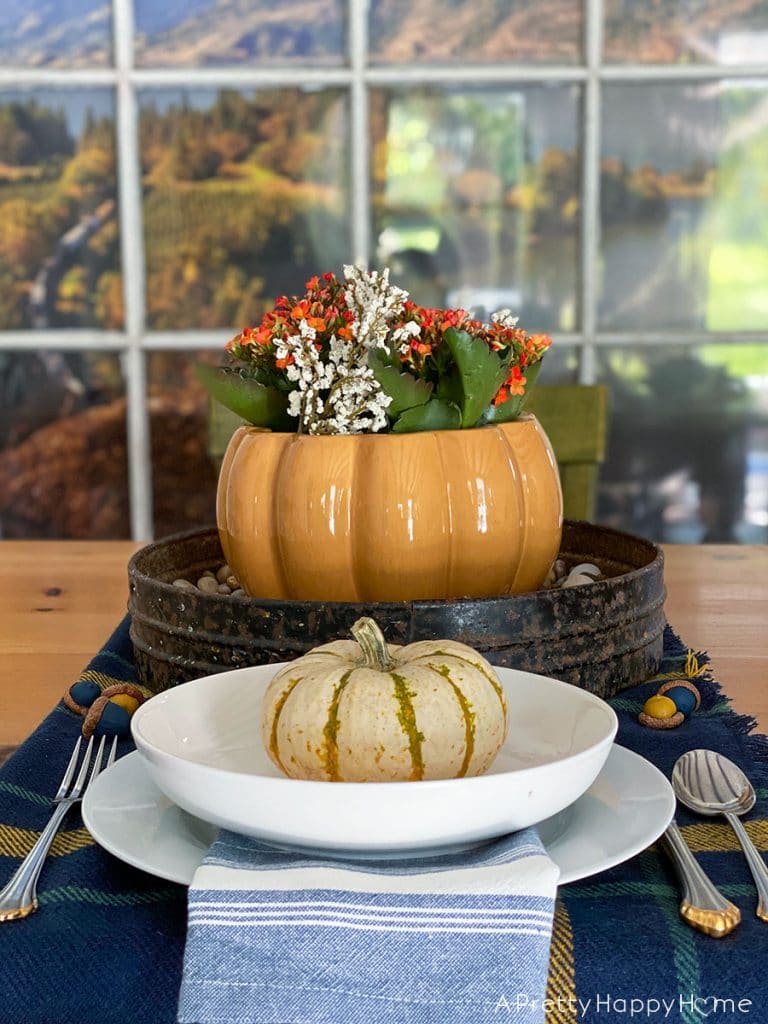 Then I needed a way to showcase my pretty flowers. I shopped my house and my eye landed on this pumpkin-shaped soup tureen.
If it resembles a pumpkin and could pass as a fancy planter, then it could probably hold a few plants – if I ditched the lid.
Turns out, this tureen can only hold two. Not a few.
This was fine by me because I only bought two plants.
I didn't bother replanting anything. I just kept the plants in their containers and shoved carefully positioned them inside the soup tureen and called it good.
While the orange flowers are real, the white flowers are FAKE. Tricky, tricky.
The centerpiece needed a little more filler, so I once again shopped my house for something that would get the job done look amazing and the fake flowers fit the bill.
The soup tureen is nestled on a rock bed in a metal grain sifter.
(That's a sentence I never imagined typing.)
The grain sifter was one I pulled out of a dumpster when we lived in Ireland. It has had many lives as a frame for a mirror and as a junky 4th of July wreath.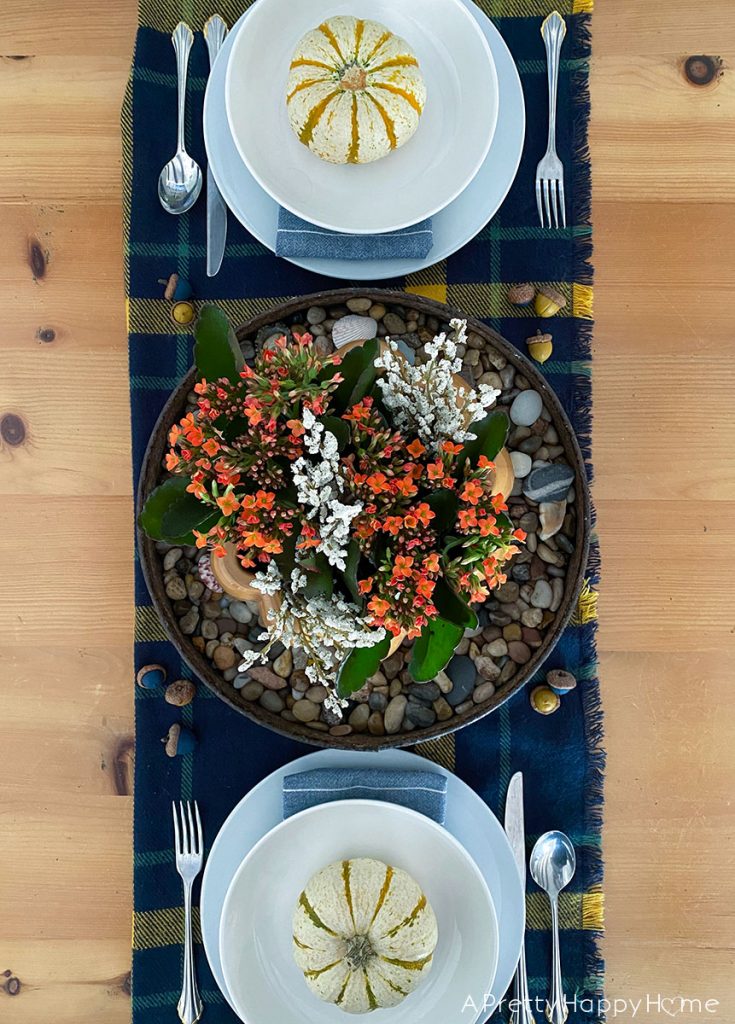 Now. Are you ready for some straight talk?
This pumpkin-shaped soup tureen is not going to see any soup action this fall.
That's just the cold, hard truth.
Don't worry. Soup will definitely be made and consumed. Probably some stew and chili as well.
But my family is going to have to ladle soup straight from the pan or the Crockpot like the barbarians we are. And they'd better like it.
Of course they'll like it.
There's nothing better than homemade soup on a crisp fall day.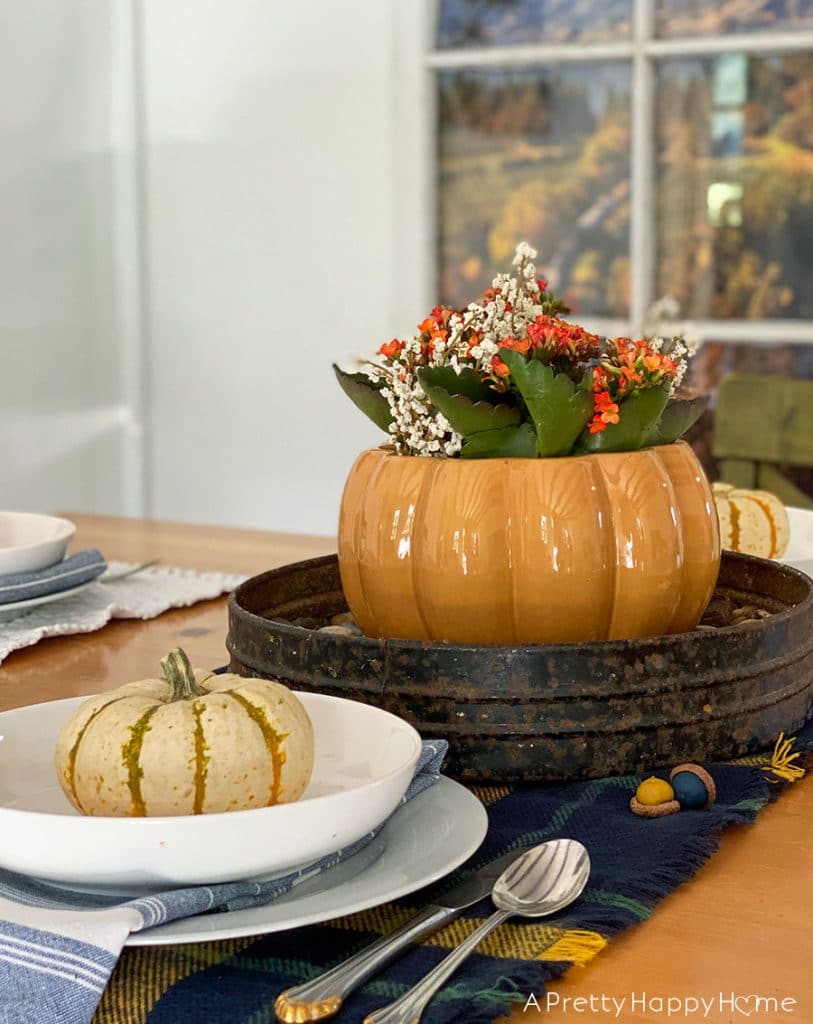 I'm just not in the mood to create extra dishes to wash these days.
Oh, I would happily bust out the soup tureen if I was bringing soup to a potluck, but we don't have any potlucks penciled in on the calendar this fall.
That meant the logical thing to do was to use the soup tureen as a fall centerpiece. I do love me some Annisa logic. Nothing scarier more sound than that.
You've got to admit a soup tureen has never looked more festive.
---
Need a pumpkin-shaped tureen? I don't know where mine came from. It was one of the items left in this house by the seller. Here are some similar ones to mine that I liked. Although, I didn't find a yellow one. 
Like this white one from Pottery Barn: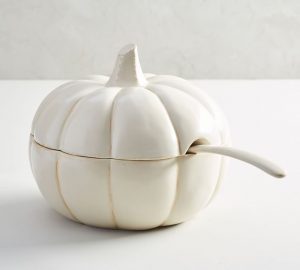 This orange one from Williams Sonoma also comes in forest green, white, and black. The gold stem is a nice touch.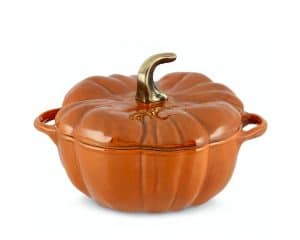 This grey one from Target seems the most versatile since it doesn't scream pumpkin, but it also comes in orange and white. Just double check the size if you are buying a soup tureen online. This one from Target mentioned it being petite. I don't want anyone skimping on their soup servings because the bowl was too small!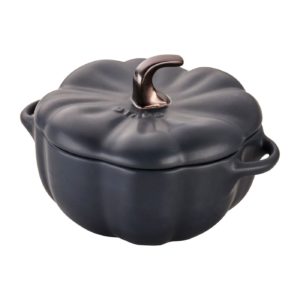 ---
Thanks for reading today's post. Here are some other fall-related ideas that might give you bigger jolt than an extra large pumpkin spice latte. 
Embroidery Thread Wrapped Wheat Stalks
*affiliate links in this blog post*