We had an antique grate sitting in our basement collecting cobwebs and a family member pointed out that it had decorating potential.
Actually, I think she said, "I wish I could fit that grate in my suitcase because I would take it home and do something with it."
I'm almost certain it wouldn't have been the weirdest thing TSA saw in someone's suitcase.
However, her passing comment did make me think I should do something with that antique grate besides let it be a home for all the basement spiders.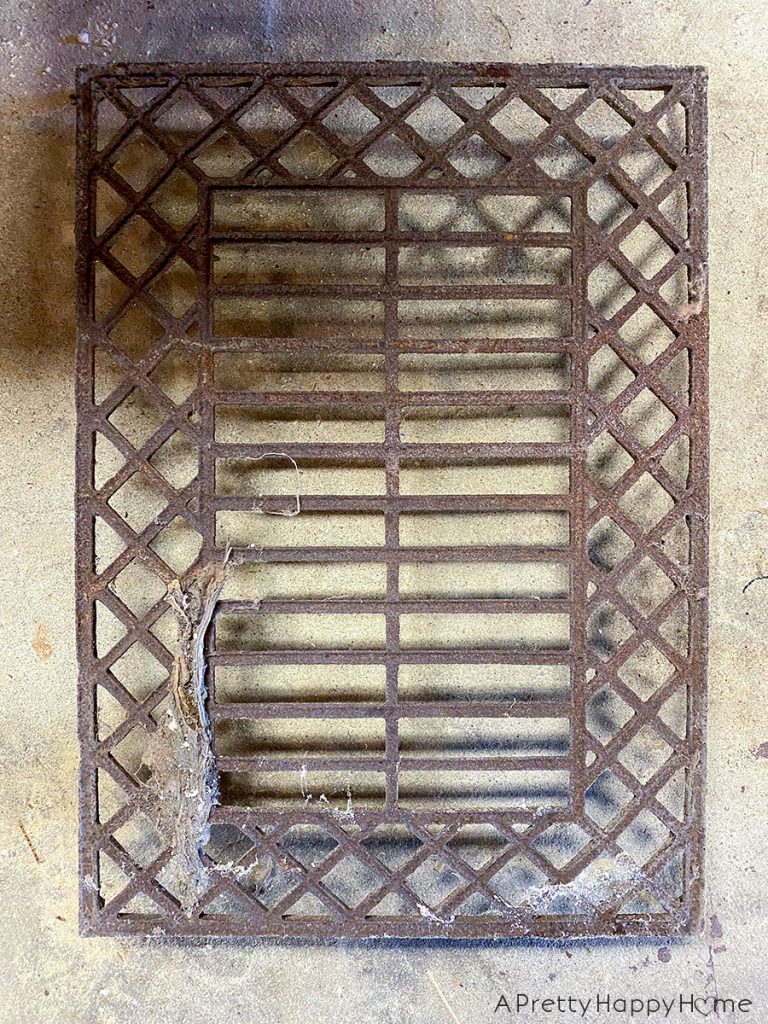 Did you like that 'before' picture?
I could have brushed the grime off before I snapped that picture, but nope.
I decided to keep it real with the true state of the things that get lost in our creepy basement.
Yikes! I need to vacuum down there more often!
Need to.
Probably not going to.
So what was I going to do with this filthy, rusty antique grate?
I'm so glad you asked.
I had a blank spot in our dining room where I could hang the antique grate.
Our dining room also functions as our entry.
That's less weird than it sounds because I've gotten used to it it is a large room (16'x16′).
The only problem with hanging it level was that the antique grate was missing one of its four "feet." I've wondered how it could have broken off because this grate is made of cast iron and is super heavy, but that's a mystery that's never going to be solved.
We ended up cutting off the remaining three feet so that the antique grate would hang closer to the wall.
By "we" I mean Handy Husband. He's such a good sport.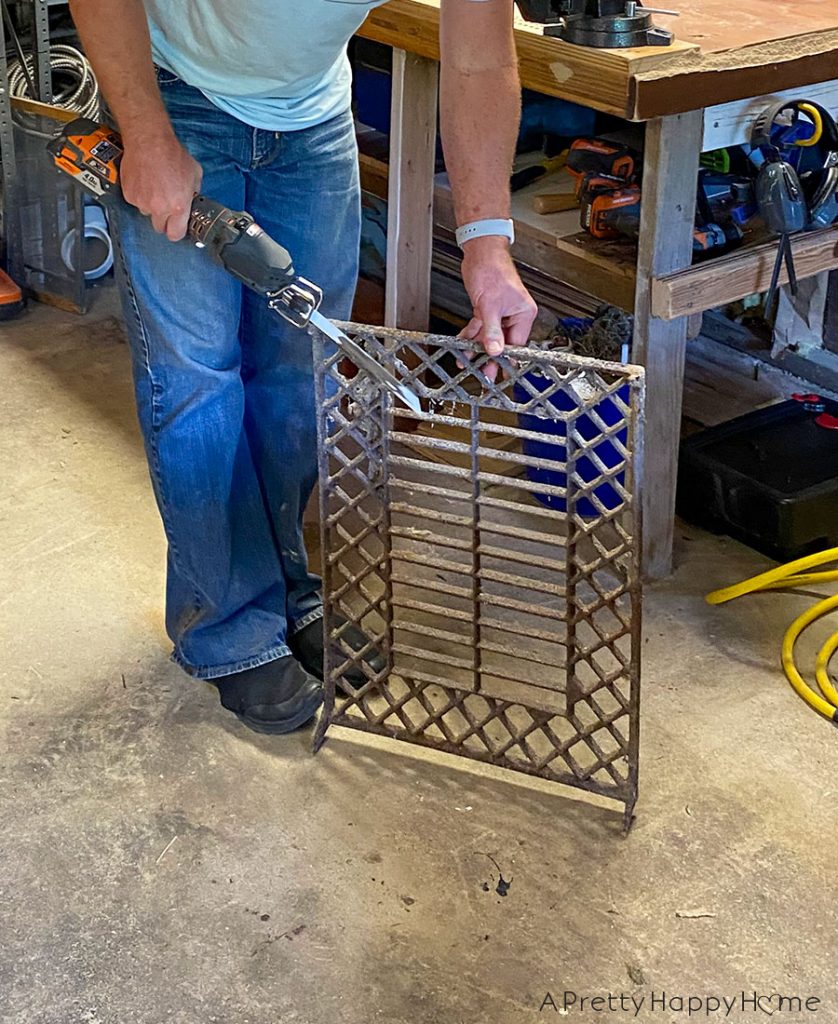 He really is a good sport because the wall that I wanted to hang this antique grate on is made of stone that's been plastered over.
Even though our hammer drill
makes it easy to drill through stone walls, it's still a bigger pain than hanging something on drywall. Especially when that something is a super heavy cast iron grate.
Did I mention the grate isn't flat? It's convex. That meant the bolts we secured into the wall had to be extra long to actually reach and support the grate.
Handy Husband was thrilled.
I was thrilled too!
Doesn't it look grate, I mean, great?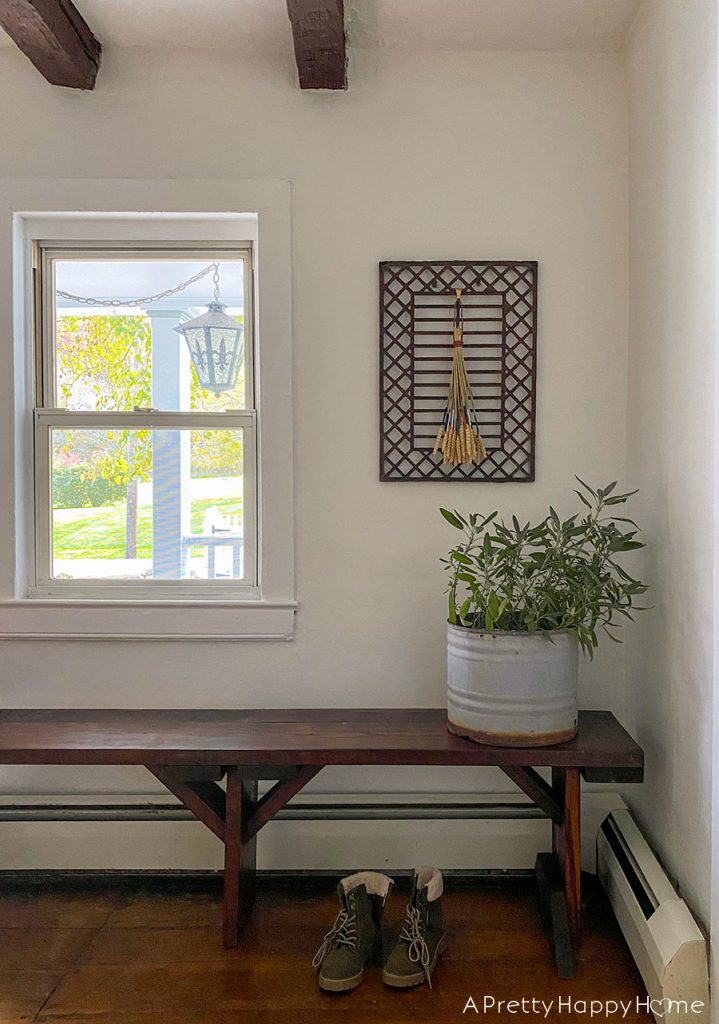 This room is the oldest portion of our house (late 1700s) and definitely the most rustic with those original, exposed beams and worn, pumpkin pine floorboards.
As a result, my decor in this room leans a bit more rustic.
That suits me just fine as I like to play with different decorating styles.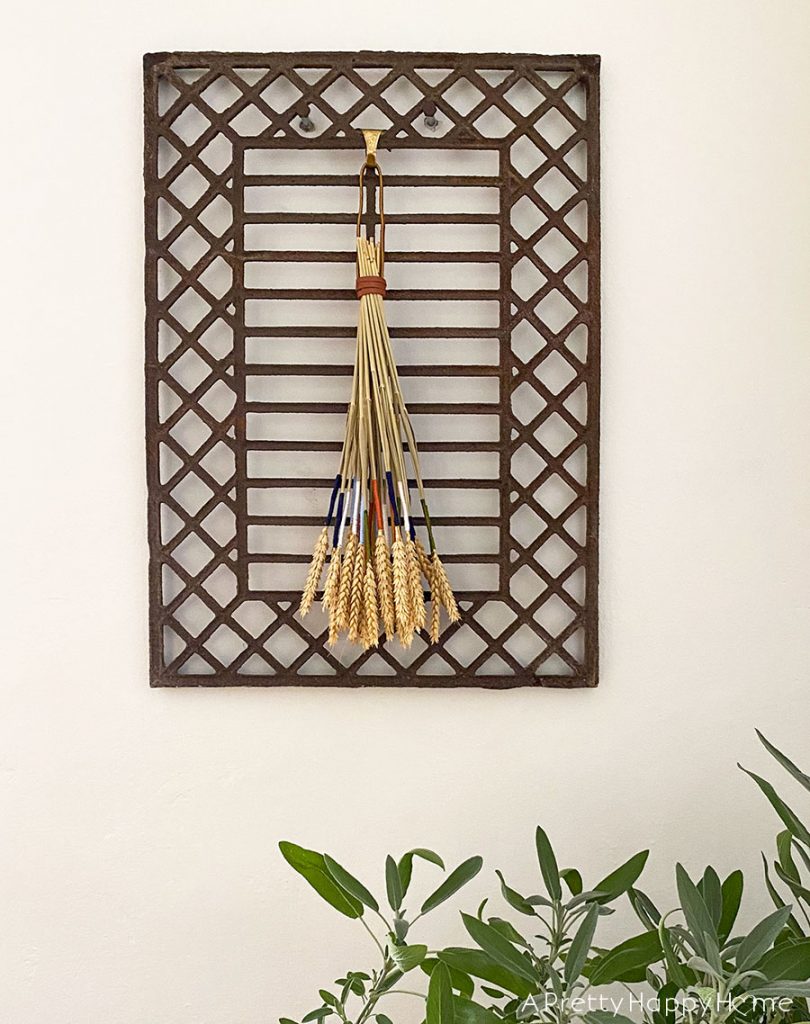 I don't know how I'll decorate this corner long term.
Right now I've hung my wrapped wheat bundle on the grate for the fall season.
A wreath would look sharp hanging in front of the grate because it would help break up all the rectangles (windows, grate, door, bench, etc.) in this area, but that also seems like a very predictable decorating choice.
Heaven forbid I do something predictable like overthink all my decorating decisions and eat the same thing for breakfast every single day for years.
I do know I'll definitely show you in excruciating detail how I change up the decor in this corner though.
Gosh dang. I really AM predictable.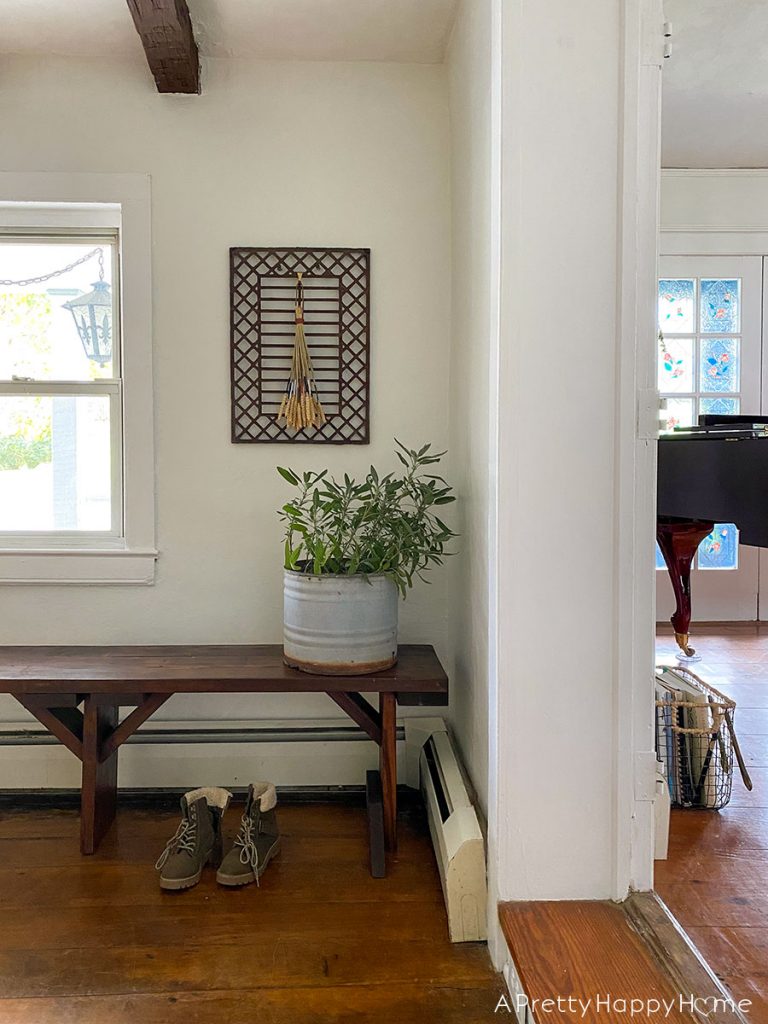 By the way, fancy wall and floor registers or grates became popular in the 19th century among those Americans that could afford to heat their home with basement boilers.
According to This Old House, grates without louvers (like mine) are called grilles. A grille could have functioned as an air return. A grille could also have been a heat register if the louvers for the heating system were in the ducts themselves, not attached to the grate.
There are countless different ways that this antique grate could have ended up in our basement, so I don't know for certain that this grate was used in our home as part of a Victorian-era heating system.
I do know that I'm happy that it has a new life on my wall as art though!
---
P.S. Handy Husband made the bench under the Antique Grate Wall Art. He repurposed the lumber from a bed he made and later took apart. We don't let things go to waste around here!
The planter for the sage plant is the base for a chicken feeder that I found in our barn.
If you want to buy antique wall grates or floor registers, there are a ton of them available on eBay.
P.P.S.  The tool Handy Husband used to cut the metal legs off the grate is the Ridgid JobMax tool. He likes it because it's freaking cool you can switch out accessories or blades depending on what type of saw you need. He used the reciprocating accessory to cut the metal legs off of our grate. We also have the attachment
shown in the below photo and he'll use that to cut out pieces of trim.
He also uses the DEWALT Rotary Hammer Drill
 all the time because we have stone walls. Before we had one, it took us 30 minutes to drill into one of our walls! No joke!
---
Thanks for spending a few minutes with me today. I hope you gleaned an idea or two from this post to use your own home! If you want more ideas, I have more posts to share!
Pottery Barn Inspired DIY Farmhouse Bed – One Year Later What We'd Do Different
Sharing the Bed, but Not the Bedding
Would I Make It Again: Sweet Potato Cranberry Doughnuts 
*affiliate links in this blog post*