Under the Stairs Closet Shelves
We now have under the stairs closet shelves and I'm pretty darn happy about it.
I'm also happy about "Clean Sheet Day," a fresh jar of peanut butter, and no-show socks that don't slip off my heel.
I guess I'm an adult now.
We have an under the stairs closet in our music room. When we moved into the Colonial Farmhouse, I found three fur coats hanging in this closet.
So fancy…if moth hole chic is your sort of thing.
That area looked like this when we moved in: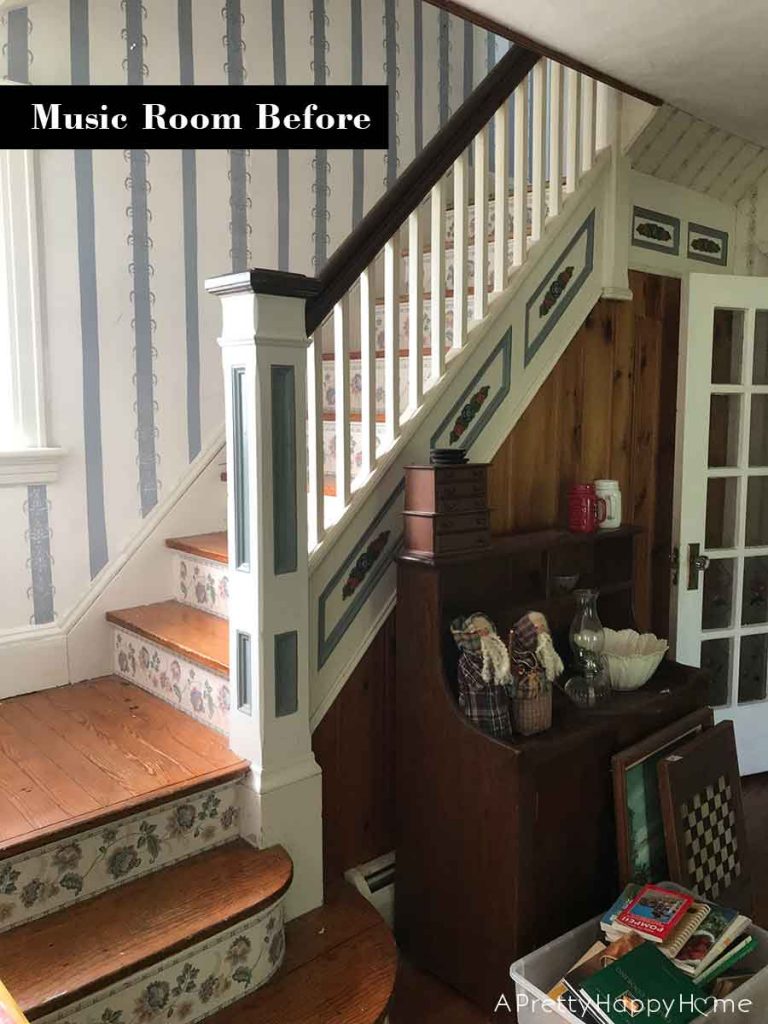 Sorry.
I forgot to warn you that picture was going to be a little harsh on the eyes. As a reminder, that wasn't our stuff. It was all left here, but I'm using at least two of the things in that above picture, so I can't complain too much. 
A few months after we moved in I painted the stairs, removed the surrounding wallpaper (even the wallpaper on the stair risers) and made the whole area look a little more classic.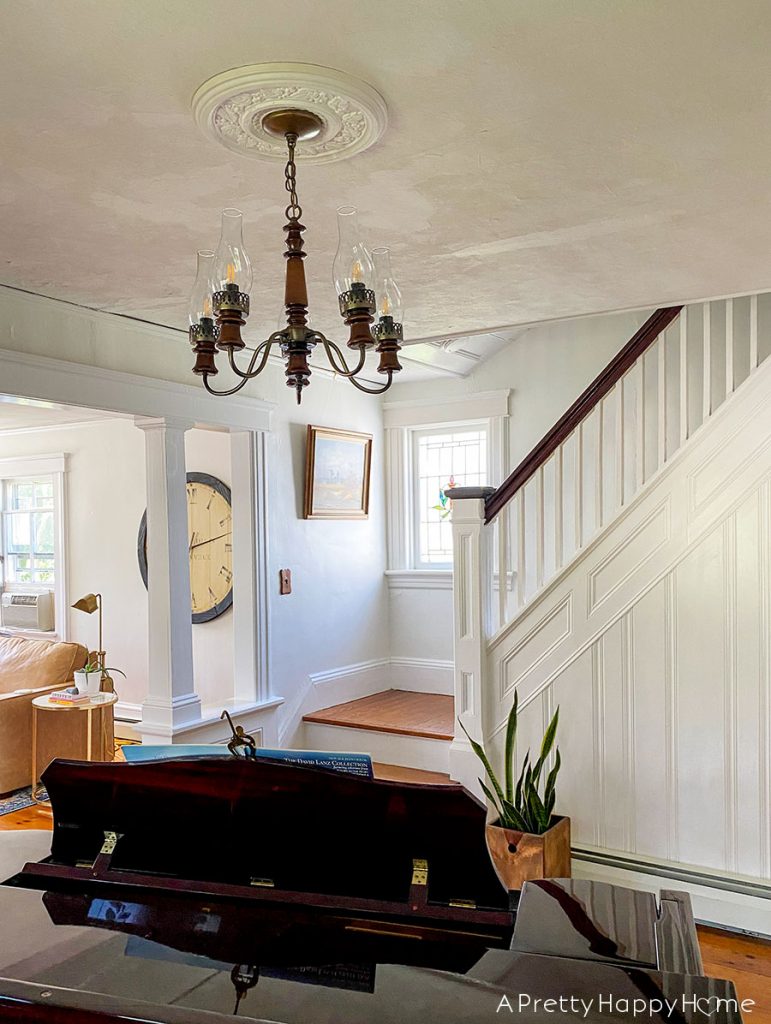 But that under the stairs closet was a storage nightmare.
It's where I keep decor knick knacks, craft supplies, our household tool set, stationary, piano books, the vacuum, and a myriad of other things. It's like the junk drawer of closets. 
Handy Husband also insists on keeping drywall compound, wood putty, and wood glue in this closet. He doesn't insist on much, so this seems like an easy one to go along with.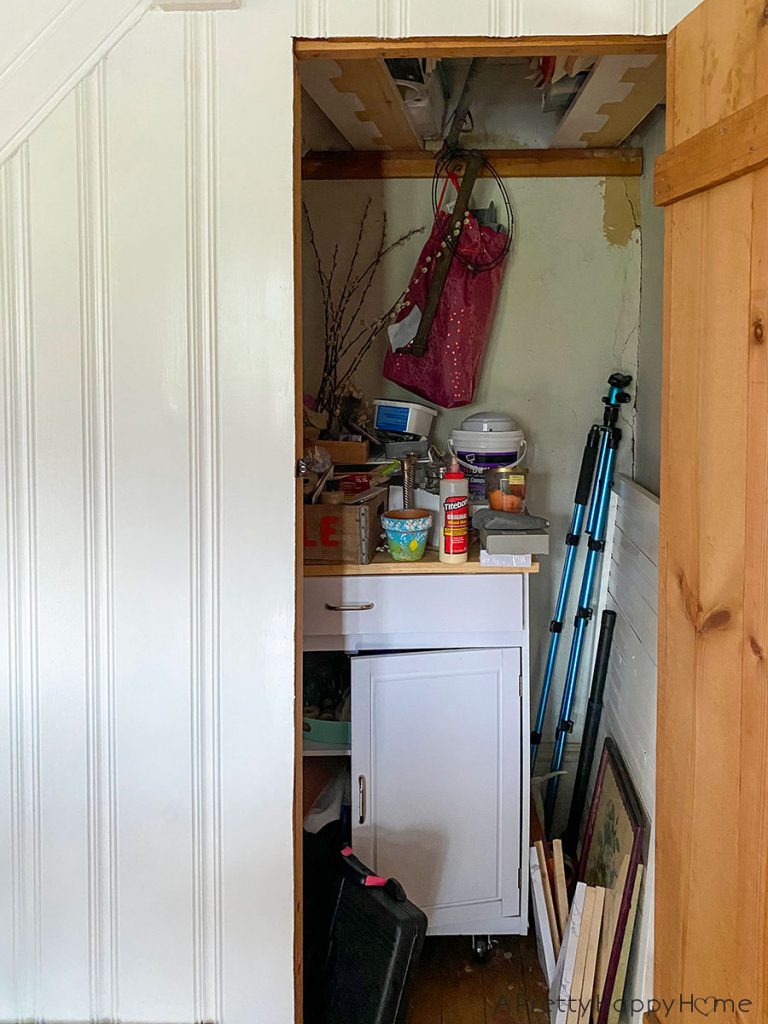 I couldn't take the madness any longer.
This closet needed a better organizational system.
Better. HA! That would imply there was one in the first place.
This closet just needed an organizational system. Any organizational system would do at that point, but I settled on shelves. Groundbreaking, I know. 
Over Thanksgiving Break, Handy Husband built some shelves for this under the stairs closet.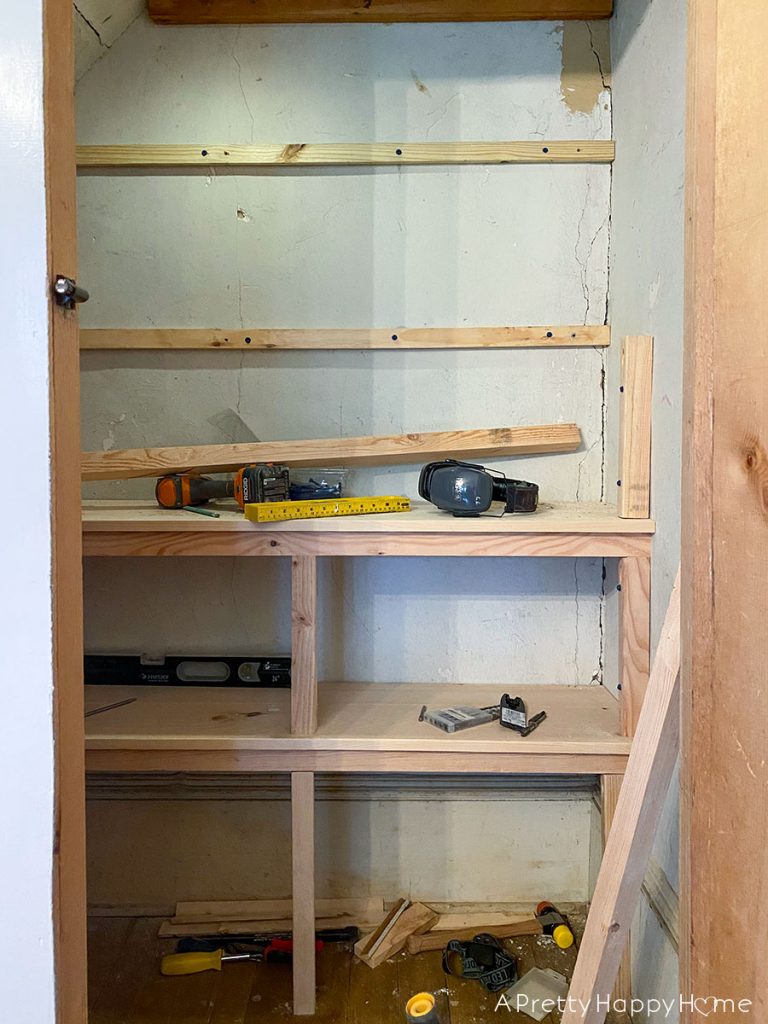 The back of the closet is an exterior wall. The right side of the closet was at one time an exterior wall.
In a house this old, that means those particular walls are stone walls that have been plastered over.
As long as you have the right tools (like a hammer drill and an impact driver), drilling into stone walls isn't a huge deal. If you hit a rock instead of mortar, you know your screw is going to be very securely affixed in the wall. If you hit mortar, even with an anchor, you have no guarantee that your screw will hold tight. That's because the lime-based mortar in these old houses is basically sand, so it crumbles when you drill through it.
Given that background information, Handy Husband's tendency is to design shelves that will support an elephant's weight. I appreciate the thought he puts into making sure the shelves won't sag since one of the things I store in this closet is a bag of rocks. A totally normal thing to have on hand, I'd say. 
The shelf design didn't need to be fancy per se because I'm the only one who will see the shelves. Well, me and the entire internet. But other than that, no one.
In all honestly, I did have a moment where I thought I should just leave the shelves unpainted because only you, me, and the internet is going to see them.
Then I thought about all of the care that was put into old houses. Craftsmen added special details in all sorts of places in homes that had no prominence. 
The guilt got to me, folks!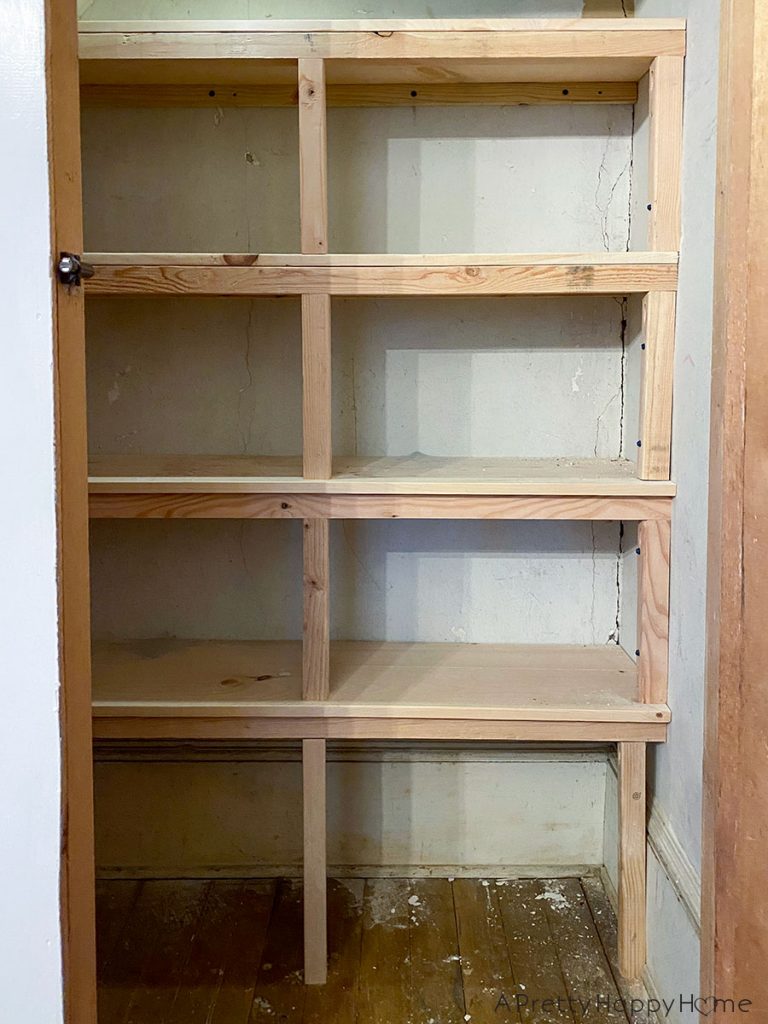 The least I could do was paint the under the stairs closet shelves, even if they weren't fancy.
I didn't need to wallpaper the walls or come up with a cutting edge paint treatment. I'm not here to set trends, even though I appreciate all the trendsetters out there in the world. I'm just making a functional space for my growing collection of candlesticks.
But in case Handy Husband asks, I've always had this many candlesticks.
Let's face it, if I didn't paint these shelves now while everything was pulled out of the closet, it was never going to get painted. The first rule of DIY is know thyself and I know this was my last best opportunity to get these shelves painted.
For horizontal surfaces that receive a lot of use, I prefer to use stain instead of paint. However, stain didn't feel right for these shelves. I have had luck with keeping shelves scratch free (or mainly scratch free) if I put a clear coat on top of the paint. In this case, I did two coats of clear polyurethane in a satin finish.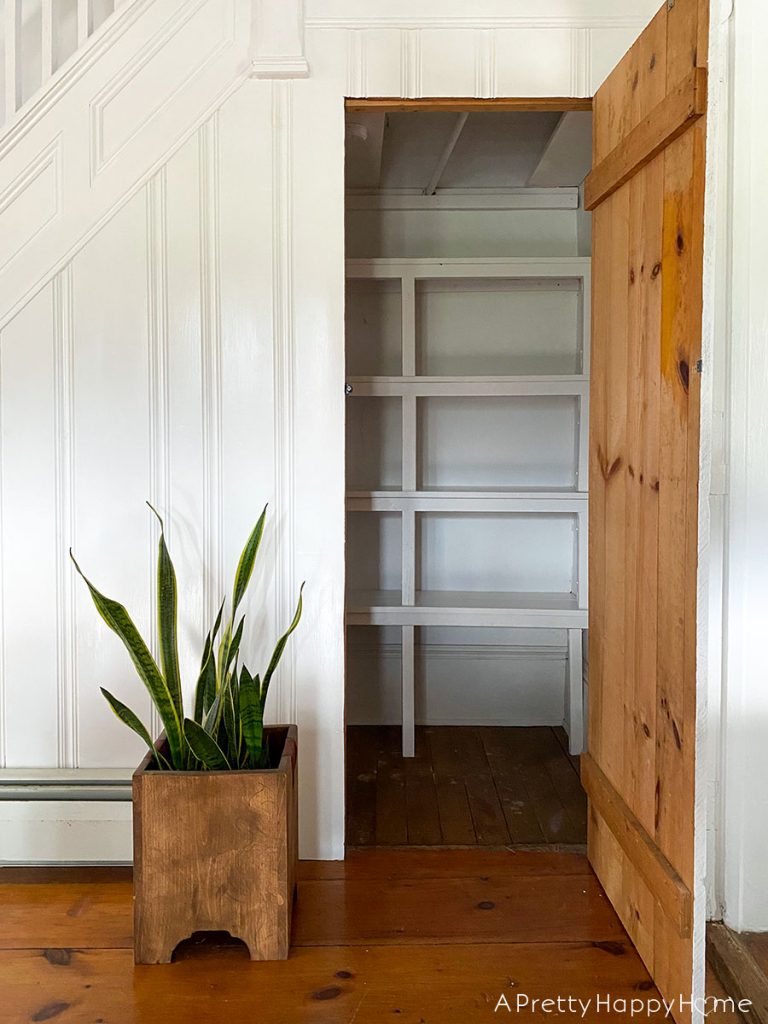 I suppose I need to ruin this special moment by showing you how the shelves now look with all of my stuff back in place.
I'm not a matching bin and container sort of person. Well, I could be a matching bin and container sort of person if I was willing to spend money on that sort of thing. 
In order of priorities around here, matching bins and containers are pretty low on the list. But maybe if I stop buying thrift store candlesticks…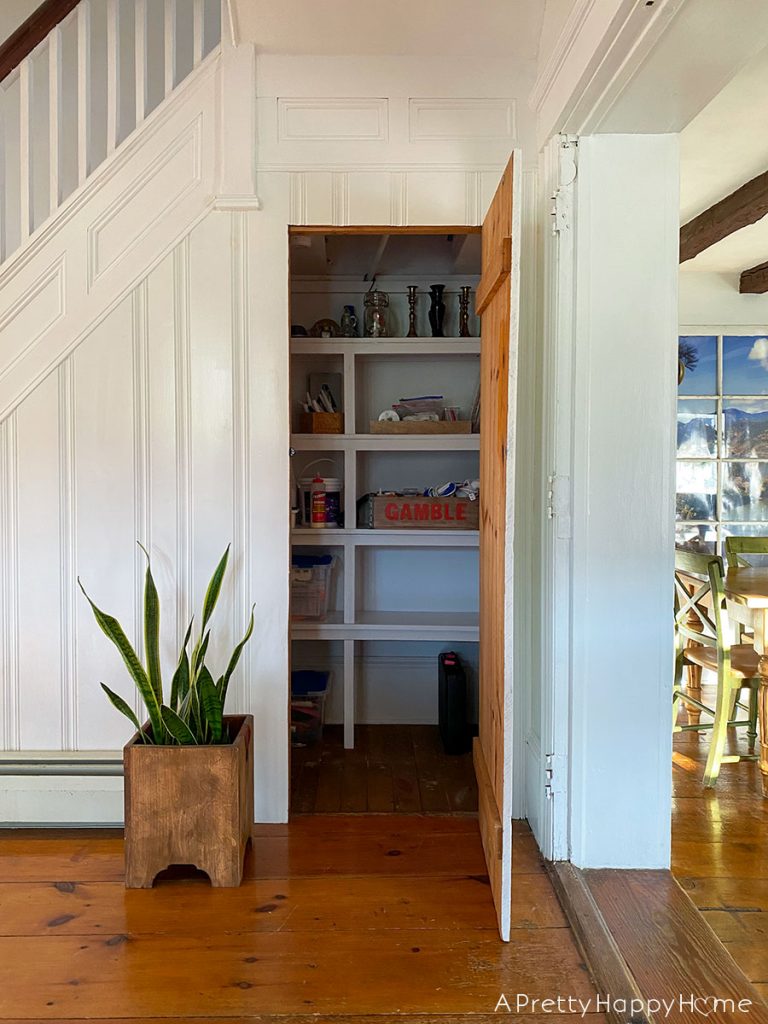 When our under the stairs shelves were complete, Handy Husband mused out loud about how many feet of shelving we've added to the Colonial Farmhouse since we bought it 18 months ago. It's probably around 60 linear feet of shelving in various closets and nooks. He was hoping that added to our home's value. 
I don't think real estate housing prices quite work that way, but I am very happy about the value all these shelves add in terms of home functionality. That, to me, is priceless. 
---
P.S. We know the wood paneled wall under the stairs is not original. We are guessing it was added sometime in the last 50 years. That's why I didn't feel bad about painting it. I also didn't feel it was necessary to paint that paneling on the inside of the closet or the door.
What we don't know is why the flooring is different in this closet from the rest of the house. All of the other closets in our house have the same wide plank, pumpkin pine floors. Our first guess was that there were stairs going down to the basement, but it doesn't look like the basement floor joists have been altered. This is another mystery that might not be solved!
P.P.S. I wrote this post before we decided to add wrapping paper storage to the door. If you follow along on my Instagram or Facebook stories, that's where you'll get some of the behind-the-scenes happenings that might not make it on the blog. I would love, love, LOVE to see you there.
---
Thanks for being here today! I enjoy sharing this home improvement journey with you. Here are some other projects you might enjoy reading about.
Dining Room Shelves Deck Out for Christmas
Back Porch Shelves for Drink Storage 
*affiliate links in this blog post*